10 Things We Love About Bonnet Springs Park in Lakeland
When we say you have to see it to believe how incredible it really is, we mean it when it comes to Bonnet Springs Park in Lakeland.
This brand-new privately built park on the outskirts of downtown Lakeland is a new place to play in Tampa Bay and we have a feeling it will quickly become one of your favorite ways to play too.
The 168-acre park sits on the property of an old rail yard that helped put Lakeland on the map and it's happening all over again with the transformation of this quadrant near downtown. We recently got a private tour with Bonnet Springs Park CEO Josh Henderson to help you map out your family's adventure to this new gem in Tampa Bay and Central Florida.
To put the size of the park in perspective, Henderson pointed out that it's larger than Disney's Magic Kingdom which is 107-acres, so yeah, Bonnet Springs is enormous.
But first, we want to get to some big questions and then we'll dive into our 10 favorite things!
Where exactly is Bonnet Springs Park located?
Bonnet Springs Park nestles up to the outskirts of downtown Lakeland off of George Jenkins  Boulevard. If you're plugging it into your GPS the address is: 400 Bonnet Springs Blvd in Lakeland.
If you're coming from I-4, it's about 7-10 minutes from the exit point at exit 28/US-92.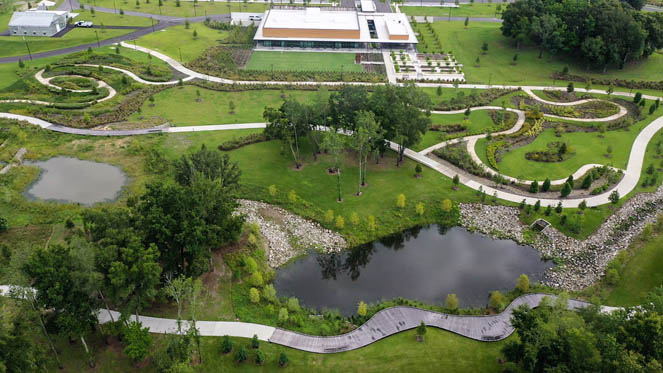 Is it free to go to Bonnet Springs Park?
Yes!! It is free to go and it's free to park as well. While the park is a privately funded park, it's the sponsorships and community support that have brought the park to life.
There are food and drinks to purchase and you can rent several of the facilities throughout the park including the event center and the adorable Treehouse for birthday parties.
Related: Our favorite FREE and CHEAP things to do with the Kids in Tampa Bay 
The park is open 7 days a week with hours varying depending on the season.
Where can I park at Bonnet Springs Park?
There are four parking areas that are connected by Bonnet Springs Park Blvd:
The Welcome Center
Main parking lot at the Florida Children's Museum
Smaller lot near the Ruthven Family Playground
Parking near Event Center
It is free to park, but vehicles may not be left overnight.
Ok-tell me now–what are your 10 favorite things about Bonnet Springs Park?
Glad you asked. Let's get to it friends!
ONE: You can't get lost at Bonnet Springs Park.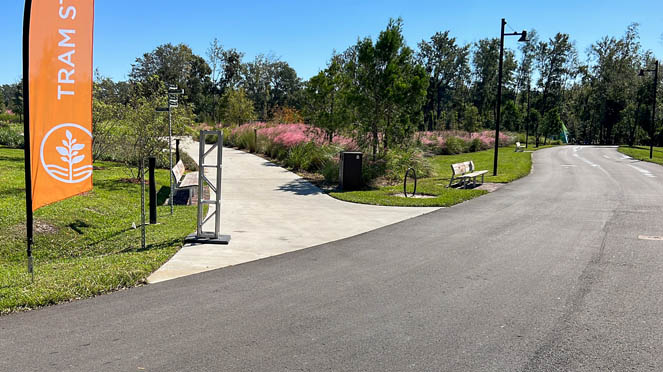 Yes, the park is huge and may seem overwhelming, however all of the attractions are connected by a 1.7 mile long paved loop called the Lakeland Regional Health Circulator. You can walk or ride a bicycle or foot-powered scooter on the circulator. It's also stroller and wagon friendly.
If you're too tired to walk, there is a tram that continuously loops around the park with six stops along the way. Henderson says they'll have 2-3 trams running at a time.
TWO: The PlaygroundS at Bonnet Springs Park are AWESOME!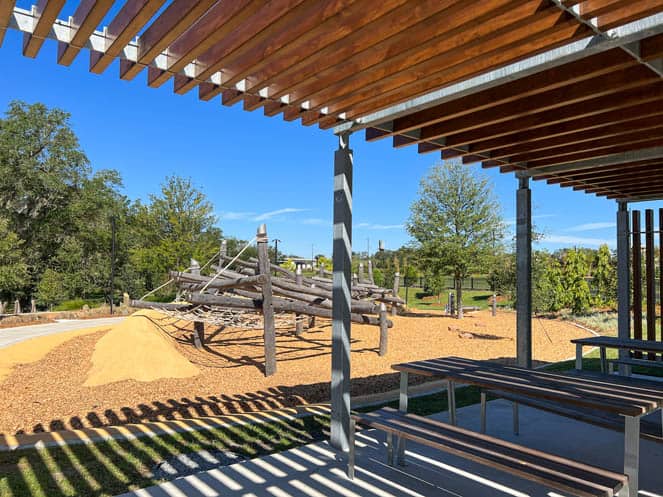 Yes, that's playgrounds with an -s. There are multiple areas for kids to play throughout the 168-acre park and the largest is also one of the most unique parks we've ever seen. The Ruthven Family Playground is considered the largest playground and it's basically built on the side of a 'mountain' (or big man-made hill in Florida). 
The top portion features a cool natural climbing structure for kids and shaded area to relax. Walk down the steps or slide down and you'll end up on the hillside part of the park.
Like the park, all parts of this playground are connected for easy access.
"It's universally designed with a singular path that will navigate through the entire playground, so anyone who has mobility challenges can still make it through the entire playground," Henderson explained.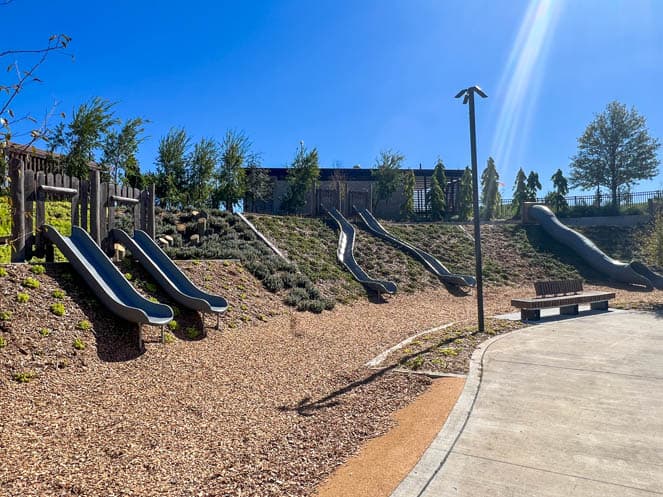 There is also a small water play area right near the slides that was still getting its finishing touches during our private tour. It features pumps children can interact with. It's not an official splash pad, but it is a water feature.
People of all ages will enjoy cooling off with a walk through the water misters which are similar to the ones we LOVE at Julian B Lane Park in Tampa!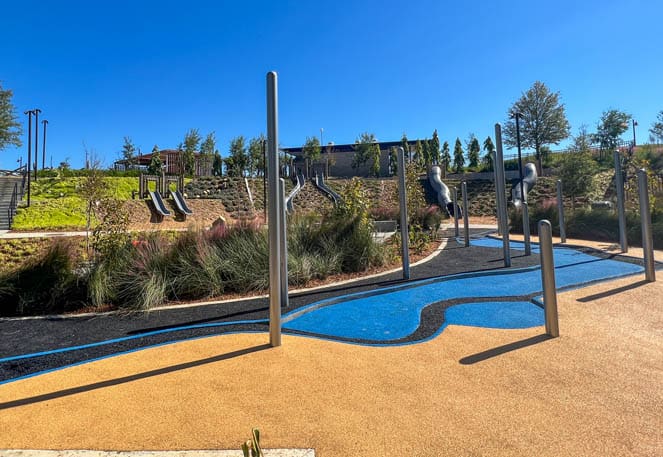 There are also some other smaller pockets of play spaces like the:
Mable the Mosaic Owl Playground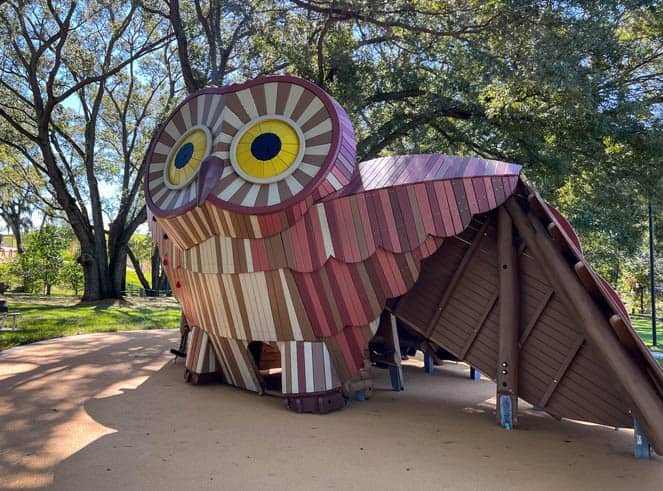 This adorable play structure is nestled under the treetops downhill from the Rutheven Family Playground, but you can easily hop back onto the circulator to get over here.
The owl which is sponsored by Mosaic, is actually a play set kids will love. They can climb, slide and more!
It's inspired by the burrowing owl in Florida. She's a cute spot for adorable pictures!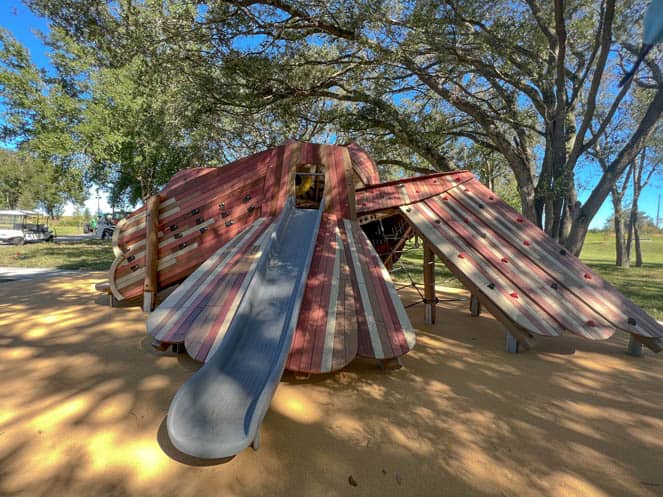 Los Trompos
Right next to Mable the Owl is Los Trompos–an area that doubles as a place to experience art and play!
The colorful merry-go-rounds are inspired by a popular international child's toy that kids can play in. Los Trompos means "spinning tops" in Spanish.
"They are very fancy merry-go-rounds. I think this will become selfie central when the come out here and get an opportunity or ride and take pictures," said Henderson.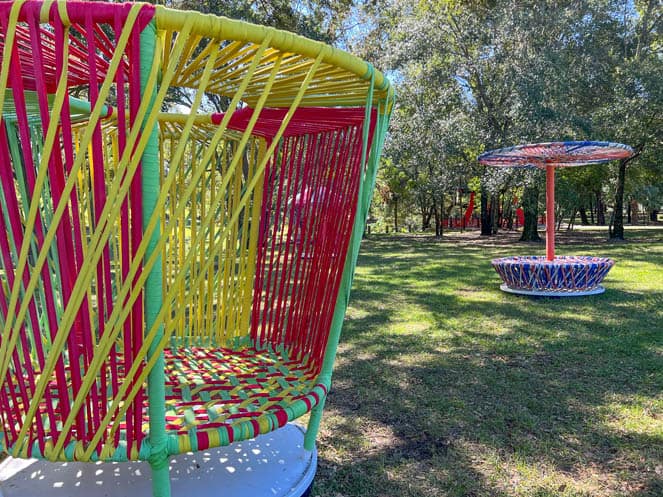 The Joe L. and Karen Ruthven Train Playground
This is another smaller play space over in the Heritage Gardens area next to the Welcome Center.
Like the Mable the Owl, it's a train-inspired play structure for kids to climb, crawl and play in.
We love the nod to the park's history as a rail hub.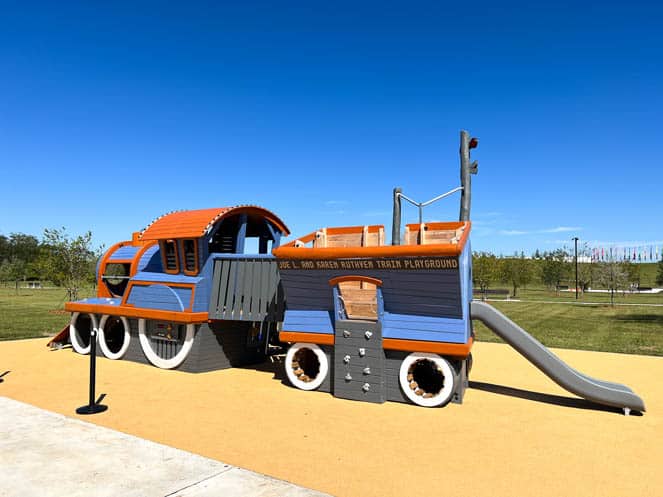 There is another smaller playground that is still under construction next to The Depot Cafe where you'll soon be able to get coffee and even wine as the kids play. It wasn't quite ready for opening day, but this was a huge undertaking and there was a delay with some things due to Hurricane Ian.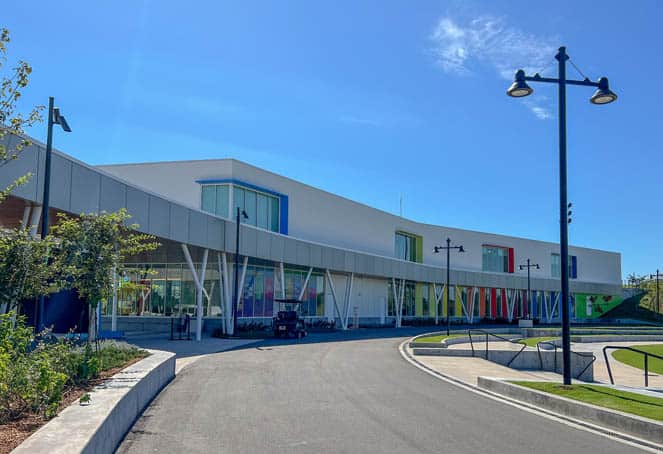 Bonnet Springs Park is home to the new Florida Children's Museum which opens November 4, 2022. It is a new location for the newly renamed Explorations V museum.
It's an amazing place to play for kids of all ages and stages from babies to up to 12 years old. We went for a sneak peek and we're sharing everything you need to know about the new Florida Children's Museum here!
It's 47,800 square feet of hands-on fun and we can't wait for you to see it!
FOUR: The Kiwanis Cares for Kids Treehouse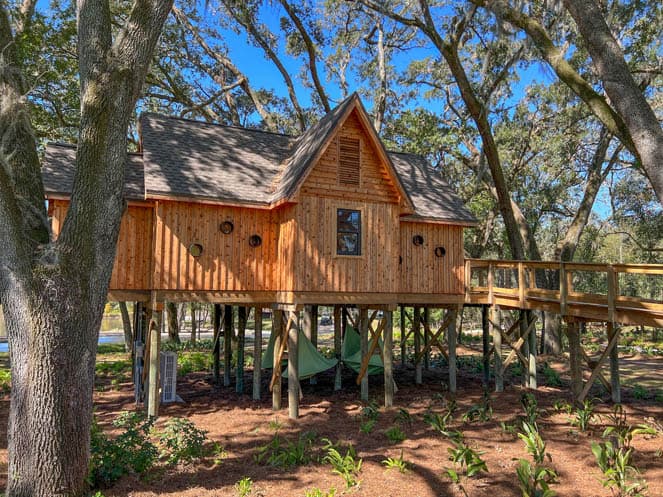 This could fall under the playground category, but it really deserves a stand-alone spot on our top 10 list.
While it is available for rent for events and birthday parties, it will be open to the public when not reserved. You can see from the picture above that there are even cute swings underneath the tree house for kids to sit back and relax in the shade!
A boardwalk elevates you to the treehouse entrance where you can step inside to cool off and play. There is also a small restroom inside and plenty of tables for party.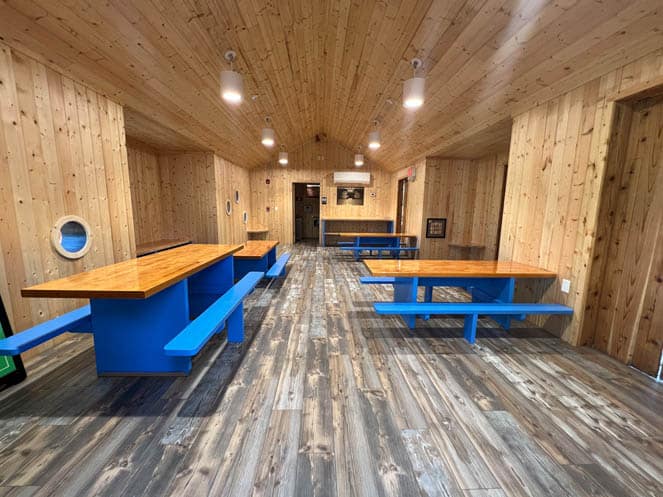 FIVE: The Crenshaw Canopy Walk
While we're on the subject of walking among the treetops, we have to mention the Canopy Walk.
It's a great way to seek some shade while enjoying the beauty of the park from heights as high as 25-feet in the air. It is not a loop and connects you over to the Family Lawn area near the Florida Children's Museum and The Depot Cafe. 
It is stroller friendly!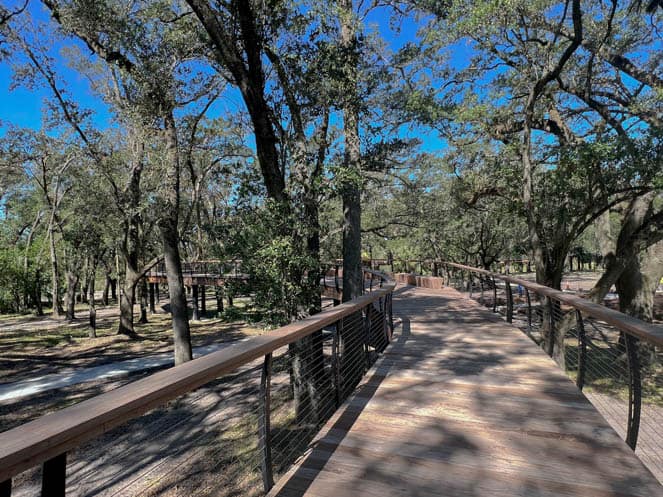 Pictures really don't do justice to the Canopy Walk, but we tried! There are also some resting benches along the way if you just want a minute to breathe in the fresh air and relax or stop for a quick snack break.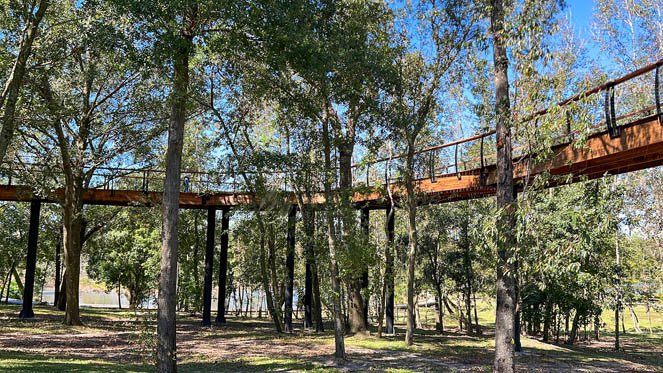 There are some other amazing boardwalk and walkways as well, so this is a great spot for a stroller stride or nature walk with the kids.
Other boardwalks:
Mims Family Lagoon Boardwalk with views of the Blanton Family Lagoon
Wetlands Boardwalk (also by lagoon–great for bird watching)
SIX: Zoe's Butterfly House
This is a really sweet addition we think kids and adults will appreciate. Again, you'll find it as you make your way along the 1.7 mile circulator of the park near the Event Center.
Step inside the butterfly house to learn more about native plant species and the pollinators that call Florida home.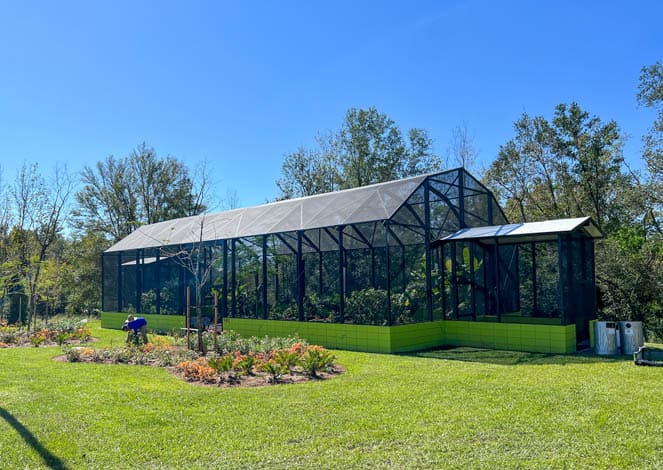 The Butterfly House is within the area of the Harrell Family Botanical Gardens and Greenhouse.
SEVEN: The Givewell Community Foundation Nature Center
This is another beautiful spot along your journey around the Bonnet Springs Park circulator and a great place to cool off and seek some shade while learning more about the plants and animals in the park and the efforts to restore this land to its natural beauty.
"This tells the story of the environment, nature, and everything we have done to take this from a damaged ecological site to now a thriving environmental treasure," Henderson told us.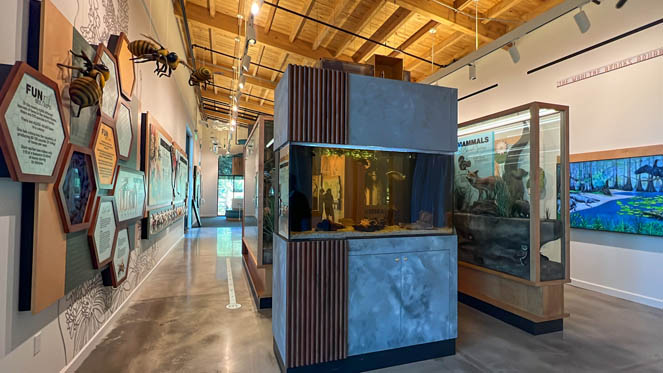 inside, there are several interactive exhibits for children and adults including buttons to push so kids can hear the sound of an alligator growl or even match a bird to the sound it makes.
When it comes to the water story–there is an area that makes you feel as if you standing under the water.
"We talk about the algae harvesting that is going to go on next door at Lake Bonnet and we even have some examples of what algae can be turned into like biofuel, bio fertilizer and bio rubber," explained Henderson.
Cleaning the water and land was a significant project since it had become a dump site over the years and a place that collected storm water runoff from Kathleen Road.
"It was a designated brownfield site, so we had to go through all of the environmental clean up work needed to make the park safe for the general public and we did receive an award from the Florida Department of Environmental Protection for the work we did remediating the site" he went on to tell us.
Henderson says since the clean-up, nature is returning. Fish and animals they didn't see here before are back.
The Nature Center also continues to pay homage to pollinators with a cool viewing window where you and the kids can see the inside of a honey bee nest.
It's a great place to explore and learn with the kids!
EIGHT: The Boathouse
Right next to the Nature Center is the Boathouse where you will eventually be able to rent a kayak and standup paddle board on the manmade Blanton Family Lagoon.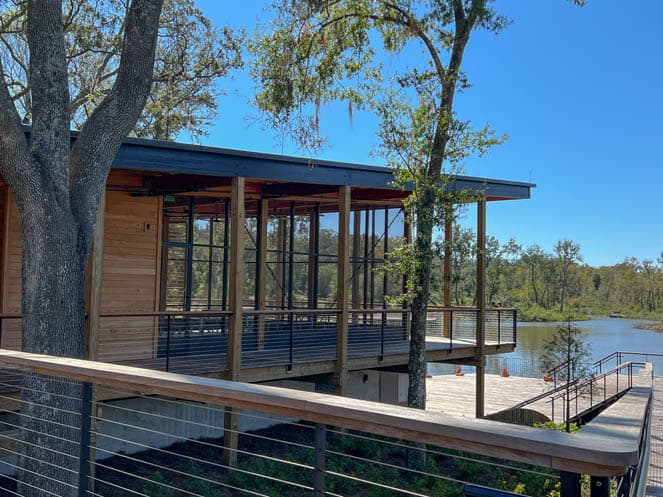 NINE: The Eats at Bonnet Springs Park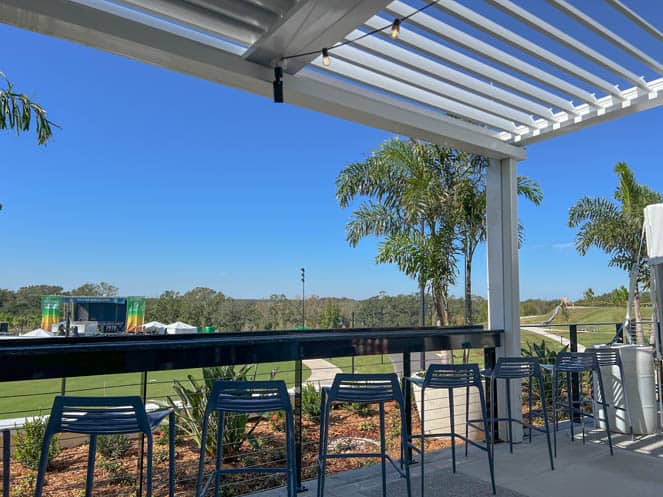 The Depot Cafe next to the Florida Children's Museum features a rooftop bar for snacks and drinks.
You can also grab coffee and snacks over the the Welcome Center as well which will feature Starbucks Coffee.
If you want to experience even more of the Lakeland community, we recommend a stop at The Joinery which is about an 8 minute drive from Bonnet Springs Park. The food hall has something for every tastebud and beautiful views of Lake Mirror and downtown.
TEN: The nod to history
The land where Bonnet Springs Park sits played a big part in Lakeland's history, once serving as a rail yard and was even home to an orange grove.
You can step back into time at the Welcome Center's Watson Clinic Gallery to really wrap your head around the history of the property and community.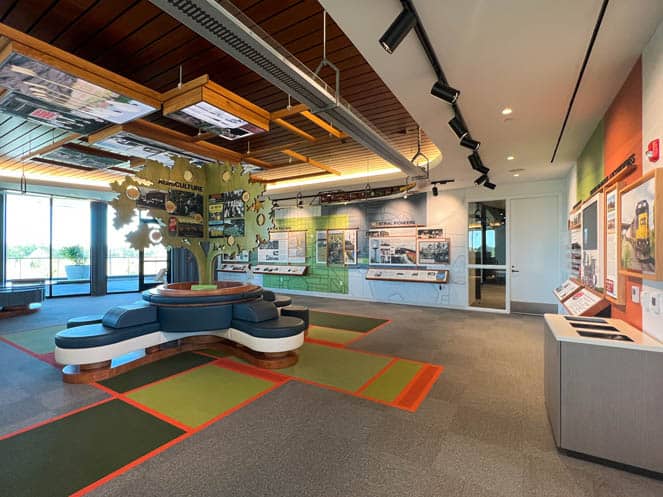 "100 years ago, this was the largest rail yard in Central Florida which is why George Jenkins built Publix headquarters just down the road, so I am told–and I am not a historian, but there was time when Lakeland was bigger economically and bigger than Tampa and Orlando. Post WW2, the rail yard was shuttered in favor of the diesel engine because this was a steam yard," Henderson told us.
Over the years, the park became over grown and nearly forgotten until someone in the community decided to dream big.
"Local realtor David Bunch had a vision for a park on this property and went to Carol and Barney Barnett and talked them into purchasing the land from CSX and really over the last 7 years brought us to where we are today," said Henderson.
The center also dives into the history of the citrus and phosphate industries and talks about communities of people who worked on the railway.
If your kids love trains, they'll love the Welcome Center. They can even press a button to make a mini locomotive near the ceiling move around the room.
Trains haven't completely disappeared from the area. A CSX railway is close by and you can even see the trains uphill from the Ruthven Family Playground. There is a fence, so kids can't walk over to the railway.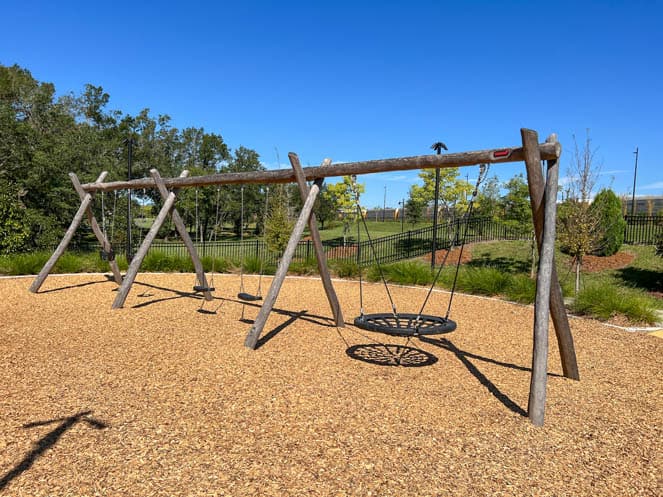 Final Thoughts
We think a day at Bonnet Springs Park is one that will be well spent especially once the Florida Children's Museum opens. It's a great day trip if you live on the western side of the Tampa Bay Area and even makes a great pit-stop if your kids need to get the wiggles out on a road trip along I-4.
The park also offers some great special events for families, so be sure to give them a follow on their socials to stay up to date!
Related: 25 Things to Do in Lakeland that are Worth the Drive
You can view the entire map of the park here and learn more by visiting BonnetSpringsPark.com.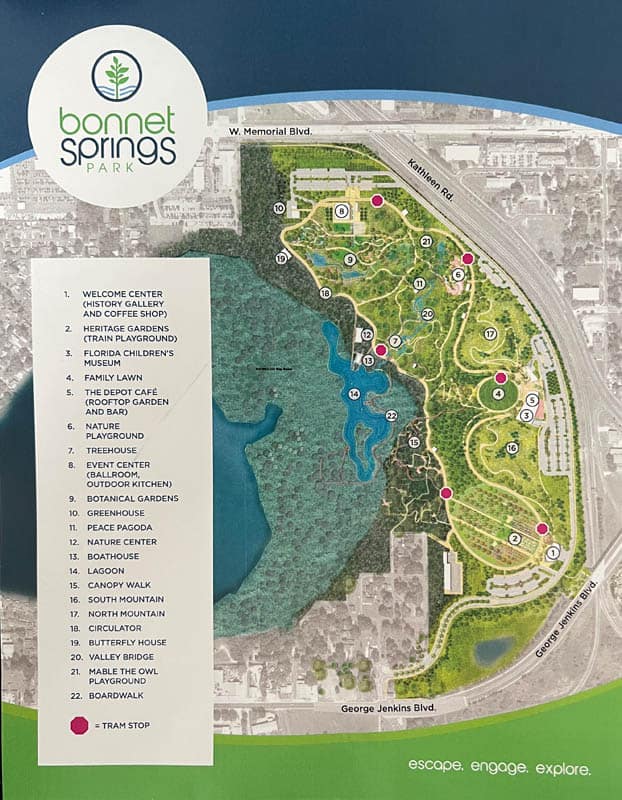 *Photos by Laura Byrne unless otherwise indicated.