'Breakfast with Peppa' at Peppa Pig Theme Park extended! We've got top tips for you!
It's going to be an OINKtastic summer with the debut of Breakfast with Peppa at Peppa Pig Theme Park!
This brand-new character dining experience debuted on June 9, 2023 and was recently extended on Saturdays through September 2nd. This is your chance to not only have breakfast with Peppa, but gain early access to the theme park before it opens to the public.
This means no lines for Daddy Pig's Roller Coaster and Grampy Rabbit's Dinosaur Adventure to start your morning at the theme park!
What's Included in Breakfast with Peppa:
All-you-can-eat breakfast buffet
Two character greetings at each table (Peppa and George)
Family photo in the park with Peppa, George, Daddy Pig, and Mommy Pig (print included)
Early access to Peppa Pig Theme Park rides before the official opening of the day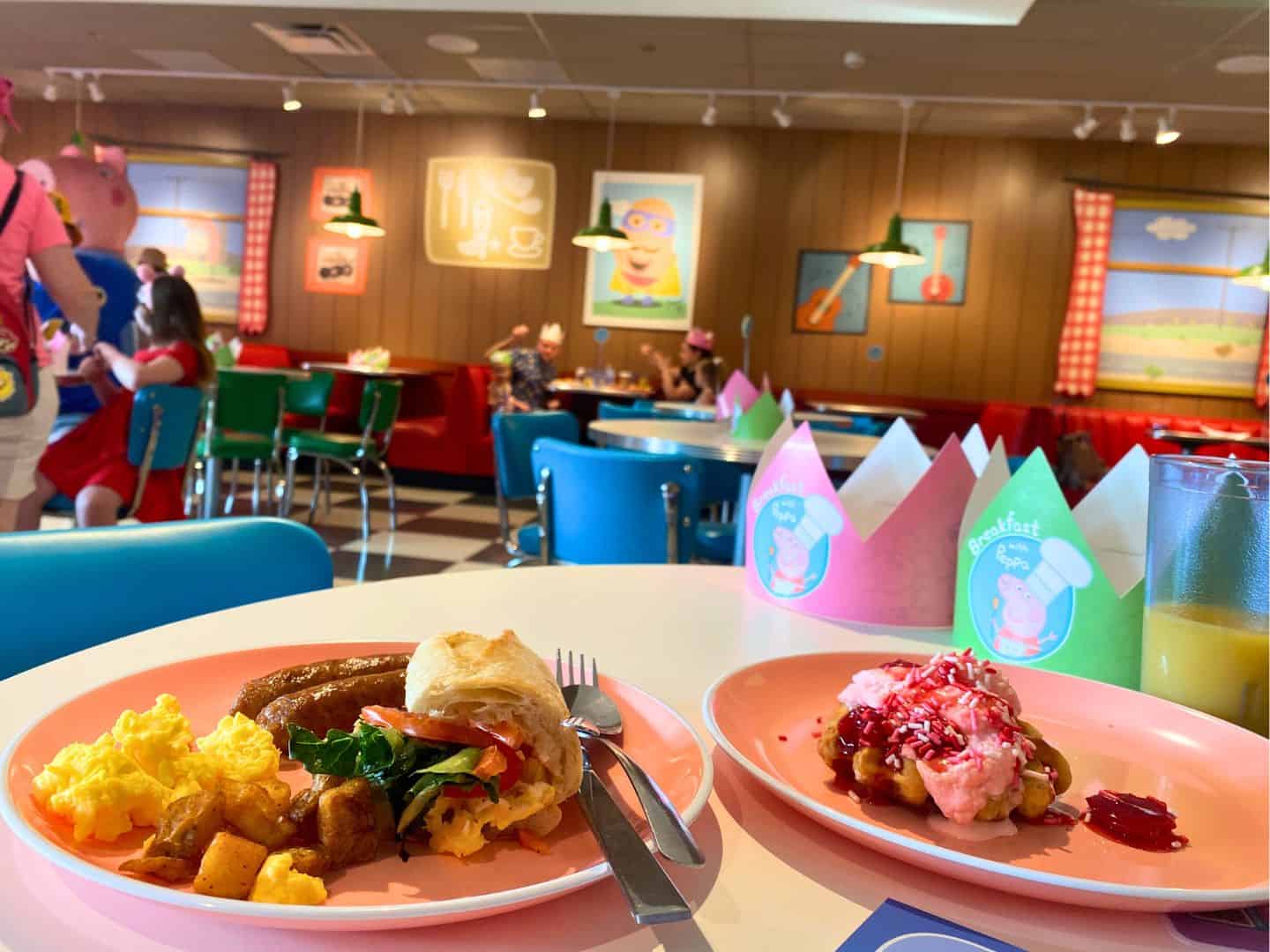 What to Expect at Breakfast with Peppa
The character dining experience will be hosted at Miss Rabbit's Diner inside the theme park with check-in beginning at 7:45 am. The breakfast buffet opens at 8 am with exclusive early access to the rides beginning around 8:45 am.
During our media experience, the rides actually opened at 8:30 am. We're including a detailed timeline below, keep reading!
There are two menus during Breakfast with Peppa, one designed for preschoolers and another for adults. Since it is a breakfast buffet, anyone can access any of the three stations.
"Going out to eat can be a lot with toddlers, let's be honest, so let's create the perfect environment where kids can just be kids," explained Kelly Hornick, Head of Market and Communications at Peppa Pig Theme Park.
Kelly continued to share with us that "Kids can have tableside hugs, eat all the chocolate chip pancakes with pink whipped that they want. Have a great way to start your day or even cap off your vacation with us for the weekend."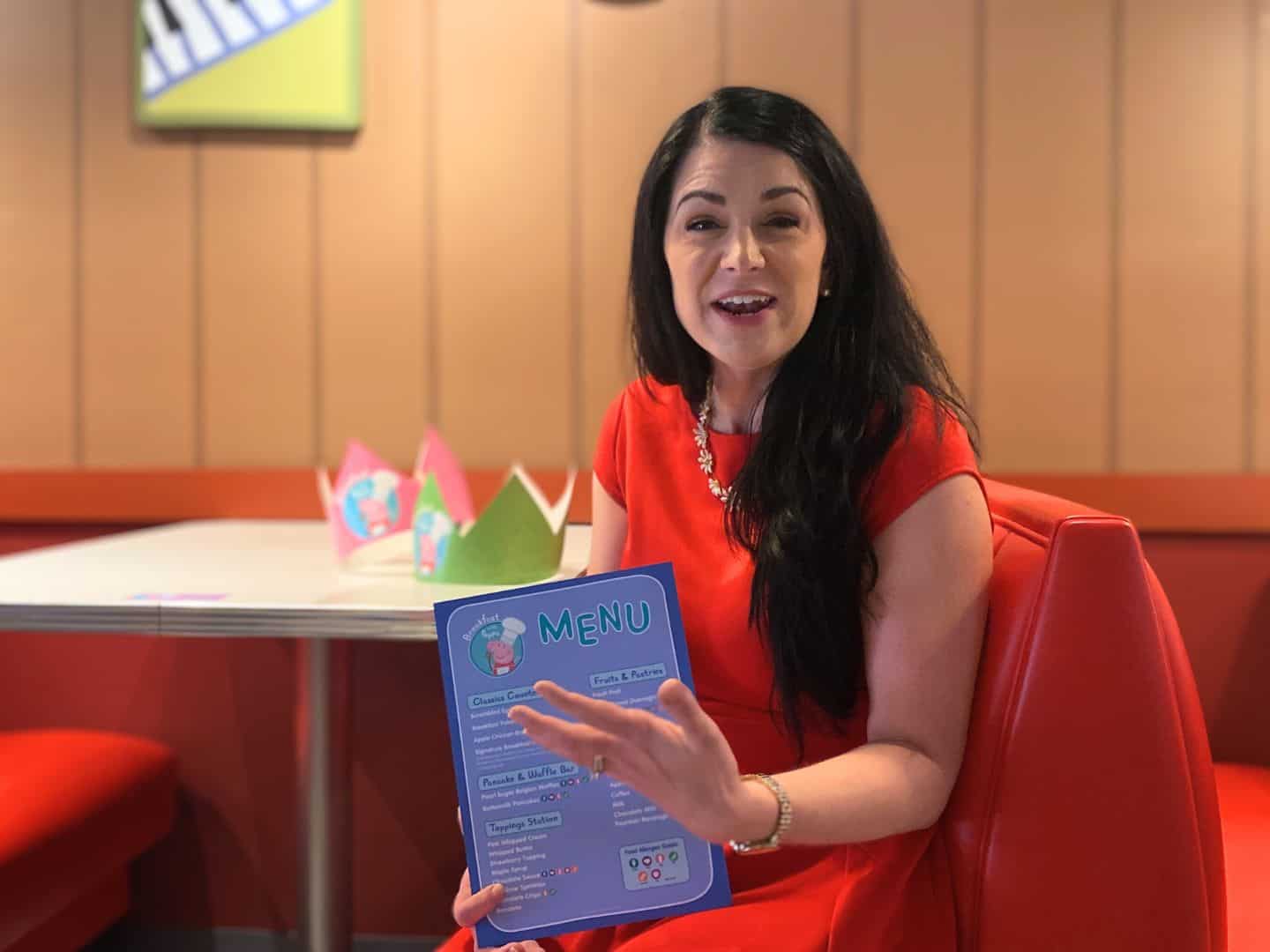 Preschooler-Friendly Breakfast with Peppa menu selections:
Little ones can enjoy a selection of waffles and pancakes, fresh fruit, scrambled eggs, and more. Allergen-free options are also available, and the menu is well-marked with which items contain which potential allergens.
During our experience, there was no issue with adults accessing the waffles, pancakes, and toppings at the preschool station. The sugar pearl waffle is delicious when topped with pink whipped cream, strawberries, and pink sprinkles.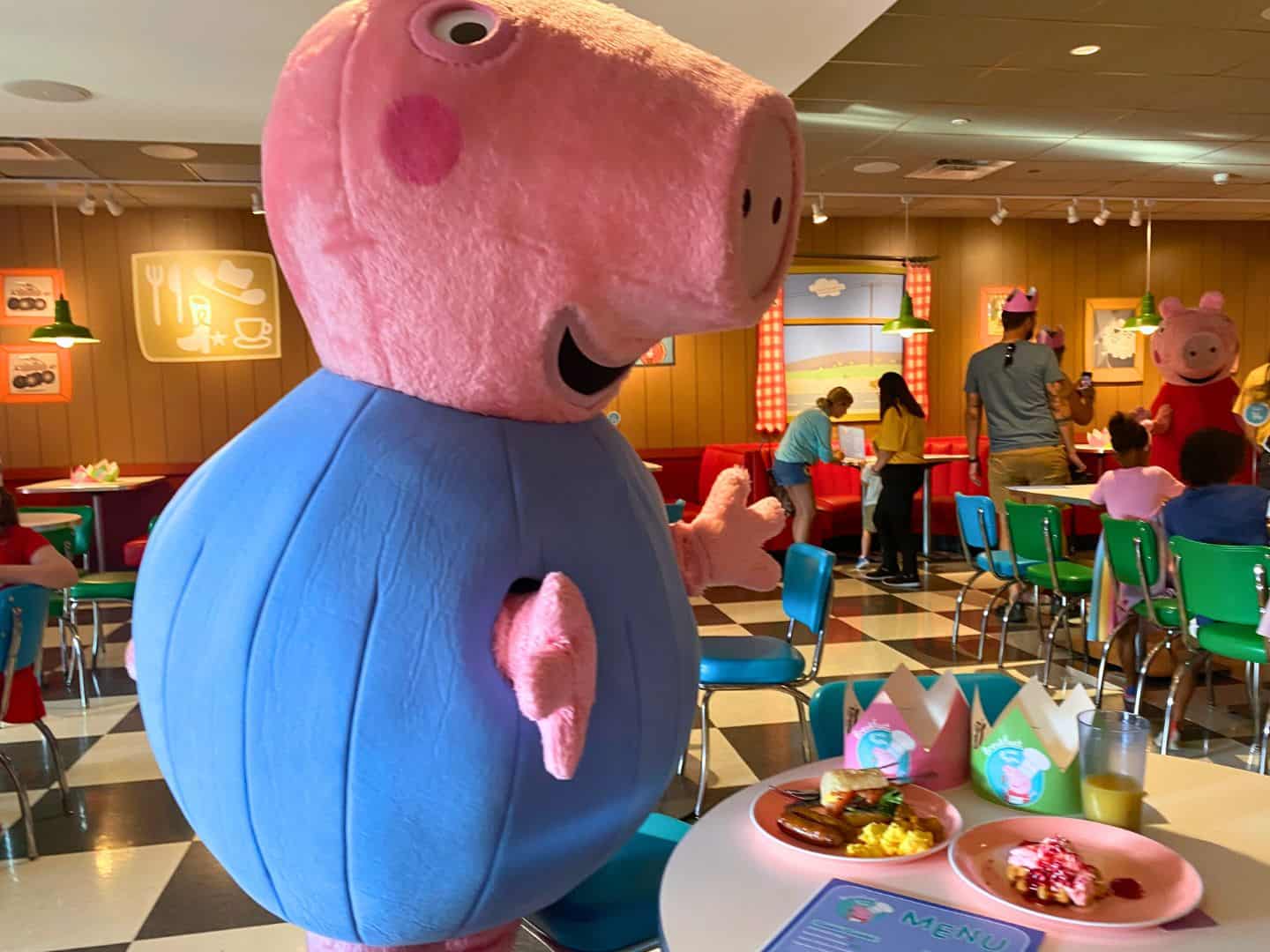 Adult All-You-Can-Enjoy Breakfast menu selections:
Grownups will get to choose from a selection of chicken apple links, plant-based overnight oats, and a signature breakfast sandwich on a freshly baked baguette.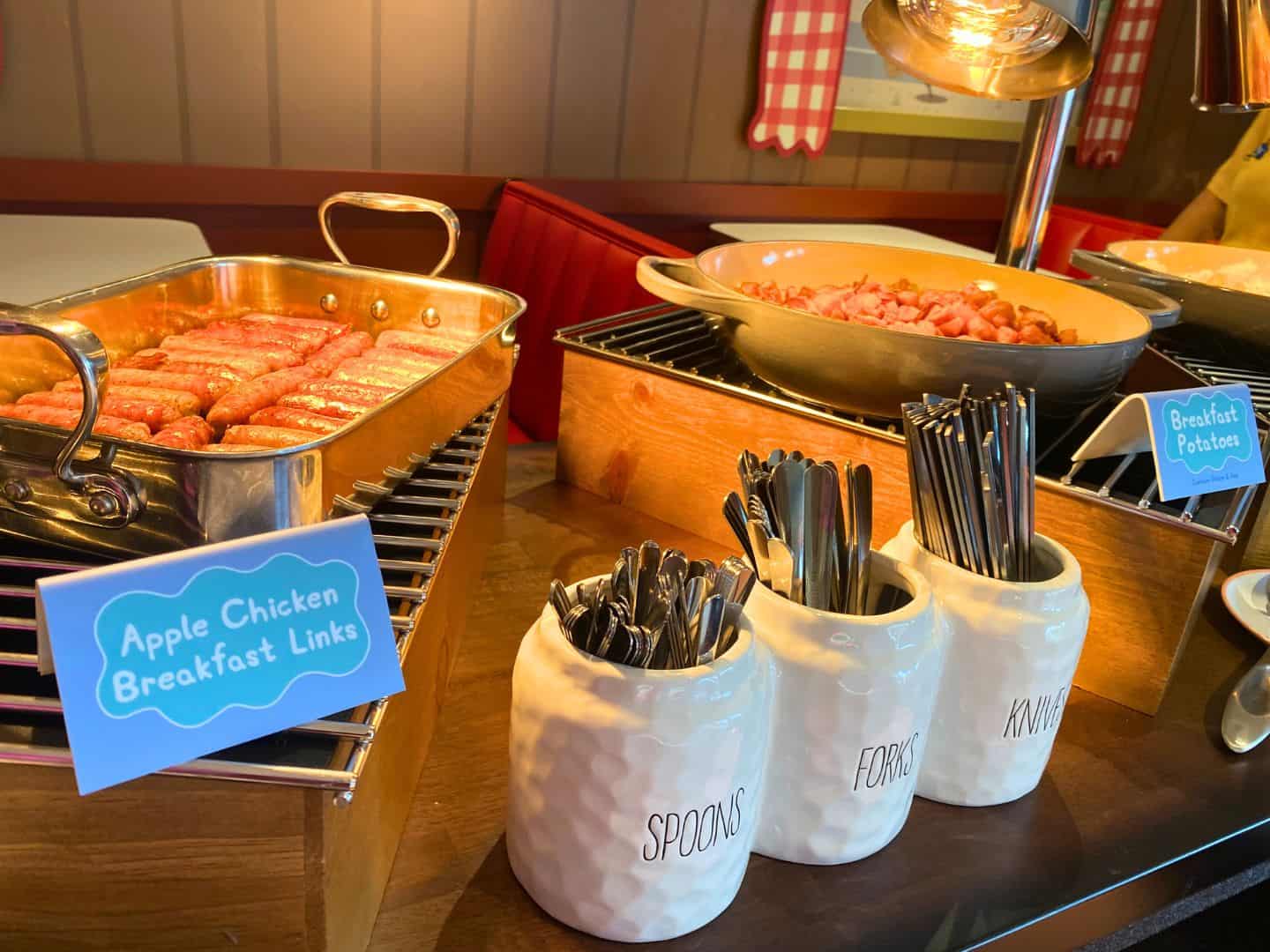 The breakfast sandwich on the baguette is a star of the breakfast with Peppa menu. The lettuce and tomato add a nice touch of fresh veggies and appeals to a grownup palate.
There is also a self-service station with apple juice, orange juice, milk, and coffee.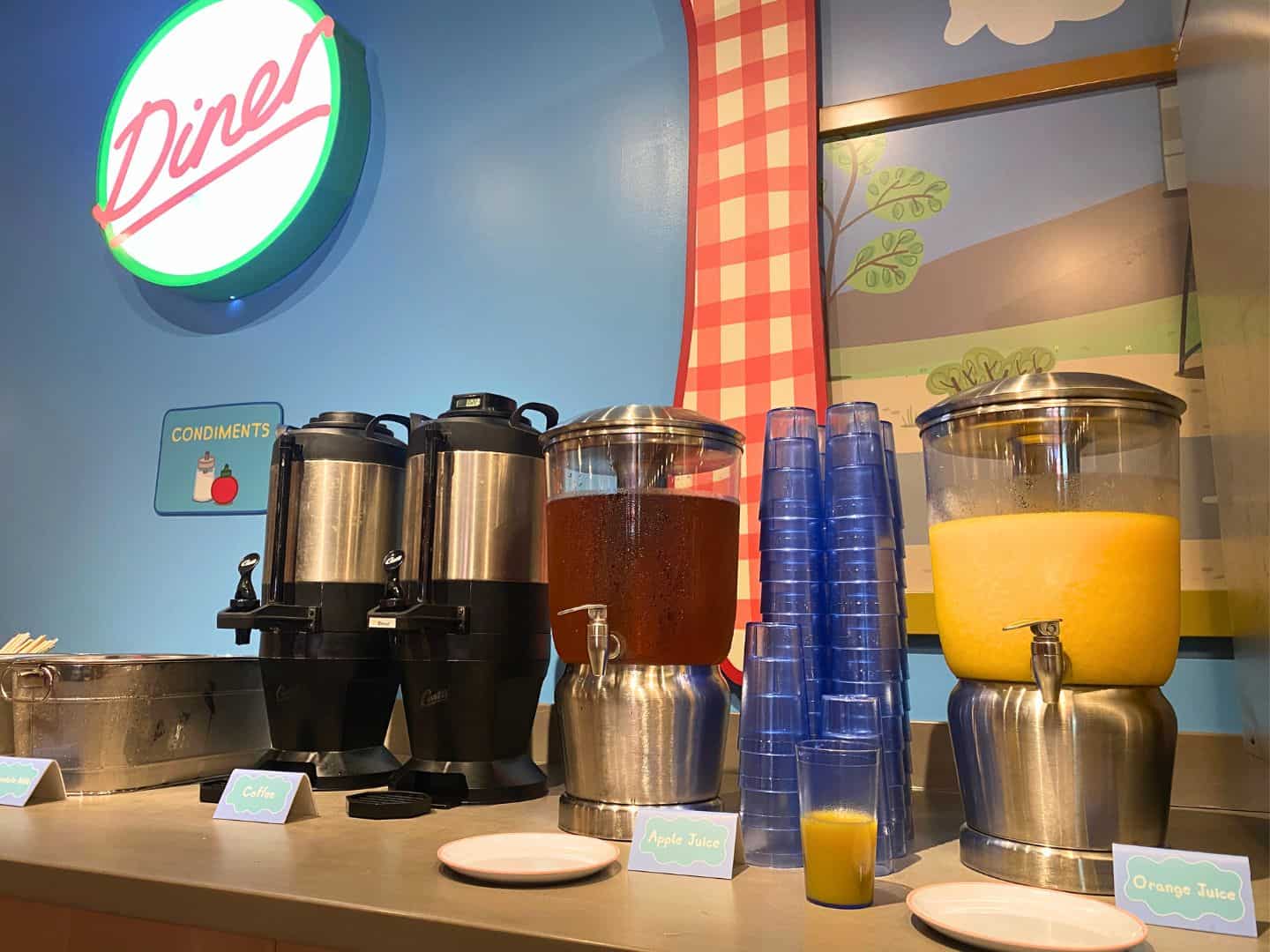 You may notice there are no pork products, like bacon, on the menu. 
Characters at Breakfast with Peppa and Timeline
The star of the event, Peppa, will make her rounds to all of the tables for a chance to snap adorable photos during breakfast, so one-on-one time with Peppa is guaranteed. Plus, her brother George joins in on the fun.
During our visit, Peppa and George characters arrived at the diner around 8:00 am. Peppa started on one end of the dining room while George started on the other. An attendant followed each character, providing assistance with photos and keeping track of each table, to ensure each one was visited.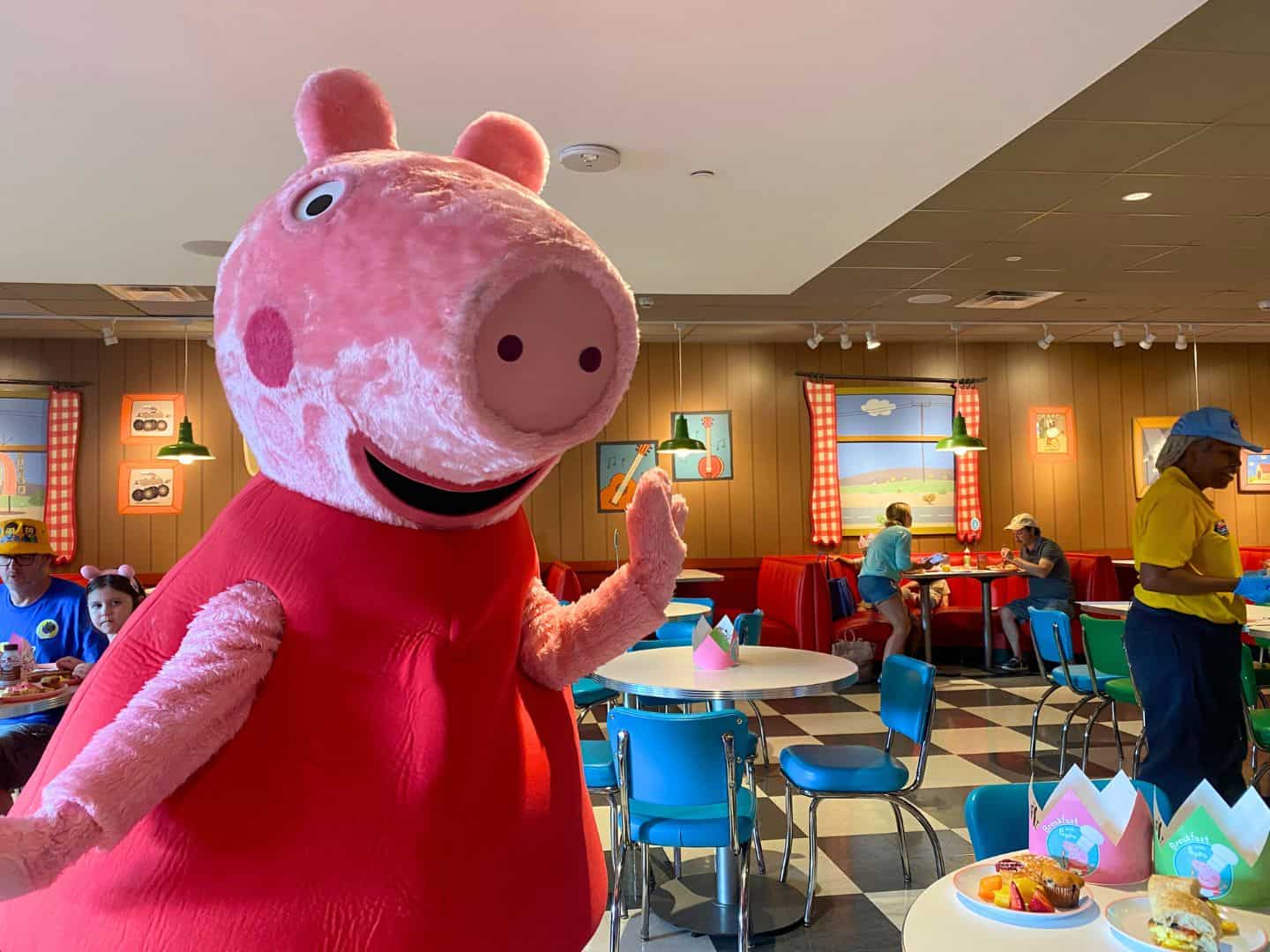 Peppa and George wrapped up their greetings after visiting all the tables, around 8:30 am. A friendly host joined in the festivities and made a few announcements, reminding families about the included family photo opportunity in the park, and the early opening of the rides.
Breakfast with Peppa Timeline
The following is a timeline of Breakfast with Peppa based on our experience at an invited media preview. Please note offerings and times are subject to change.
7:45 am enter the park (confirmed breakfast reservation and park ticket required)
7:50 am enter Miss Rabit's Diner, escorted to table
Breakfast buffet was open and ready for guests at our arrival of 7:50 am.
8:05 am Peppa and George characters arrive
Around 8:30 am characters finished
Shortly after 8:30 amThe BEST Things to Do in Tampa Bay with the Kids early access to Peppa Pig Theme Park rides
8:30 am – 9:00 am included family group photo inside the park
Breakfast with Peppa is offered Fridays and Saturdays starting Friday, June 9 through Saturday, September 2, 2023. (new extended date)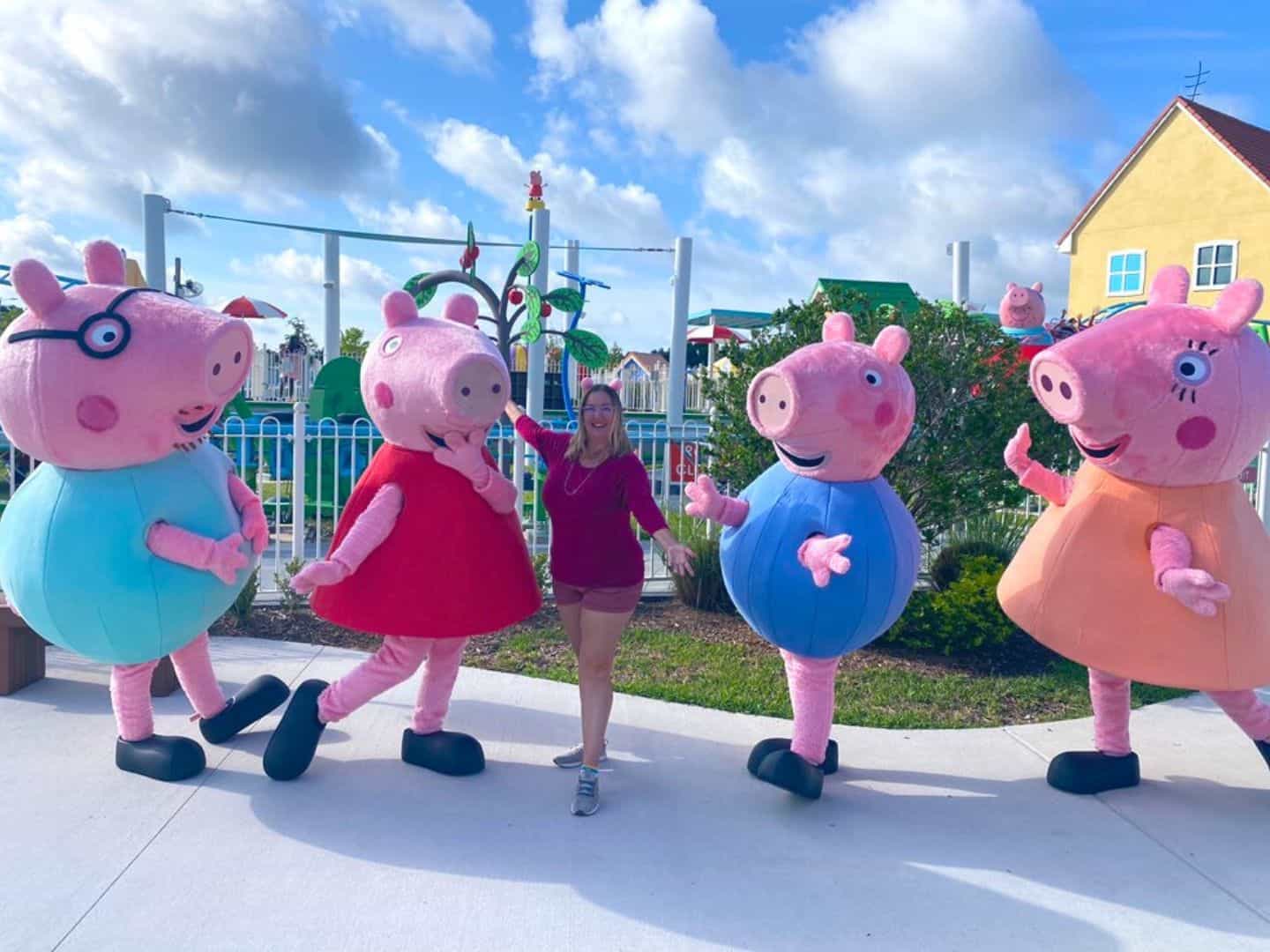 How much are tickets for Breakfast with Peppa?
Tickets for Breakfast with Peppa start at $34.99 for kids ages 2-9 and $44.99 for adults ages 10 and older. Guests under age 2 are free.
You will need a valid Annual Pass for Peppa Pig Theme Park or same-day park admission in addition to your Breakfast with Peppa ticket. You can purchase all at PeppaPigThemePark.com/Florida.
We have a pretty good feeling this will quickly become one of your favorite things to do in Tampa Bay with kids!
---
Related stories we think you'll LOVE: