Game Day Tips: Taking Your Kids to a Bucs Game
A Day at Raymond James with the Bucs: What you need to know before you go!
Another Tampa Bay Buccaneer season upon us and as our home team champs go for a back-to-back Super Bowl win, it's time us parents to brush up on the game plan for a day at the stadium. 
Whether you're an NFL newbie or a seasoned veteran, Raymond James Stadium is constantly evolving thanks to the Glazer family's innovative dedication to fan experience.
In the last few years, the stadium has received a few major upgrades that in addition to the NFL's changing policies, can be hard to keep up with. Here's a guide to help you and your family prepare for your special day at Raymond James.  
Don't Your Bags 
The NFL actually discourages the use of personal bags in all of its stadiums in order to expedite the entry process and provide the best security possible to keep your family safe. This also means diaper bags are not allowed.  
However, the NFL currently allows a clutch purse that is no larger than 4.5 inches by 6.5 inches. Remember, no camera bags, backpacks, coolers or fanny packs are allowed onto the premise. In emergencies, lockers are available onsite near gate C for a small fee if your bag doesn't pass the security check. 
Exceptions to the bag rule can be made for medical equipment, but speed the process up by calling ahead. On game day, not all gates will be equipped to make accommodations so find out what point of entrance will be as it may influence your drop off or parking decisions.   You can read the Accessibility policy here and get the specific links to meet your needs.
The Deal with Parking 
Parking is mostly sold out this year, however you can still get game day parking at the HCC Lot and Lot 13. Tip: They also ONLY accept credit card payments, no cash.
The lots open about 3.5 hours before kickoff. Tailgating is permitted but is limited to the purchased parking space. 
Taking a ride sharing option like Uber or Lyft may be a good alternative to driving to the stadium. It can be less stressful, safer when consuming alcohol. Rideshare drop-off and pick-up is now located across the bridge from the Steinbrenner lot to the Raymond James Stadium side of the bridge right at the bottom of the stairs.
You can read more about parking at Raymond James Stadium here to better map out your day.
Your Game Day Tickets
Tickets are sold out for this season (for obvious reasons), but you can still purchase verified resale tickets on Ticketmaster.com.
Keep in mind, that ALL attendees must have a ticket. Another change if you haven't been in awhile is the move to all digital ticketing. Your ticket can be saved on the free Buccaneers app or even saved in your Apple Wallet. To access your tickets, click on MANAGE MY TICKETS and log into your account. Have your digital tickets ready to be scanned to make the check-in process easier on everyone.
CLICK HERE to watch the Know Before You Go Video by the Tampa Bay Buccaneers 
If you want to get in on the action for the 2022 season, head over to the Krewe Member Headquarters located throughout the stadium for a surprise and for information on joining the waitlist for Season Passes for next year.
Arrive Early and Party at Bucs Beach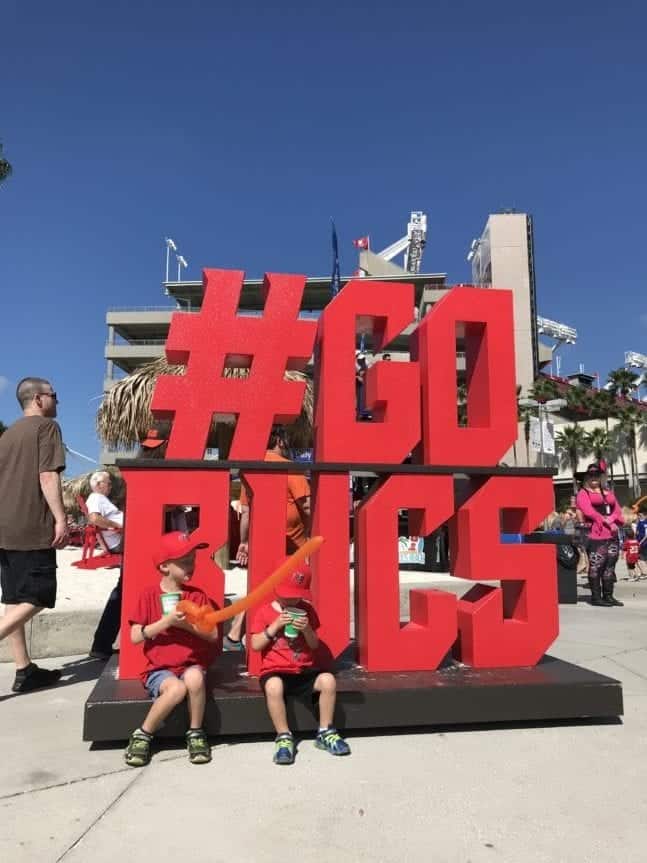 Make sure to schedule in some time for PLAY before the game! Bucs Beach is a great spot to take awesome photos, listen to live music and drumline, dance with pirates and more.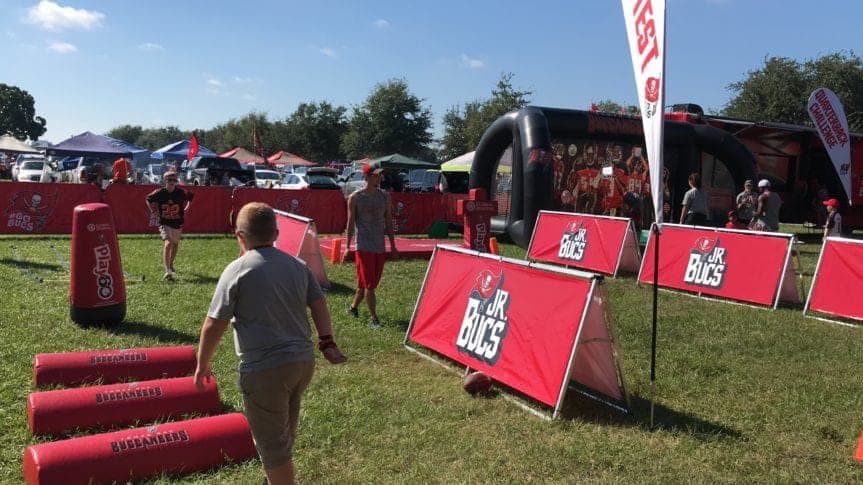 We also love the Jr Bucs Experience kids zone which features plenty of interactive activities for the kids including an inflatable obstacle course, football drills, and meet and greets with Captain Fear and the Bucs cheerleaders.
You can even join the Jr Bucs Fan Club and take home your very own treasure box with a hat, football, lanyard, notebook and official fan club card! Join the Jr. Bucs Fan Club here!
There are also options to upgrade to one of the tailgates in each of the verandahs. If the events are not sold out, there may be opportunities to purchase a walk-up ticket, but it's not guaranteed. You can learn more here.
Face Mask Policy
You are not required to wear a face covering when attending a game at Raymond James Stadium, however per CDC guidelines, face masks are recommended for both vaccinated and unvaccinated people.
Game Time Dining
 
Fans are not permitted to bring outside food or drink into Raymond James, although exceptions can be made for infants and toddlers. Fortunately the stadium offers an abundance of dining choices, 47 concessions to be exact. Keep in mind that concessions are also cashless.
Gluten allergy? No problem! There's a deli on each level full of gluten-free alternatives to sporting event favorites like hotdogs and nachos. They even feature a gluten-free picnic box.  
Mother's Nursing Rooms Now Available on Game Day
If you need to feed your baby or even seek a quiet space to pump, there are four Mother's Nursing Rooms at Raymond James Stadium.
There are two Nursing Rooms located on the main concourse in quad B/Section 143-144 and Quad D/Section 118-119. The other Nursing Rooms are located in the East Club in Quad D/Section 216-217 and the Hyundai Club at Quad B/Section 241-242..
Parts of this article was originally appeared in the August issue of Tampa Bay Parenting Magazine and updated in 2021.
---
Related stories we think you'll LOVE: