Family and Football: Mike Evans on lessons from the field to home
Hard Work. Teamwork. Patience.
Pictured: Mike Evans, Ashli Evans and Ariah Evans by Darlene Barlows Photography
Arian is 2, turns 3 in November. Mackenzie is his oldest child who lives in Texas with her mom.
---
If it's Sunday afternoon and you hear that cannon booming from Raymond James Stadium, you know it's September in Tampa Bay and the start of football season!
Related: Game Day Fun: A day at Raymond James Stadium with the Bucs
They may spend long hot hours knocking each other down on the field, but many of the Bucs are softies at heart. As some of the city's most recognizable representatives, some of them go out of their way to give back.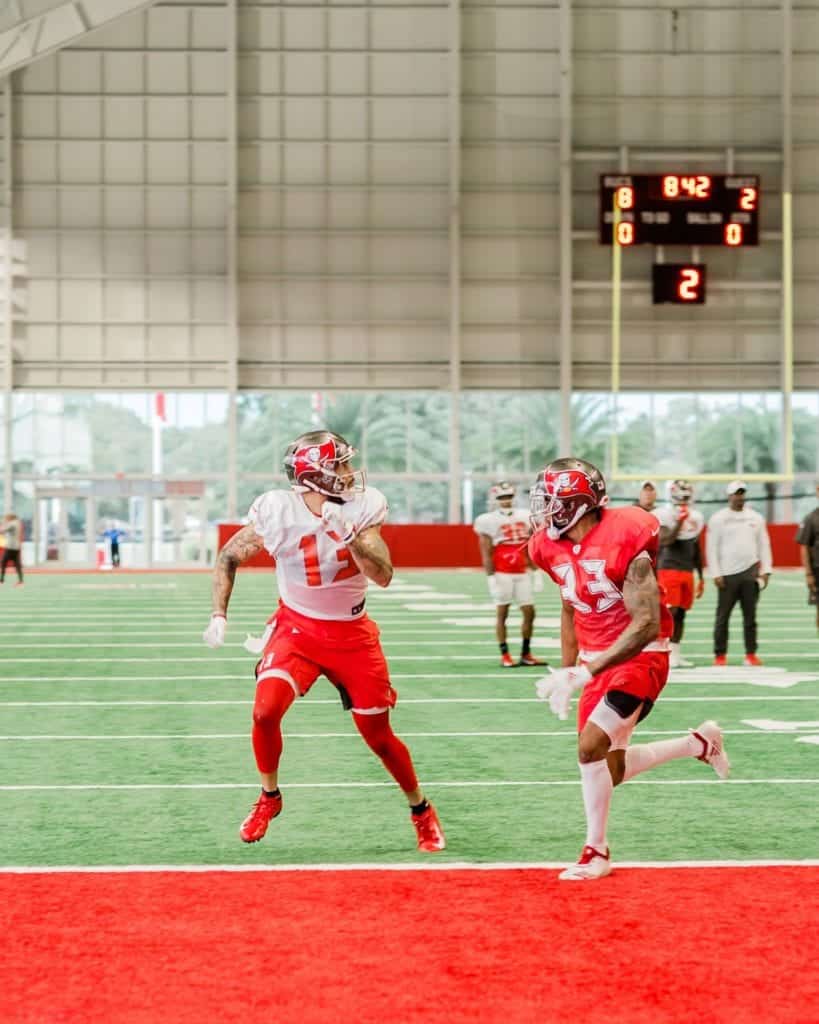 Wide receiver Mike Evans has spoken publicly of the hardships he suffered in his childhood in Galveston, Texas. So when he and his wife, Ashli, launched the Mike Evans Family Foundation in December of 2017, it was with a view to help kids who are going through what he once did. The foundation will develop a college scholarship program for graduating high school students from low-income families and support women and families battling domestic violence.
We met with Evans and his gorgeous family to talk about football, fatherhood and philanthropy.
---
TBPM: As we were waiting, we couldn't help but notice the bond between you, your teammates and your families. The Bucs babies sure do adore each other! 
Mike Evans: The Bucs are our second family. We are with them at least half of year. The guys are really close to each other on the team. We all know each other's kids. It's cool to see everybody at practice. Our daughter is getting to know Jameis Winston's son and Ryan Jensen's son.
I've been here six years and I've seen some of my teammates' kids grow. It's pretty cool to see.
TBPM: Has being a father brought you closer to some of your teammates?
Mike Evans: It gives us something to talk about. We all discuss our parenthood problems and issues we go through. It's not major problems, it's about little hiccups like changing diapers and stuff like that. (laughs) It's pretty cool to have somebody else in your shoes.
TBPM: Has parenthood changed the way you play the game?
Mike Evans: I've always been a hard worker. I play as hard as I can, but when I had my first child in college, it was a little extra motivation. Everything I do, she's watching and now they're both watching. I'm trying to feed them so they can grow up and have access to the things I didn't have access to. They have college funds already set up, that's one of the things I'm most proud about. It's just extra motivation. Keep working just for them and show them that if you work hard enough, your dreams are reachable.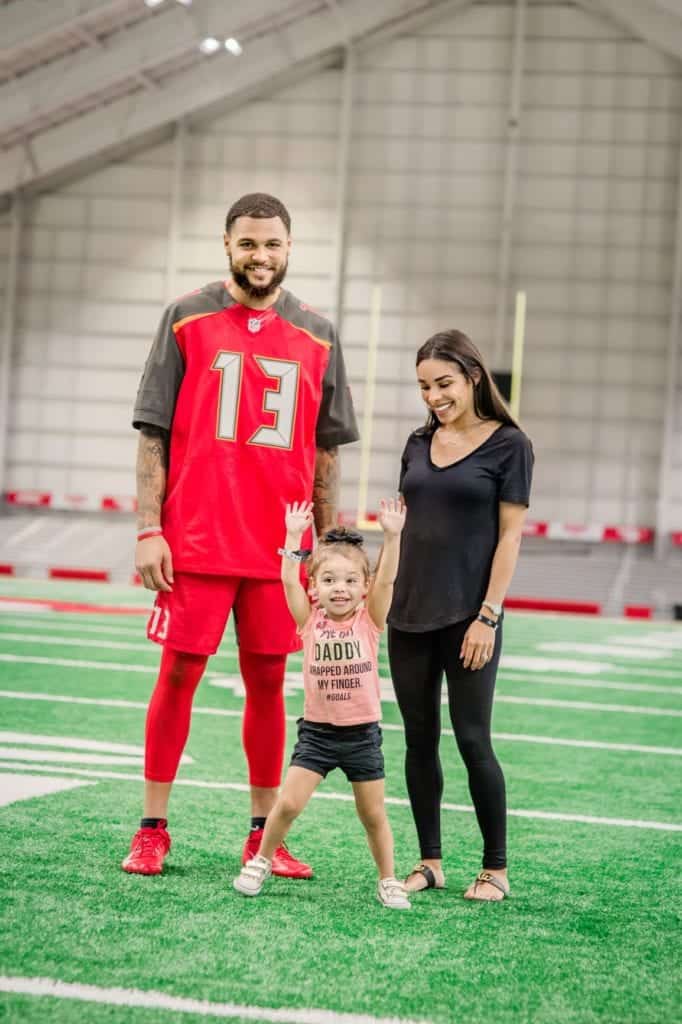 TBPM: What are some life lessons you've learned on the field that you bring back home?
Mike Evans: Being a football player there are some similarities in parenthood.  You have to have patience and discipline. You have to have patience on the football field, or you won't be a good player and you have to have patience in the household, or you won't be a good father.
TBPM: We can't help but notice all of the kids who wear your jersey to training camp and the games. What is that like for you?
Mike Evans: It's awesome. I grew up loving sports. I always wanted to wear my favorite athlete's jersey and now that I'm in that position. Kids look up to me, grownups are a fan of me. It means the world to me.
TBPM: You and your wife Ashli are from Texas, but you have a lot of love for your second home Tampa Bay. What are some of your favorite things to do as a family here?
Mike Evans: We love to go to the movies at CineBistro. We like to go on walks on Bayshore, Busch Gardens and the water park with my other daughter, ice skating downtown in the winter and eating good food.
We love watching TV. That's one of our favorite things…just watching TV.
TBPM: You and Ashli have a strong passion to give back to the community. Why is a commitment to give back through the Mike Evans Family Foundation so important to you both?
Mike Evans: We're blessed to be in this position. Somebody who has the platform that we have, we should be giving back. It's something that's in our hearts.
I guess it was instilled in us when we were young. We had really great mothers who showed us the way and we're just trying to show that on a bigger scale and show that anything is possible if you work hard.
It's a different type of satisfaction that you get when you're helping somebody out, more than scoring touchdowns or anything like that.
TBPM: The holidays are a special time too! Tell us more about your annual Christmas gift event for kids in Tampa Bay.
Mike Evans: That's one of our favorite events.
Ashli Evans: I think that means more to us than it does to them.
Mike Evans: It's a cool moment for them and that's why we do it. We pick 13 kids in the Tampa community who are making good grades that come from low income families and we buy them everything they want for Christmas. It's been two Christmases. This will be our third year doing it and just seeing their faces…that's the best part.
Ashli Evans: Just seeing their faces light up…(smiles) I think we get more out of it than them.
TBPM: Charity is a family affair —why is it important to involve your daughters Ariah and Mackenzie in your charity work as they get older.
Ashli Evans: We do want to get them more involved so they can understand how blessed they are and to be around other kids less fortunate and give back to them. I want them to know and experience that.
Originally published in the September 2019 issue of Tampa Bay Parenting Magazine.