A Parent's Review of Camp Margaritaville Auburndale
What do you think is the best part of living in Central Florida? If your family is like mine, we cherish the fact that we can get away to so many spectacular destinations all around Florida.
Tucked almost halfway between Tampa and Orlando is Camp Margaritaville Auburndale, formerly named Cabana Club RV Resort and Cottages.
I found about this family-friendly RV resort in Central Florida through the Visit Central Florida office. When a Black Friday discount code popped up I jumped at the chance for my family and me to celebrate our son's birthday with a stay in one of the charming cottages.
We thoroughly enjoyed the experience. In fact, we returned to Camp Margaritaville Auburndale a second time. This time we brought along my parents. Our cabins neighbored each other – after reaching out to the staff prior to our arrival.
Read on for tips and important information. Our parent's review of Camp Margaritaville Auburndale covers from what families need to know before their stay. Take it from a family who has stayed here two years in a row. It is truly a great place for a Central Florida family getaway – especially on a budget.
What's Included at Camp Margaritaville Auburndale RV Resort?
If you're used to Orlando family-friendly resorts and hotels, you're used to fees and costs that add up. Although we love the theme parks and enjoying staying overnight from time to time, I craved something budget-friendly and family-friendly too.
Camp Margaritaville Auburndale offers multiple categories of RV sites and one bedroom cabins. Our family has traveled to quite a few campgrounds around Florida, two of my favorites are Jetty Park and now Camp Margaritaville Auburndale.
We relish the atmosphere of folks enjoying the outdoors, families walking and biking around the grounds, and the slower pace. Most of the campgrounds we've stayed in are state parks, which are nature-centric without a lot of frills. You'll find relaxation and community at Camp Margaritaville Auburndale, plus lots of included activities.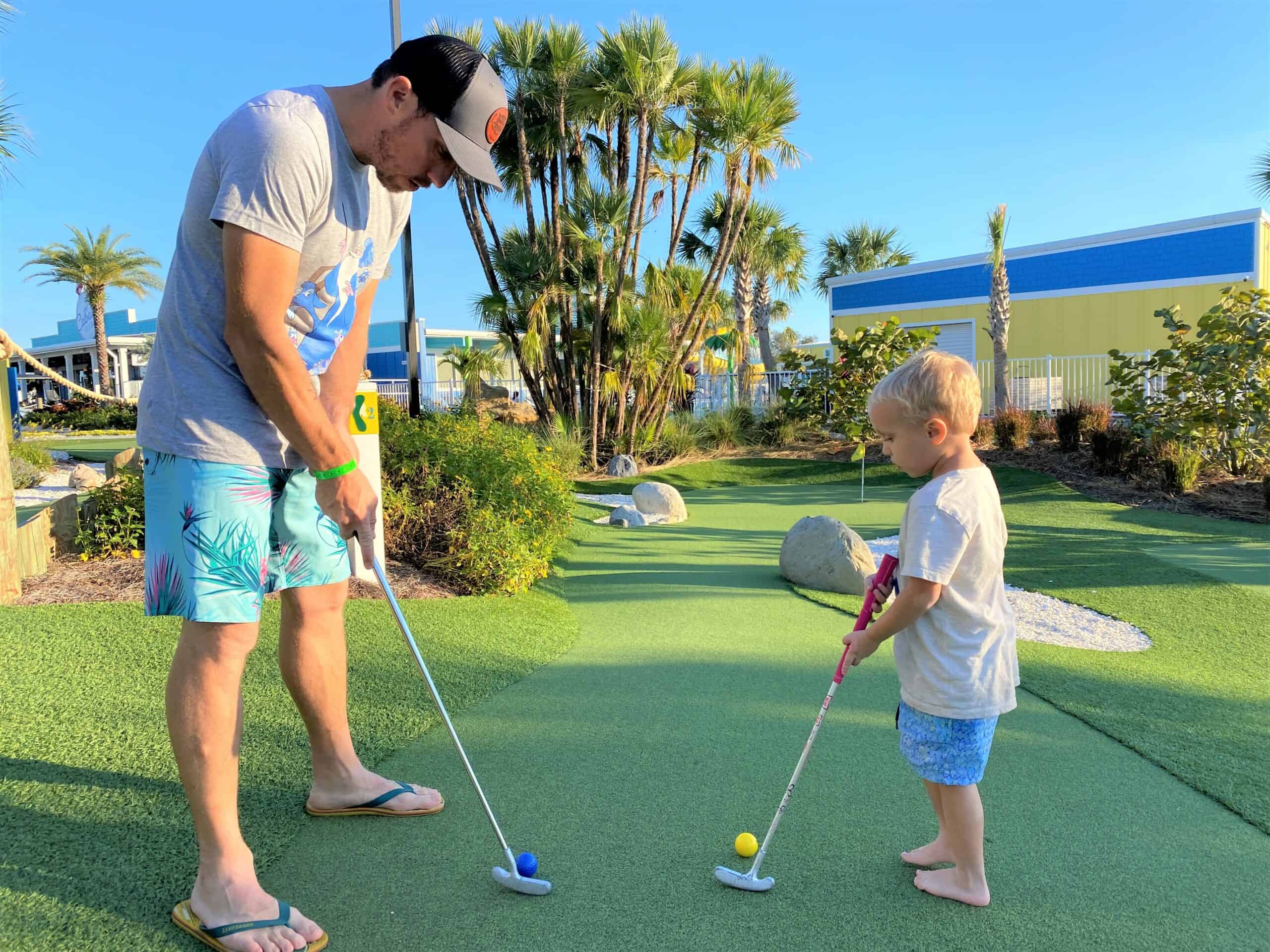 There is a $12 activities fee automatically added to each reservation, but you do get lots of included amenities.
Mini golf
Kids activities like basketball, cornhole and more
Resort pool with water slide
Lakeside pool
Water playground
Regular playground
Charcoal grill and picnic tables
Fitness center
Wifi
Besides the above-included amenities, Camp Margaritaville Auburndale has other features that are an additional cost.
Tiki bar
On site market
Frank and Lola's Pizzeria
Feeding Frenzy casual food
Arcade
Showers and laundry facilities
With these features and amenities, we were able to enjoy the resort without feeling like we needed to leave multiple times to find something to do or get what we needed.
Most of the amenities are located at the front of the resort, throughout the massive common area. The check-in building also houses the market, restrooms, arcade, fitness center, and a shower station for those using an RV site.
Plus, the large common area has lots of outdoor features like the tiki bar, the pool with waterslide and zero-entry, a separate water playground, a regular playground, 9-hole mini golf, multiple firepit seating areas, and more.
This resort is also dog friendly with two dog parks.
Important note: The pools are not heated. We love the Jolly Mon Kids Water Pool, however, the water is usually very cold. The water is very shallow and it does make for a fun play area – at least for a short visit.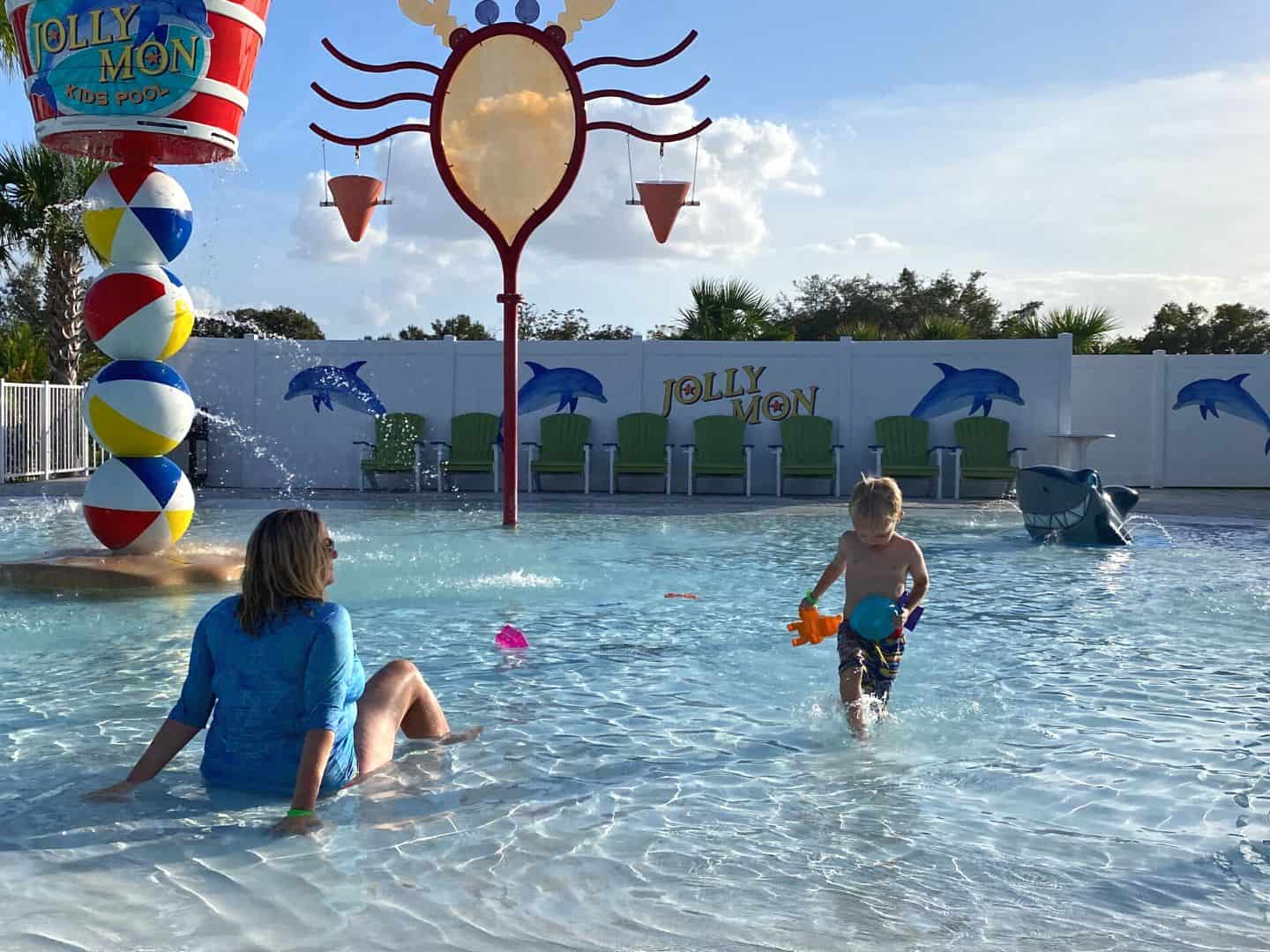 We love the new pool and full service bar down by the lake. This new pool is quieter than the main pool with tons of seating. A new dock juts out into the lake with relaxing chairs and views of the wakeboarding park on the lake.
To access these resort amenities you'll need to keep your wristband on throughout the duration of your stay. This can be a little annoying, so make sure your wristbands are comfortable – not too tight or too loose before you secure them.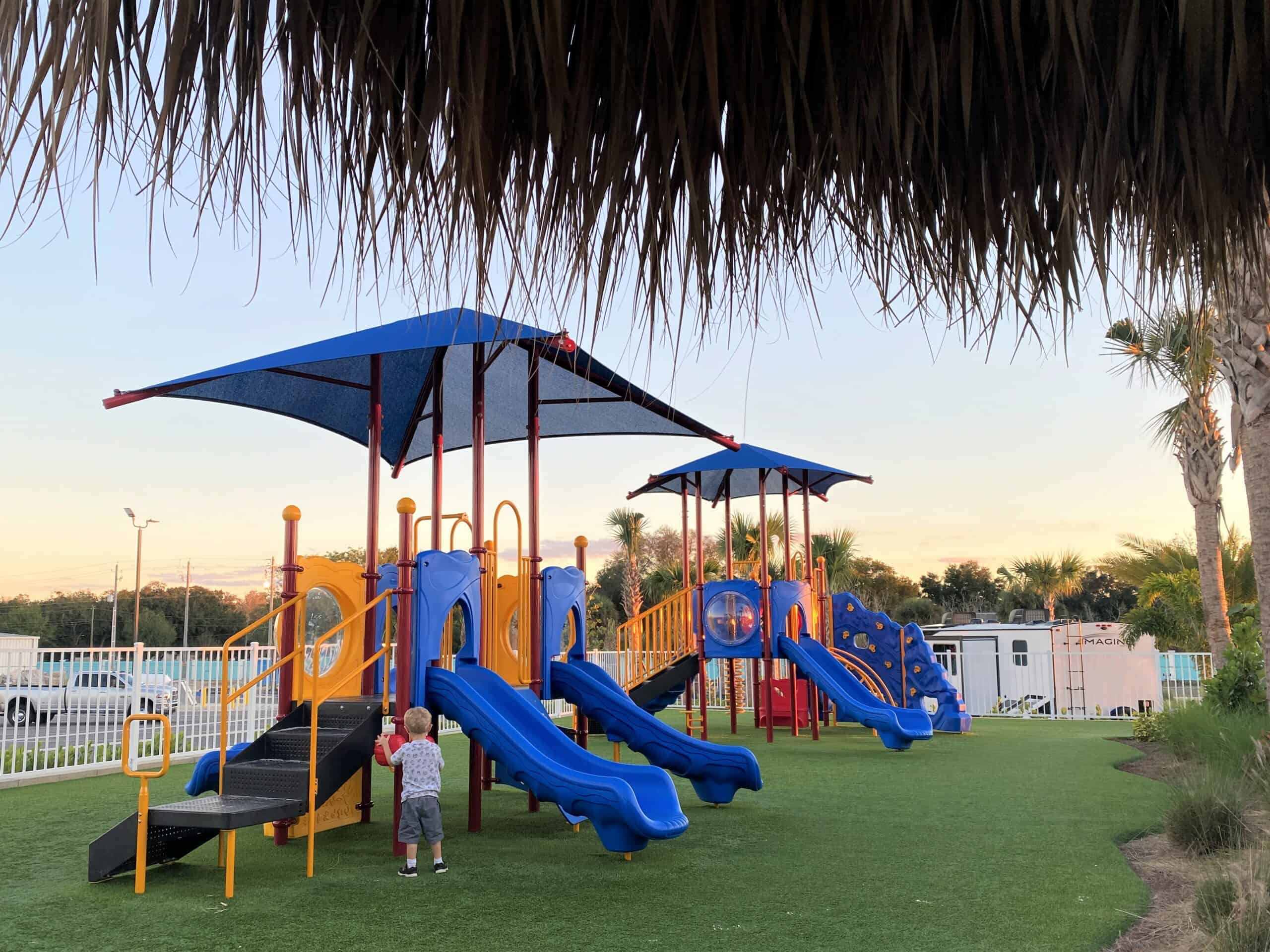 Besides the $12 activities fee, there is a $55 cleaning fee per reservation. And just like all other hotels, resorts, and accomodations there is sales tax and tourism tax.
Our family loved playing the 9 hole putting course — we did so each of the three days of our stay. The playground and water playground quickly became favorite spots as well, especially since they both are fully fenced in, allowing us parents to relax even more.
Camp Margaritaville Auburndale Local Area and What's Nearby
We headed from Orlando to Auburndale, and actually went a bit further past the resort since check-in time is 3:00 pm. Keel and Curley Farm and Winery in Plant City is a favorite destination for our family anytime we are near the area.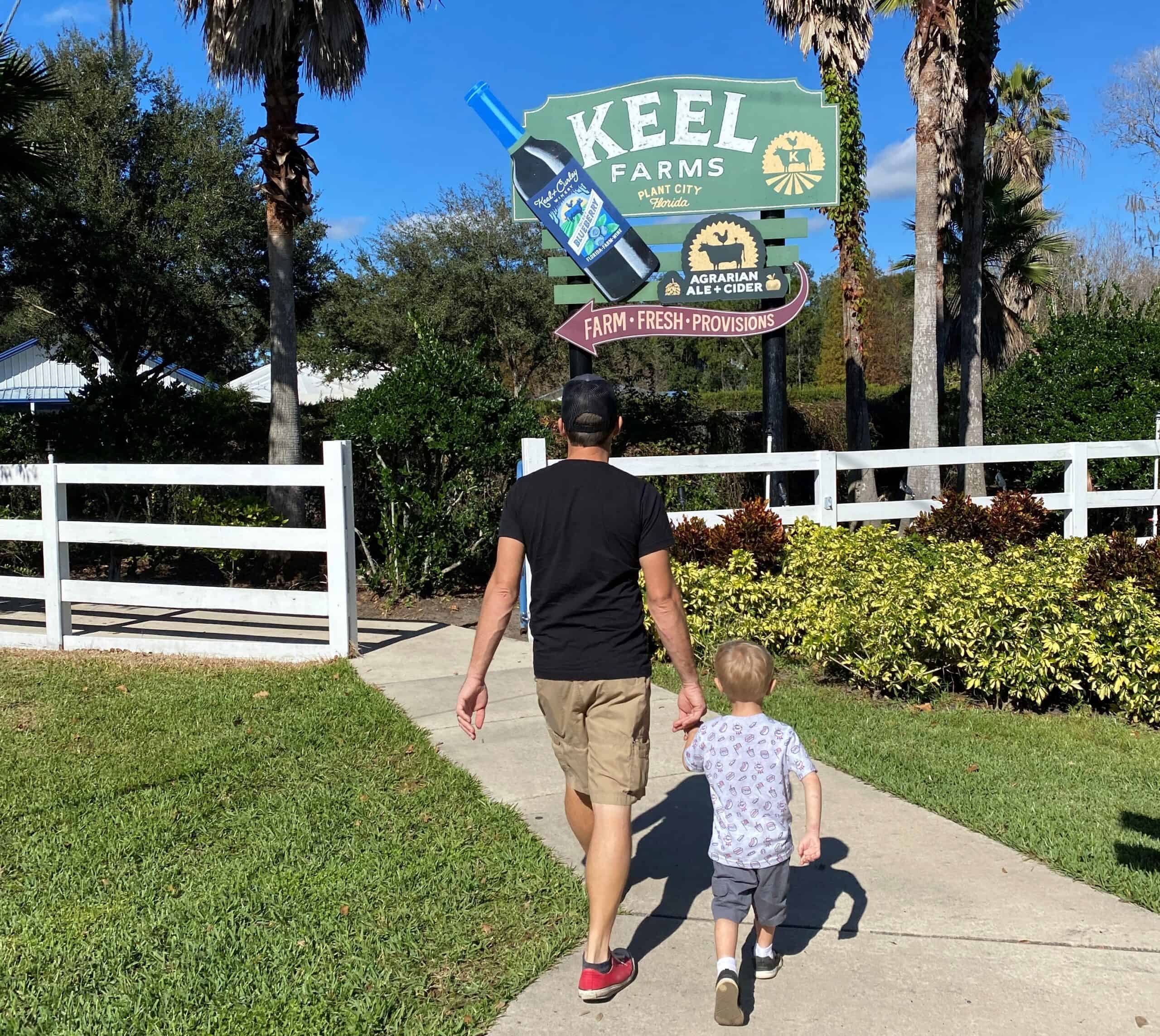 Even though Auburndale is just over an hour from the Tampa Bay area, you may want to consider a pit stop on your way in, especially if you want to eat up some time before check-in time.
Camp Margaritaville Auburndale Resort is not in the middle of the action. Auburndale is a farm town that has grown and changed in recent years. Still, there's not a ton of fresh development right near the resort. However, there are plenty of parks within 15 – 30 minutes from the resort.
There are also bigger attractions about 30 – 45 minutes away.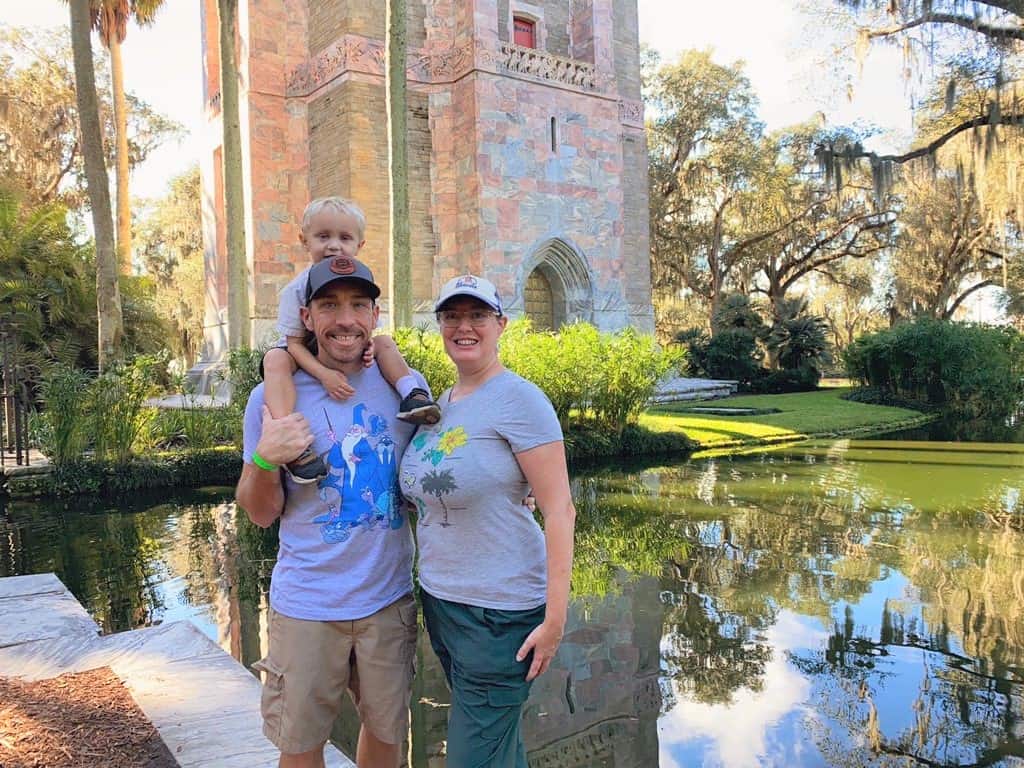 Features of our Camp Margaritaville One Bedroom Cabana Cabin
There are lots of cottages lined up around the perimeter of the RV resort. Each cottage-style cabin has one bedroom and a large living area with a sleeper sofa. The maximum capacity is four persons, and our family of three felt very comfortable throughout our three-night stay.
Although every cabin at Camp Margaritaville is a one bedroom, there are some different layouts based on where the cabin is located. Every cabin is part of a row of 8- 10 cabins that line the perimeter of the resort.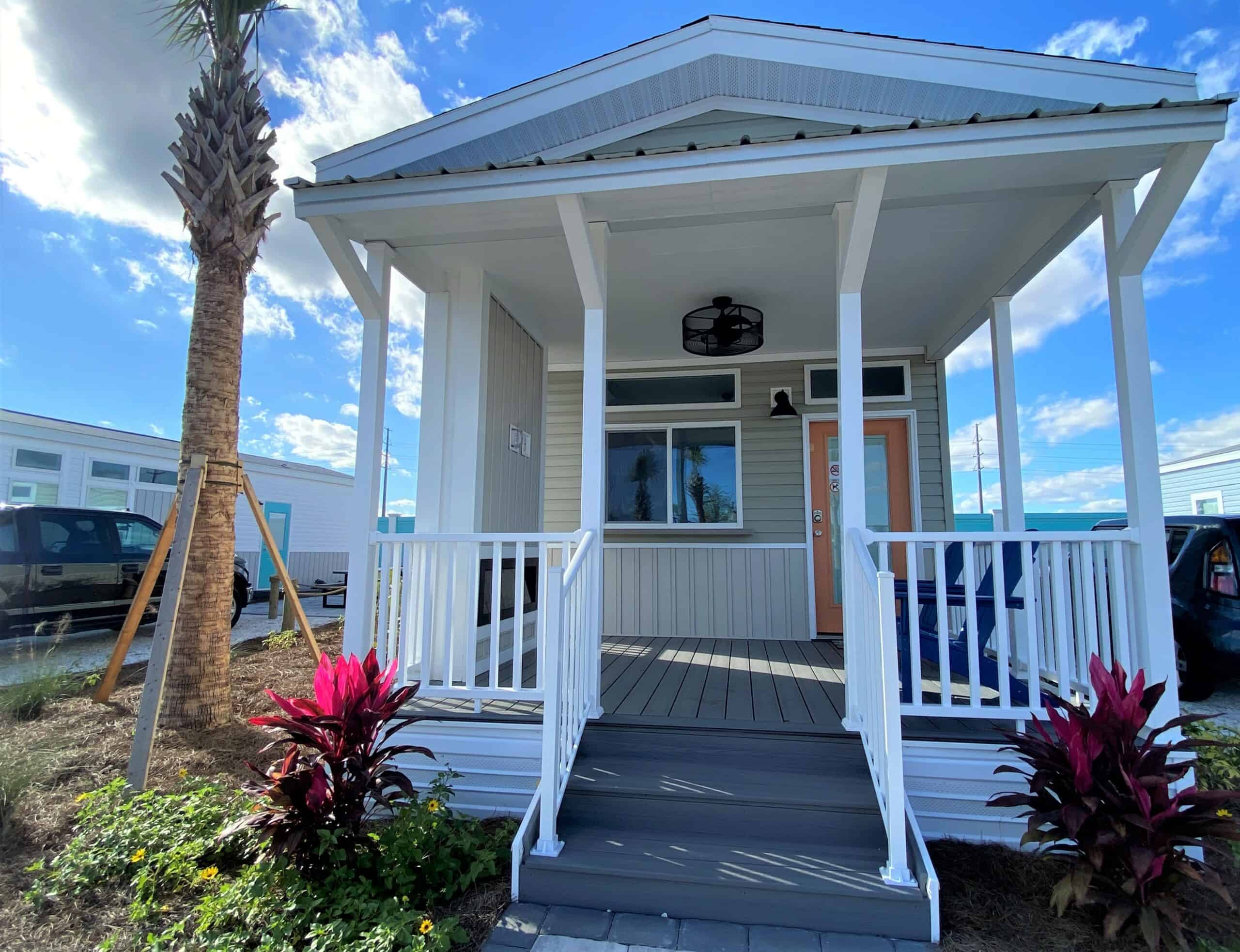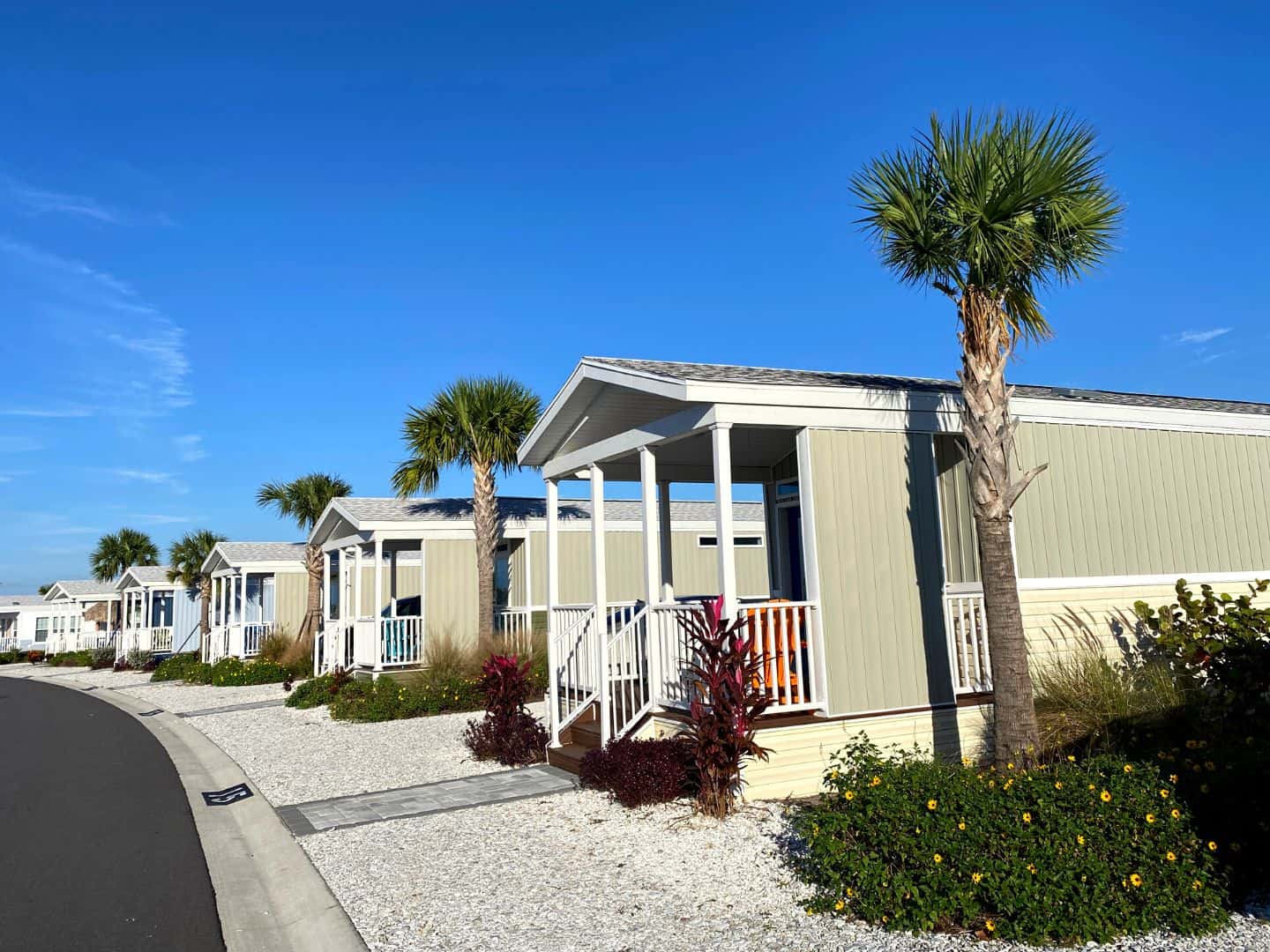 During our 2021 stay our cottage was located at the very back, which had some pros and cons. On the plus side, we enjoyed the overall quiet. Our cottage faced the basketball court, so there was activity there, but nothing intrusive.
The resort is near the Polk Parkway toll road, and our cabin's location did result in lots of highway noise. It did not disrupt our sleep nor our enjoyment.
During our recent 2022 we enjoyed our cottage located near the front of the resort. This location put us near the lake with a quieter pool. We enjoyed the lakeside access and the full bar. On the last night of our stay we ordered pizza from Frank and Lola's Pizzeria, which is at the front of the campground. After a nominal $3 delivery charge since we enjoyed delicious pizza by the pool.
Each cabin has a porch. We loved relaxing together at the end of the day on ours. The kitchen welcomed us as we walked into the cabin – practically everything we needed awaiting inside the cabinets.
The one thing I would change is the Keurig coffee maker. My husband and I much prefer a traditional coffee maker, we find the quality to be much better.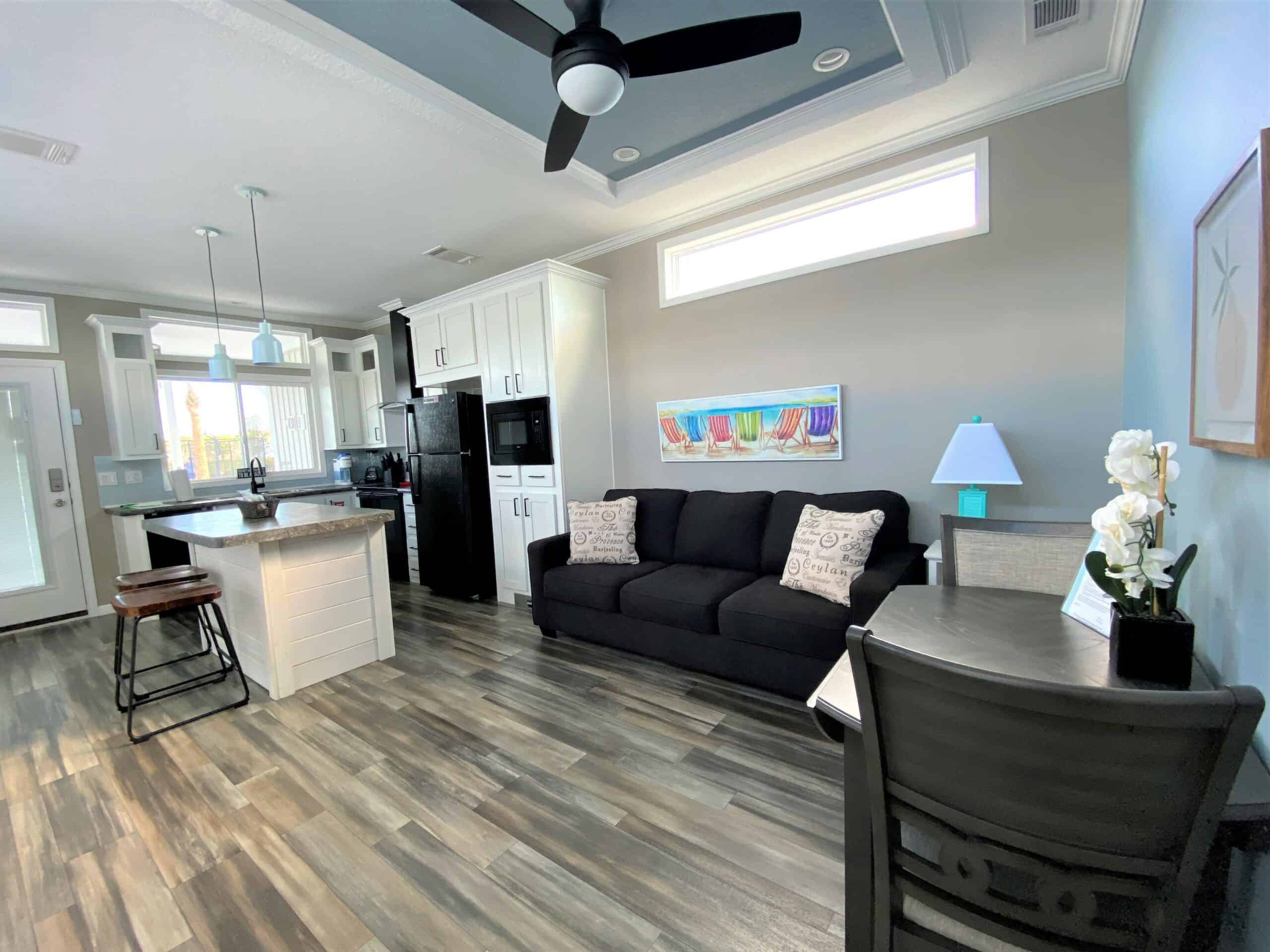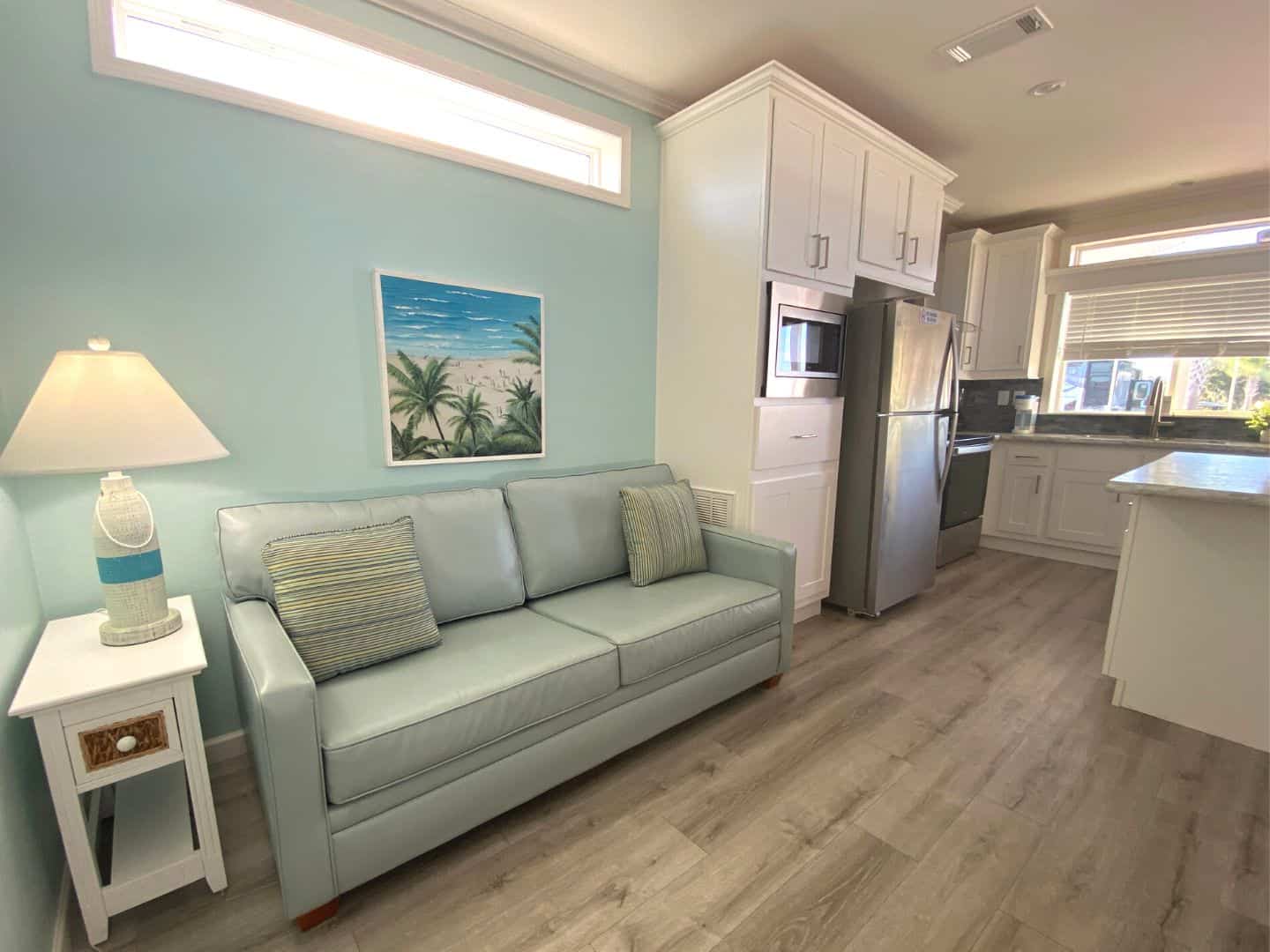 The living area provided plenty of space for our family of three. Our son had ample space on the queen size sleeper sofa. The massive television impressed us, though we nor the staff could get the smart apps like Netflix or Prime Video to work.
The bathroom has lovely natural light and a quality shower. However, our cabin in 2021 at the back of the campground did not have a shelf or any place for soap or shampoo to sit inside the shower. Our 2022 cabin at the front of the grounds did indeed have a shelf in the shower, thankfully.
The bedroom is cutely decorated but is the tighest quarters of the cabin. This is in part to having a king bed which I will gladly choose over having a little extra floor space. The number of drawers and cabinets throughout the entire cottage impressed me and came in handy.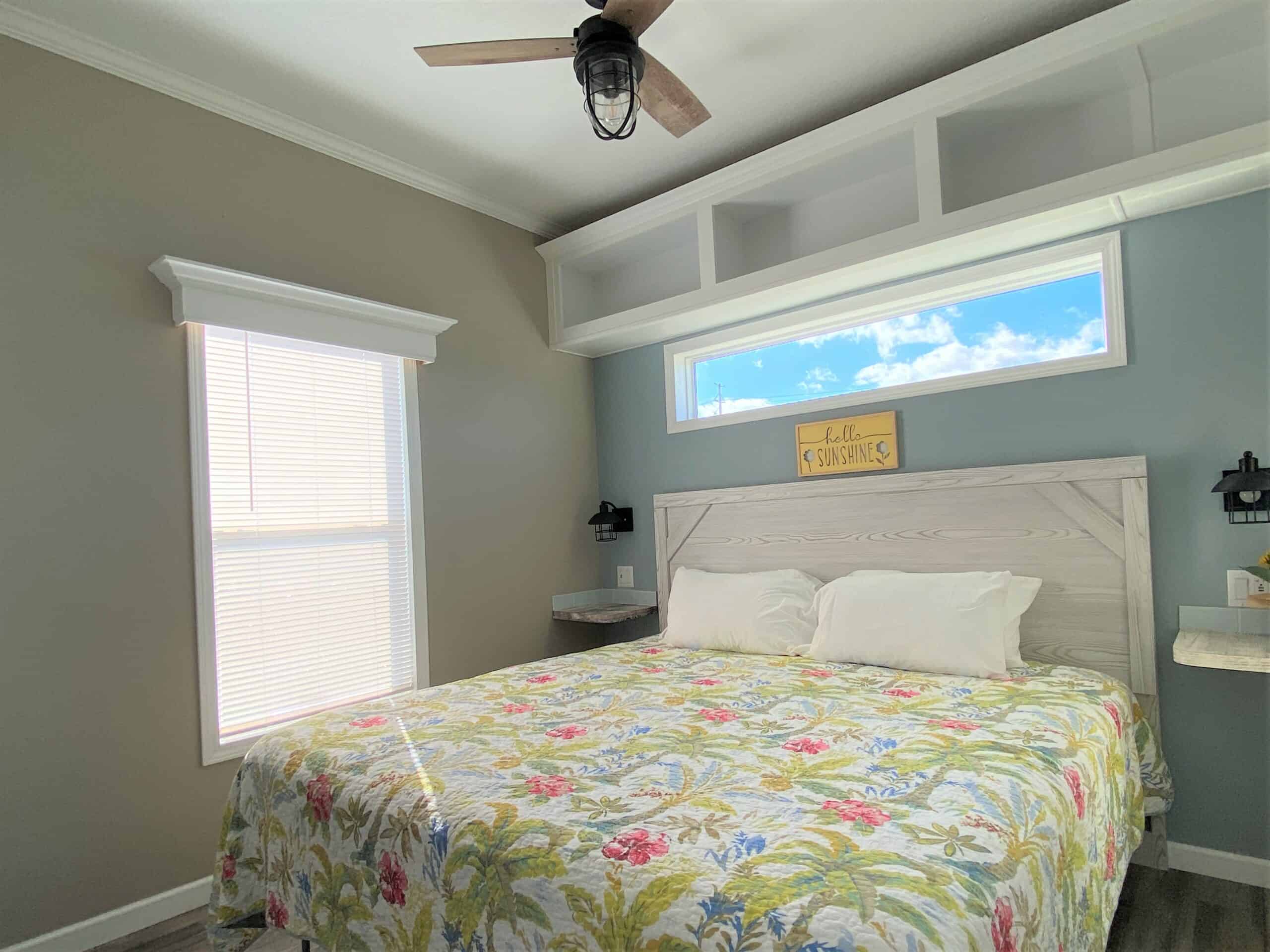 The bedroom of the cabin during our recent 2022 stay had slightly more storage space. A bay window also provided a tad more room.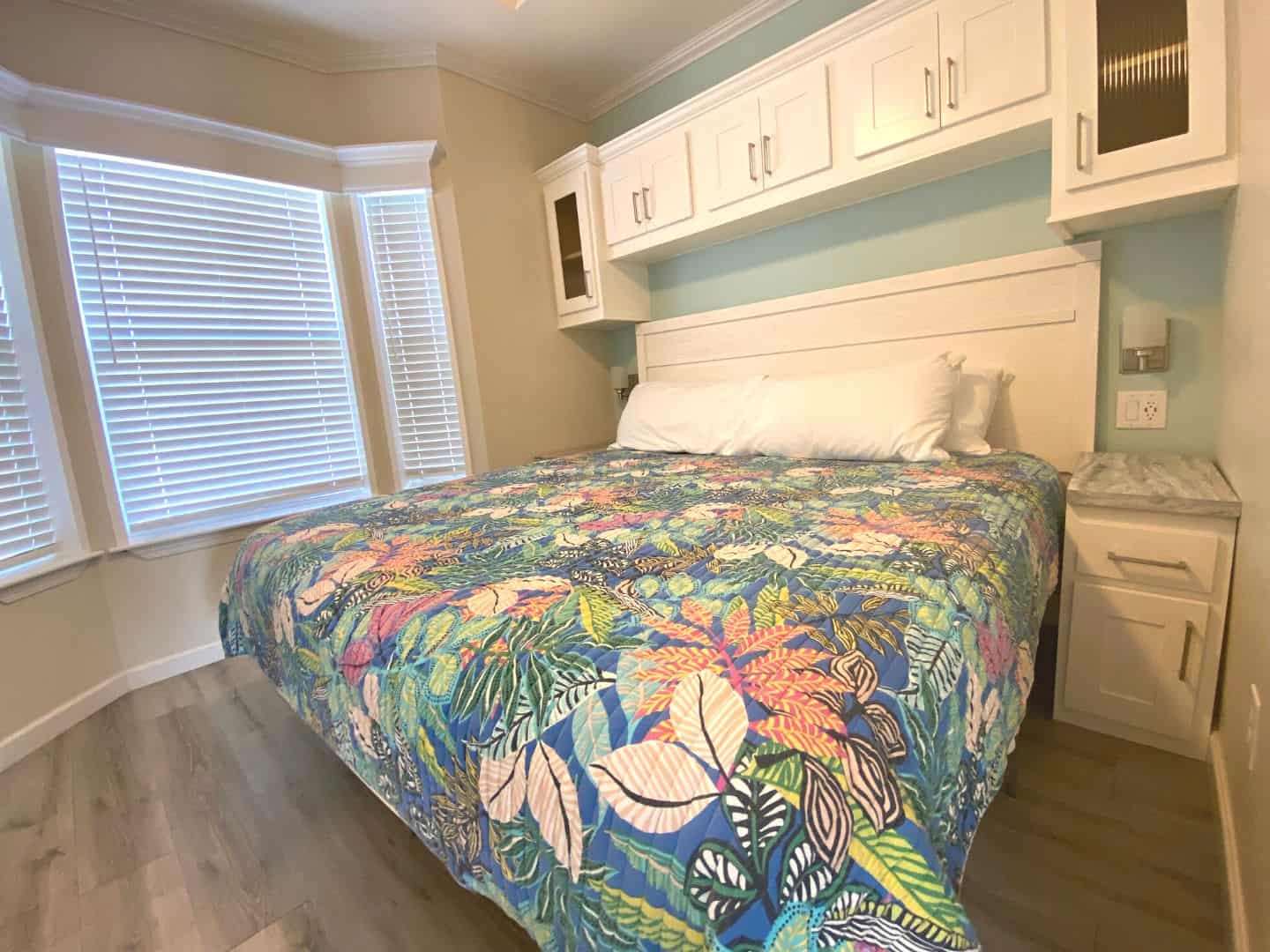 We made good use of the picnic and grill area alongside the cabin. A side door near the back of the cabin came in handy so we could enjoy the outdoor space. We made great memories enjoying meals, games, and rest here.
Some cabins and RV sites have their own tiki hut wet bar. These features are an additional cost and are listed in the description before you book your reservation.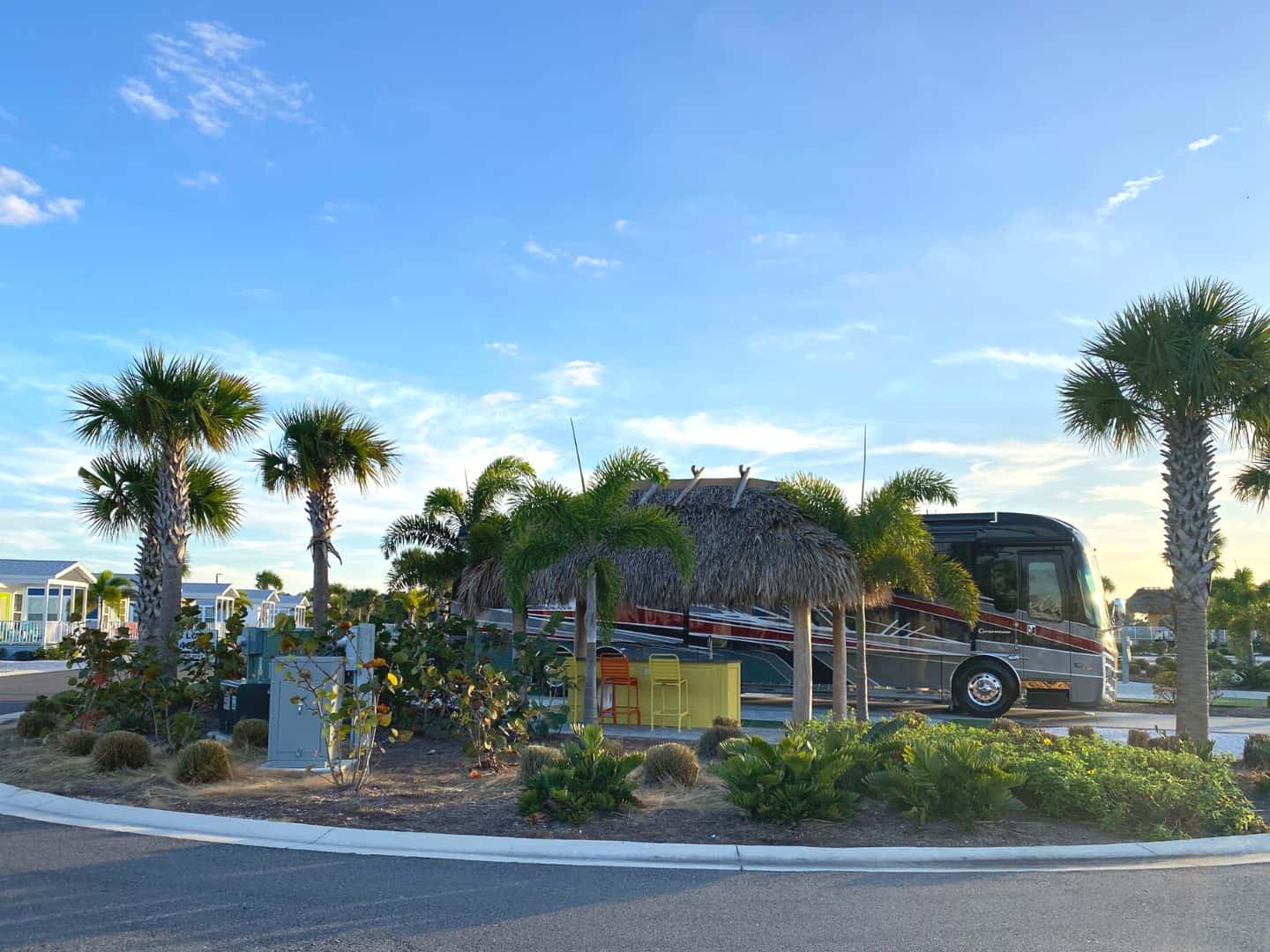 Important Things to Remember at Camp Margaritaville Auburndale RV Resort
Bring kids' camping chairs to use on the porch, there are two Adirondack chairs for adults
Bring plenty of pool towels since they are not provided. Bathroom towels are provided in the cabins
Check the activities schedule each day for recreation and music on the entertainment stage
Mosquitoes can be bad in the evening so bring along some spray and citronella candles
There is not much shade, especially at the RV sites
There are often discounts available during weekdays. I found a nice "Black Friday" discount on Instagram, Camp Margaritaville Auburndale.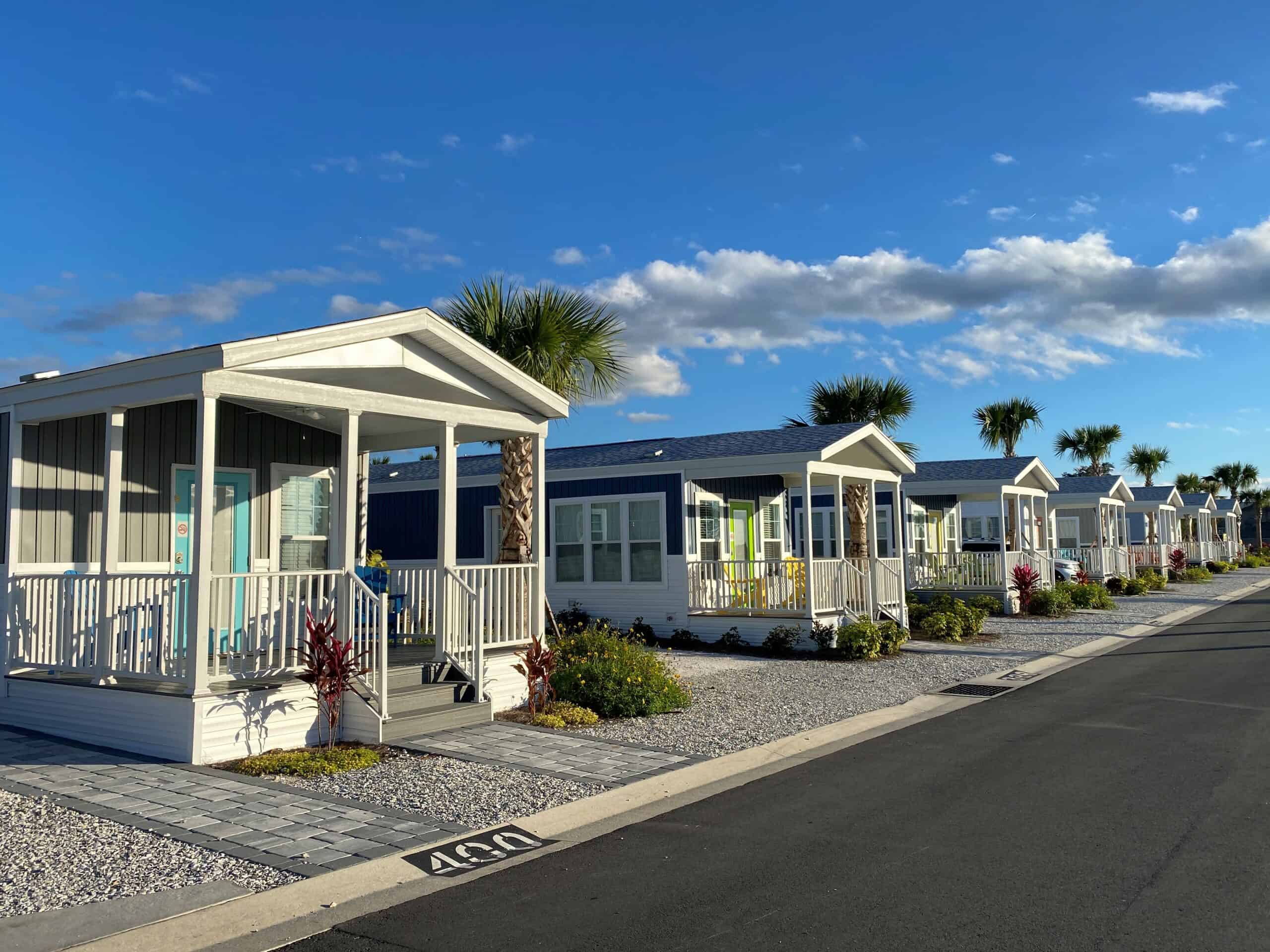 This Camp Margaritaville resort is independently owned – by a local family in fact.
For a Central Florida family getaway, this is a perfect fit.
All images by Dani Meyering