Caring for a Loved One with Dementia: Meet Lizette Rivera with Roasted Whisk
September is World Alzheimer's Month, a time that offers the opportunity for patients, caregivers, healthcare professionals, and communities to work together against dementia, raise awareness of the realities of the conditions, and challenge stigma and misinformation.
More than 50 million people globally are thought to be living with dementia, according to Alzheimer's Disease International (ADI), which coordinates the annual awareness event.
This year's theme, "Know Dementia, Know Alzheimer's," builds on last year's campaign, which focused on issues such as diagnosis and dementia warning signs, and also ties in the importance of supporting families and caregivers after an Alzheimer's or other dementia diagnosis.
Considered a long goodbye, it is a reality some of us may face with our own parents as they age. Lizette Rivera, a long-time Tampa Bay resident and founder of Roasted Whisk, knows this all too well as she is now a caretaker for her mother.
In an effort to bring attention towards those in their community that are affected by Alzheimer's disease or other types of dementia, she shares her experience with us on World Alzheimer's Day.
Please tell us your personal story and how you became personally invested to this particular disorder.
Rivera: My first experience with Dementia/ Alzheimers was with my maternal grandmother. I was very young and remember her being very forgetful and had no filter. Dementia presents itself differently in each person diagnosed.
I have a memory of her leaving the house and I could not find her. I was maybe 14 years old. My mother had gone to get groceries. When she returned we drove around and found her ten miles down Hillsborough Avenue. She had forgotten how she got there.
More recently, my mother has been diagnosed with Dementia. Over the last few years, we have watched a significant change in her behavior like forgetfulness and repeating sentences and stories within 2-3 minutes.
It was right after COVID that I began the search for an attorney and assumed the Power of Attorney for both her and my father so that we could apply for Medicaid. Once I was able to do that, the search for an adult daycare took place.
That has been a blessing not only for her and the routine and structure it has returned to her daily life, but also for my father. Taking care of a loved one with Dementia can be very isolating and overwhelming.
The six hours she is at the center allows him to do things for himself. As we all know, self care is very important.
What is some advice you can share with other caregivers who are experiencing the progression of dementia with a loved one? What have you learned along the way that you wish you knew earlier on?
Rivera: That is a wonderful question. The best advice I could give anyone is "ask for help!" There are so many wonderful resources.
Most insurance plans cover adult daycares, as does Medicaid. Have patience. This is so important. I would get so frustrated and tell my mother "don't you remember you already said that?"
They do not remember, and this is just a very disheartening question for them. Just listen, and smile and say "yes, I remember that." We have to remember for them, and it takes a lot of love and understanding to get through this. I think the last piece of advice is take care of yourself.
If you are a caretaker to a loved one with Dementia, find time for walks, massages, and dinner dates with friends. Whatever makes you happy.
What has been an unexpected but gratifying part of the intimate connection you have now with your mother in this stage of life?
Rivera: Getting to know her all over again has been most gratifying. I think because she was always just 'Mom' growing up, this has allowed me to really get to know her, and appreciate her and the strength that she has.
Some Dementia patients are able to maintain some of their long term memories, and listening to her tell old stories of when she was a teenager in Cuba have been amazing. I wish I could record her and write a book about her experiences under Castro. It would bring people to tears.
For now, it's her humor that I have embraced the most. She loves telling jokes and has no filter. As her adult daughter, I can appreciate that so much. I mean, laughter is the best medicine.
I know that you have recently partnered with The Dementia Society of America to be a part of a solution on a greater scale. What does this collaboration look like?
Rivera: We have collaborated with The Dementia Society of America with a new box called "Forget Me Not," and a portion of the proceeds will go to this charity to help find a cure for this disease. Together we are stronger!
I created this gift box as a way to show someone dealing with a loved one who has dementia that they are loved. I remember when a friend said their father had Dementia, and I wondered what I could do. Should I send flowers? I wanted to create something that had meaning.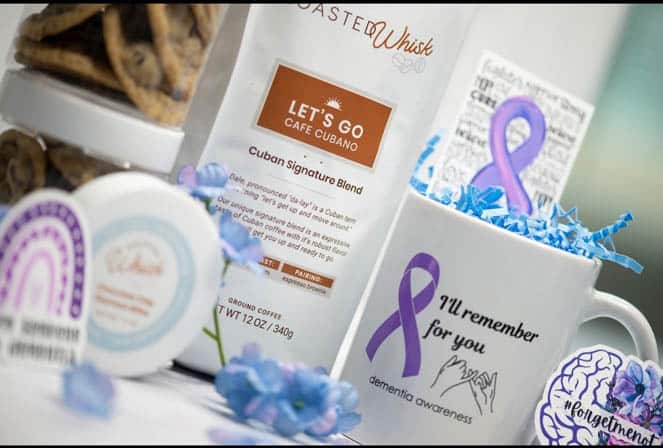 To honor everything 'Forget Me Not' stands for, what is your favorite memory of your mother?
Rivera: My favorite memory of my mother was cleaning days. She cleaned the house from top to bottom on Saturday mornings with salsa music blaring throughout the house. You want to take a guess how I clean my house now?
Yes, the very same way, but with a cup of Roasted Whisk Coffee in hand.  Dale! (In Spanish means, 'get up and go!') That is my mother, a sassy, firecracker of a woman.
---
Related stories we think you'll LOVE: