Ways to Celebrate Black History Month in Tampa Bay
Black History Month was created to acknowledge, congratulate and celebrate the many contributions of African Americans in the United States. It is celebrated Feb.1-28.
There are many opportunities across the Bay to join in on the celebration. Here are eight activities across the Bay to learn about the contributions African Americans have made in the Tampa Bay community.
---
Join the Tampa Bay Black Excellence Challenge in honor of Black History Month! 
I've teamed up with Karimah Henry of @craftingafunlife to help families like yours celebrate Black History Month while supporting black owned businesses. Save their digital BINGO card to your phone and visit as many black owned businesses as you can. Get your whole family involved and turn it into a little friendly competition. There are a variety of businesses to patronize. Shop small and local at businesses such as a gym, hair studio, restaurant or pharmacy. Play along and tag @tampabaybec on Instagram! You can discover local black owned businesses and explore more Black History Month events by tampablackexcellencechallenge.com.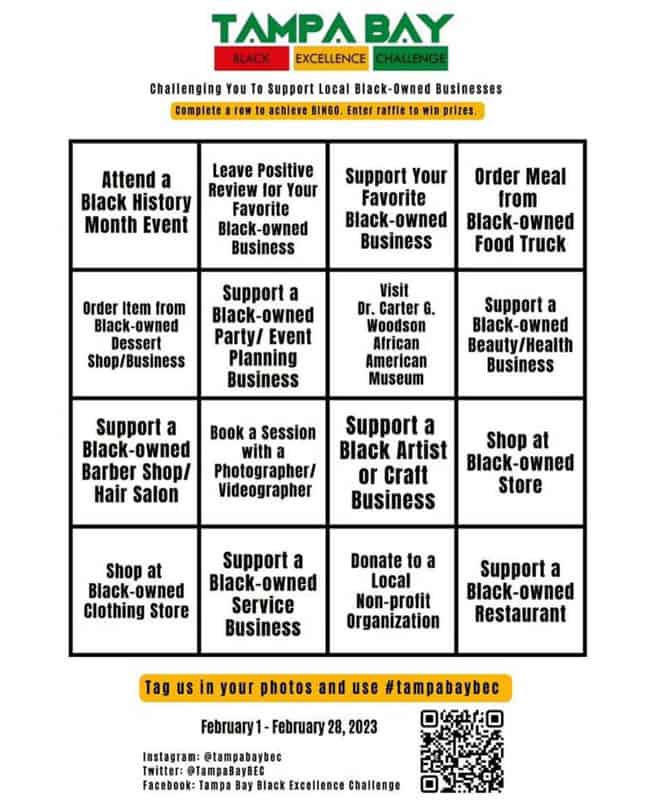 ---
Tampa Black History Month Events
Black History Month Tours and Events with Tampa Bay History Center
The Tampa Bay History Center offers three unique tours centered on Black History in Tampa. Register in advance at tampabayhistorycenter.org.
"Black Wall Street" Central Avenue West Walking Tour: Saturday, February 4 at 10 am
Florida Conversations Voices of Carver City/Lincoln Gardens: Wednesday, February 15 at 6:30 pm
Our History in Black and White: Wednesday, February 8 at 10:30 am
Living History Saturday: The History of Rogers Park: Saturday, February 25 from 12 pm-3 pm
'After Jackie' Documentary about Jackie Robinson: Thursday, February 2 at 7 pm
'The Wiz' (bring your favorite children's book to donate): Sunday, February 5 at 3 pm
'To Sleep with Anger': Sunday, February 12 at 3 pm
'Coming to America' (arrive at 2pm to explore a community marketplace): Sunday, February 19 at 3 pm
'Cabin in the Sky': Sunday, February 26 at 3 pm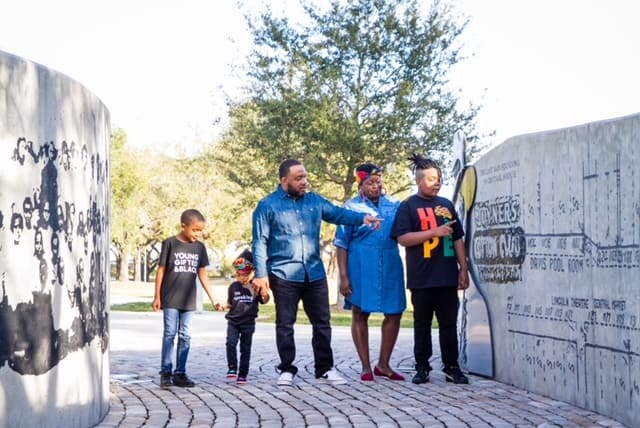 Head to Perry Harvey Park in Tampa for the annual Black History Month Walk for Education. This is more than a walk/run–you and the family can follow the history-based path to learn more about local black leaders through the history of our community. There will be live entertainment, kids zone and more!
---
St. Pete Black History Month Events
2023 Publix Tampa Bay Collard Green Festival | February 18 from 10 am-5pm
2240 9th Ave. S., St. Pete, FL 33712
Learn the rich history of collard greens in the African American community. Enjoy workshops, shopping and food at this fun family festival that occurs one day only, Saturday Feb. 18. Full details are at www.tbcgf.org.
Visit the Carter G Woodson African American Museum
2240 Ninth Ave. S., St. Pete, FL 33712
Schedule a tour with your family to learn about iconic African American leaders. Full details can be found at www.woodsonmuseum.org.
---
Clearwater/ Largo Black History Month Events
110 Marshall St., Clearwater, FL 33755

The museum is open Tuesday, Thursday and Saturday from 10am-2pm and by appointment only on Fridays.
905 N. Martin Luther King Jr Blvd, Clearwater, FL 33755
The North Greenwood Library is celebrating Black History Month with a program designed for all ages so you can test yourself to see how much you really know about African American History. The event is held throughout this month at various times.
Listen to renowned orator Windell Campbell at the Clearwater Countryside Library | Saturday, February 11 from 2pm-3pm
2642 Sabal Springs Drive, Clearwater, FL 33761
On Feb. 11 from 2pm-3pm, join renowned orator Windell Campbell as he celebrates Black History Month through the art of storytelling. Campbell is a professional oral storyteller who travels the state of Florida visiting libraries and participating in their reading programs. Full details can be found at www.myclearwaterlibrary.com.
*Photog credit: Miyah Jones Photography | Originally Published in the February 2022 issue of Tampa Bay Parenting Magazine. Updated for 2023 events.
---
More stories by Kiva Williams: