Our Favorite Things About Busch Gardens Christmas Town
Busch Gardens Christmas Town is celebrating its 10th anniversary in Tampa Bay with NEW ways to dazzle you and your family! You can expect new live shows and even a new realm along with the return of guest favorites.
This year's event kicks off on November 14, 2022 (Member preview on Sunday, November 13, 2022 from 2pm-9pm) and will be celebrated nightly for 57 consecutive days through January 9, 2023.
This is one of our favorite Christmas events in Tampa Bay because it truly appeals to all ages and stages whether you're a young family with a little one or you simply want to escape for a date night. We've even seen some teens having a great time at Christmas Town! A parenting win!
So, let's get to it so we can help you plan your most magical night ever among the millions of twinkling lights!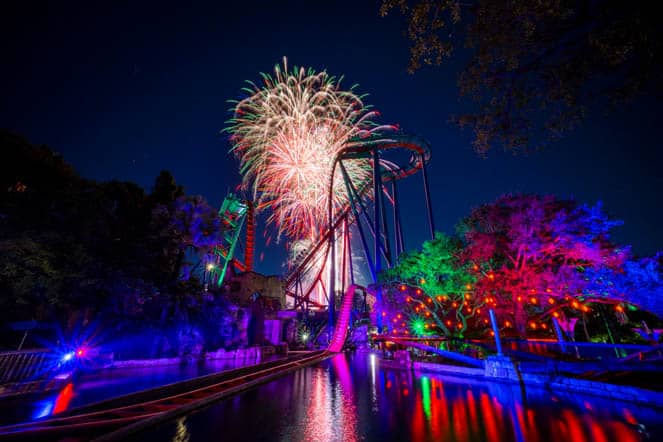 What's NEW at Christmas Town in 2022
We want to start off this guide by sharing what's NEW in 2022! From new light shows to new live shows and a new realm, Busch Gardens has lots in store for you this year! Here's what they're sharing with us so far:
Holiday in the Sky – The evening sky comes to life with a colorful display of festive fireworks while an added spectacular water fountain show dances to the rhythm of a reimagined soundtrack with classic holiday tunes. Holiday in the Sky will take place on the Festival Field on select event nights.
New Light Show at Serengeti Overlook! A mesmerizing and enchanting musical light and projection show will adorn the Serengeti Overlook building. Guests will not want to miss this spectacle, which will run daily every 15 minutes starting at 6 p.m.
Christmas with the Celts – A wonderful combination of Christmas Carols and Irish dance will captivate guests with the spirited and energetic entertainment of Christmas with the Celts. The renowned group of vocalists, musicians and dancers will perform live at Stanleyville Theater's stage Friday, Saturday and Sunday from Dec. 16 through Dec. 25
Land of the Sweets – At this sweet winter wonderland, guests will find the Sugar Plum ballerina stilt walker and her Cavalier soldier, the newest characters to join the Sugar Plum Princess in her magnificent new realm.
New Tree in Jungala! Right in the heart of Jungala, guests will be in awe with a new 32-foot-tall Christmas tree surrounded by a red and white winter wonderland.
How much are tickets for Christmas Town at Busch Gardens?
If you are an annual pass holder or have a Fun Card, it's included with your pass!
If not, Christmas Town is included with park admission, so you can stay and play all day with a single day ticket which starts at $99. This may be a good option for out of town guests.
Another option for out of town guests is the CityPass which gets them into 5 local attractions starting at $129. It's always worth checking Groupon too.
However, if you are local or you don't live too far from Tampa Bay, this is a great time to consider purchasing an annual pass or Fun Card if you think you'll come back more than once throughout the year. One of the reasons we prefer the Silver level and above annual passes is the free parking, because that can get expensive. You can learn more about the pass options here.
Character Meet and Greets at Busch Gardens Christmas Town
There are so many fun character meet and greets exclusive to this event along with a very special meet and greet with the jolly old elf himself, so let's start there.
Meet Santa at Busch Gardens Christmas Town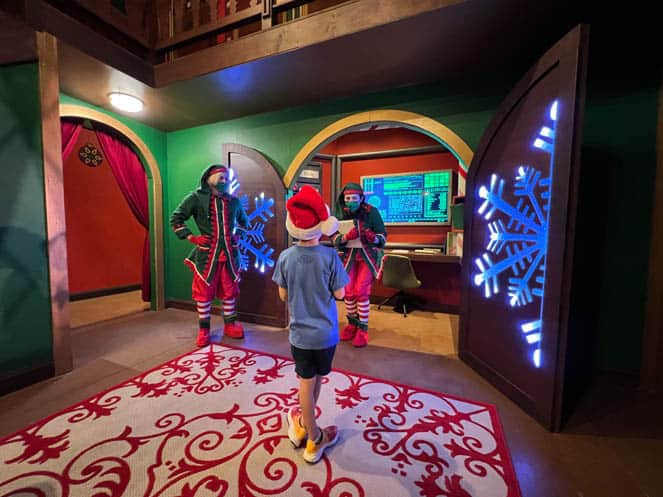 Busch Gardens really does an awesome job with creating a magical meet and greet experience with Santa.
You'll find him over at Santa's North Pole Experience where you'll be greeted by his friendly elves. You'll step inside his workshop where all the planning is in action for the big night! Once it's your turn, the elves lead you to Santa for a magical moment when the door opens and you get to see the big guy!
It's a really cool moment as the anticipation builds and makes it a bit more special.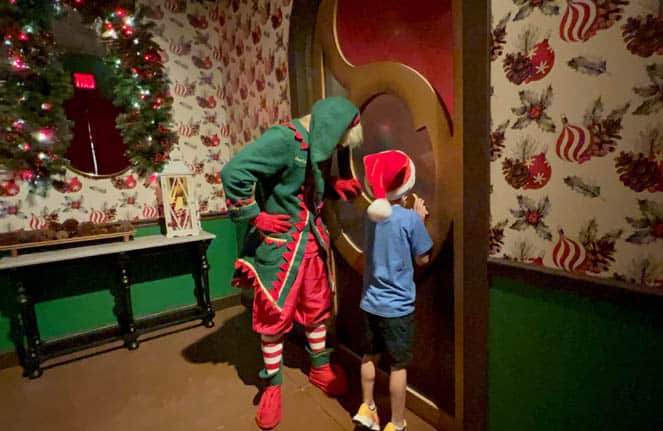 Rudolph the Red-Nosed Reindeer and friends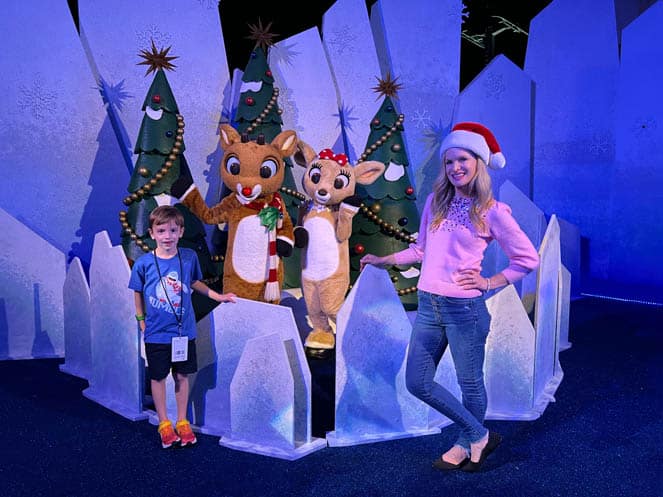 Get ready for the Christmas nostalgia to kick-in! This is one of our favorite holiday meet and greets in Tampa Bay because it brings back so many Christmas memories and it's one that appeals to all generations.
This is your chance to snap a photo next to Rudolph and Clarice and even meet a photo opp with Bumble!
You'll find them over at Patagonia.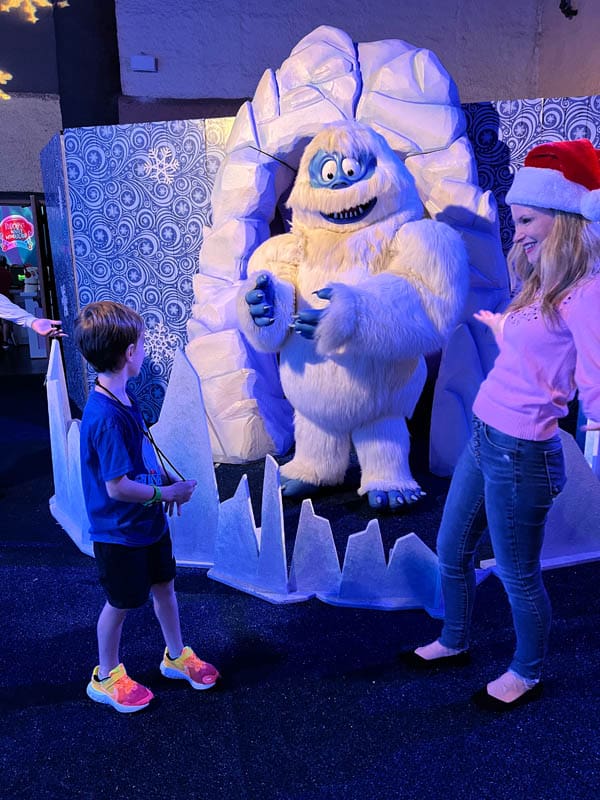 If your kiddos are big fans of Sesame Street, they'll love the meet and greets with their favorite characters dressed in their holiday best at Sunny Day Theatre. This opportunity at Christmas Town is at various times earlier in the day, so around lunchtime.
There is also an adorable holiday themed live show, 'Elmo's Christmas Wish' that will have everyone up on their feet dancing to the tunes at the outdoor Sunny Day Theater. This is a good time to check out the rides in Safari of Fun just for the little ones.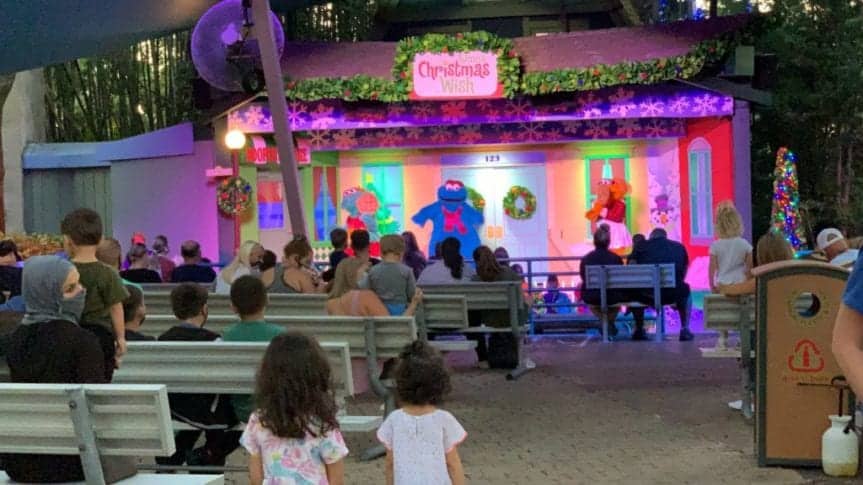 The holiday princesses are also back this year! You'll notice the Ice Princess, Poinsettia Princess and Sugar Plum Princess.
In fact, there's a whole new realm called Land of Sweets where the newest characters to join Christmas Town can be found, the Sugar Plum Ballerina on stilts and her cavalier soldier.
They're available through out the evening for photos beginning at 5:00 pm throughout the park–at least this has been the case in year's past. We'll update once new information is released.
Guest Favorites Returning to Christmas Town at Busch Gardens Tampa Bay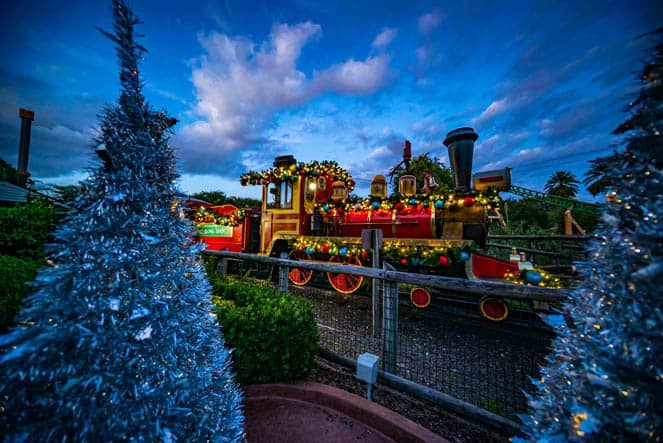 The Holly Jolly Express is a must experience for families. You can board the open air train for a ride around the park as you sing along to favorite Christmas tunes. This is a great opportunity to sip on your hot chocolate while you enjoy the scenery of the park and listen to the music!
Over at Dragon Fire Grill, you can see the musical tale of the Three Kings Journey as it brings the journey to Bethlehem to the stage. This will be performed on select nights November 18, 2022 through January 8, 2023.
And of course, there's the beloved ice-skating show "Christmas on Ice" at the Moroccan Palace Theater, one of the longest running holiday shows at Christmas Town.
The Sweets and Treats at Christmas Town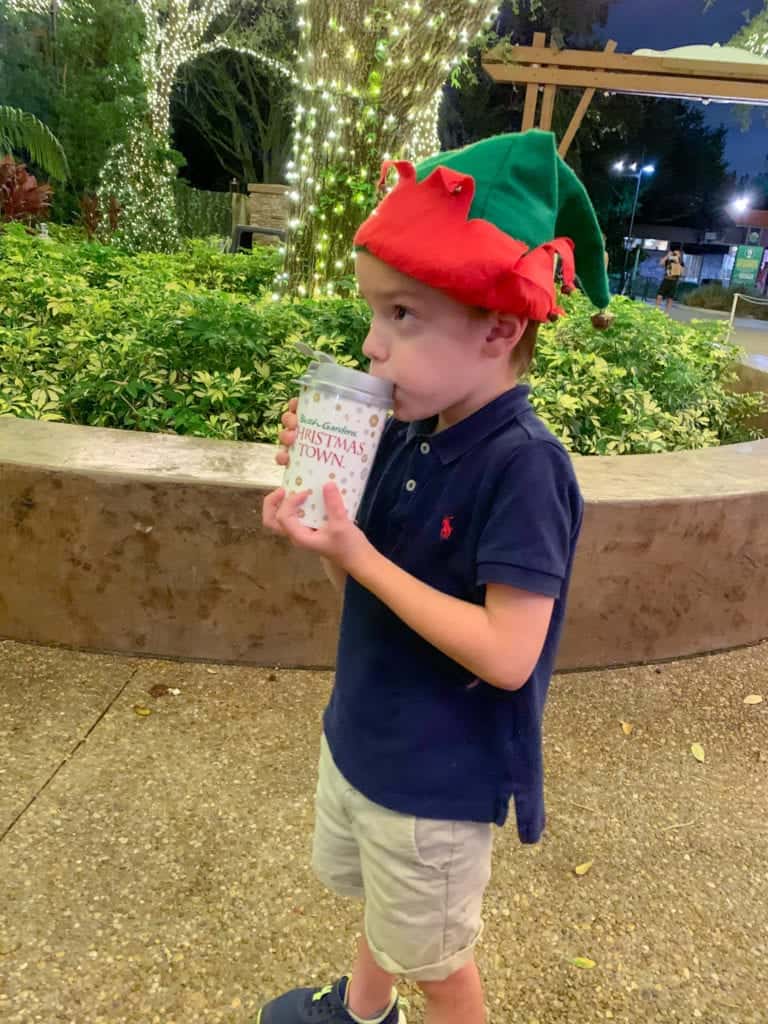 Make your way over the Christmas Town Village to sip and taste your way through holiday treats!
Here's what's NEW on the menu in 2022:
New! Red Curry Shrimp and Jasmine Rice
New! Wild Mushroom Tart with Boursin Cheese Crema
New! Braised Beef and Roasted Garlic Smashed Potato
New! Unique cabin serving Wine and Chocolate Truffles
New! A "Decorate Your Own Cookie" Cabin for kids
If you've designated a driver, the non-driving adults will love some of themed cocktails in Christmas Town Village like a spiked hot cocoa with Kahula, Peppermint Schnapps or Bailey's Irish cream. There a several other specialty cocktails, wines and brews too!
The best and most cost effective way to taste your way through Christmas Town is with a Christmas Town Sampler Lanyard which starts at $40 for a 5 punch card. If you're a pass member, you can pick up a 12-punch lanyard for the price of a 10-punch.
The Lights! So Many Lights!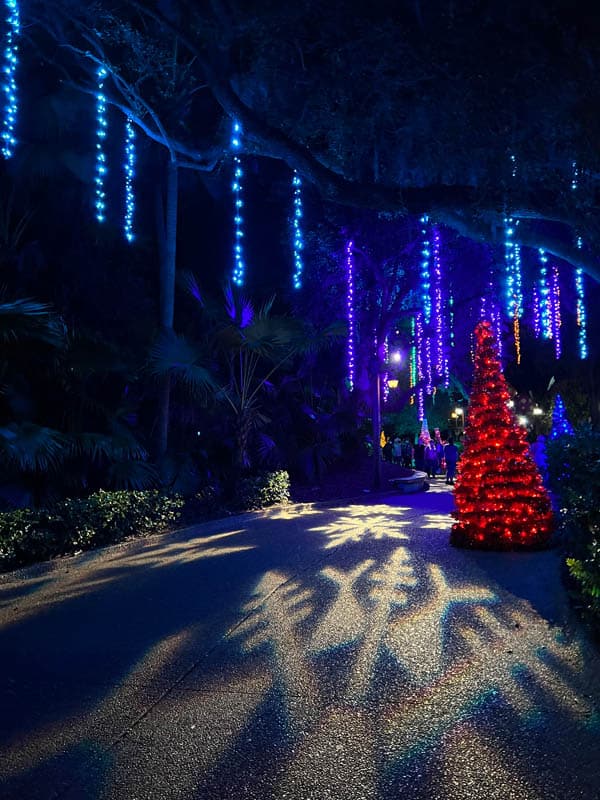 One of our favorite things about Christmas Town is the millions of lights that light up the park! They usually begin the install process in the summertime, but the pandemic changed that so it was super fast mode as installation began a couple months ago.
Christmas Town Village is beautifully lit up and we LOVE the colors and rainbow of trees in Sesame Street Safari of Fun!
The kids loved running through the light tunnel that connects Congo to Stanleyville. It's so cool to stand in the middle as the lights dance along to the music. It's a great selfie spot too!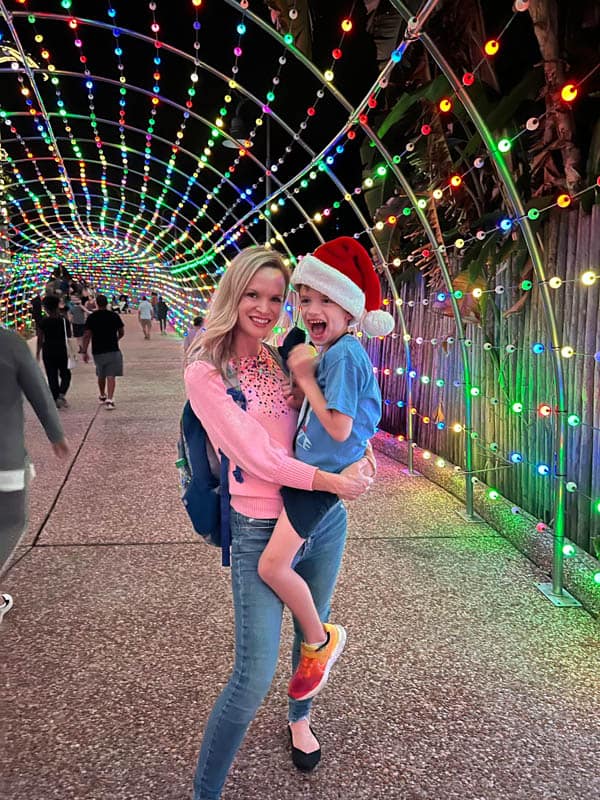 Upgrade your experience
(We'll get an update on this for 2022 once info is released, so take this section as more of a guide on upgrades.)
You can make it even more memorable with by upgrading your day if you go early and book Animal Encounters we've come to love over the years like the Aldabra Tortoise Insider Tour which is great for kids ages 5 and older.
You can also pick up a Priority Access ticket to skip the line for Santa's Merry Meet and Greet and Rudolph's Winter Wonderland. That ticket is $29.99 for up to six guests to skip the line. If you want an up close view of Christmas on Ice and Fireworks viewing, you can upgrade to VIP seating. 
That's a wrap!
Christmas Town is a must-experience family event. With this year's event being celebrated for 57 nights, it will be one that's hard to miss too!
The shops even have an awesome selection of holiday themed gear, so don't sweat it if you don't have anything handy at home! You just might find the perfect holiday gift too.