Corbett Prep: Setting the Stage for Lifelong Success
Sometimes, a school is more than a place where a child goes to learn and grow. It can become a place where children thrive, build life-long bonds and dream big about the future. And then, there is the "spark." All it takes one teacher to recognize that something special in a child that sets them on the path of success they may have never realized.
It was that spark of something that a teacher saw in Anna Butts when she was a student at Corbett Prep that inspired her love for theater, which eventually transferred to her younger brother Alex. This is only the beginning of what makes Corbett Prep so special to the Butts family.
So, let's get to know our cover family—Kristen and Joshua Butts and their kids Anna and Alex, as they share what Corbett Prep means to them and how it has transformed their children's' lives.
First, tell us about your family.
KB: Josh was born in Dunedin, and I was born in Orlando. We met at the University of Florida. My maiden name was "Nutt" and his is "Butts" so naturally I introduced myself and said, "I would be Kristin Nutt Butts if we were to get married". Someone sent the announcement of our wedding "The Nutt Butts" to the Jay Leno Show. It appeared on his headlines segment, and the rest is history. We moved to Tampa shortly after our wedding and graduating college. Our children, Anna and Alex, were born and raised in Tampa.
What drew your family to Corbett Prep and what makes this school so special?
KB: When it was time for our daughter Anna to enter middle school, we started looking at options. We took a tour of Corbett and fell in love with the campus and felt that it would be an amazing place for her to go through middle school. We could not have imagined just how much this school would contribute to not only her, but our family's lives.
It's hard to put into words just how special this school is. It allows for all children to grow and thrive in a variety of ways. Academically, they meet your children where they are and work with them on such a personal level. If a child is needing extra help, the teachers make themselves available, and if a child is needing to be more challenged, they will make sure those needs are met. Children are encouraged to explore all of the electives and extracurricular activities offered. This is the time to explore and figure out what a child may want to pursue in high school and beyond.
Anna was able to play sports, participate in their amazing theatre program, discover a love of video editing and public speaking simultaneously. The theatre director noticed that Anna would enjoy their program and suggested she try it. She ended up participating in the program over the course of her middle school career and continues to perform in high school productions. What she learned from this program is invaluable.
Balancing schoolwork, auditioning, working with others for a common goal, and performing in front of a live audiences greatly added to her school experience and skill set. The best is watching a child who may have never gone on stage in front of others perform and grow as a person. I absolutely love this program. Anna was fortunate to have found a school with a teacher who noticed her and suggested she try something new. Sometimes that's all it takes to light a spark in a child and for them to discover their passion. And through all of this the school ensures that each child learns the art of mindfulness, a skill I wish I had learned at a young age.
Your daughter is now in high school–how do you think Corbett Prep helped prepare her for this next level in her education?
KB: To be honest, that is probably the number one question people wonder about when going to a school that is K-8. Anna took so much from her Corbett Prep experience into high school. She was more than prepared for all her classes. Academically, she is soaring. Corbett provides opportunities for all children to speak in front of others. That served her well! She has confidence in her speaking abilities that will serve her throughout life. At her high school, Tampa Prep, she represented her ninth grade class for declamations and presented what she had written in front of the entire student body. She is also on the student council and plans to pursue their biomedical concentration.
Tell us about the school community and how it impacts your family's experience with the school.
KB: Where do I start? The school community is like a family to us. Everyone has such a special place in our hearts. There are numerous opportunities to volunteer. Whether you can give a little time or a lot of time, there is a place for you. I can honestly say that I have met some of my best friends, that I'm certain I will cherish for the rest of my life, at this school. When you attend a school where people support one another and go out of their way for the kids, as if they were their own, everyone feels a sense of home. I could not ask for a better environment for my children.
The theater program is pretty amazing. What was that experience like for your kids and what was it like to perform during the pandemic?
KB: The theatre program is absolutely amazing! When Alex was in third grade, he saw Anna perform in her first middle school production, "Beauty and the Beast." After the show, he told us, "I want to do that!" Since he did not attend Corbett at the time, we decided he could audition for their Community School of the Arts program, CSA. This program allows students from all over the area to participate. The spring show that year was CATS. He was cast in the show and after this production, he had found his love of theatre and wanted to join Anna at Corbett. We moved him to Corbett in fourth grade so that he could have the amazing theatre experience they offer year-round. Unfortunately, Covid entered all of our lives soon after.
Thankfully, my kids were at Corbett and they knew how important it was to stay safe but also have the arts in children's lives. The entire school went out of their way to make shows happen for these kids during 2020/2021. Setting up a stage and chairs outside, providing a safe distance between actors, separating kids' costumes and props in their own bins, and doing all of this in unpredictable Florida weather did not go unnoticed. We will never forget the lengths the faculty and staff went through to make this happen for our children. Alex had teachers and administration ensuring that he was able to do what he loved, and it was my daughter's last year of middle school, and she didn't miss a beat.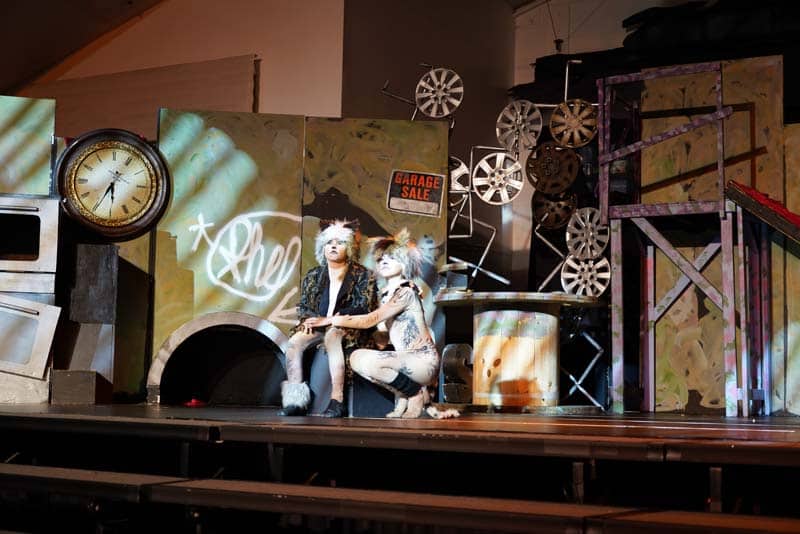 For the kids: What is your favorite part about being a Corbett Prep student?
Alex: My favorite part of being a Corbett prep student is that I was introduced to theatre and dance. I am able to attend a school where everyone is nice, and it's a positive environment. I love my teachers.
Anna: I loved being able to participate in so many extracurricular activities while having a great education. I also loved the mindfulness and positive perspective that the school provided because it made me feel comfortable no matter how challenging the day may have been.
The campus is also very unique with a ton of beautiful outdoor space. Did this factor into your decision to choose Corbett Prep for your kids? 
KB: The first thing my husband and I fell in love with was the campus. It made us wish we were school aged again. When you walk along the boardwalk and past the ponds and see the little ones enjoying their lessons outside, it honestly just feels magical. This was one of the deciding factors for our daughter. She felt a sense of calm when touring the campus. Alex felt the same way. He always talks about how much he loves the fact that so much of the campus is outdoors.
Anything else you want to add about the school and its staff?
KB: I love that the campus is K-8 because it allows the middle schoolers, who are going through transitional years, to figure out who they are without the influence of high school on a day-to-day basis. It's nice for kids to be kids for just a little while longer.
The school focuses on the "whole person." They have a social and emotional intelligence program (started with a partnership with Yale university) that truly helps the children achieve their goals inside and outside of the classroom. They teach life skills the children will carry long after they graduate.
Once they do graduate, the school offers the opportunity for alumni to come back and work at CAMP IDS. Anna was able to log all of her community service hours she needed for graduating high school in a couple of weeks. She plans to go back every year during the summer to work and reconnect with friends. Corbett is the gift that keeps on giving.
When you have staff that are positive and an environment where all interests can be explored, a child will thrive in their learning. Once you experience a taste of this school, you will know without a doubt there is no other place quite like it. I'm so grateful we found this amazing school.
What is your favorite thing to do as a family in Tampa Bay?
KB: As a family we love to enjoy the outdoors. Whether we are wakesurfing on the boat, playing at the beach or riding our bikes on the trail, we are enjoying our beautiful area!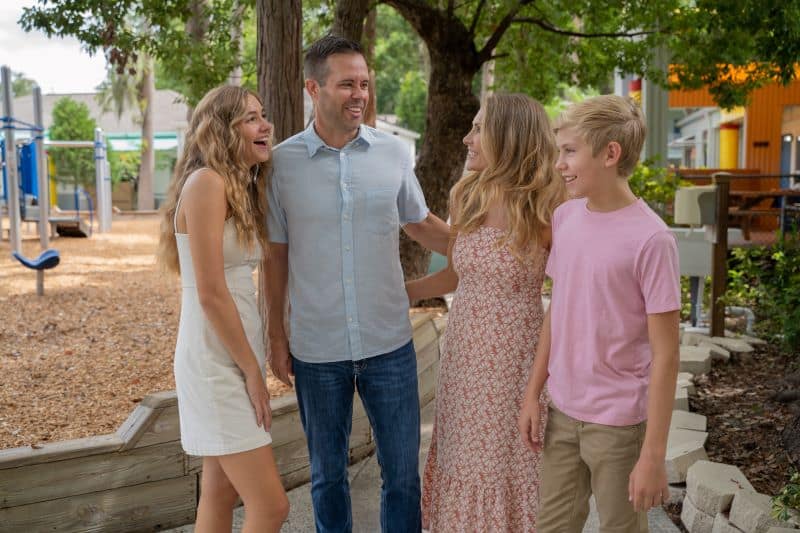 *Presented by Corbett Prep | Originally published in the September 2022 issue of Tampa Bay Parenting Magazine.
---
More stories with Corbett Prep we think you'll LOVE:
Why you should considering choosing an independent school for your child