BACK TO THE BEACH – Kicking off beach season with a day trip to Siesta Key
A bold claim spelled out on a colorful sign welcomes us as we arrive at Siesta Beach: #1 Beach in the USA. Stepping onto the sand, it's as if we've just taken a one-hour flight to a Caribbean island rather than a one-hour drive from Tampa Bay. The sand looks like sugar and feels like a cloud. The beckoning, blue water sparkles in the distance.
"It is, by far, our number one attraction," says Nancy-Jo Manney of the Siesta Key Chamber of Commerce. The Chamber's Visitor Guide devotes two full pages to "the world's finest, whitest sand," explaining that it consists of 99% pure quartz grains that "are fine, without any coral or shell fragments". The result is soft sand that stays cool, even when the Florida sun is at its strongest. Imagine a beach day where you don't need to hop onto towels or shadows to protect your bare feet from scalding sand!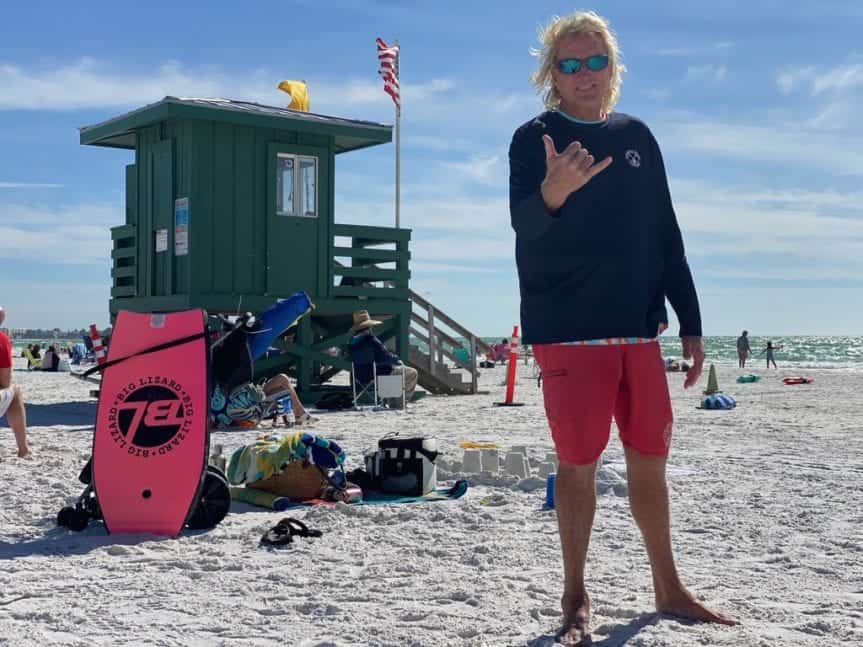 Walking along the shore, we meet a friendly lifeguard and discover that "Scooter," as he's known, has been manning the green lifeguard station on Siesta Beach for 26 years.
"I probably have more footprints on this beach than anyone else," he tells us with pride. Originally from Illinois, Scooter moved to Florida in 1983 and discovered Siesta Key ten years later. Nearly every day since, he's worked on the beach and become a local celebrity along the way. Using the handle "Scooter of the beach", he gives live, daily, beach reports on social media and offers travel tips on his website.
"I just love helping people with whatever they need— from getting a hole dug for their umbrella to helping out on the water to come back in," he says.
At Scooter's suggestion, we head to nearby Siesta Key Village for lunch. Walking distance from the beach, Ocean Boulevard is teeming with beach-inspired shops and restaurants that run the gamut from grab-and-go to fine-dining. There are almost too many to choose from.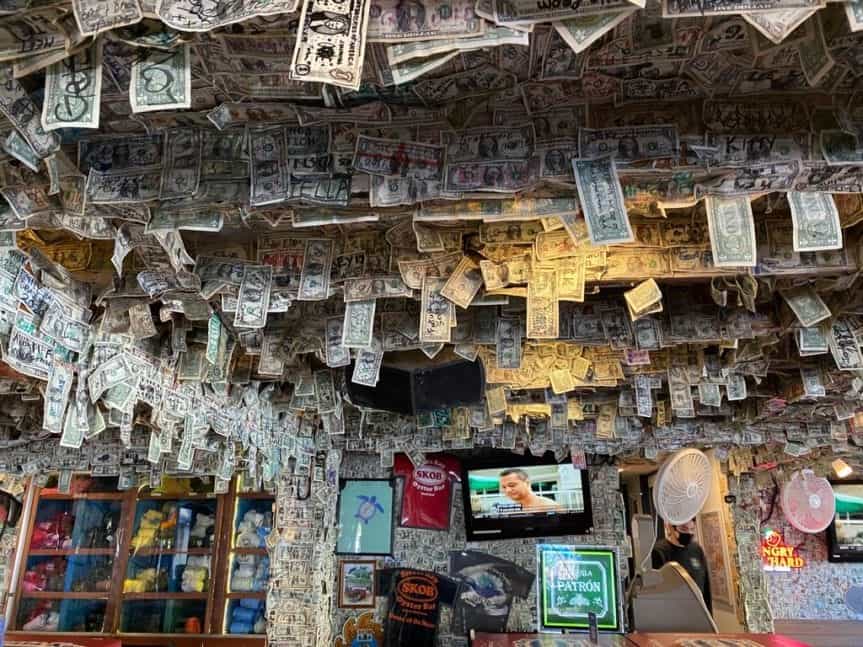 A crowd is gathered outside the Siesta Key Oyster Bar, better known as SKOB. Beautiful trays of fresh oysters flown in daily from Texas and Louisiana draw oohs and ahhs from diners seated at outdoor tables. But it's the walls that command our attention. They are covered with dollar bills scribbled with names, dates and personal messages. Restaurant manager Kristin Hale explains why.
"It's based on an old legend that when fisherman would go into bars and pubs, they would staple a dollar bill onto the wall so that if they didn't catch anything, they could come back to the pub and they would have a dollar to buy themselves a drink," she says. "We adopted the tradition and people started adding notes over the years."
The walls and ceilings fill up so quickly that the restaurant must take down the bills to make room for more. They turn the decorations into donations. During the COVID lockdown last summer, they gave $10,000 to employees. They also sent $14,000 to the Bahamas after Hurricane Dorian in 2019.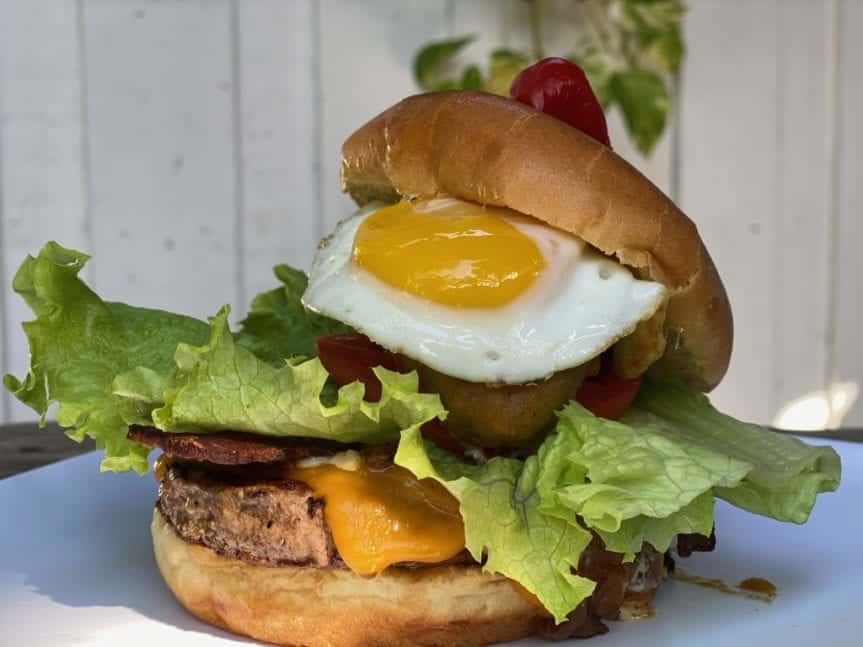 Our next stop leads to a mouthwatering discovery: the "Billionaire Burger" at The Cottage restaurant. One of the most popular items on the menu, the juicy cheeseburger is elevated with toppings worthy of the rich and famous: bacon and onion jam, truffle aioli, applewood bacon, tempura avocado and a perfectly-fried, sunny-side-up egg. It cements our belief that nothing is quite as satisfying as a burger— especially this burger— after a day on the beach.
Since there's always room for dessert, we set out to sample the Village's myriad options. Locals recommend Meany's Mini Donut, a tiny building that serves tiny doughnuts ranging from glazed to strawberry cheesecake. We ask doughnut maker, Kieser Luft, what makes customers line up around the block for these bite-sized treats. "I would say because they're always coming out fresh," he replies.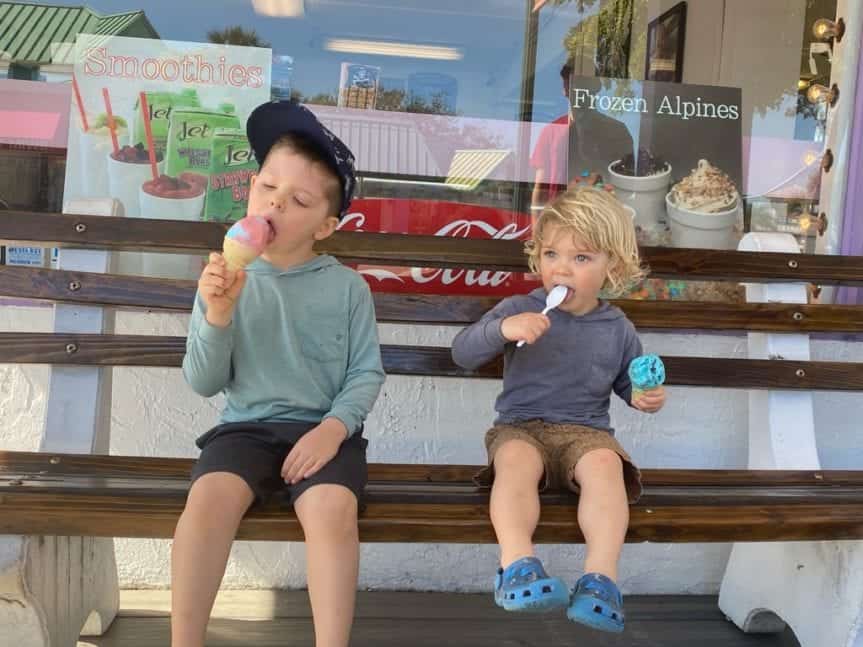 Across the street, the island's most famous ice cream shop, Big Oläf Creamery, is crowded with adorable children, mouths dripping with blue and orange. The company has grown from this small shop 39 years ago to 50 across the state today. Its decadent ice cream is still handmade by local Amish craftsmen.
Walking back to the beach, we spot visitors exploring the island on the free trolley, bicycles and "scooter cars"— curious-looking, three-wheeled vehicles available for $49 per hour at Robin Hood Rentals.
We're told the most unique way to cap a day on Siesta Key is by attending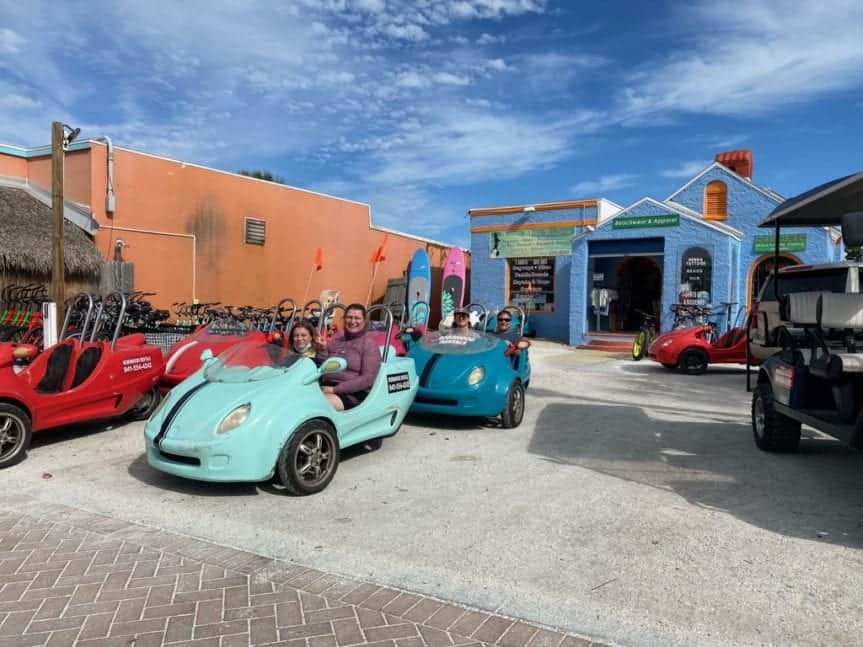 the Siesta Key Drum Circle. Every Sunday, one hour before sundown, the sound of drums and cowbells fills the beach as free-spirited revelers dance for hours.
Since we're visiting on a weekday, we opt to head to the Patriots Pier instead. As a tribute to our country's military personnel, crowds gather daily at sunset by the American flag positioned at the edge of an old fishing pier. Taking in the serene sight over the pristine beach, we are reminded of the sign that greeted us hours earlier. How fortunate we are to have one of the country's top beaches—not just in our state—but in our own backyard.