Avoid the Long Lines and Celebrate at a Disney After Hours Party!
Summer break is here and if Disney is on your bucket list, we've got a great way to avoid the crowds and heat…Disney's After Hours parties!
Yes, this is a Parenting site and yes, we also have young kids, but we've actually come to love the Disney After Hours events for two reasons: the lines are shorter and it's a lot less hot outside since you're not sweltering in the blazing hot Florida sun.
While late nights with kids can be tough, we do like that you can arrive a couple hours early beginning at a designated time prior to the party so you can squeeze in some extra time at the park –and not stay so late at the After Hours Party if the kids aren't up for it. This is usually our game plan since our kids tend to lose steam at about 10 pm during these events.
There are two different Disney After Hours events on schedule for the rest of 2023:
H2O Glow at Disney's Typhoon Lagoon: select nights through August 24 (Thursday evenings and Wednesday, July 12)
EPCOTAfter Hours: select nights through September 2
Stay tuned for these Disney After Hours events in the future:
Disney After Hours at Magic Kingdom: dates TBA
Disney After Hours at Hollywood Studios: dates TBA
There are a few other perks that come with a Disney After Hours ticket–you can often arrive at the park early before the event starts beginning at a designated time and they include some snacks like ice cream and select drinks. Another perk– you don't have to worry about overheating in the always high heat index (whyyyyy?) and constantly reapplying sunscreen on squirmy kids.
Don't forget about the holiday-exclusive after-hours events: Mickey's Not So Scary Halloween Party, Mickey's Very Merry Christmas Party, and the NEW Jollywood Nights at Hollywood Studios.
How much are Disney After Hours tickets?
Since it's not a full-day ticket, they are a bit less than the normal day tickets and Disney pass holders get a discount.
H2O Glow at Typhoon Lagoon ticket prices: $75 for 10 and older, $70 for ages 3-9 / $59 for 10 and older, and $54 for ages 3-9 for pass holders
EPCOT After Hours ticket prices: Tickets range from $129-$139 depending on date / $99 for pass holders
While this may sound like a lot for a 3-hour party, keep in mind you do have the option to arrive a couple hours early and you won't be waiting in long lines like during the day, so there's always the possibility you'll get to experience more attractions. It all really depends on what your game plan is.  You can purchase your tickets for H2O Glow here or EPCOT After Hours here.
What are the Disney After Hours event times?
H2O Glow at Typhoon Lagoon After Hours: 10 pm -1 am, arrive as early as 6 pm
EPCOT After Hours: 10 pm – 1 am, arrive as early as 7 pm
What it's like to attend a Disney After Hours event at the Water Park: Typhoon Lagoon H2O Glow After Hours
Disney invited us to experience H2O Glow After Hours on opening night and our kids were stoked. We truly believe Disney water parks are a hidden gem at the Walt Disney World Resort, but we hadn't yet experienced H2O Glow.
As we've mentioned, there are some big perks that come with the After Hours ticket– shorter lines and you can arrive a couple of hours before the party starts.
"With this ticket, you can come here two hours before the event. You can come at 6 pm, experience the day a little bit, grab your favorite seat, and then at 8 pm when the event starts you're kind of already set to go. So I wouldn't wait til 8 o'clock, I'd definitely come at 6," Liliana Lorenzo with Disney Water Parks told us. "My kids love that there are lower wait times, so they can go on the attractions over and over again. That's their favorite part."
The longest wait we saw on the night we attended was 5 minutes and most of that time was spent simply walking up to the water slide.
We also loved the all-night dance party and getting to boogie with our Disney favorites like Captain Hook, Smee, and Chip and Dale!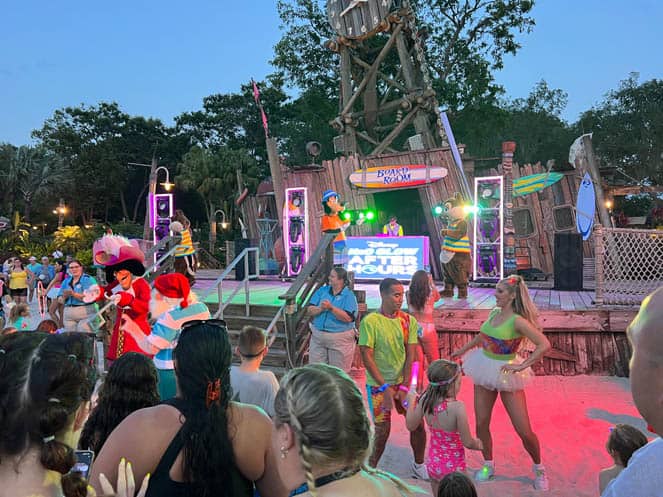 More H2O Glow After Hours perks: Free ice cream, popcorn, and select drinks
Your H2O Glow After Hours ticket also comes with all you can enjoy Mickey ice-cream bars, Mickey ice-cream sandwiches, and Lemonade flavored bars. There are also stations for free fountain drinks. Our kids pretty much thought this was the best thing ever.
Event-exclusive character meet and greets
We're big fans of Smee and we were so excited to see that he was among the event event-exclusive characters along with Captain Hook, Chip and Dale, and more!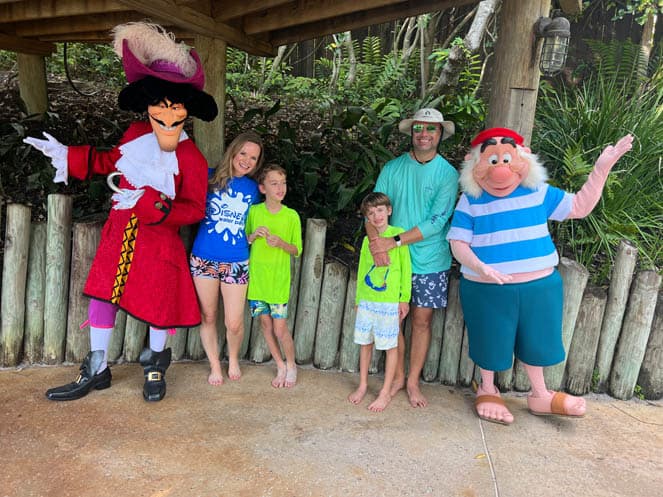 The Food at H2O Glow After Hours
Disney has a way of immersing you in their special events and attractions and H2O Glow is no different! You'll find several event-exclusive menu options that have undergone a bit of a "glow-up".
We caught up with Disney chef Brad Scholten as he walked us through all of the selections that include a Chicago Glow Hot Dog, a plant-based Electric Impossible Burger, Mickey Pretzel with rainbow salt,  electric rainbow churros, and MORE!
"It's a lot of fun playing with food, playing with colors—we get our cast involved and really we can tell the glow story through our food and totally immerse our guests into the party," he told us.
You can also sample five Dole Whip flavors in a bathtub and sip your favorite drink in the new Miss Tilly's boat sipper!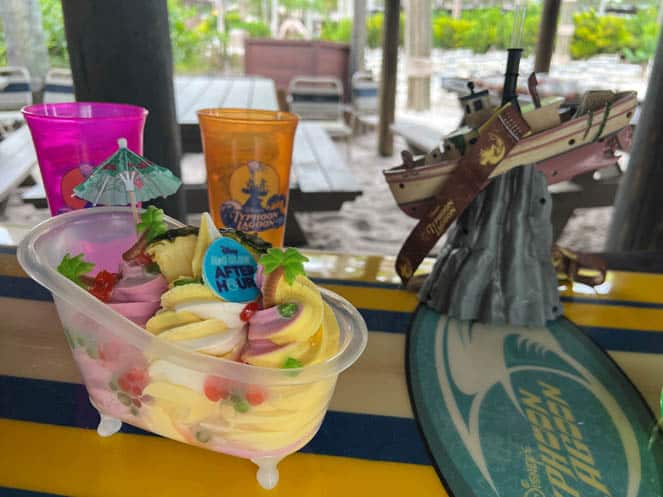 There are some lighter options on the menu too, including a Tuna Poke bowl and a plant-based bowl with watermelon. There is something for every palette, so don't worry if you don't have time to grab dinner before the party.
What rides are open during Typhoon Lagoon's H2O Glow event?
We probably spent most of our night in the Surf Pool with a few stops for trips down the water slides. Crush 'n' Gusher was a family favorite!
As we mentioned a bit earlier, we didn't wait long to get on the water slides and overall, the park felt less crowded than a normal day.
We also love a good lazy river and we love how Castaway Creek 'glows' during the event!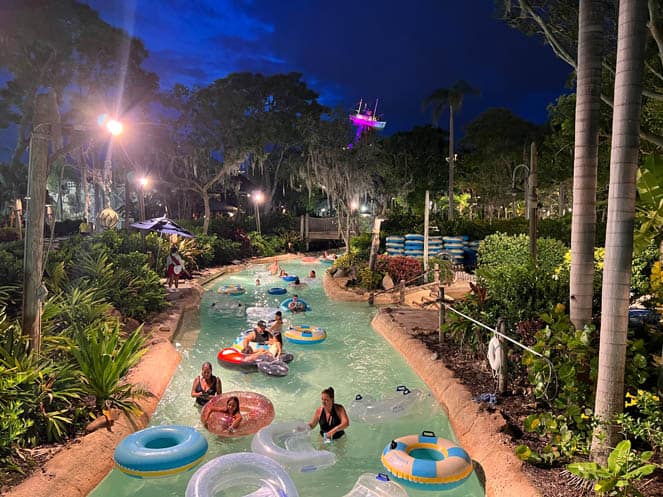 Overall thoughts on H2O Glow at Typhoon Lagoon
We were planning to attend H2O Glow before Disney invited us to experience this epic After Hours event and we would absolutely go again! We're not 'spend all day at the theme park' kind of people, so we don't mind a shorter event, especially during the summer months. The shorter wait times alone make the ticket worth it to us in our opinion. We've attended several Disney After Hours events on our own dime for this very reason.
Now, if your kids go to bed early, you may just want to stick with going during the day. It can be a late night and you want to ensure you get the value out of your ticket purchase.