12+ Places to Donate New Toys in Tampa Bay this Holiday Season
The COVID-19 pandemic and inflation continue to make a significant impact on families and the non-profit organizations that support them. If you are financially able, donating a new toy and even food for their families will make a big difference this holiday season.
We're sharing ways you and your family can support these organizations and donate toys this holiday season whether it's in person or shopping online!
TIP: It's best to donate as early in the season as you can since many of these organizations have to sort and deliver the gifts before Christmas Day.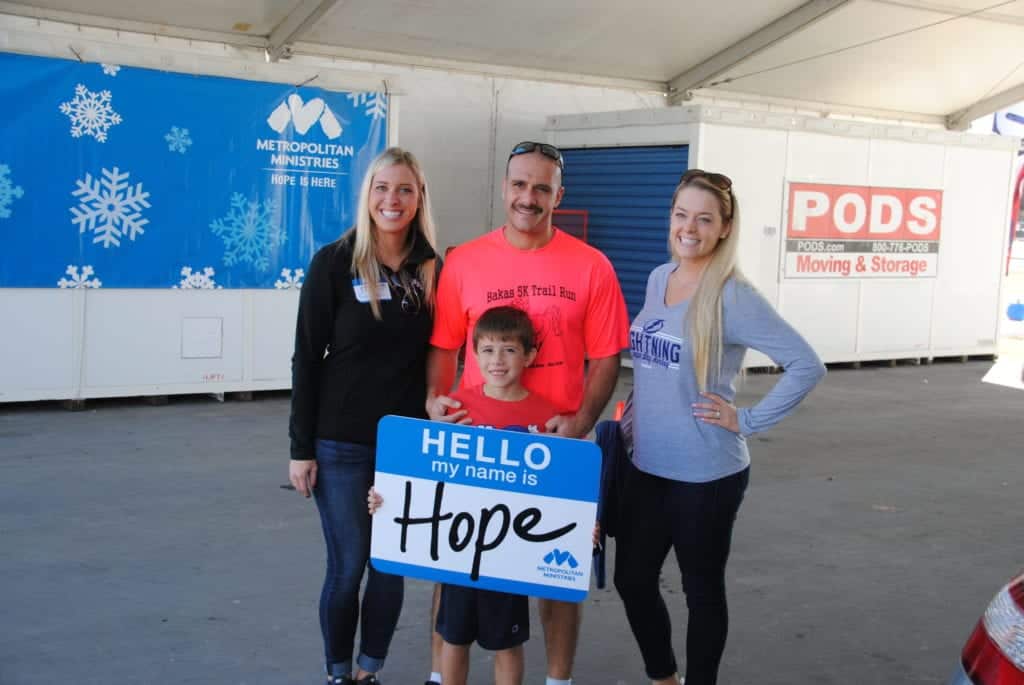 Metropolitan Ministries Holiday Tent 
The Metropolitan Ministries Holiday Tent is expecting to assist more than 37,000 families this holiday season, which is still a drastic increase in demand since before the pandemic.
Along with toys for children of all ages, especially teens, non-perishable food items are also a significant need. You can also give your time as a volunteer in the Holiday Tent.
Kids as young as 8 can volunteer with their families! If you are still strictly social distancing or short on time, you can also shop the gift and food registries online. Learn more at metromin.org/holiday-central.
Toys for Tots 
This U.S. Marine Corps Reserve program collects and distributes Christmas gifts for children of all ages. Donate new, unwrapped toys at any of the drop-off locations in Hillsborough County. To learn more about the Toys for Tots program and locate toy drop-off sites, visit tampa-fl.toysfortots.org. 
Salvation Army 
The Salvation Army Angel Tree is a great way to directly give to a local family and child during the holidays. There are Angel Tree locations throughout Tampa Bay. Visit SalvationArmyFlorida.org to find one near you.
Children's Home Network
You can help local at-risk families year-round, but your help is always needed during the holidays. While gifts for kids are needed for all age ranges from newborns to teenagers, gifts for teens are most needed. You can shop in person and deliver to Santa's Workshop on December 12-16 and December 19-22 between 10 am until 6pm or simply shop their Amazon Wish List.
Visit the Christmas Giving section under the How You Can Help Tab to learn more about how you can help: childrenshomenetwork.org
HOPE Children's Home
You can shop the general Christmas Wish List online and the gifts will be delivered directly to the children of Hope Children's Home. Gift cards are another favorite gift because the children often love to go shopping for things they'll need throughout the year. Learn more by visit hopechildrenshome.org and select Christmas under the You Can Help section.
Sincerely Santa
This organization has assisted in providing gifts for more than 100,000 children in our community since 1987. Kids in kindergarten through third grade write a 'Letter to Santa' and families like you help fulfill their wishes along with the needs added by their teachers like clothing and gifts for siblings.
Letters are displayed at Westfield Brandon where you can sponsor a letter and return unwrapped gifts to the booth at the mall. Gifts will be delivered by local law enforcement and fire departments.  sincerelysanta.org
Ronald McDonald House 
Resident families at the Ronald McDonald Houses of Tampa Bay need your help to have a better holiday season. You can help by donating new gifts for children, including toys, books, board games and movies.
Gift cards and pantry items are also appreciated by the families. You can see the whole list at rmhctampabay.org/other-ways.
Heart Gallery of Tampa
Your financial gift will help fulfill the wish of foster children in our community. Along you're your donation, you can also send a heart felt note to the child which will be delivered directly to them. Last year, they set a $20,000 goal. We're waiting to hear what this year's will be. Learn more here.
Mary Lee's House
Mary Lee's House assists abused and neglected children in our community through a collaboration of government, private agencies and support from the public like you.
They accept donations of new toys, baby items, books and sporting equipment year-round. Donations can be dropped off during business hours at the Tampa office at 2806 N. Armenia Ave. maryleeshouse.org
The Spring of Tampa Bay
You can donate new toys (no stuffed animals) year–round to The Spring of Tampa Bay, which supports domestic violence survivors and their families. Survivors can pick out items in the thrift store to help them rebuild their lives.
The store is also open to the public, and 100% of items sold go back into supporting the families with emergency shelter and services. This is also a good time to clean out those closets and donate gently used or new items you and the kids have never worn. thespring.org
St. Joseph's Children's Hospital 
Year-round, St Joseph's Children Hospital accepts toys, activities and comfort items for children of all ages ranging from infants to teens. Items such as Play-Doh, puzzles, educational games, video games and teethers are just a few of the items on the wish list. For the complete list, visit give2stjoeskids.org.
The best way to give is by ordering online and having it delivered to the hospital because they cannot accept in person gifts due to the pandemic. Here's the Amazon wish list you can shop now.
John Hopkins All Children's Hospital 
New, unused toys for infants, children and teens can be dropped off in the hospital lobby. You can find their wish lists on Amazon for NICU Nook, Baby Bundles, Kids Corner and Teen Scene. Learn more about items needed at hopkinsallchildrens.org.
Shriner's Hospital for Children 
The patients at Shriner's Hospital for Children need your help for a better and more festive stay this holiday season. Due to space and patient needs, only new items on the wish list (that include arts and crafts, Barbies, Uno cards, trucks and more) can be accepted. Find the full wish list for the Tampa Shriner's Hospital at shrinershospitalsforchildren.org.
Boys and Girls Club  of Tampa Bay
The Boys and Girls Club is collecting new toys for children of all ages, from elementary to high school age, and would appreciate puzzles, board games, toy cars and more. Toys and gifts for children and teens can be dropped off at 4221 W. Boy Scout Blvd., Suite 450. To learn more about the Boys and Girls Club, visit bgctampa.org.
Friends of Joshua House Foundation
A toy drive is happening now through December 11, 2021 to collect toys for the children who have been through the unthinkable of abuse and neglect. You can brighten their holidays by fulfilling wish lists or donating the most requested items like LEGO sets, action figures and dolls, and more. See the complete list here and how to access the individual wish lists too. 
Other Ways to Give and Donate Toys:
Even if donating new gifts isn't part of the family budget this year, you can ask your children if they want to donate some of their gently used toys they don't play with anymore.
Organizations such as Salvation Army, Goodwill, churches, schools, and  others will accept used toys and gifts. We have also heard families suggest Kennedy Cares and Oldsmar Cares as great places to donate gently used and new items. After all, giving is in the spirit of the holidays!
Cover photo by Darlene Barlows Photography.
---
More stories we think you'll love: