What to Expect at Enchant Christmas at Tropicana Field in St. Pete
Enchant Christmas is back at Tropicana Field in St. Pete through January 1, 2023 with its millions of twinkling lights, a new story-"Santa's Magic Timepiece", a holiday village with local shopping and treats, ice-skating, and visits with Santa.
Once you've experienced the wonder of other magical Christmas events in Tampa Bay like Christmas Town at Busch Gardens and Christmas in the Wild at ZooTampa, this is another to consider adding to your holiday lineup.
Related:
What is Enchant Christmas?
Enchant Christmas is a beautiful light maze and Christmas village that covers 10 acres of Tropicana Field in millions of twinkling lights.
It truly is a magical experience and you don't have to worry bout the weather outside since this event is completely indoors…even though you'll feel like you've stepped inside a magical winter wonderland–minus the freezing temperatures, of course!
When you step inside Enchant Christmas, it won't just be the light displays that will leave you in awe. A Christmas tree towers to 100 feet high with larger than life ornaments and a Christmas Market features 60+ local food and artisan vendors.
But…it doesn't end there. There's also an ice-skating trail, falling snow, hot cocoa, music, a  Magical Night Sky on the Trop's dome that makes it feel like nighttime all day long, and more!
How much are tickets for Enchant Christmas?
Tickets start at $35 for adults and $20 for kids ages 3-17. Ice-skating is an additional $18 per person with other upgrade options available as well. For each paying adult, one child gets in for free on select days: November 30, December 7 and December 14.
You can also pre-purchase parking for $15 during the check out process which can speed up the process when you get there.
Things to do at Enchant Christmas with the kids:
The Christmas Light Maze – Millions of lights!
Christmas Market – Taste seasonal delights and shop for holiday gifts from dozens of local vendors showcasing home decor, jewelry, gourmet foods, and more.
Star Experiences – Enjoy all that the Enchant experience has to offer plus full service catering, and more. Enchant Christmas is now accepting reservations for holiday parties.
Visit with Santa and Mrs. Claus – Santa is ready for holiday photos and Mrs. Claus will lead story time for the little ones.
Food and Beverage – Enjoy holiday-themed food and drinks that are sure to please everyone.
Ice-Skating Trail – Enchant features an Ice-Skating Trail adorned with spectacular light displays. Rent a pair of skates at the event and take a glide with your loved ones.
Magical Night Sky – This incredible recreation of a North Pole night animates thousands of synchronized lights shimmering and dancing across the stadium dome in a captivating display, providing more even magic and with extended hours on select days.
Where to park for Enchant Christmas
Once you have your ticket/time slot booked online, you need to know where to park and this is a big one to make sure you get there, right!? If you have a general admission ticket, it's recommend you park in Lots 6 or 7 at Tropicana Field–plug the lots into your phone's GPS. You'll see the lighted signs to guide you to the lots too once you get closer to the Trop.
Things to know if you have a stroller 
While strollers and wagons are welcome at Enchant Christmas, you cannot bring them inside the light maze for safety reasons. There will be a stroller parking area outside of the maze. Adaptive strollers and wheelchairs ARE permitted inside the maze.
It's also important to point out that while outside food and beverage is not allowed, you can bring in baby food and milk in a clear container for babies/toddlers.
There is also a Nursing Lounge onsite if you need one.
Is Enchant Christmas worth it?
We've heard people ask if Enchant Christmas is worth the ticket price which starts at $20 for kids ages 3 and older (2 and under are free). Here is what to consider–
The light maze is a fun experience for kids and they will love the scavenger hunt to find the pieces of Santa's Magic Timepiece.
There are also visits with Santa and ice-skating.
It's recommended that if you want to ice-skate, book that $18 ticket for ice-skating online along with your admission ticket and sign the waiver online so you don't have to wait when you arrive. The ice-skates come in sizes starting in junior 9, so little ones can skate too.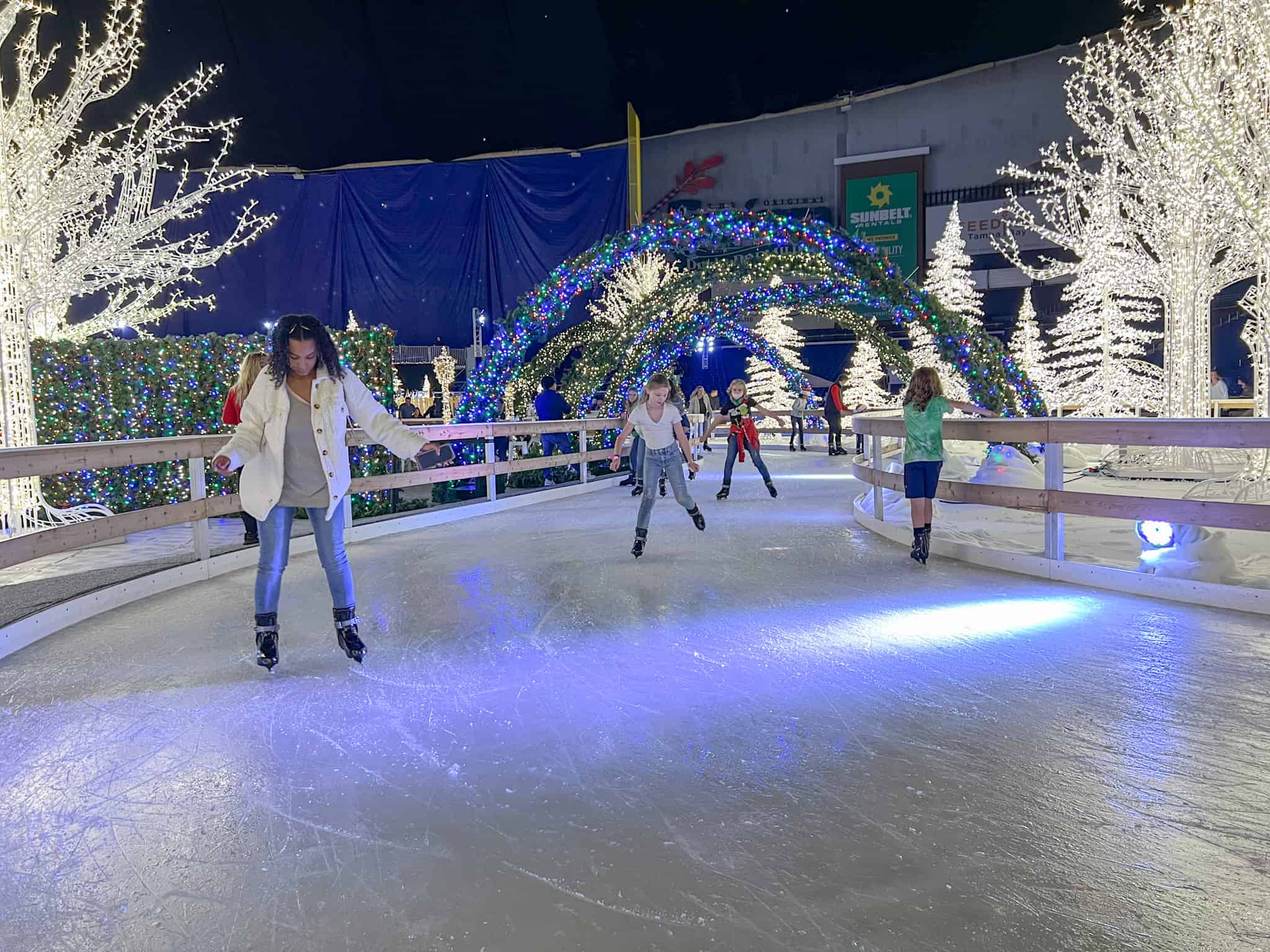 The entire event space is Insta worthy! There's also a cute light tunnel with dangling lights kids really seem to enjoy.
The kids will also love the Little Ones' Play Place where they can enjoy a story with Mrs. Claus! All of these events are open during all hours, so don't feel like you are going to miss out if you book a daytime time slot. Again, this will likely be best if you are trying to avoid crowds.
What to eat and drink at Enchant Christmas
You don't have to worry about rushing to feed the kids before you leave. The award winning culinary team at Tropicana Field has put together wide selection of food and drinks for the whole family. If the kids are pizza and grilled cheese fans, they've got you covered, but there's so much more to enjoy.
There's also hot chocolate, cool chocolate milkshakes and plenty of cocktails for the adults.
Fun side fact: Tropicana Field was recently named as having the best food in all of Major League Baseball, so it's a home run for the foodies!
How to upgrade your experience at a Enchant Christmas
You can elevate your day by booking a Star Experience at Enchant Christmas. There are multiple levels and types of upgrades you can purchase.
Related: The Best New Year's Eve events in Tampa Bay
You can get a VIP access pass for as additional $25 for adults and $15 for kids to priority access in lines for Santa, ice-skating, and the maze.
You can also hire an Elf Guide for $250.
---