Festival of the Arts at EPCOT: The Best Food and Activities for Kids
Which is the best festival at Epcot? Some would argue that the Art Festival at Epcot is truly a masterpiece. Even though it is one of the shortest (January 14 – February 21, 2022), it is packed with the most unique food, drinks, entertainment, and activities.
The International Festival of the Arts is also more kid-friendly than the uber-popular Food and Wine Festival. So, get your park pass reservation in order to visit the Art Festival at Epcot, and get to know the best foods and activities for kids.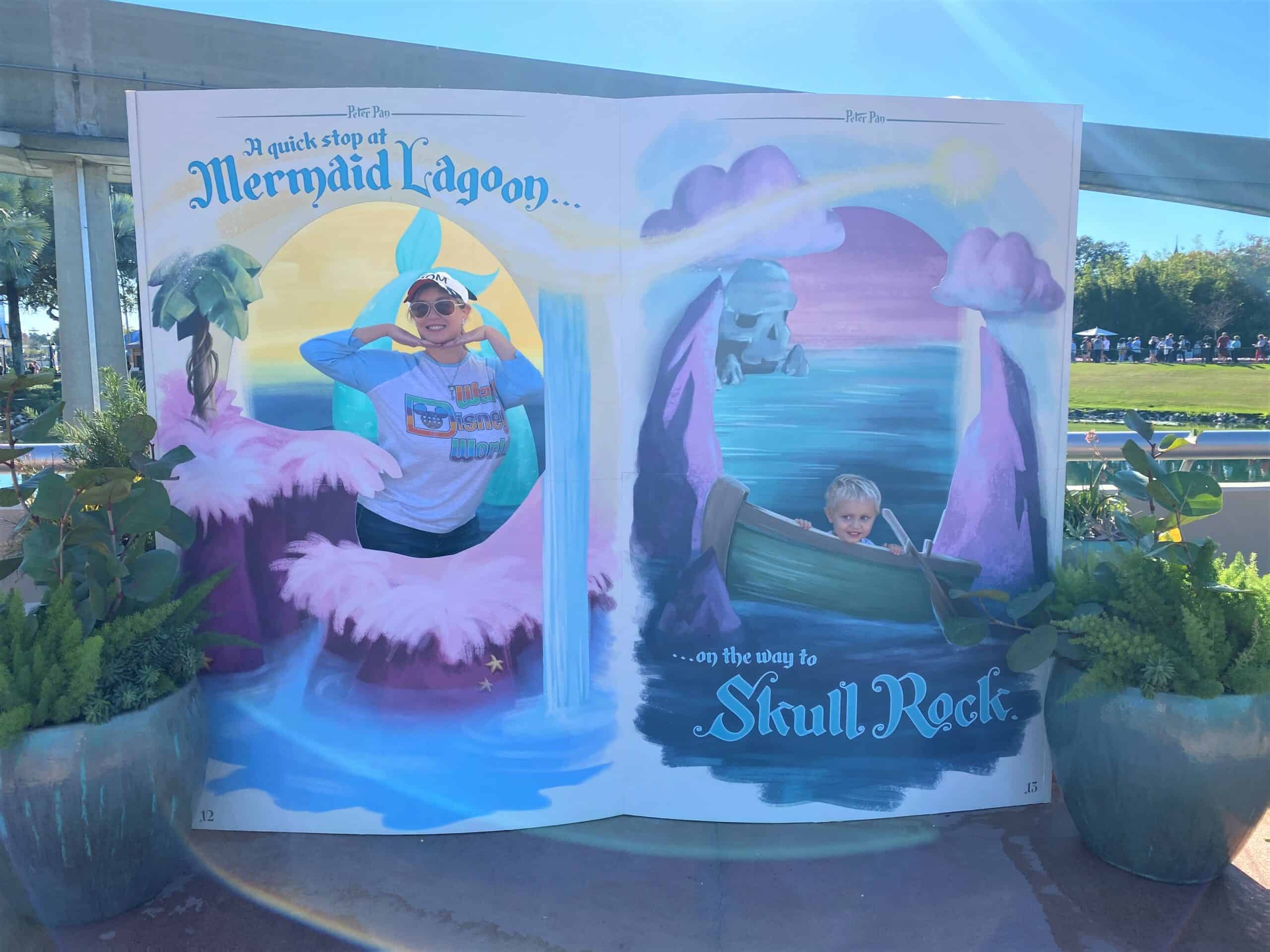 Top Food Picks for Kids at EPCOT's Festival Of The Arts
The food of the art festival at Epcot is the most creative of all the festivals. Even after scouring the menu for the most kid-friendly foods, the items are much different than standard simple kid focused food. But, this is a great opportunity to help your kids expand their horizons, without spending too much.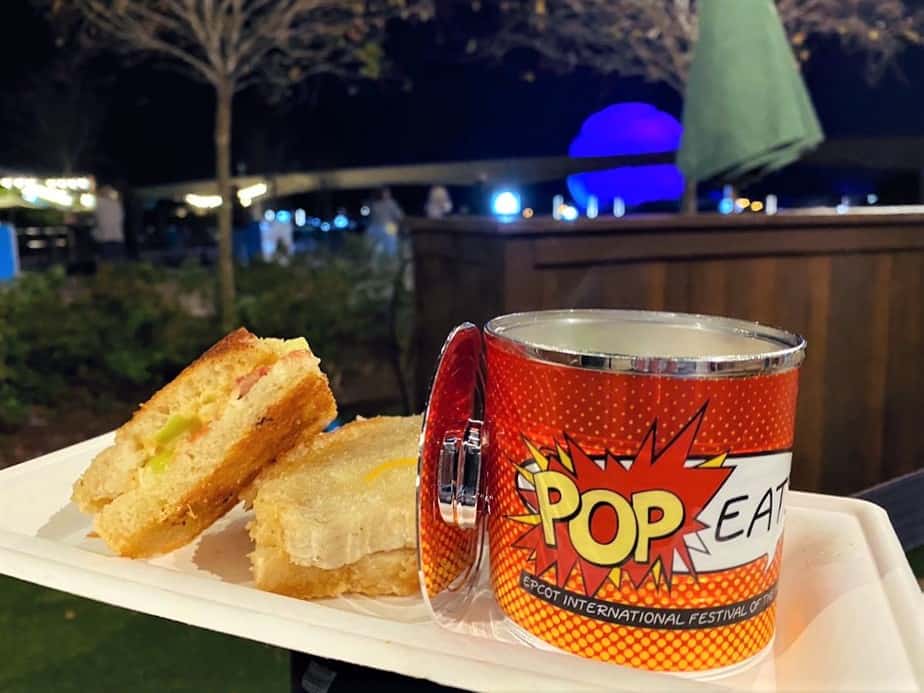 And, worst-case scenario, you'll have plenty of food to enjoy yourself. These kid-friendly foods are listed starting in near the Canada Pavilion and working your way around to the Mexico Pavilion.
Deconstructed French Onion Soup: Beef broth ravioli, Gruyère espuma, onion bread pudding, and onion – The Deconstructed Dish (Near Port of Entry – new dish for 2022)
Tomato Soup with Grilled Cheese – Pop Eats (Near Port of Entry)
Pop't Art: Modern-designed sugar cookie with chocolate-hazelnut filling – Pop Eats (Near Port of Entry) Note that this booth is also home to the uber-popular Fignment Popcorn Bucket. There is often a long line, and even if all you want is food, and not the bucket, it is the same line.
Char Siu Pork Bun – The Painted Panda (China Pavilion)
Pistachio Cake with cherry mousse and morello cherries – The Artist's Table (American Adventure)
Chicken Kushiage: Breaded and fried chicken with yum yum sauce and vegetables – Goshiki (Japan Pavilion – new dish for 2022)
Crème de Brie en Petit Pain: Warm creamy brie in a house-made bread bowl (France Pavilion)
Carne Asada: Seared beef tenderloin, grilled queso fresco, refried beans, scallion, and ranchera salsa  – El Artista Hambriento (Mexico Pavilion – new dish for 2022)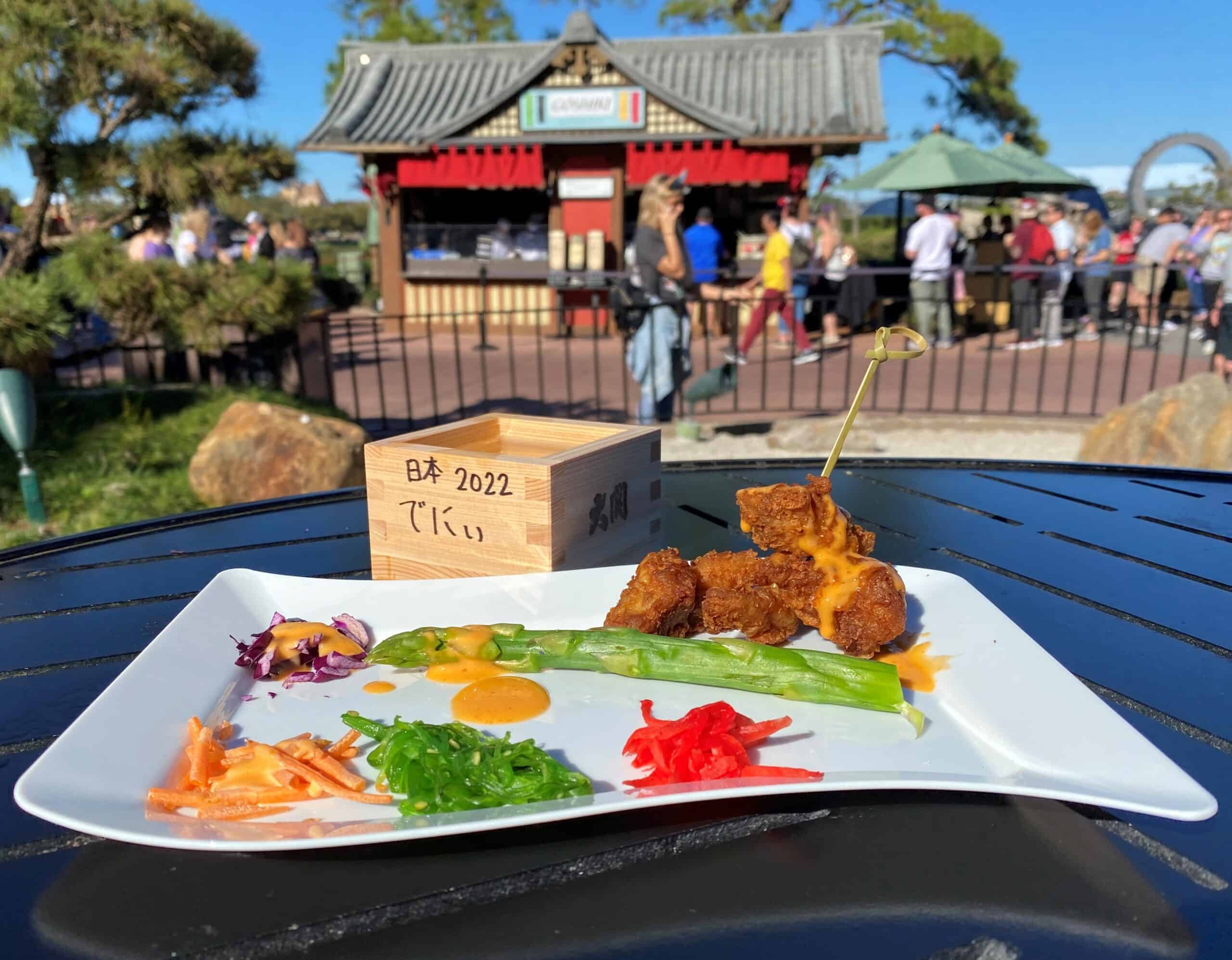 Helpful tip: Have you ever been stuck trying to carry multiple plates and drinks over to your hungry family? Bring along a large plastic plate or tray to help with carrying the food and drinks.
I often bring along a plate or tray and sometimes get weird looks, but the minute people see what I use it for they realize this small stroke of genius.
Fun idea: You can participate in an art festival food crawl at Epcot, called the Wonderful Walk of Colorful Cuisine. Just pick up a Festival Passport and look for the food items that are part of the Wonderful Walk of Colorful Cuisine.
It's a fun way to teach kids how colorful food can be. Each item represents a color of the rainbow. After you collect all five stamps, you can pick up your prize — an Artist Palette Cookie, available at World Showcase Plaza.
Wonderful Walk of Colorful Cuisine food items:
Deconstructed Key Lime Pie: Flexible Key lime curd, "Key lime" mousse, graham cracker cake, and meringues (green) –  The Deconstructed Dish (Near Port of Entry)
Vanilla Donut with strawberry sugar, strawberry ice cream, fresh strawberries, and strawberry gele (pink) – The Donut Box (Near Test Track)
Blood Orange-braised Beet Carpaccio with mustard vinaigrette, pickled clamshell mushrooms, golden beets, and crostini (red / plant-based) – Gourmet Landscapes (Canada Pavilion)
House-made Chorizo and Potato Empanada with turmeric aïoli and annatto aïoli (yellow) – Vibrante & Vívido: Encanto Cocina (Between Morocco & France Pavilions)
Pan-seared Scallops with vanilla-butternut squash purée, brown butter cauliflower purée, and lime foam (orange) – The Artist's Table (American Adventure)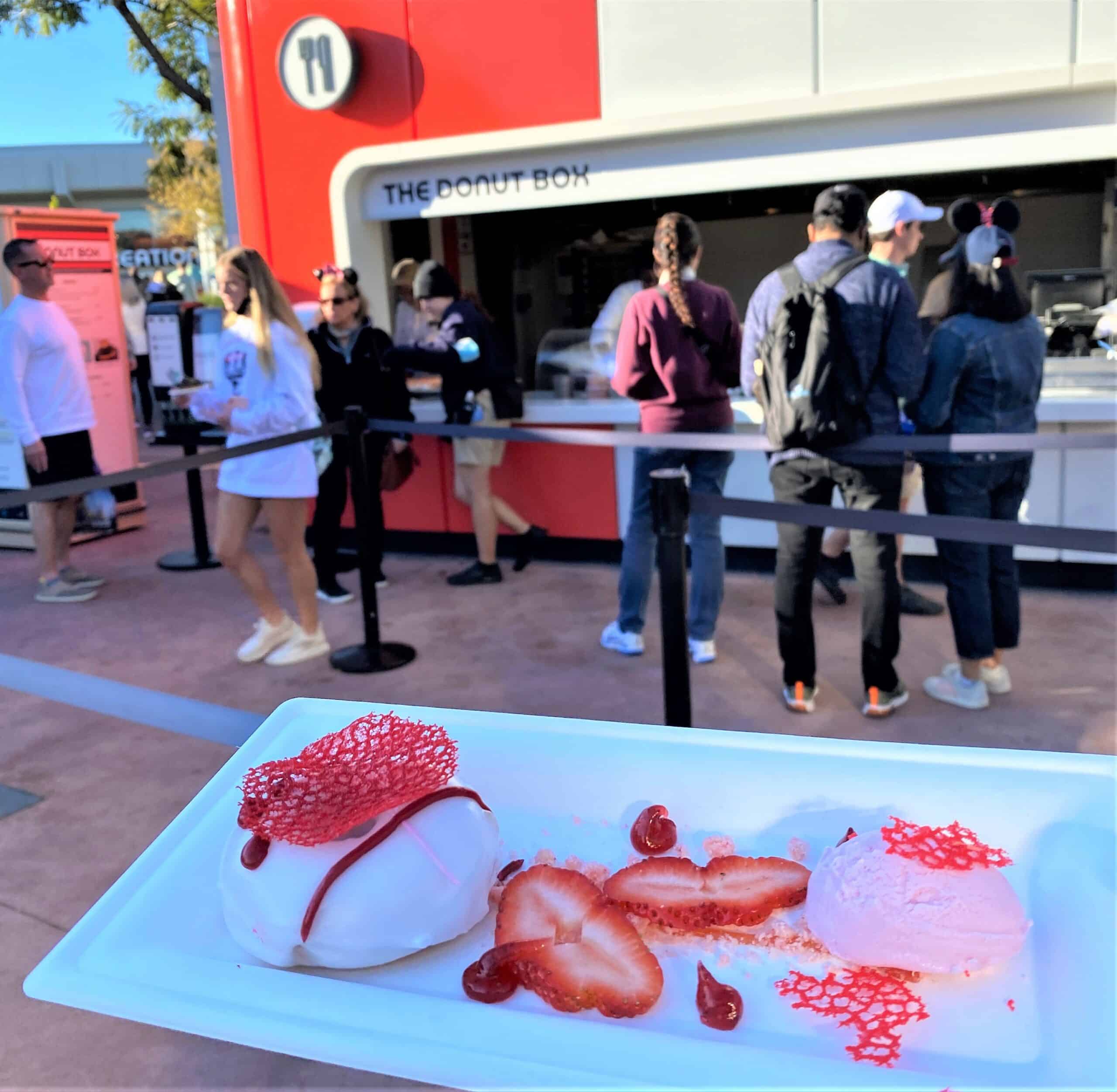 Disney's Encanto at the Art Festival at Epcot
The breakout hit, "Encanto" is taking Disney fans by storm. To celebrate, there is an Art Festival food and drink booth inspired by Colombia and "Encanto."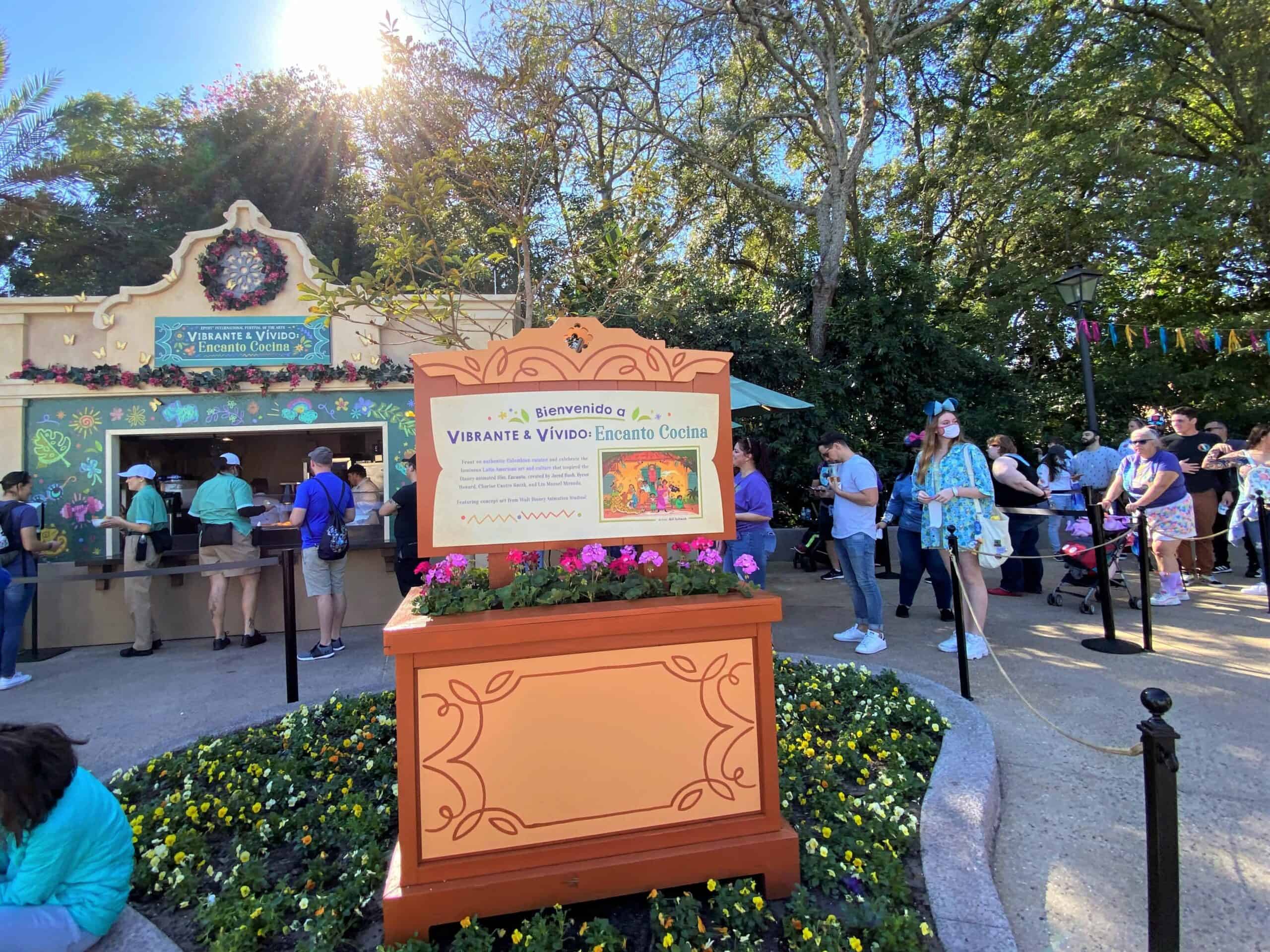 This booth is popular with kids and adults alike, so be sure to head there as early as you can. The food may be a tad spicy for the kiddos, but give it a try. At least you'll know the Coconut and Passion Fruit Smoothie is sure to be a hit.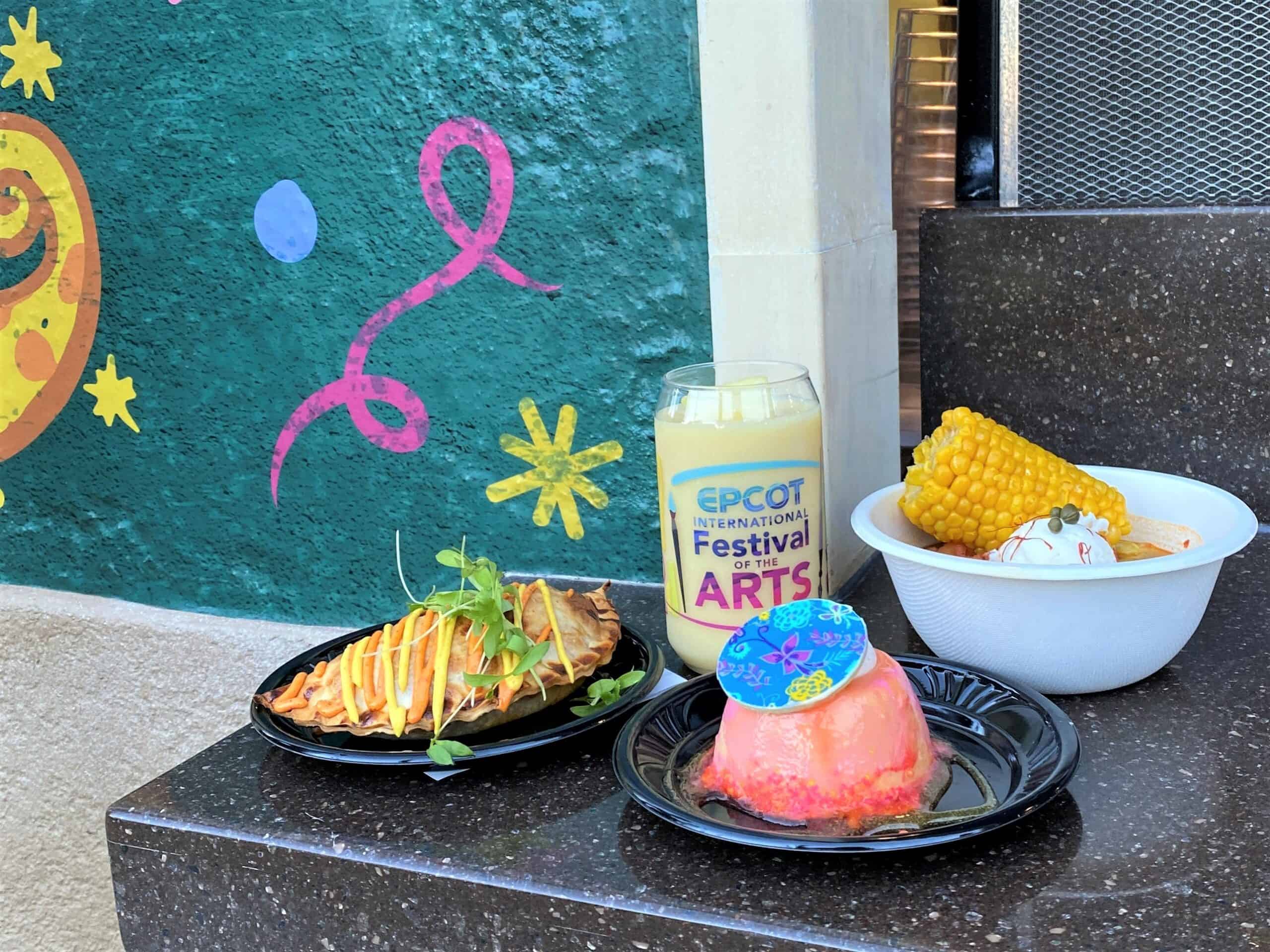 And even if you decide to bypass ordering anything at the Encanto Cocina Booth, swing by to admire the concept art. There are multiple signs with breathtaking imagery and interesting behind-the-scenes info. These signs can be a good tool to teach your kids about the work and artistry that goes into animated film making, and a little about the Colombian culture.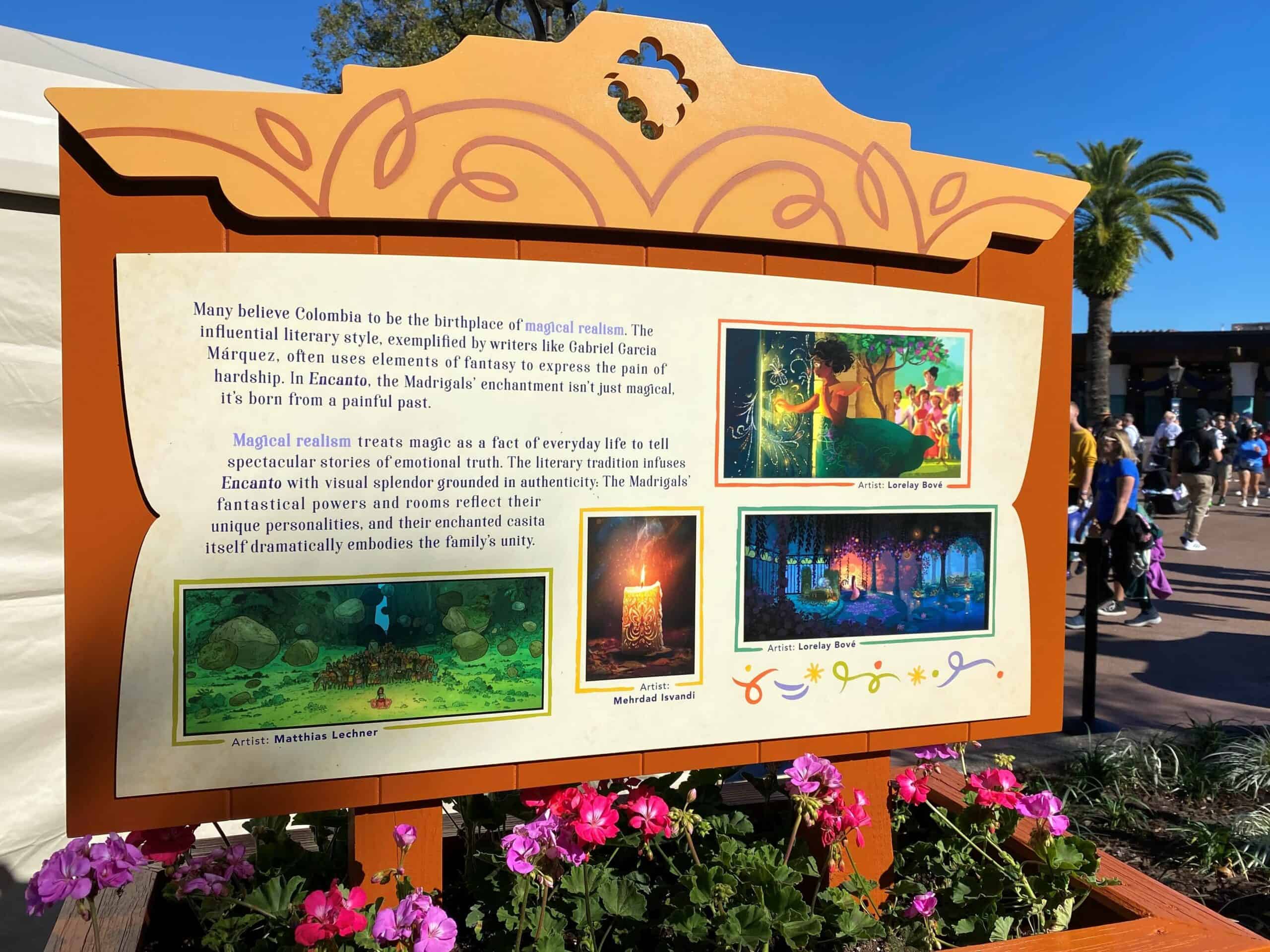 Kid-Friendly Drinks at Epcot's Art Festival
If the creative food of the art festival at Epcot doesn't go over well with your young ones, or you just want to sip some yummy kid-friendly drinks at Epcot, you've some good choices.
Deconstructed Apple Pie à la Mode: Apple-cinnamon gelato, cinnamon apple cider, apple pie filling, and streusel (non-alcoholic) – The Deconstructed Dish (Near Port of Entry)
Sipping Chocolate Flight: White, milk, and dark chocolate (non-alcoholic) – The Artist's Table (American Adventure)
Coconut and Passion Fruit Smoothie (non-alcoholic) – Encanto Cocina Booth (near Morocco Pavilion)
Activities for Kids at Epcot's Festival of the Arts
Each festival at Epcot has fun activities for kids. However, the Art Festival at Epcot has the most hands-on activities that are great for kids.
Paint by Numbers Disney Mural – as you enter the park, make your way to Future World West (near The Land and Imagination pavilions) and get your brush and small supply of paint to add to the paint by numbers Disney mural.
Bicycle Spin Art (near Germany Pavilion) – You and your kid(s) can make your own art at Epcot to take home. It is an additional cost, but worth the fun and custom souvenir. I suggest picking out colors of your birth month, favorite character, or to match one of the rooms in your home.
Animation Academy at American Gardens Theater – learn to draw a Disney character and take a nice break together. Usually at 12:00 p.m. and 1:30 p.m. daily.
Live Art Demonstrations at Showcase Plaza – throughout the day you can watch live art demonstrations at the very heart of Epcot. Along the lagoon in the main plaza, you can watch artists paint masterpieces, live. There is also performance art that is sure to capture your family's attention.
Artistic Photo Opportunities: There are multiple frames you can step into to make for great family photos. My two favorite are along the main walkway leading from Future World to World Showcase, near the chalk art displays.
Chalk Art along walkway from Future World to Showcase Plaza – Don't forget to take a few moments to appreciate the incredible chalk art. Most of the chalk art features Disney characters and scenes and make for great photo opportunities.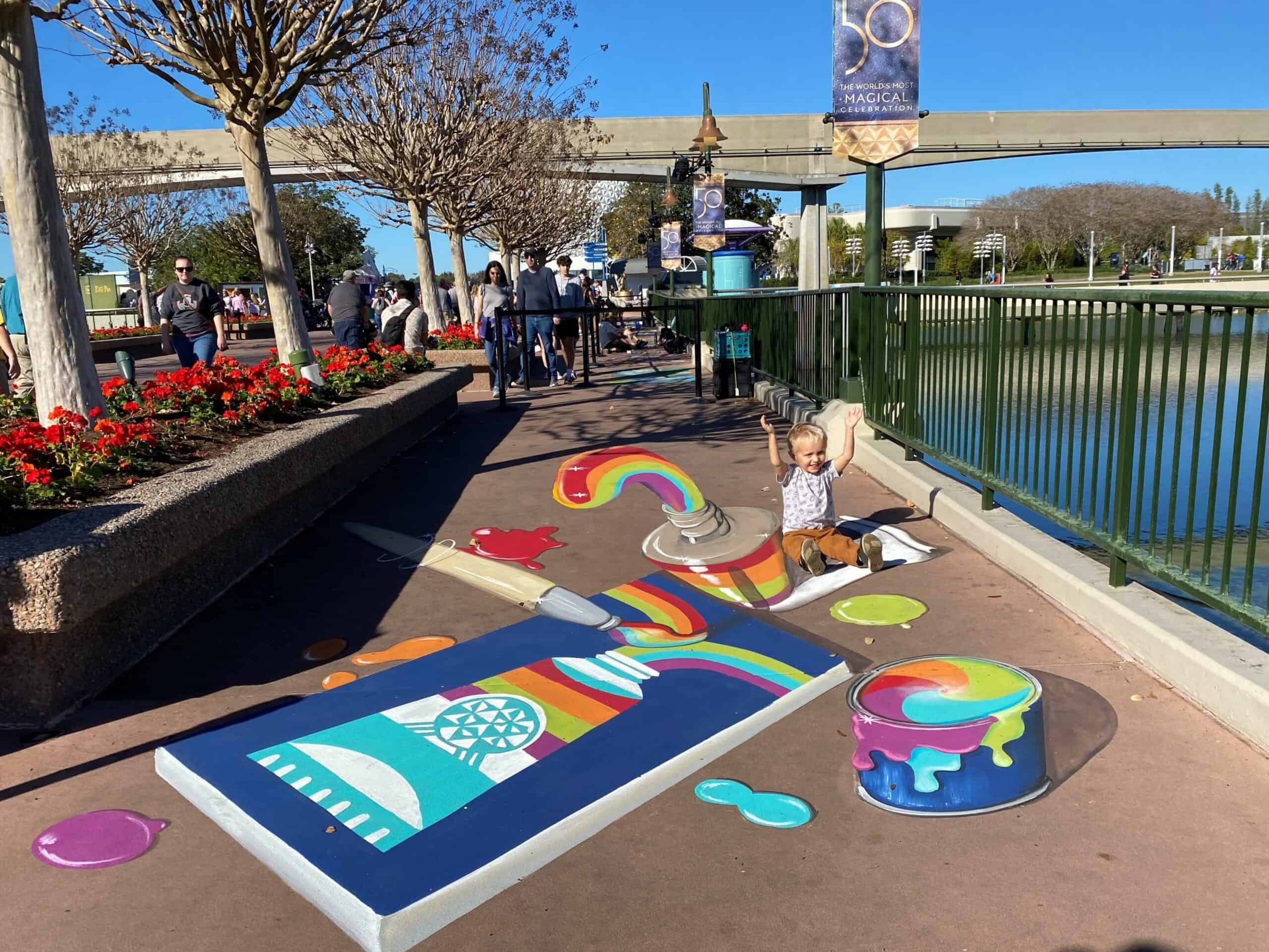 Important note: The chalk art is crafted by different chalk artists throughout the festival so what you see on your visit will vary from someone else who visits a few days later.
Figment's Brush with the Masters Scavenger Hunt
Every Epcot festival has a scavenger hunt around World Showcase. For 2022, Figment's Scavenger hunt has increased in price, but the prize is one of the best ever offered. For $9.99 you can purchase a Figment scavenger hunt map at World Traders (at Showcase Plaza).
At each World Showcase pavilion look for a work of art representing that country. Once you find it, place the sticker on the corresponding pavilion on the map. Turn in your map for a prize!
This year the price is a figure of a Disney character that you can paint. The paint that is included is specific hues that match the character. Choose from Mickey Mouse, Minnie Mouse, Daisy Duck, or Figment.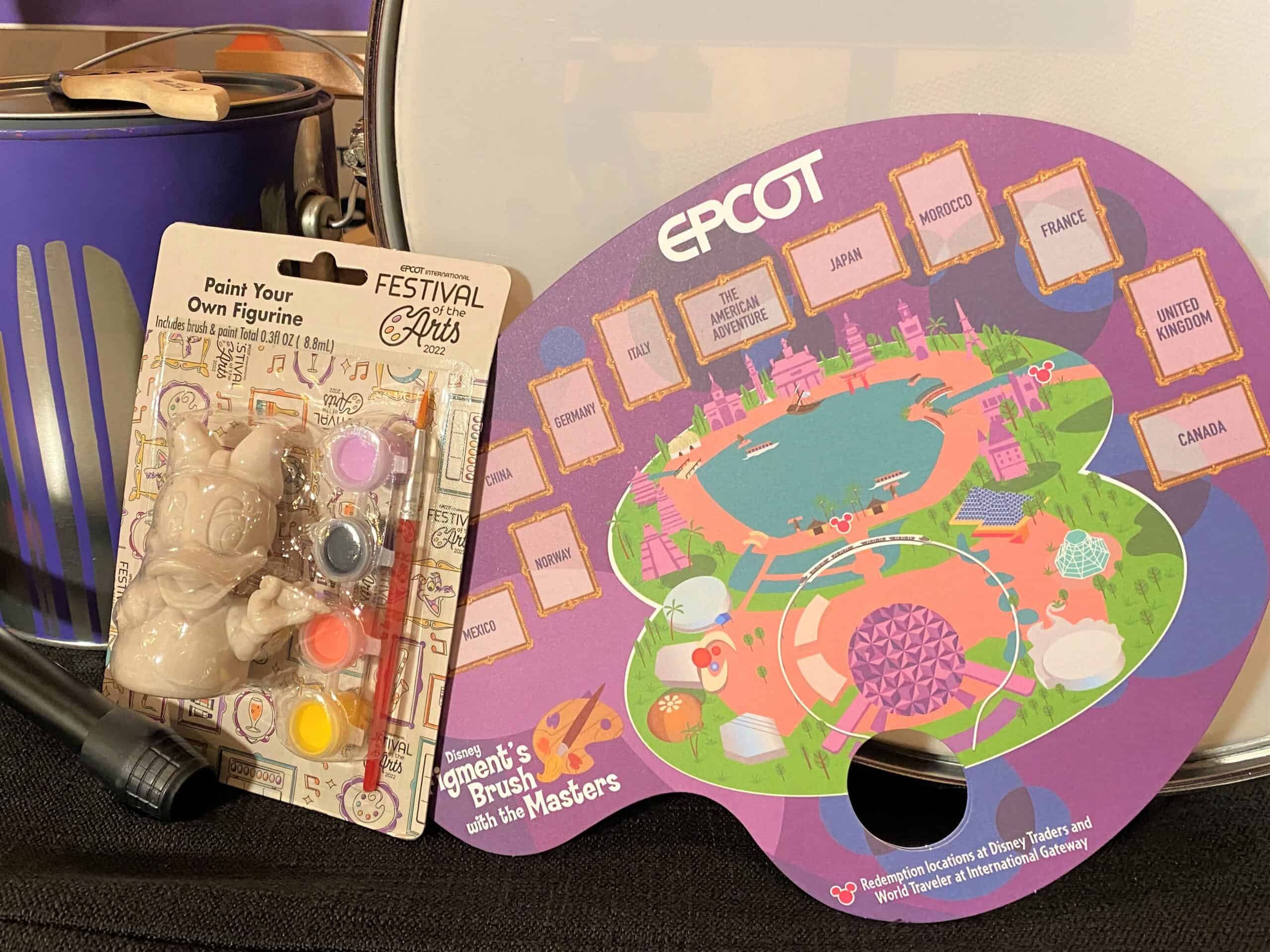 Important tip: You do not need to actually complete the hunt to earn your prize. You can redeem it any time during the festival and while supplies last. In fact, when you purchase your map, you can ask for the figure right then and there if that's what you prefer.
Second important tip: The paint is NOT washable and the product is recommended for ages 8 and older.
Disney Art and Artist Tents
Throughout World Showcase there are multiple tents set up. Each tent has a different art collection. It is delightful to view all the different artistic ways that Disney characters and attractions are represented.
Your kid(s) will love to find their favorite characters, and maybe you'll find a new special piece for your home. There are Disney artists making appearances throughout the festival. If you see one take a moment to meet them and introduce yourself and your family. Ask them to tell you how they got into art. You and your kids are sure to be inspired.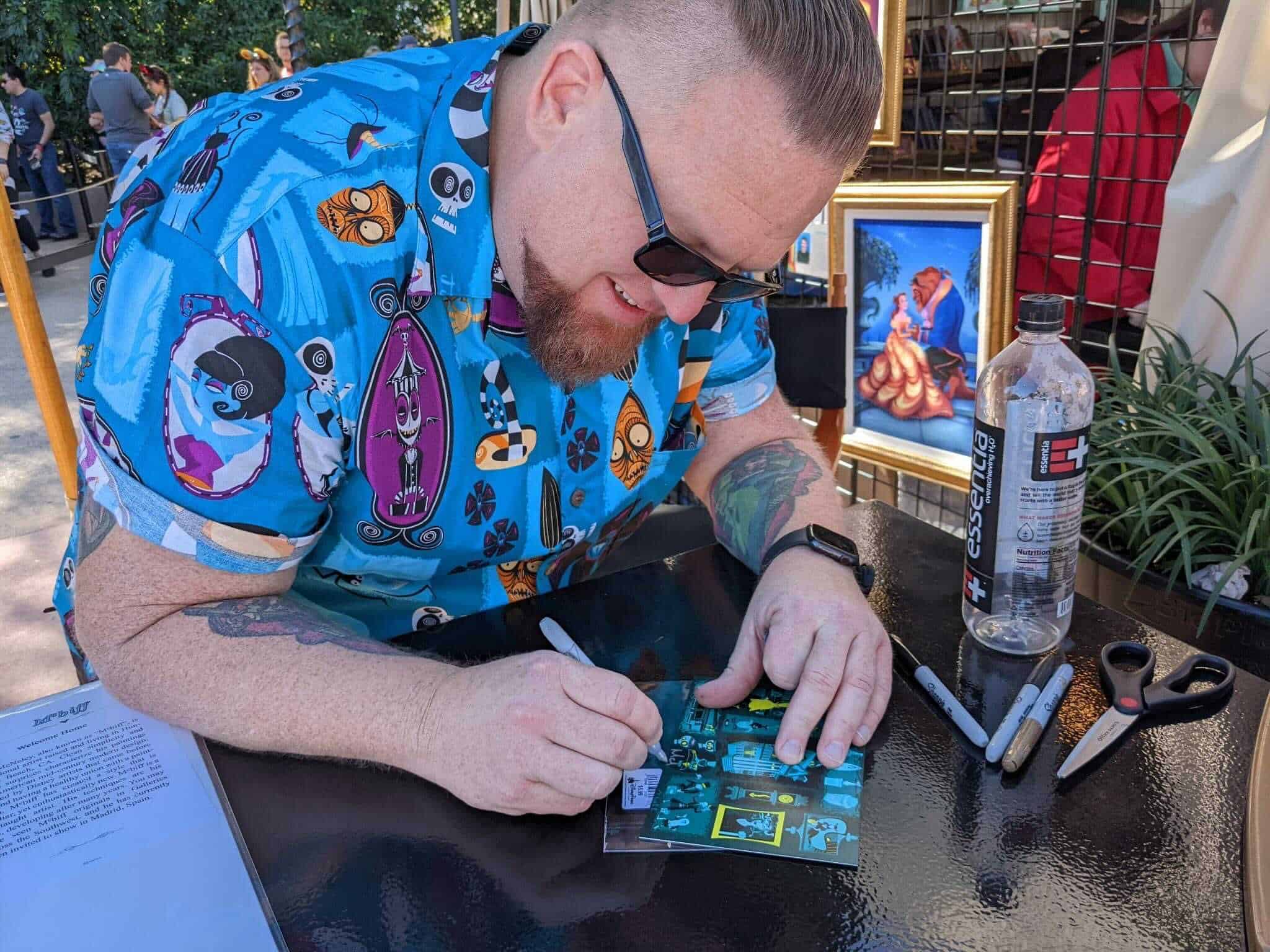 DISNEY ON BROADWAY Concert Series
Here you can witness singers straight from Broadway sing powerful versions of Disney hits. Disney fans, including kids, are going to love this DISNEY ON BROADWAY Concert Series. Even if you're not familiar with Disney's shows on Boardway, you'll sure to hear a few Disney hits that your family loves.
There is a dining package available in which you purchase a meal at a participating Epcot restaurant and then enjoy reserved seating for the performance. To me, this package is not worth it, considering the show does not have many visual elements and doesn't tend to fill up. Just make sure you arrive at least 15 minutes before showtime to find a seat.
Know Before You Go…
Park reservations are required
Epcot's hours are typically 10am – 9pm during the Festival of the Arts
Arrive 15 minutes early for any entertainment and activities
Weekends are much busier than weekdays
Make a getaway of it and stay at a family-friendly hotel near the parks
Read up on important information about the newest ride, Remy's Ratatouille Adventure