A Parent's Guide to the NEW Guardians of the Galaxy Ride
Epcot just keeps getting better. The NEW Guardians of the Galaxy: Cosmic Rewind ride is receiving lots of early hype after opening in May 2022. But is it okay for kids? What if you're prone to motion sickness? Disney invited us to a media preview and we've got all you need to know as a parent about the new Guardians of the Galaxy ride.
Guardians of the Galaxy: Cosmic Rewind will use a virtual queue
Individual Lightning Lane will also be available
A regular standby line will NOT be offered upon initial opening weeks or months
Minimum Height Requirement is 42″
It is a thrilling "family coaster"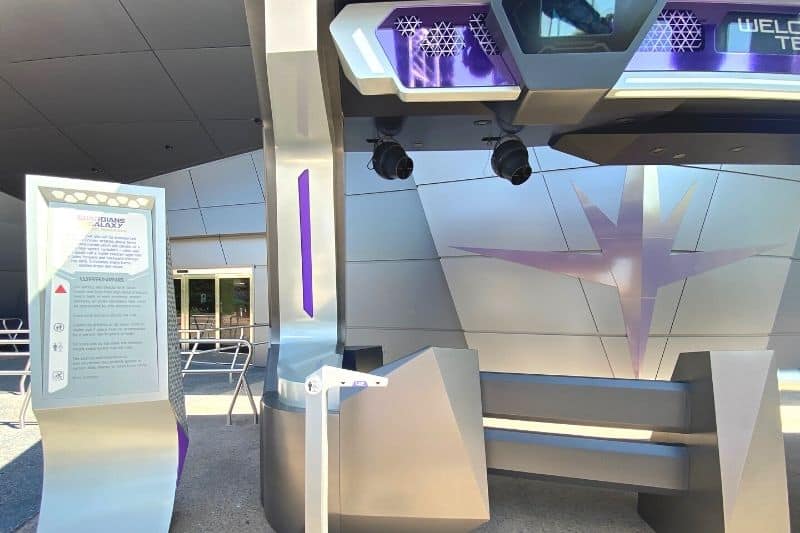 How does the virtual queue work for Guardians of the Galaxy?
Guests will need to use the My Disney Experience app to enter the attraction and can enter the virtual queue no more than once per day. A regular standby queue will not be available.
Important tips:
Download and set up your My Disney Experience app before your Disney trip
Make sure your entire travel party is on your Family & Friends list under "My Profile"
Tickets and Epcot Park Pass Reservations are required before you can enter the virtual queue
The morning booking window is at 7 a.m.
The second booking window is at 1 p.m.
Qualifying resort hotel guests have a third option at 6 p.m. for Extended Hours
You only need one person in your party to try for a virtual queue spot for the entire party, (check your Friends and Family List)
The more people in your group trying for a spot, the better chance one of you will succeed
A few minutes before 7 a.m., open the Disney app, click "Virtual Queues," and then "Join Virtual Queue"
While you are waiting, click "Confirm Your Party" and ensure your party is correct
Hit the "Join Virtual Queue" button as soon as it appears on the screen
If you are successful you'll be assigned a Boarding Group which will indicate what time you can ride the attraction.
What to Do Next If You Didn't Get a Boarding Group
It's possible your party won't secure a boarding group in the morning. All of the attractions that utilize a virtual queue have a second booking window in the afternoon. So give it another try in the afternoon, at 1:00pm.
If at that point you're not able to secure a spot, look for a Guest Experience Cast Member. They are located beneath royal blue umbrellas wearing royal blue shirts. One post is set up in World Nature (formerly Future World West) near the Finding Nemo attraction. Another is on the central bridge from World Celebration to World Showcase. It is not guaranteed that they can help, but it is worth asking.
Quick Recap
7:00 am Virtual Queue – Do not need to be in park to enter the queue
1:00 pm Virtual Queue –  You must be in the park
6:00 pm Extended Hours Virtual Queue –  Only qualifying resort guests can enter this virtual queue, and they do not need to be in park
Purchasing Individual Lightning Lane
The ability to purchase Lightning Lane access to a participating attraction is called "Individual Lightning Lane." These attractions are separate from the Genie+ access and do not require purchase into Genie+.
With me so far? Genie+ replaces Disney's former FastPass system. It is an upcharge per person, per day. Individual Lightning Lane attractions (which are an additional cost) can be booked at park opening.
Guests staying at a Disney Resort hotel can book Individual Lightning Lane attractions at 7:00am, while everyone else is after park opening.
Learn more about this and other ways to avoid long lines at Disney World.
Guardians of the Galaxy Ride for Kids
The Minimum Height Requirement is 42″ which is an average height of a 6 year old. Laura Byrne, our Creative Director + Editorial Manager is a mom of a 6 year old. And we both agree, as moms, that 6 years old may be a tad young for this experience. It is intense.
It's not very scary, however, it is fast, sweeping, and non-stop. It is billed as a "family coaster" and it absolutely is family-friendly, more so than the Guardians of the Galaxy movies themselves.
Every kid is different, and you know your child's tolerance level best. If they are a natural thrill seeker they will love it. There is no doubt the ride is fun!
Related: A Parent's Review of Peppa Pig Theme Park
Ages 8 and up seem a little more appropriate for this attraction. There are constant dips and sweeping motion, but no extreme drops, and no going upside down. You do go backward a fair amount, and the ride vehicle turns, in a smooth controlled motion to keep you viewing the incredible intergalactic world you find yourself soaring through.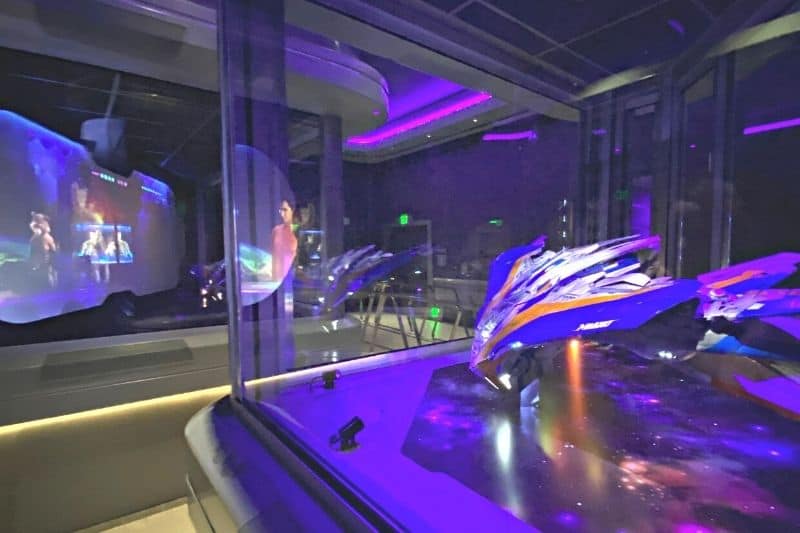 We talked with Kevin Doxey, Show Set Designer at Walt Disney Imagineering, during the ride's media preview. "The overall experience, especially in the Phase Chamber [the preshow area before the ride], when I was working on it and thinking about it, the kids are going to think they've been teleported to space."
What other rides are similar?
Kevin Doxey, also helped us understand how Guardians of the Galaxy: Cosmic Rewind compares to other Disney rides. "It's a little bit more than Big Thunder Mountain and Space Mountain. But the ride vehicle is very comfortable, you have a lot of room," replied Kevin.
People are LOVING it. It's intense, with so much action and stimulation. But it is truly a fun, fantastic ride. The effects and smooth motion are unlike anything else Disney has done. With its backward motion and swift moves, we've also heard it compared to Expedition Everest at Disney's Animal Kingdom. But, even with the comparisons, it is truly unique and something you've got to experience for yourself.
Side note: There are some great merchandise pieces, especially for kids, located near the ride's exit. Naturally, there is a gift shop. Anything with Baby Groot is sure to be a hit, and there are kid-sized costume pieces and clothing.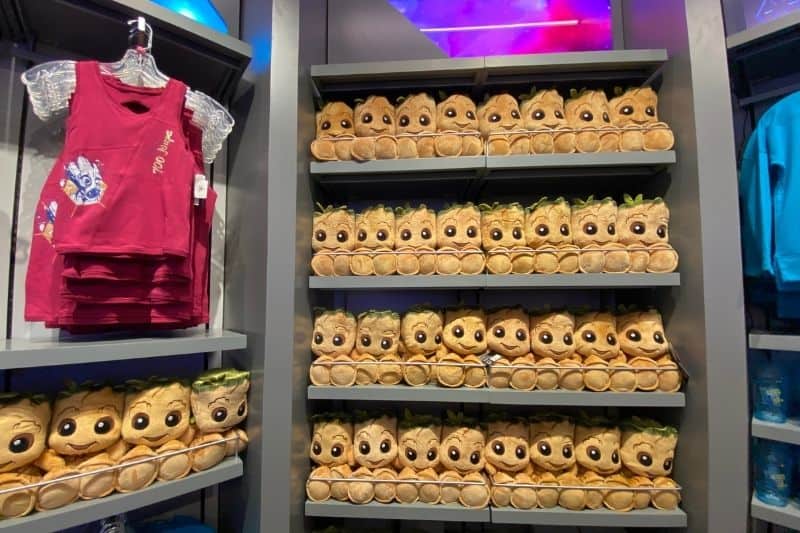 What if you're prone to motion sickness?
Who else gets carsick unless you're the one driving? That's totally me. This ride is super smooth with no jerking movements, but swift and sweeping motions. There are dips and turns.
There is also action and stimulation literally everywhere. It is quite loud throughout the entire experience, from the queue to the ride itself.
If you've used aids to help with motion sickness you may want to bring those along. I have used over-the-counter options to help with such experiences. Others may like to use specially designed wristbands and other tools. It's a lot, but not rough.
Personally, I am highly sensitive to motion as well as loud sound and noise. So I use various earplugs and even hearing protection headgear to help. Ever since I began doing so, I am finding theme parks to be less draining on me.
Ride warnings
Like most roller coasters and thrill rides, Guardians of the Galaxy: Cosmic Rewind does have warnings posted at the ride's entrance and before you board.
This advises that you should be in good health free from high blood pressure, back and neck issues, heart issues, and more. This is similar to other thrilling attractions.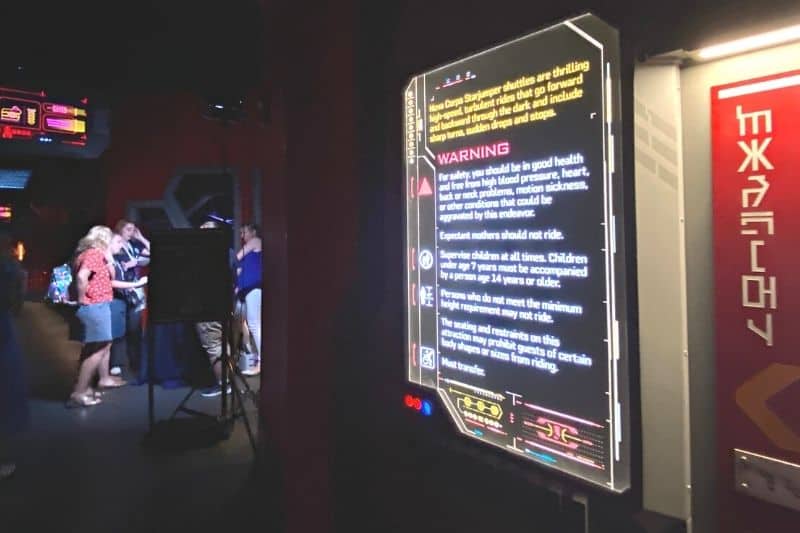 What if you don't want to ride?
Believe me, I get it. Thrill rides are an immediate no from me. But, I do enjoy going through the queue and preshow areas with my family. I am a big fan of Marvel movies, like Guardians of the Galaxy, and the queue and preshow of this new ride made me so happy as a fan.
There are multiple appearances of the Guardians characters. And the original cast came together to record their roles in the attraction.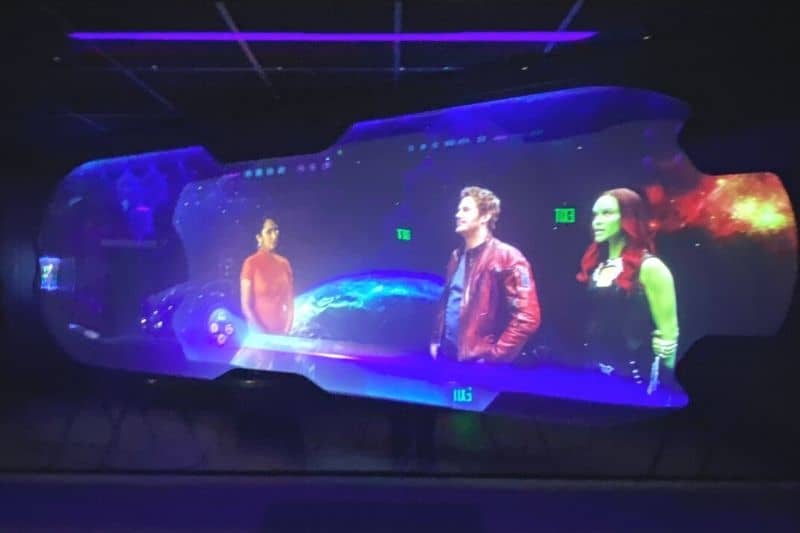 Plus, there are models and other visually stunning elements throughout the queue. And since this attraction's storyline takes place in Epcot itself, there are fun tributes to the park's history and theme woven throughout too.
You can easily head for the exit once you've gone through the whole queue and preshow. At the boarding platform when your family gets on the ride, just ask a Cast Member to guide you to the exit.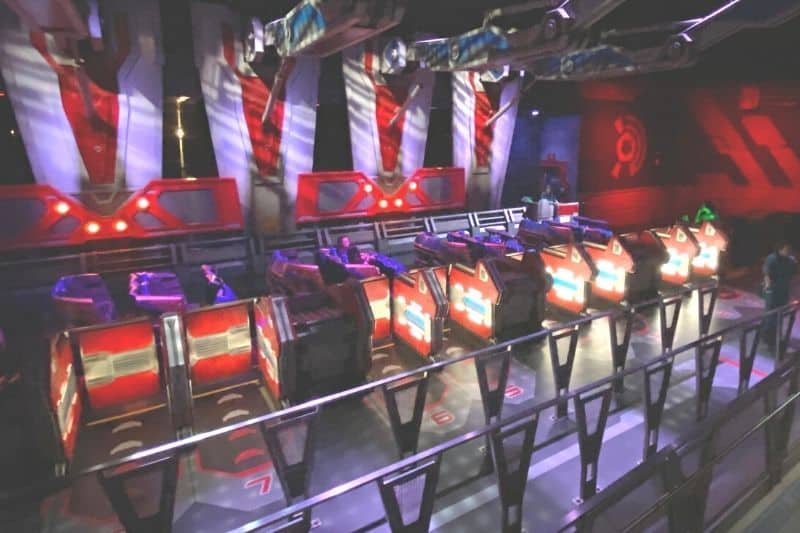 Important note: To enter the queue and preshow area you must have access to the ride, via Virtual Queue or Individual Lightning Lane, even if you don't want to ride.
JUST ANNOUNCED – During the 2022 holiday season the classic hits playlist will be traded in for a mash-up of seasonal jams at Guardians of the Galaxy: Cosmic Rewind at EPCOT. Guests will blast off to the tune of an awesome holiday single.
What an exciting addition to Epcot. The opening of this ride is an important part of the Walt Disney World 50th Anniversary Celebration going on now.
Want to check out the other new ride at Epcot? 6 Tips for Remy's Ratatouille Adventure + France Pavilion Expansion