A Whimsical Wonderland: Fairgrounds St. Pete is a MUST-SEE for Families
Fairgrounds St. Pete is now open and ready to plunge you into a whimsical world of artistic wonder and mystery in a celebration of all things that make our state of Florida weird, wacky, and wonderful.
Leave reality at the door, friends… and let this immersive artistic experience be your escape from the real-life wacky world we live in today. And here's the cool part, WHAT and HOW you experience this exhibit during your visit is totally up to you.
"It's a choose-your-own-adventure with layers of quests, mysteries, and scavenger hunts people can opt into if they like," co-founder Olivia Mansion explained. "Or they can simply enjoy all of the art, escape reality and immerse and photograph themselves in a beautiful place! At Fairgrounds St. Pete we've collaborated with more than 60 artists, and over 40 creative and entrepreneurial collaborators. We are providing a platform for our creative community to come together, experiment and grow."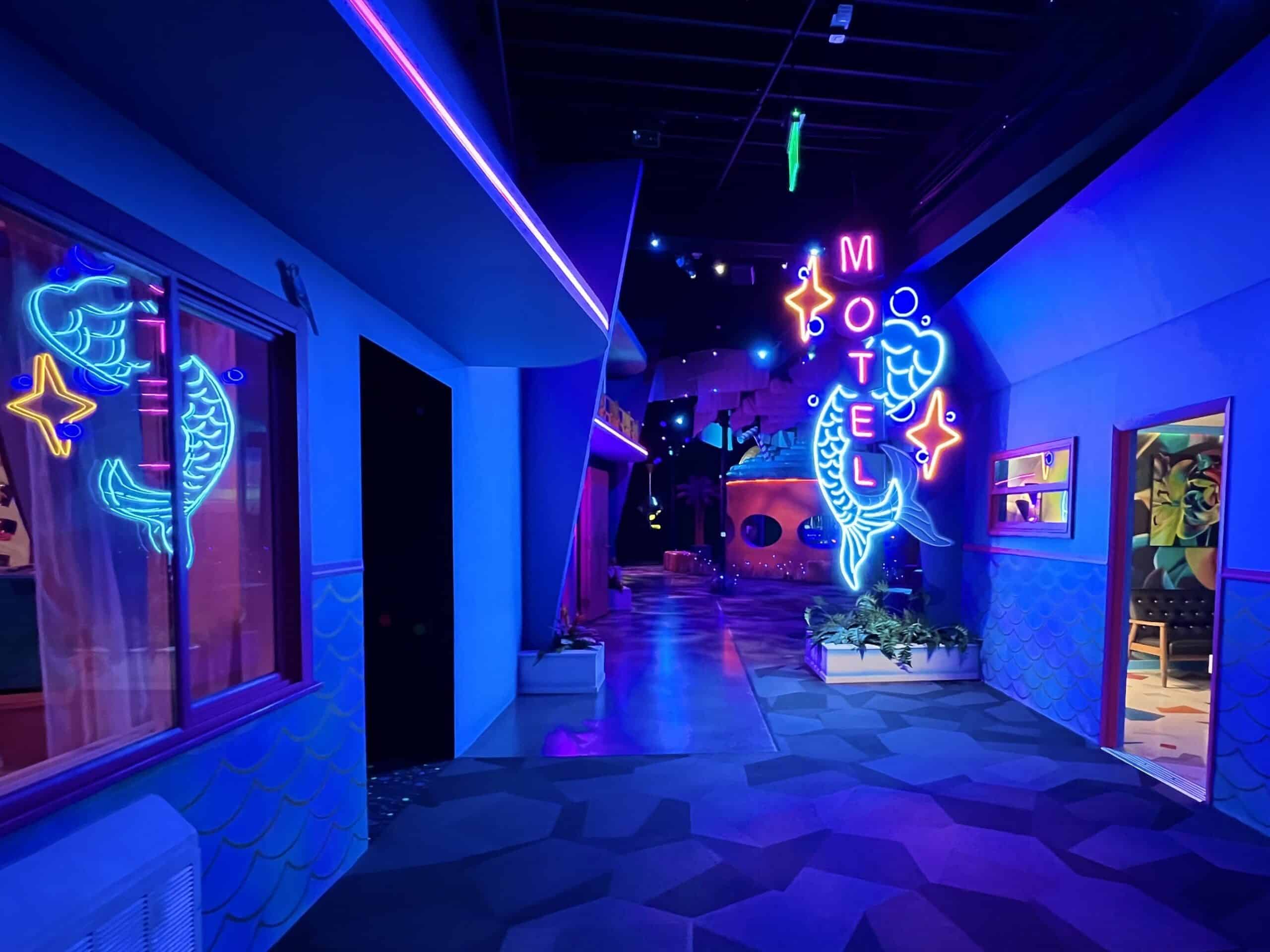 When you first step inside the unassuming warehouse space The Factory in St. Pete, you're immediately transported into a whole new world. The entrance boasts a colorful mural and mesmerizing spinning moon toward the end of your walk. One you turn right, you're taken into a bright, colorful world representing our beautiful state of Florida.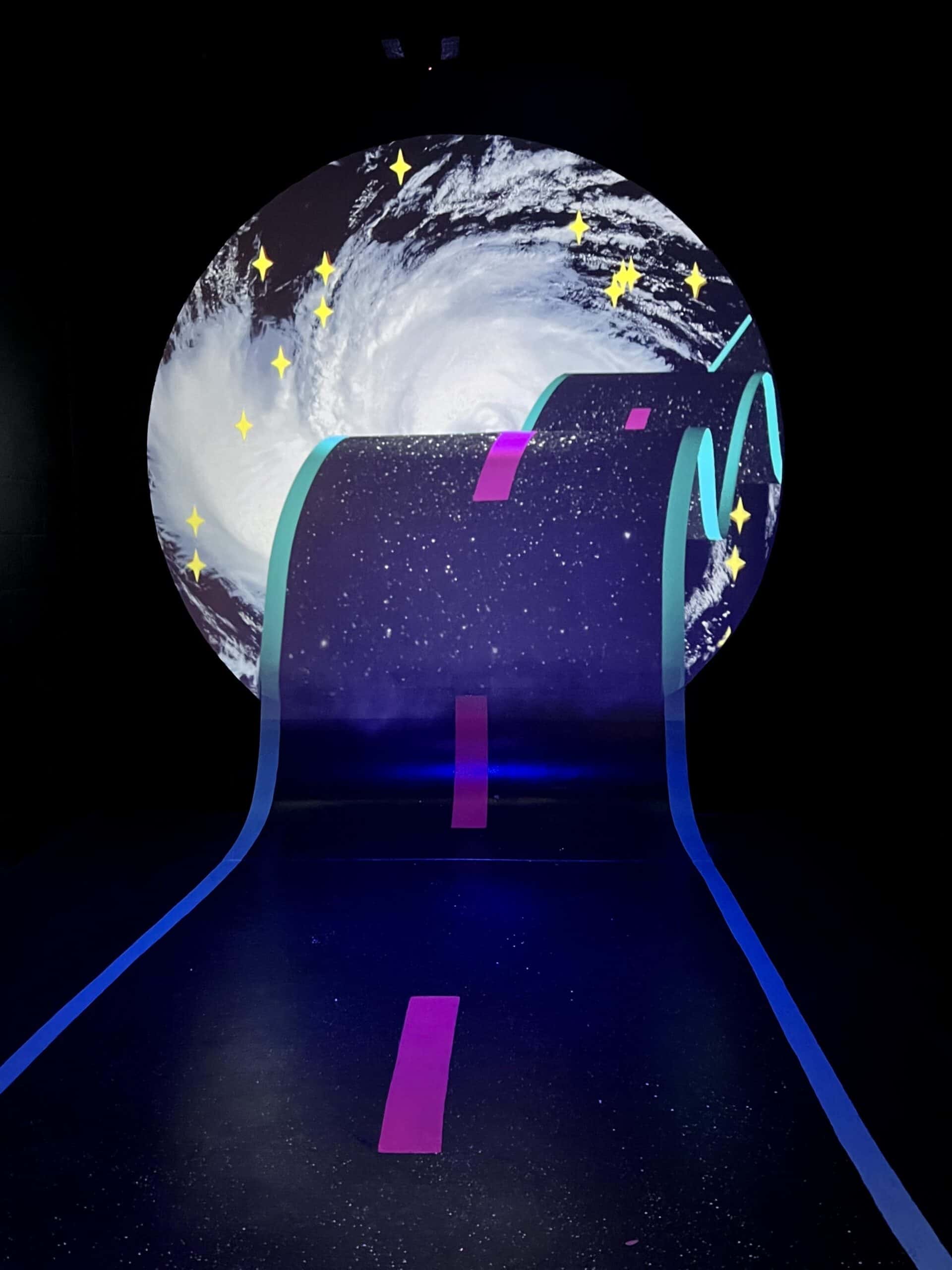 It's wild, it's bright, it's whimsical and it almost doesn't make sense until you take a closer look and everything starts to come together.
It's truly an awe-inspiring art experience that engages your senses like you've never seen or heard before –and it's one you can experience again and again without feeling like it's the same old thing.
What's NEW at Fairgrounds St. Pete: Shrimpfinity
The newest pop-up exhibit space is also one of our favorites…Shrimpfitinty created by MILAGROS Collective. You'll find this whimsical room toward the back of the exhibit space near the CATCOM exhibit–a smoothie/UFO-type creation (you have to see it to really get it–and it's awesome).
When you step inside, you'll be surrounded head to toe in MILAGROS Collective's signature painted swirls, a life-sized shrimp cocktail, and even a shrimp disco ball. The photo poses are endless!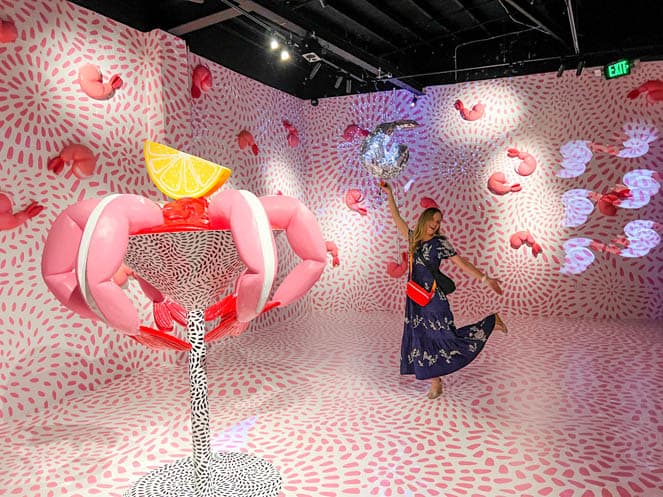 Choose-Your-Own-Adventure at a Fairgrounds St. Pete
As Olivia pointed out, Fairgrounds St. Pete is an immersive choose-your-own-adventure experience, so don't feel pressured to try and figure it all out. There is no wrong way to do it.
You'll start your adventure after check-in by taking the turn on 275 to the Mermaid Motel. The neon glow of the mermaid sign lets you know you're in for a whimsical experience. From there, you can go right into the motel lobby and explore the drawers and tourist-trap brochures. Take notice of the complimentary glowing 'Restorative Water'–you'll notice this appearing throughout the 15,000 square foot exhibit hall.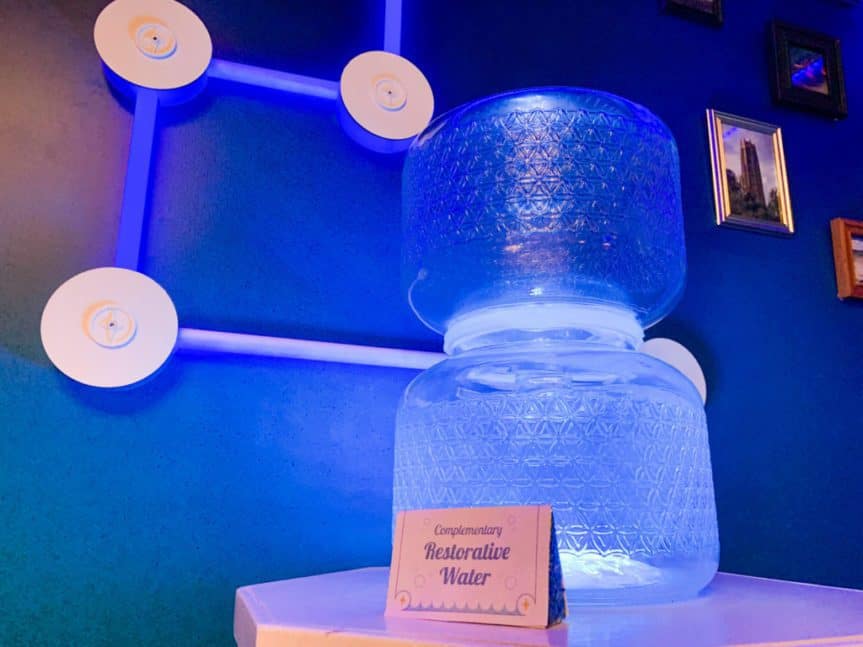 Across the hallway is a bright pink motel room where a suitcase is left wide open in the corner of the room. While there are plenty of oddities in here, the glowing orb on the bed definitely ups the ante.
Some have speculated it might be the room of the missing motel guests. This is where the sleuthing begins if you choose.
If you and the kids are masters of mystery, maybe you'll want to crack the case of the missing motel guests.
"We encourage guests to look around and explore as we've heard there's been some mysterious activity in the motel. We have heard that there is a couple that stayed in the motel and no one knows what happened to them," Mansion explained.
While you're in here, make sure to take a moment to enjoy the artwork.  Look out for the painting of cork-screw-necked flamingos called "Love Birds" by the bed.
While every room here tells a story, each nook of the entire space is filled with the creations of 64+ artists –and the works come in all forms from paintings, sculptures, digital video, light, sound, and well–pretty much anything you can imagine.
It will engage all of your senses (except taste–that's not quite here yet) and make you think as you explore and play. We don't want to give it all away, but take some time in each space to really look closely at everything. You'll start to notice some common elements like the Restorative Water, glowing orbs, cats, aliens, and even Twistee Treat.
The Rooms at Fairgrounds St. Pete
We'd be hard-pressed to name a favorite spot inside Fairgrounds St. Pete, but we probably had the most fun talking to artist Iona Parris inside the Mermaid Dressing Room. The Air Force veteran creates beautiful pieces from shells, including shell crowns you can purchase in the gift shop. Her shell crowns are also on display in the Mermaid Dressing Room.
The Mermaid Dressing Room's most prominent display is the shell wall created by co-founder Liz Dimmitt and her mother. Nestled inside are discs created by another artist you can turn, engaging that sense of touch and sight.
"Getting to actually touch and see the art and everything like that—knowing that things will move and not break—you can still interact with the art. I think that's amazing. I've never heard of anything like this—so this is pretty cool," Parris told us.
The Lampscape Room was pretty cool too–the infinity room is filled with lamps and look closely, you'll notice a paper sign that warns against activating a device with the elongated cat-eye star-shaped symbol. It's the same symbol we saw painted on the motel room doors and spotted throughout…hmmm…maybe these are clues to help us figure out what happened to the mystery guests?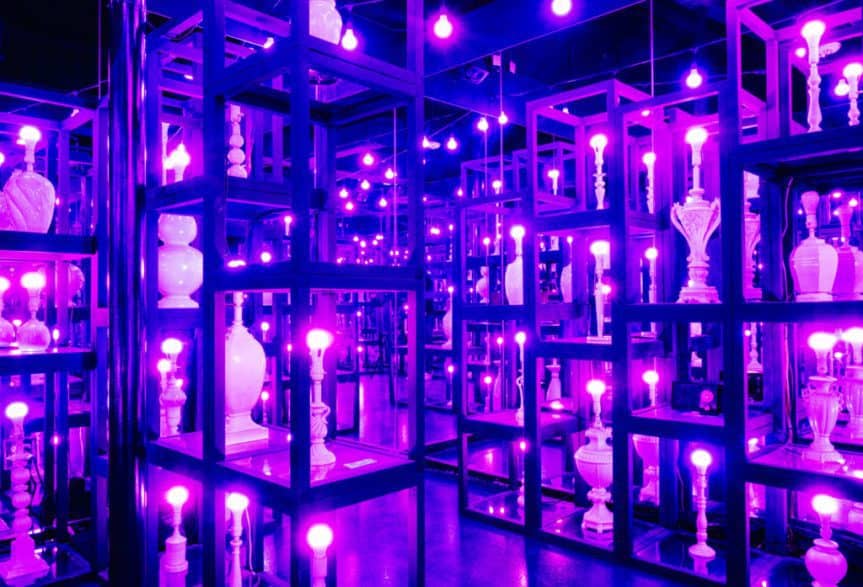 The Strawberry Room celebrates one of Florida's top crops–the strawberry, but with an otherworldly twist. This is where sound, sight, and smell engage along with your tastebuds…kinda. You can definitely imagine what the sweet strawberry treats must taste like on display here. Mmmm…
Another favorite room is a place where you can REALLY escape reality– the Temple of Cosmic Balance by Chris Parks, aka "Palehorse". It's a place to meditate and even designed with little ones in mind with infinity mirrors at their height to reach their own moment of zen.
"This space is created as a bit of an oasis for a feeling of calmness and peace and an ability to get a sense of a spiritual experience through art and through sound and through the depth that you can see with the infinity mirrors and also a lot of the imagery in this space is ancient esoteric symbolism for meditation," Parks explained.
He told us you don't need to have experience in meditation to get the most of this space, "Listen and just look and feel. You can get a sense of that calmness and peace that is always available and always there for us but we can lose it with all the chaos and our fears and selfish desires, worries and nervousness."
Yeah…we can also use some calm and peace right about now, right? We may never leave, but there's still so much to see and so many more creations to explore.
An Interactive Experience 
As we mentioned, Fairgrounds St. Pete was designed to engage the senses and while touch is one sense you'll find yourself using throughout the exhibit, not everything is directly hands-on. (They are frequently sanitizing the high touch point areas.)
The pandemic changed some of the original hands-on ideas, so the creators and artists utilized motion-sensing technology to allow you to interact with the pieces. Among the many motion-sensing experiences:
CENTCOM–a frozen drink-inspired cat/alien spaceship structure is one of the more prominent pieces due to its size. You can step inside CENTCOM (aka CATCOM) and wave your hands over the buttons for responses. Digital works of art pop up on the screens in the form of video.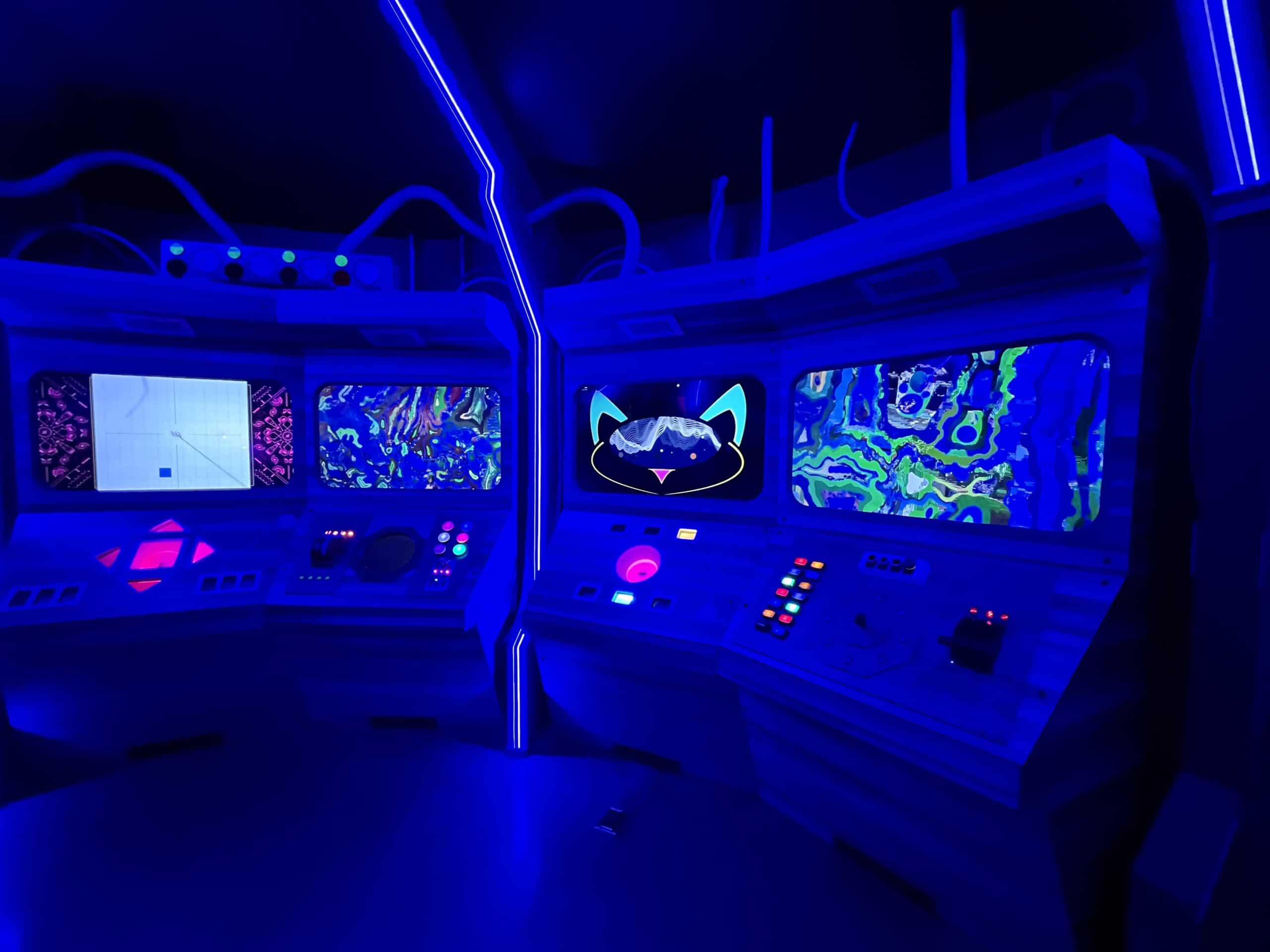 Over the motel pool area, there's a dark wall that will suddenly come aglow with the eyes of endangered species in Florida as you walk by. We think kids will really love these experiences.
"We really thought about making sure it's art for all, play for all, enjoy for all so kids are welcome, adults are welcome, teens love it-they think we're so dope which is such a compliment. It's really a place where you can come, immerse yourself in the art. We've taken the viewer into consideration and you can feel that when you experience it," Olivia Mansion told us.
Visitors are also encouraged to check out their fun scavenger hunts while perusing around! Keep an eye out for some of Florida's native birds with The Bird Brains Hunt, or channel your inner pirate with the Treasure Hunt! Both adventures are designed for all ages to enjoy.
More Must-See Exhibits at Fairgrounds St. Pete
One of the coolest creations we saw was one inspired by our beautiful Tampa Bay Area bridges. Look for the slit in the dark wall across from the Mermaid Mural–stand under the sound bubble and peek through the opening. Inside, it's a 3-D view of under the bridge as projections of city lights twinkle in the background. Look down and you might spot a glowing orb floating by. Hmmm….is this part of the mystery?
The Mermaid Mural is really beautiful too and a great spot to snap a selfie or two.
Another photo spot is near the Mermaid Dressing Room. It's the cyborg gator from the future–step inside his mouth and you'll be taken into a room featuring super cool dioramas.
Fairgrounds St. Pete is a pretty special place for many reasons, but there's one reason that perhaps is the most impactful…it helped pull many artists through the pandemic.
"We knew that we were going to do an open call in 2020—we were talking about doing it later in the year and then when the pandemic hit and we knew the artists were at home, we decided to launch the call to artists way sooner—it allowed us to employ artists, show them that we still believe in the arts, we're still going to create this. 145 applied and 64 of them are now on display here at Fairgrounds St Pete," said Olivia Mansion.
Mansion and her co-founders, including her husband Mikhail Mansion and Liz Dimmitt, say you'll continue to see Fairgrounds St. Pete evolve as new commissions are added.
So, while a one-time visit is definitely a MUST-ADD  to your Tampa Bay Bucket List, a visit to Fairgrounds St Pete is likely something you'll want to do again and again, so give the annual membership serious consideration. Each time you go, there's no doubt you'll discover something new.
What to Know Before you Go to Fairgrounds St. Pete
You must book a timed ticket: fairgrounds.art
Fairgrounds St. Pete is located at 800 28th St South in St. Pete
Hours: Monday from 5 pm-1:30 pm | Thursday: 12 pm-7:30 pm, Friday 12 pm-10:30 pm, Saturday 10 am-10:30 pm and Sunday, from 10 am-7:30 pm
No strollers, food & drinks allowed, no selfie sticks or bags larger than 10" x 10", no gum
Parking is free around The Factory St Pete
Masks are encouraged by guests and required for staff.
Tickets are $27 for ages 13+
Children ages 4-12: $22
Under 4: Free
Discounts: Florida residents: $25 Active Adult (65+): $25 College/active duty police/fire/emt: $25
Arrive 10 min before ticket time slot
@FairgroundsStPete and use #FairgroundsStPete #FLORIDARAMA
*Originally published in September 2021, updated in April 2023.