The Most Beautiful Natural Florida Springs Near Tampa Bay
Although we're blessed with beautiful beaches, the Tampa Bay area is also home to natural Florida springs where plenty of good, clean, outdoor fun awaits. 
The biggest problem you may encounter when planning a day trip to the springs is deciding which one to visit. We chose Crystal River on Florida's Nature Coast. Known for its sparkling blue, natural spring-fed rivers and chains of lakes, it's just 90 minutes north of Tampa.(Keep scrolling for even MORE springs we love near Tampa Bay.)
Arriving at Crystal River Kayak Company, we encountered another family returning from their time out on the water and gave us a thumbs-up when we asked about their experience. We rented two tandem kayaks for the minimum three hours ($55 each).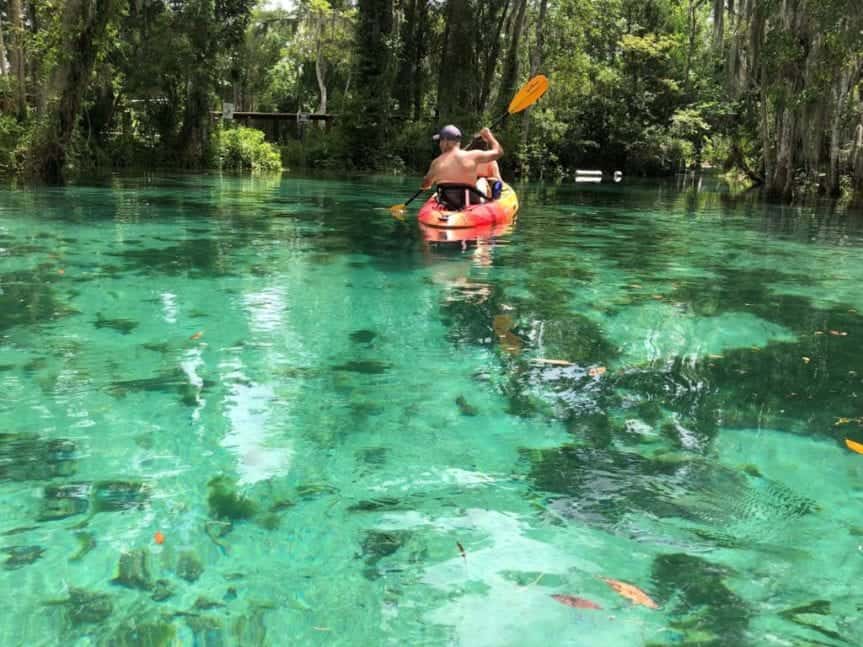 After a quick rundown of the surroundings, we set out to explore King's Bay. Now able to remove our masks and breathe in the fresh air, we relaxed and took in the scenery.
Related: What you need to know about kayaking on the spring-fed Weeki Wachee River
Cruising down meandering canals flanked by lush trees, we were pleasantly surprised to find that our only other companions were turtles perched on logs and birds resting on branches.
Less than 10 minutes later, we reached the narrow spring run that leads into Three Sisters Springs, an inlet naturally divided into three pools where fresh water flows up from sand boils and vents and feeds the surrounding waterways.  
We'd heard about the famous, crystalline water, but were shocked to discover it's even more clear than a swimming pool. Even at its deepest point— about 18 feet— we could still see straight through to the bottom.
Maintaining a temperature of 72 degrees year-round, the spring water was a refreshing antidote to the summer heat. It's no wonder visitors flock here on weekends. Fortunately, on this weekday afternoon, we were able to easily spread out among only a handful of fellow kayakers and swimmers.
Surrounded by 57 acres of vegetation, the springs feel like a world away from urban life. And thanks to the rule prohibiting motorized boats, they are quiet and serene. It's the sort of place where time flies and stress dissolves. 
As our too-short visit wound down, we began planning the next one. Living in this special corner of the sunshine state means there are still more springs to explore and more memories to be made.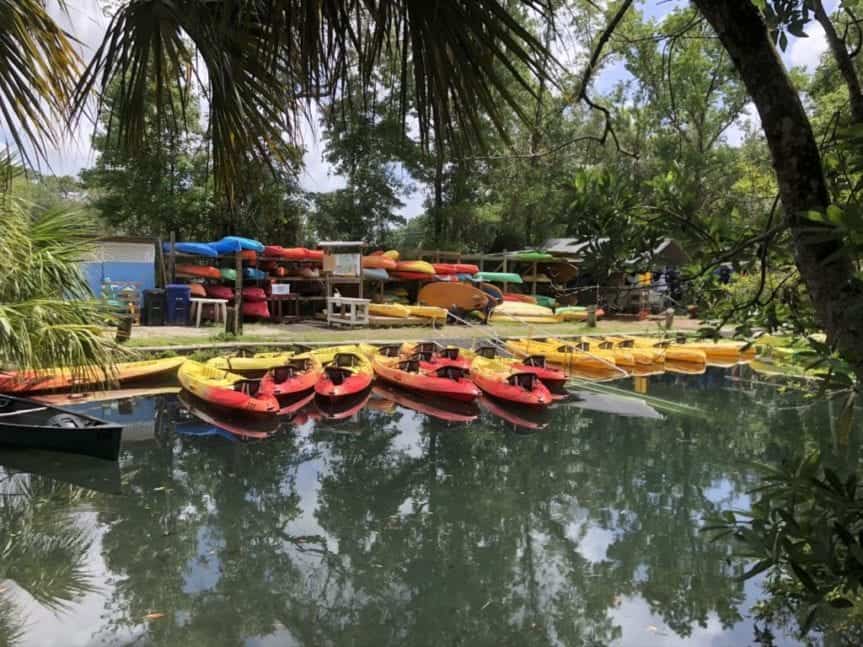 Three Sisters Springs is open year-round. Water craft are prohibited between November and March, but visitors can observe and even swim with the hundreds of manatees that flock to the natural refuge to escape the colder waters of the Gulf of Mexico.
---
MORE Florida natural springs within driving distance of Tampa Bay:
(In partnership with our sister site: TampaBayDateNightGuide.com and OrlandoDateNightGuide.com)

Ichetucknee Springs. Photo courtesy of Florida State Parks.
Location: 3932 Lithia Springs Rd., Lithia, FL 33547
Hours: Spring/Summer: 8am – 7pm and Fall/Winter: 8am – 6pm
Lithia Springs is the easiest natural Florida spring to get to, located right in Lithia near the Fishhawk area. There is a beautiful swimming area filled with cool, fresh spring water from the springs that eventually fuels the Alafia River. Lithia Springs is popular for swimming and camping. There is a $2 per vehicle fee and then $2 per person fee to swim. The swimming area closes one hour before park closes.
Location: 12087 S.W. U.S. Highway 27, Fort White FL 32038
Hours: 8am until sunset
A fun weekend trip away from the city, Ichetucknee Springs is nestled between Jacksonville, Gainesville and Tallahassee. While this area is well-known for the warm weather tubing, it is also known for being a wildlife haven. Enjoy swimming in the warm waters or hiking along the many trails in this six-mile-long river. This oasis is open 8 a.m. to sunset. Tickets can be purchased at floridastateparks.org. Ther is a $6 per vehicle charge for 2-8 people and $4 for a single occupant vehicle.
Weeki Wachee Springs: 1 hour from Tampa
Location: 6131 Commercial Way, Spring Hill, FL 34606
Hours: Daily 9am-5:30pm
This is a long time family favorite in Tampa Bay. The world-famous mermaid shows are a must-see and Buccaneer Bay, Florida's only spring-fed waterpark, is perfect for kiddos and families! You can also go on a kayak tours of the springs, paddling adventures or a river boat cruise. Weeki Wachee is definitely a must-see if you've never been!
Related: A Cool Day at Weeki Wachee Springs State Park
Homosassa Springs: 1 hour from Tampa
Location: 4150 S. Suncoast Blvd., Homosassa FL 34446
Hours: 9am-5:30pm
Located an hour north of Tampa, Homosassa Springs is the perfect location to take your kids out for a fun day-trip. Take them for a Wildlife Walk around the area or go visit the upper deck of the Underwater Observatory to see a plethora of fresh & saltwater fish. Manatee feedings are also available from 11am, 1:30 p.m., and 3:30 p.m. Visit this area from 9 a.m.- 5:30 p.m. Tickets are available on the website at floridastateparks.org. Adults ages 13 and up are $13, children ages 6-12 are $5 and children under 5 are free.
Location: 5656 E Silver Springs Blvd, Silver Springs, FL 34488
Hours: 8am to sundown
You might think of swimming, tubing and kayaking when you think of Florida springs, but Silver Springs State Park offers a unique experience not available at other parks. The iconic glass bottom boat tours offered at this park allow you to see the springs in an entirely new way. 30-minute tours are offered daily, or you can book a spot on an extended 90-minute tour on weekends. Park admission is $2 and boat tours are $12-$13.
Fanning Springs: 2 hours, 20 minutes from Tampa
Location: 18020 N.W. Highway 19, Fanning Springs FL 32693
Hours: 8am until sundown
This spring is located along the Suwannee River and offers an abundance of activities. Kids can swing and run around the playground while parents can cook out under the live oaks surrounding the area. Fanning Springs are located around two and a half hours north of Tampa so visiting this place can either be a long day trip or a fun weekend getaway. Visit the springs 8 a.m.- sundown, 365 days a year. Tickets are available at floridastateparks.org.
Location: 26701 E Highway 40, Silver Springs, FL 34488
Hours: 8am-8pm
Located right in the Ocala National Forest lies Juniper Springs. Known for being one of the oldest recreation centers on the east coast this place has it all. Take the kids out to go swimming, picnicking, bird-watching, paddling or even hiking in the day time and at night cozy up under a tent in the historic campground. The park is open 8 a.m. to 8 p.m. Call +1 (877) 444-6777 or go online at recreation.gov to book reservations.
Alexander Springs: 2 hours from Tampa
Location: 49525 County Road 445, Altoona, FL 32702
Hours: 8am-6pm
A little north of Orlando lies Alexander Springs. A beautiful little oasis, Alexander Springs has a constant temperature of 72 degrees so it makes it a perfect temperature to explore the crystal clear water. Enjoy a bundle of activities including biking, swimming, hiking, fishing, and much more. Open 8 a.m. to 8 p.m. daily. Reservations can be made through recreation.gov.
Wekiwa Springs: 1 hour, 50 minutes from Tampa
Location: 1800 Wekiwa Circle, Apopka FL 32712
Hours: 8am until sundown
Only minutes from downtown Orlando is the gorgeous Wekiwa Springs. You can explore the miles of trails on foot, horseback or by bicycle or you can explore the springs upfront and personally by canoe or kayak. Open 8 a.m. until sundown and tickets can be found at floridastateparks.org. $6 per vehicle 2-8 people, or $4 single-occupant vehicle.
Silver Glen Springs in Ocala: 2 hours, 15 minutes from Tampa
Location: 5301 N Highway 19, Fort McCoy, FL 32134
Hours: 8am-8pm
Another great location to take the kids is Silver Glen Springs. Located inside Ocala National Park, this place is a great area for recreation while also being an important archaeological site. Activities at this spring include swimming, non-motorized boating, hiking, and outdoor learning. Open 8 a.m. to 8 p.m. For more information go to fs.usda.gov. 

Tubing on the Rainbow River. Image by Stephanie Patterson
Rainbow Springs in Dunnellon: 1 hour, 50 minutes from Tampa
Location: 19158 S.W. 81st Place Road, Dunnellon FL 34432
Hours: 8am to sunset
Only an hour and a half north of Tampa is Rainbow Springs. This particular spring is unique because it connects into Rainbow River. Enjoy activities such as swimming and snorkeling while also enjoying the hikes to some of the tallest waterfalls in Florida. If you are wanting some more adventure, make sure to go tubing down Rainbow River- the whole experience only takes two hours! For more information visit their website at rainbowspringsflorida.com. 
De Leon Springs: 2 hours, 35 minutes from Tampa
Location: 601 Ponce De Leon Blvd., De Leon Springs FL 32130
Hours:  8am until sunset
Getaway from the bustling city life to adventure at De Leon Springs. Known for its clear waters and lush forest, this area also has a history dating well back to the Civil War era. Go swimming in the clear blue water or hop on a boat cruise which will take you through the De Leon State Park as well as the Lake Woodruff National Wildlife Refuge. Open 8 a.m. until sunset, 365 days a year. For more information visit floridastateparks.org.
Location: 5390 NE 180th Ave, Williston, FL 32696
Hours: Monday-Thursday from 9am-4:30pm, Friday-Sunday from 8am-5pm
For a truly magical experience, Devil's Den Spring is the place to be! Located below ground, visitors can scuba dive or snorkel in an underwater cavern in crystal clear waters. Unlike other springs on the list, this one is only open for snorkeling and scuba diving. Admission is $15-$20 ($38 for scuba divers) and rental gear is an additional cost. While in the area, make sure to stop by Cedar Lakes Woods and Gardens nearby. Get the full scoop on planning a day trip to Devil's Den Spring from our sister site, Orlando Date Night Guide, here.
Kelly Park/Rock Springs: 1 hour, 45 minutes from Tampa
Location: 400 E Kelly Park Rd., Apopka, FL 32712
Hours: 8am-6pm
Located north of Orlando, Kelly Park is popular with tubers eager to float down the short but serene 3/4-mile tube run. Pack a picnic and stake out a sunny spot in the grass along the water after you've had your fill of floating down the crystal clear water. Tube rentals are available outside the park from multiple vendors for around $5 each, and park admission is $3-$5. If tubing isn't your thing, pass the entrance to Kelly Park where you can rent kayaks from King's Landing, or book a guided kayaking tour in a clear kayak. Keep your eyes out for playful otters, turtles, birds and other wildlife.
Ginnie Springs: 2 hours, 30 minutes from Tampa
Location: 7300 Ginnie Springs Rd., High Springs, FL 32643
Hours: Sunday from 8am-6pm, Monday-Thursday from 8am-5pm, Friday and Saturday from 8am-7pm
Located near Gainesville, this destination is one of the only places where certified divers can go cave diving in Florida. For a more leisurely activity, rent tubes for $6 each (or a double tube for $12) and relax as you float down the Santa Fe river with your love. The facility also offers overnight rental cottages, campsites, and picnicking if you'd like to turn your visit into a weekend getaway. http://ginniespringsoutdoors.com/. Off-Season Rates: Adults $15, Children ages 5-12 $5. Season Rates: Adults $20. Children 5 and under are free.
*We'll keep adding to this list as our team goes out to explore more of Florida's beautiful springs! We highly recommend following along the Florida Spring Hunters Facebook Group if you are a serious about discovering new springs in our state.
---
Related stories we think you'll love: