How to Have the Best Day Ever at the Florida Strawberry Festival
The 88th Annual Florida Strawberry Festival is back in 2023, kicking off on March 2 through March 12. This year's theme is "We Have a Winner". And there's a BIG story behind this year's theme name…
"It points to the recent win we achieved in naming strawberry shortcake as Florida's official dessert as we're a little partial to the berry," said President Paul Davis. "We're excited about this year's event and look forward to sharing in the celebration of the shortcake dessert that has come to make us so successful!"
We guarantee that there will be no shortage of strawberry shortcake… and strawberry everything at the festival, so come hungry! Bring cash too since you'll need it to purchase the strawberry shortcake and other items. Some booths take credit cards, but not all of them. Cash is king at the festival.
Since you're here, you probably want some more details. Well, friends…we're here to deliver with pro tips and 'need to knows' to help you plan the best day ever at the Florida Strawberry Festival. We got some help from event planners who also happen to be parents of little kids, so you know they've got the scoop!
First things first… How to get tickets and special discounts for the Florida Strawberry Festival.
The festival runs March 2 through March 12, 2023 at 2209 W. Oak Avenue in Plant City from 10:00 am-10:00 pm.
Admission is $10 for adults ages 13 and older, $5 for kids ages 6-12, and kids 5 and younger are FREE. There are Florida Strawberry Festival discount days. Just a few worth mentioning for families:
Saturday, March 4: Kids get in free courtesy of MidFlorida Credit Union
Tuesday, March 7: Kids get in free with a paid adult courtesy of the Florida Peanut Federation
Wednesday, March 8: Military and first responders get free admission  courtesy of Grow Financial with valid ID
You can also pick up discounted tickets at most Publix stores-tickets come down to $8 for adults and $4 for kids. Here's the list of participating Publix stores.
How to get to the Florida Strawberry Festival and where to park
As far as getting to the Florida Strawberry Festival, here are the recommended routes.
Where to park at the Florida Strawberry Festival 
Nothing is worse than getting to an event and then not being able to find a parking spot! There are three official lots around the event: Blue, Gray and Red Parking Lots off Ritter Street, Highway 92 or Highway 574. Parking is $5 for most cars and vehicles and goes up as your vehicle size gets bigger. There is a tram that will take you the entrance at Gates 10 and 14.
You can also park in non-festival lots like at Bryan Elementary School, Tomlin Middle School and others for $10, so be sure to bring some cash.
We do recommend attending on a weekday if you can because, as you can imagine, weekends get pretty busy.
What to Know Before You Go to the Florida Strawberry Festival with the Kids
A little bit of planning ahead is always a good idea, especially when you are going to the Florida Strawberry Festival with the kids. You can view the event map here.
There are a ton of things to do with the kids once you get there. The Kiddie Korral is where you'll find a bunch of the rides for the kids. It does cost extra money to go on the rides, so consider purchasing an arm band. The Belle City Midway has tons of rides too.
If you and the toddlers need a bit of a break, there is a Kids Coloring Station right by the Kiddie Corral where kids can take a coloring break.
There's also a Mother & Baby Suite in the TECO Expo Hall which is in the center of the festival grounds near the Wish Farms Variety Stage.
Also, if you decide to leave the stroller at home and your kid decides they'd rather ride than walk, strollers are available for rent for $12 and wagons for $17.
Kid-Friendly Entertainment
If your kids love animals, they will LOVE the Florida Strawberry Festival where they can see kids just like them participating in live stock shows. In fact, it's the kids who participate in the livestock shows that inspired event organizers to make sure they hosted this year's event so the kids can showcase the animals they've worked so hard caring for.
Scott's World of Magic and the Robinson Racing Pigs (both are right by the Belle City Midway) are kid favorites along with the Dakin Dairy Farmers Milking Parlor, and shows like the Nerveless Nocks Jetpack Flying Water Circus, and let's not forget meet and greets with Mr. and Miss Berry!
There are more family-friendly events and of course, multiple shows per day for each of the events mentioned above. You can check the event times here to plan your day.
More fun activities for kids on the schedule:
Special Smiles Day on March 3 from 9am-2pm for people with special needs and their families.
Peachy's Youth Pretzel Making Workshop on Tuesday, March 7 at noon and 2pm.
Be sure to stop by the Strawberry Production Display to say hello to reps from the Florida Strawberry Growers Association. You can see how farmers grow and harvest strawberries and take advantage of some cute photo opps too!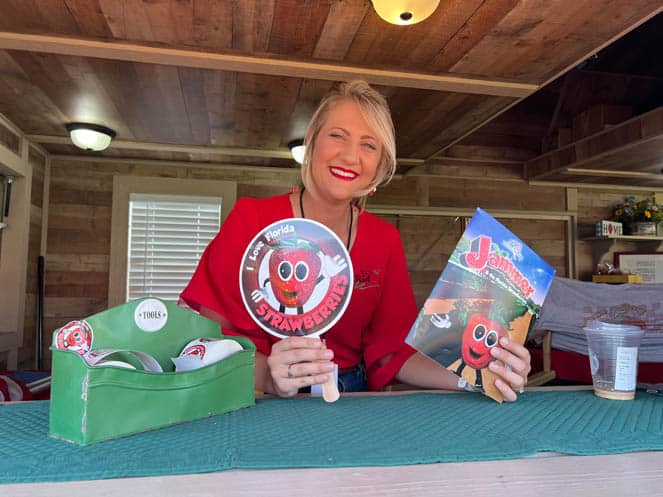 The Rides at the Florida Strawberry Festival
Kids will love the rides at the Florida Strawberry Festival! You'll find the rides in the Belle City Midway and the Kiddie Korral.
New this year is the Berry Big Wheel which features 36 fully enclosed gondolas that can hold up to six people. It'll spin you around for awesome festival views for 10 minutes. The ride is $7 for each rider. You'll find it on East Independent near the Neighborhood Village.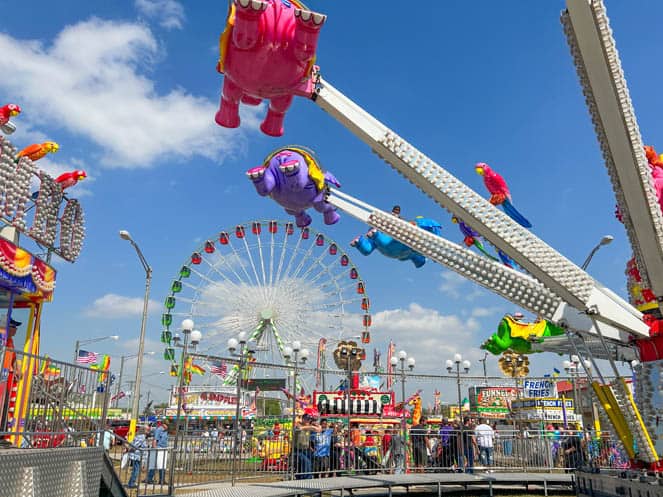 But, that's not all! There are 11 kiddie sized rides in the Belle City Midway and 30 more thrill rides for older kids and adults! If you add in the games and other attractions, it tops 80 total, so there's plenty of fun to be had!
You will need to purchase arm bands or ride tickets and there are a few discount days on the books. There are ticket booths in each section. Check here for discounts.
The concerts!
This is your chance to see some of our favorite performs live on the Wish Farms stage! The Oak Ridge Boys, Walker Hayes, Willie Nelson and Family, Ludacris, Tanya Tucker, The Pointer Sisters are among the many well-known performers scheduled to appear. There is a separate ticket for the concerts, so keep this in mind.
You can purchase tickets at the Amscot Ticket Office at 2209 W. Oak Avenue, the Florida Strawberry Festival website or by phone.
Don't forget to taste the world-famous Strawberry Shortcake!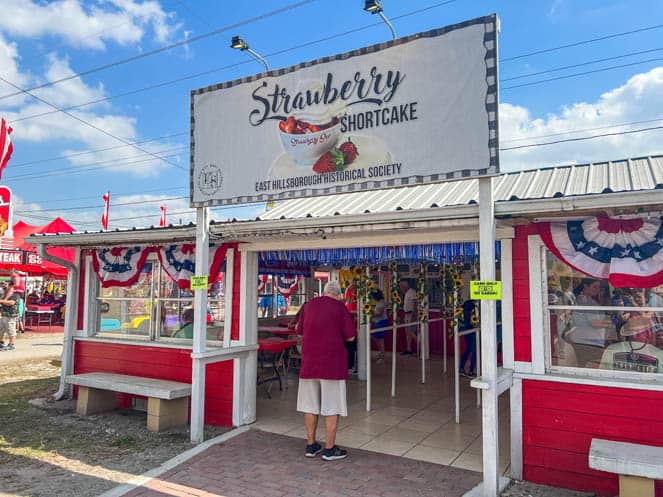 It wouldn't be the Florida Strawberry Festival without STRAWBERRIES! The event's world-famous strawberry shortcake can be found at three locations this year:
St. Clements Shortcake Booth on the south end of the Parke exhibit building
Transformative Life Church Shortcake at the Entenmenn's Strawberry Tent
East Hillsborough Historical Society Shortcake Booth on the Southside of the TECO Expo Hall
We caught up with Kevin McFaul at the St. Clements Make-Your-Own Shortcake booth, the only make-your-own shortcake booth at the festival.
"You walk in the door and we offer you a cake or a biscuit, the biscuits are more southern versus the sponge cake, and then we hand you the bowl and it's up to you to put as much strawberries in and as much whipped topping you want. At the end of our line, we'll give you a topper berry which is a really pretty berry that tops everything off and then you get a St. Clements sticker and you're done," he told us.
This is the organization's 49th year participating in the Florida Strawberry Festival and they're expecting to serve 100,000 people again this year.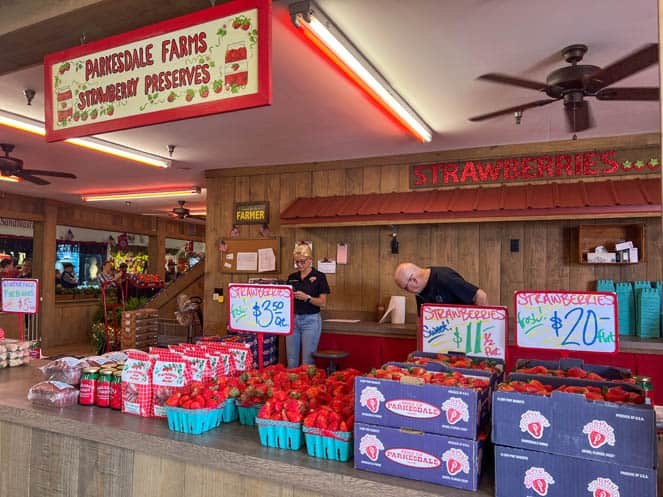 You can also purchase freshly picked strawberries too during your visit! This year, you can buy flats of berries at:
Wish Farms in the northeast corner of the Parke Exhibit building and outside of Gate 1
Parkesdale Farm in the south end of the Parke Exhibit building and outside of Gate 16
There are also a ton of food vendors too with kid favorites like pizza, chicken tenders, and corn dogs. But, that's not all, friends!
Here are some of the NEW food items at the Florida Strawberry Festival: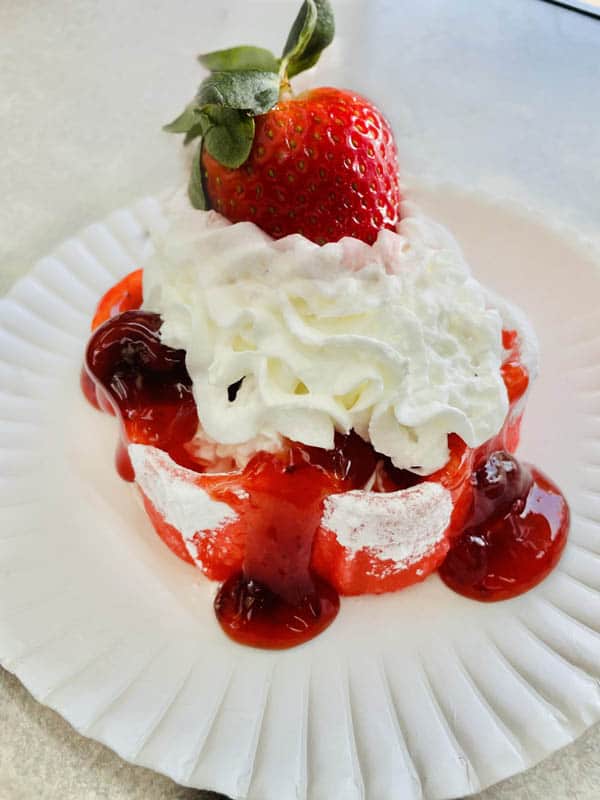 Mrs. E's Strawberry Freeze: An iced strawberries and cream refresher! A delightful fresh strawberry flavored snowball, coupled with condensed milk and topped with whipped cream and a chocolate dipped strawberry. It tastes as good as it looks! Located at A&M Concessions on Edwards Street.
Very Berry Sugar Waffle: A strawberry flavored sugar waffle dusted with powdered sugar, a heaping mound of fresh strawberry filling, piled high with whipped cream and topped with a fresh strawberry. Located at Fain's Concession on the Southside of the festival grounds.
Very Berry Battered Corn Dog: A sweet and salty combination that is too delicious to pass up! A berry-battered corndog, deep fried until golden brown and served with a sweet strawberry syrup. Located at the Dessert Factory near Edwards Street on the West side of the festival grounds.
Mac Stack: A hunk of sweet cornbread, piled high with a savory helping of slow roasted pulled pork, a dollop of mac-n-cheese with BBQ beans, tangy coleslaw and drizzled with barbeque sauce. Located at Piggy Palace on the Southside of the festival grounds. 
Sandy Ann's Old Fashion Fried Pies: Fried pies just like momma used to make! These light and flaky pies come in a variety of flavors including apple, blueberry and, of course, strawberries and cream. Located at Sandy Ann's Old Fashion Fried Pies near East Independent.
Fried Oyster-Mushroom Po Boy: A crispy fried oyster-mushroom on a toasted bun topped with lettuce, tomato, pickle and a generous smear of remoulade sauce. This vegan-friendly option comes with a side of seasoned rice and smoked beans. Located at Seasoned Greens near the West end of GT Grandstands.
Langos Ear: A langos is a Hungarian deep-fried flatbread. The Best Around has combined their traditional elephant ear batter with this European recipe to make a savory garlic-buttered flatbread, topped with a homemade cream cheese and sour cream blend and sprinkled with real bacon crumbles. Located on the North side of the Entenmann's Strawberry Tent.
Our media partners at the TampaBayDateNightGuide.com are also dishing on their Strawberry Festival favorites and top picks!