Gasparilla: A Tampa Bay Family Tradition
Gasparilla's roots run deep in Tampa dating back generations to 1904 when the very first 'invasion' was concocted as a way to promote the city and its May Day Festival. There was even a mythical tale penned about a legendary pirate Jose Gaspar to add intrigue as those first pirates invaded by horseback. Fast forward a century and there is little doubt Gasparilla has helped put Tampa on the map, growing into one of the largest parades in the country.
But, Gasparilla is so more than a parade. It is a tradition for many families like Bryce Alley and L.B. Sierra. They grew up as children and grandchildren of Gasparilla's founding krewe, Ye Mystic Krewe of Gasparilla. We're getting to know the parents as they share their own family ties to this beloved Tampa event and looking forward to the future as they pass down the tradition to their daughter, Leia.
---
Let's talk about your family history with Gasparilla. Where did it begin? 
Bryce: My grandfather, Granville Mason Alley, Jr. became a Pirate in YMKG back in the early 1960s. My Father, Pirate C. Todd Alley, was a page for the royal court before he joined the krewe. My uncles are also pirates, and I can remember my cousin Hunter was the cutest page on the court! I have such fond memories of being a debutante and a maid on the royal court as well. It really does feel like Gasparilla has always been such an important part of my family–my mom even has a whole storage unit just for Gasparilla decorations!
L.B.: My father became a member of YMKG over 40 years ago. I grew up helping him pack all of his beads before the parade and clean his cannon. When I was old enough to participate in the Children's Parade, he would load me up with beads and cannon balls to throw. It's amazing to see how large the Children's Parade has become. When my dad used to take me to the Children's Parade, it was in downtown Tampa and only about 5 blocks long. We're still a few years away, but I can't wait to be able to take my daughter Leia to the parade and participate in it with her, my wife and my dad.
L.B., your dad helped found YMKG's Grenadiers. Tell us more about what it means to you to continue this family tradition of giving back to the community. 
L.B.: Gaspar's Grenadiers is the community outreach committee within YMKG. Growing up, I would see pictures and hear stories of all the events my dad was participating in year-in and year-out with the Grenadiers. They would visit hospitals and schools and even be a part of super bowl festivities and pregame events There's nothing like being able to put a smile on a child's face who might be going through a rough time in the hospital or thank the doctors and nurses who are on the frontlines, or surprise high school seniors with a scholarship. I feel very lucky to be able to participate in so many different types of events in our community, and to be able to do it with my dad is incredible.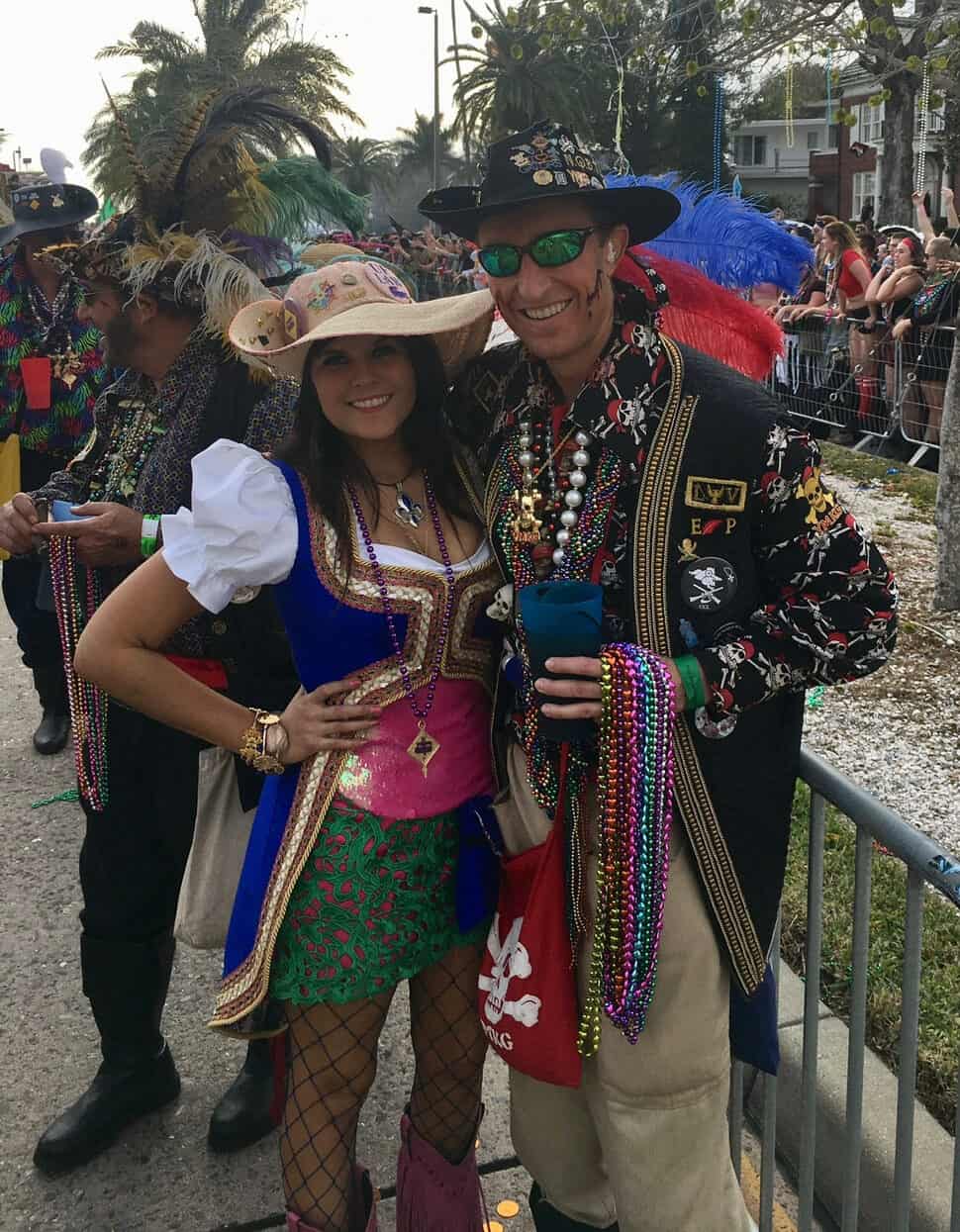 Bryce, you are a member of the Krewe of Queen Anne's Revenge (KQAR). Tell us more about this krewe's story and why it's so special to continue the Gasparilla family tradition. 
Bryce: Established in 2010, the Krewe of Queen Anne's Revenge is an all-female krewe with over 200 active members. You can always spot our Annies with their brightly colored costumes and tropical island flair. Our motif is a sparkly fleur-de-lis, and each year, we select a charity that a member is involved with to support. KQAR is just an amazing group of women that are all so supportive of each other and who love to have a good time while also giving back to the community. I joined back in 2017 and walked in my first Gasparilla in 2018. All of the Annies work so hard on their costumes, making each unique and colorful. I always love seeing everyone's jacket liner because there's typically a fun hidden gem on their costume (mine is a floral Star Wars pattern).
Many families go back generations when it comes to involvement in Gasparilla. What is it like to have that kind of community connection, especially as you raise the next generation of Gasparilla kids? 
Bryce: Getting to grow up and have Gasparilla morning all together, I swear it was more exciting than Christmas morning half the time! And getting to see my dad on the parade route when I was a kid was always so exciting. He would always save a special bead for my sister and I to have. I loved getting to see the parade, and now being in it, L.B. and I always meet up on the route! So many of our family traditions are centered around Gasparilla, and I love that we get to create some new ones for Leia too. I cannot wait for her to be old enough to be in the Children's Parade and watch her throw beads like her mom, dad, grandfathers, uncles and great- grandfather!
L.B.: It's incredible to see so many of our family and friends involved. As we get older, more and more of our friend's sons and daughters are becoming involved. It's exciting to see traditions continue and families being able to share in something as special as Gasparilla.
Gasparilla is so much more than a party, right? There is a charitable aspect of it too!
Bryce: Yes! Both KQAR and YMKG are so involved in bettering the community. YMKG has an amazing scholarship foundation, while KQAR supports a different charity every year! Some past charities have been the Make-A-Wish Foundation, Quantum Leap Farm, Renew Haiti and Rachel's House. All of the krewes do such a great job supporting the community, and it is definitely a life lesson I hope to instill in our daughter–be the rising tide that lifts all boats.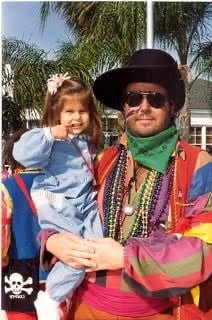 What are some of your favorite Gasparilla memories as kids? 
Bryce: Definitely sitting on my dad's lap while he was getting "made up" on the morning of the parade. We would always go down to the Tampa Yacht & Country Club for breakfast, and I loved getting to watch my dad turn into a pirate. I can't wait to watch our daughter sit on her father's lap and create those photos and memories for her now too.
L.B.: I remember we would go to Bayshore early in the morning so we could get our spot for the day. We would put out blankets and chairs, and pack coolers with lunch/snacks and wait hours for the parade to start. When my dad found us along the route, he would run over to us and give me a special bead that he had hidden in his vest and empty shell casings that you could still smell the gun powder from.
Any insider tips for families as they plan to attend the parades?
Bryce: While there are so many great places to view the parade, I think the best spots are the ones you can reserve! The bleachers are such a great, safe way to see all the action and try to catch all of the beads. I also love getting to participate in the flotilla on parade day. There is just something so cool about a giant pirate ship firing cannons all the way into the bay!
L.B.: On invasion day (Gasparilla Pirate Fest), I don't think there is a better spot than being in the flotilla. Seeing and hearing the pirate ship on full display and all the boats following the ship into downtown is one of the coolest things anyone can do.
We have many newcomers to Tampa Bay–how would you describe Gasparilla to them and why is it such a big part of our city's story?
Bryce: The easiest description is normally "it's a giant Pirate Mardi Gras" but it really is so much more than the parade. With YMKG going all the way back to 1904, it's crazy to think they used to ride in on horseback! It is such a great event for the city, and I think it truly helps Tampa show off why it is such a great place to live!
L.B.: Considering all the pirate lore and pirate history in Florida, how can you not think of Gasparilla and pirates when talking about Tampa. Not many people realize that Gasparilla is considered the 3rd largest parade in the country (behind the Macy's Parade and the Rose Bowl Parade).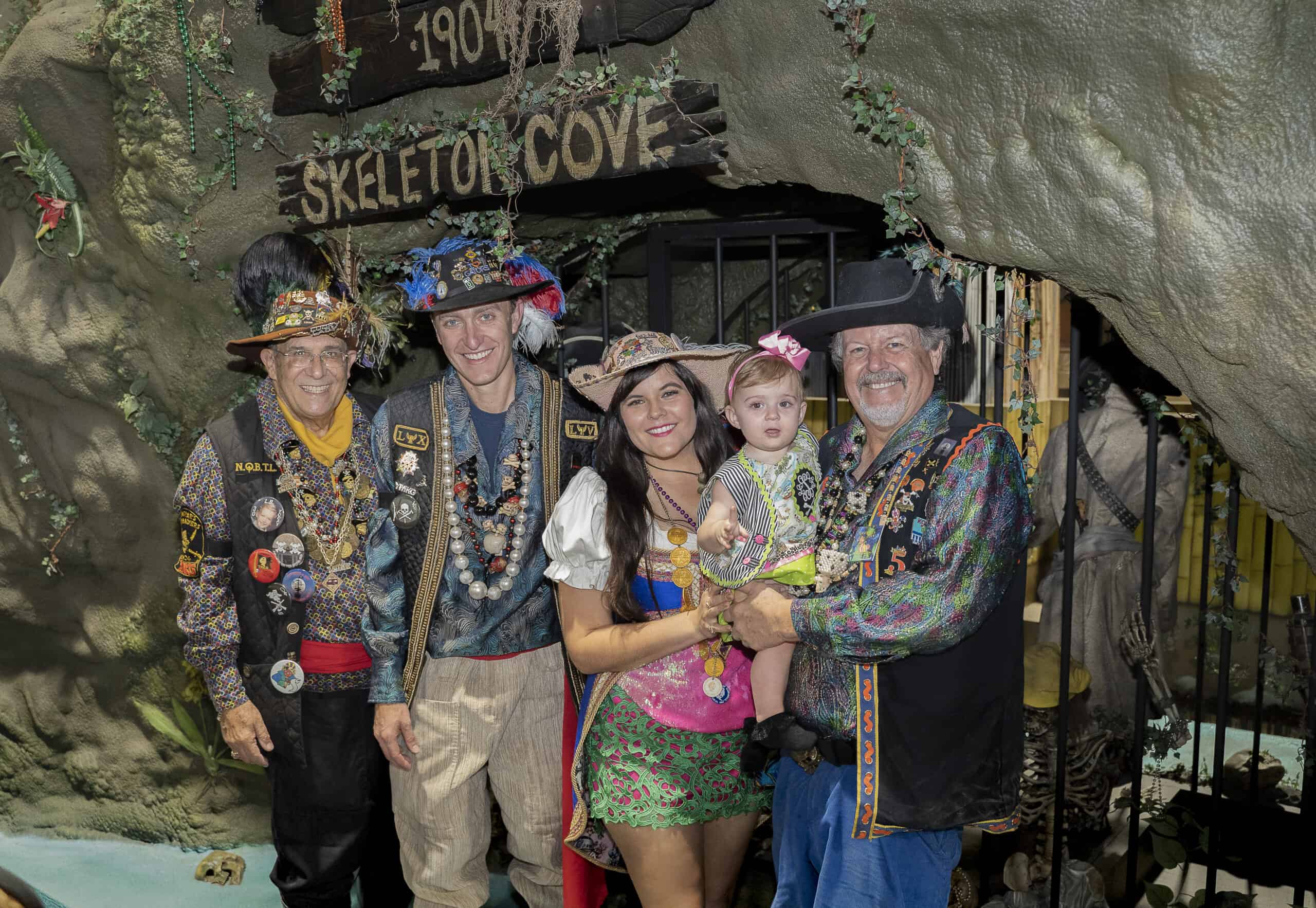 ---
Photos provided by Bryce Alley unless otherwise noted | Originally Published in January 2022