Gasparilla Children's Parade 2023 | What You Need to Know Before You Go
Calling all pint-size pirates and diminutive buccaneers! The Children's Gasparilla Parade is BACK for 2023!
And lucky you, because only in Tampa Bay do we have an entire afternoon set aside for the tiniest of our sea-faring folk to strut their stuff up and down Bayshore Boulevard.  
The 76th Annual Children's Gasparilla is Saturday, January 21, 2023. Whether you're new in town or a seasoned buccaneer who keeps her dagger sharpened and his seafaring legs braced, this day might be the most fun one of the calendar year till Halloween and Christmas swing back around.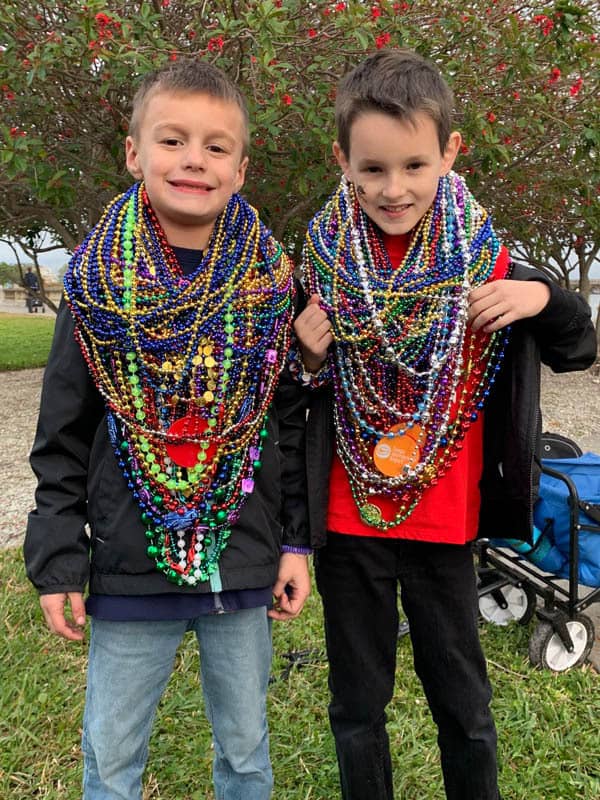 In addition to the actual parade, which features dozens of floats rolling down Bayshore Boulevard throwing beads, there's a bicycle rodeo, a preschooler's stroll, an "air invasion" and SOCOM jump, and to cap it all off, a magnificent fireworks display over the bay.
Learn more about how to elevate your day with reserved seating during the parade. This is a great option if you are looking for a bit more space and a front row view! 
Before parade day, in addition to mapping out your day–which we're here to help with–think about what you'll be wearing! There are some really great locally owned businesses in Tampa Bay that have a wide selection of Gasparilla gear. We're sharing some of our favorite places to shop here.
Related: Why we celebrate Gasparilla: The legends and history of one of Tampa's most treasured traditions 
And don't leave home without a few necessary items:
Wheels – like a strollers and wagons. You'll be doing a lot of walking to and from your perfect parade-viewing spot. And who wants to carry kids around all day??
We also highly recommend bringing plenty of water to stay hydrated, kid snacks, and lots and LOTS of hand wipes.
Keep in mind, there are only portable potties along the route if nature calls, so wipes and hand sanitizers are an absolute must (and a face mask too for more than a few reasons…who wants Covid and then it somewhat helps for visits to the portable potties because, pew.) One reader recommended bringing a roll of toilet paper which is actually a genius idea. There are baby changing areas and nursing tents along the route too.
Have your child bring a backpack they can wear to carry their water and snacks…and of course, all of the beads they'll collect! If it's something they can wear, they are more likely to carry it rather than a bucket or bag.
Since it's a bit of a rainy day, bring ponchos or umbrellas. A poncho also doubles as a good barrier between the wet ground and your blanket if you decide to sit along the grassy areas. Keep the booty dry!
Cash for parking, snacks from vendors and swag.
Patience. Enjoy the moment and have FUN!
Let's start with the important details…like where to park and the route!
Learn more about ADA parking and viewing here.
Street parking close to the route will be hard to find and there will be a ton of traffic due to street closures. You might get lucky and snag a paid parking spot in a lot near the parade route, but if you'd rather not deal with it, plan to park in the Fort Brooke Garage (you can also park in the Whiting Street Garage if this one fills up) in Downtown Tampa. The city will be charging an event rate to park.
From there, walk to the Riverwalk and then over bridges to Bayshore and Platt Street, near the Publix where you can catch a ride on the FREE Jolley Roger Trolley from 10am-8pm. The city does a good job of directing you on where to go–they have several decades of doing this under their belts, so it's pretty much down to a science now. The Jolley Roger Trolley will get you closer to the parade route at Bay to Bay & Bayshore.
The Trolley will continuously loop during that timeframe between 10 am and 8 pm which is good news if you have to leave early or you're running late.  Learn more here.
Related: Gasparilla Children's Parade Day Pro Tips: We asked and you shared!
Another option for parking is to pay at one of the lots at schools and businesses nearby. Bayshore Christian and Academy of the Holy Names, both on MacDill Ave, have offered paid parking in the past. Hyde Park Village also announced via their Instagram page that paid event parking will be offered for $30 for the Children's Parade.
The Children's Parade follows a shorter route along Bayshore Blvd than the parade during Gasparilla Pirate Fest. It steps off at Bayshore and Bay to Bay and ends around the area of Edison Ave.
The Gasparilla Children's Parade is alcohol-free. This is a family event–-save the libations for next weekend's Gasparilla Pirate Fest on January 28, 2023!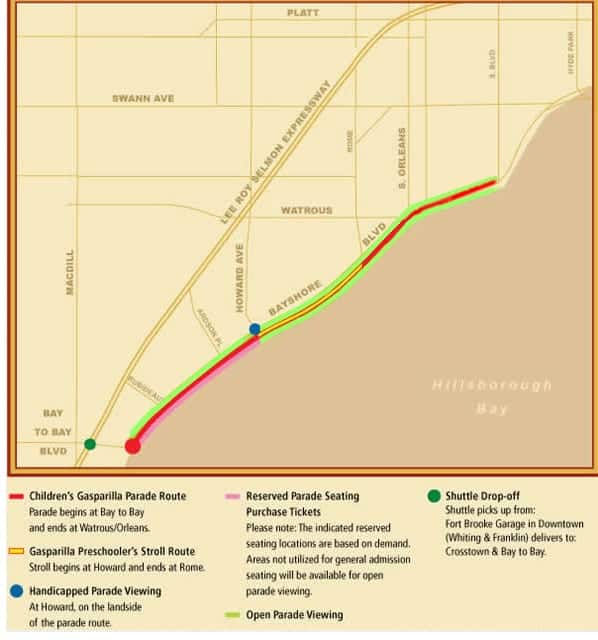 While the parade is the main event, Gasparilla is so much more than a parade! It's an all-day long celebration with plenty of things to do before and after the parade!
Road and Event Site Safety Initiative 
There's no better place to enjoy the outdoors in January than Tampa, but on event day, public safety is priority number one. That's why they're asking anyone considering visiting the parade by bicycle or scooter to put their safety and the safety of others first by following recommended guidelines.
Always wear a helmet while bicycling or scootering.
Be cautious when riding, and do not ride in large crowds.
Map your route to the parade, as many roads may be closed.
Most importantly, do not ride your bicycle, scooter or golf cart on Bayshore Blvd. on event day. Although roads are closed, Bayshore is a very active event production space, which should only be accessed by authorized vehicles. Ye Mystic Krewe of Gasparilla, the City of Tampa, and local law enforcement ask riders to use alternate routes.
*While bikes will be permitted for the Bicycle Safety Rodeo, the use of bikes and scooters are discouraged for use on the actual parade route.
Here's the lowdown on what to expect:

Bicycle Safety Rodeo
Ships are all very well, but sometimes, a pirate needs his or her wheels. Come check if your skills are up to par by participating in the popular Bicycle Rodeo on Bayshore Boulevard between Rome Avenue and Dakota Street from 12 p.m. to 2 p.m.  
"The clinic is a basic skills course and general education of bike safety for kids ages 4-17," explains Tampa Police Officer David DiMarco. "Our target audience is typically 6-14 years of age."
Participants will be fitted for a free bicycle helmet while supplies last. Bikes are available for use at the Rodeo only, but you are welcome to bring your own bike too to give it a try.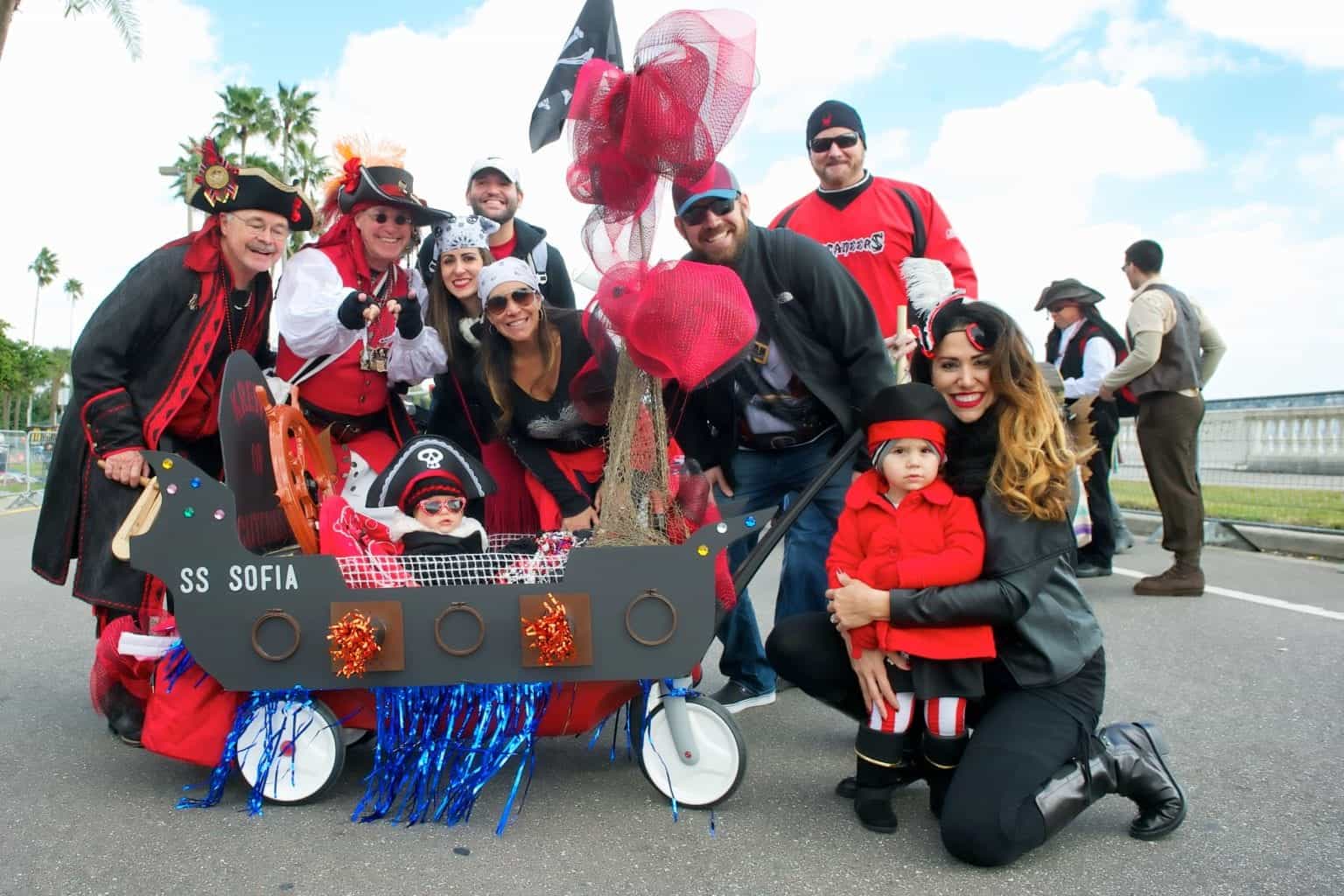 Preschooler's Stroll 
At the 2023 Gasparilla Preschooler's Stroll presented by EventFest, another Tampa tradition that was started in 2005, kids 5 and under can strut their stuff down a half-mile parade route from Howard to Rome Avenues. Any little ones who don't yet have their land legs can parade in or on a decorated scooter, stroller, bicycle or tricycle. Grand-pirates and others can get the best view of the parade from the Howard Avenue bleachers.  
Pirates love mayhem, but they also follow strict rules of conduct. Here's the preschool stroll manifesto: 
The stroll will begin promptly at 2:00 p.m. on January 21. Schedule naps accordingly.

 

Pirate attire is mandatory. Think menacing but overlaid with a dash of adorable.

 

Pirates must be accompanied by a landlubber/adult. Rules are rules, and those old seadogs have their uses, such as carrying snacks. 

 

No motorized vehicles are allowed. Don't be the son of a biscuit eater who rolls up on an electric scooter and is turned away.

 

No walkups on the day of will be allowed. The privateers over at the Eventfest office must receive your application by January 18, 2023 or you'll have to drown your sorrows on the sidelines with a bunch of spectating scallywags.

 
So, dust off those feathered hats. Polish those boot buckles. Put the final touches of frippery and feathers and beads on that wagon. Because when you roll down that road with the kind of swagger your parents can only dream of imitating, you'll want to be seen on the sweetest ship on the sea. 
The Children's Gasparilla Parade
This is the main event, and each year, the crowds have only gotten bigger! So come early and find a good spot. The Children's Gasparilla Parade will begin at 4:00 pm at Bay to Bay and Bayshore Boulevard, proceed north along Bayshore Boulevard and end at Edison Avenue.  
Related: Local Parents Share Pro Tips to Navigate Parade Day
Past parades have seen more than 125 units roll past, with marching bands, dance units and numerous school, community and neighborhood organizations. The highlight, of course, are the krewes and their elaborate floats. This is where kids 6 and above can participate. 
Train your eyes on the skies for incredible shows put on by aerobatics flying vintage military planes AND the United States Special Operations Command (SOCOM) Parachute Team as they perform a "Gasparilla Air Invasion," landing on Bayshore Boulevard just before the start of the children's parade. They'll perform again at night just before the day's grand finale—the Gasparilla "Piratechnic" Extravaganza Fireworks show—which will be launched just off Bayshore Boulevard. The ideal spot to watch the fireworks from is near Show Center at Howard and Bayshore, as this is where you'll best hear the music to which the fireworks are timed.  
NEW for 2023! Children's Gasparilla Sensory Relief Zone
For the first time in parade history, the City's Autism Friendly Tampa Advisory Group, CARD-USF and Sunrise Group will offer a sensory relief zone to children and families during the Ashley Children's Gasparilla Presented by Chick-fil-A Tampa Bay. This area will provide a valuable sensory break for those who may become overwhelmed with crowds, sights or sounds. The tent is located at the southwest corner of Barcelona Street and will only be for Children's Gasparilla. (Please note this service is unavailable at Gasparilla Pirate Fest on 1/28/23.)
Upgrade Your Day with Reserved Seating at the Gasparilla Children's Parade
While you can arrive early and snag a spot for free, if you have the budget for it, you can upgrade your day and pay to reserve premium seating. Bleacher seats are $55-60 and First Mate chair seats are $70 each. There are other upgrade options, too! *Early bird ticket prices ended on December 31, 2022, so be sure to be on the look out for ticket discounts later this year for the 2024 parade!
For more information, to reserve seats or stock up on pirate gear, visit www.gasparillatreasures.com. 
Full Schedule of Gasparilla Children's Parade Events:
*Activities and vendors open at 12:00 p.m. along Bayshore between Bay to Bay and Edison.

Bicycle + Pedestrian Safety Rodeo – 12:00pm-2:00pm
During this free event, participants will be fitted with a free, brand-new bicycle helmet to keep (while supplies last). They can then hop on one of the Rodeo's bicycles and traverse through a mini traffic course that teaches bicycle and pedestrian safety.
Gasparilla Air Invasion – 12:00pm-4:00pm
The Gasparilla Air Invasion is back with its largest airshow yet! Watch civilian aerobatic teams, vintage military aircraft and The Chuters Parachute Demonstration Team make their way through the sky. The show will begin at noon and run through the start of the parade at 4:00.
Gasparilla Preschoolers' Stroll – 2:00pm-3:00pm
Calling Tampa Bay's youngest pirates! The Preschoolers' Stroll allows children ages 5 and under to strut their stuff along Bayshore Boulevard in their specially decorated wagons, bicycles, and strollers while donning their best pirate attire. The Stroll begins at Howard Avenue and ends at Rome Avenue.
Children's Gasparilla Parade – 4:00pm-6:30pm
Brush up on your bead-catching skills! The Children's Gasparilla Parade is widely considered the largest children's event in the country. Beginning at Bay to Bay and Bayshore Boulevard, pirates, floats, marching bands, and more will march north, ending 1904at Edison Avenue. Be prepared for appearances by Tampa's sports teams, mascots, favorite characters, and beads, beads, and more beads.
Gasparilla Nighttime Air Invasion – 6:30pm-7:00pm
The airshow fun continues during twilight hours. The performances will take place at dusk and will include a precision parachute jump, from The Chuters Parachute Demonstration Team and Ghostwriter Airshows' signature fireworks flight.
Piratechnic Finale – 7:00pm-7:30pm
Pirate + pyrotechnics = Piratechnics! This firework finale recreates the imaginary battle between the pirates of YMKG and the City of Tampa that began in 1904. This bold, colorful finale sets the scene for the energetic Gasparilla Pirate Fest that will take place the following Saturday, January 28th.
*Cover photo by Event Fest.
---
Related stories we think you'll LOVE: