Gaylord Palms Celebrates the Holidays with The Return of ICE!
So. Much. Christmas. That's exactly what you experience when you celebrate Christmas at Gaylord Palms. From holiday shows to gingerbread decorating and sliding down Snow Mountain, there's truly something for everyone to enjoy. And this year, they've brought back their signature holiday event – ICE!
For the first time since 2019, ICE! is back and the theme is enough to make your heart grow three sizes. This year, guests can bundle up and join their fellow Whos as they travel through Whoville on Christmas morning to witness the Grinch's shenanigans during ICE! featuring Dr. Seuss' How The Grinch Stole Christmas.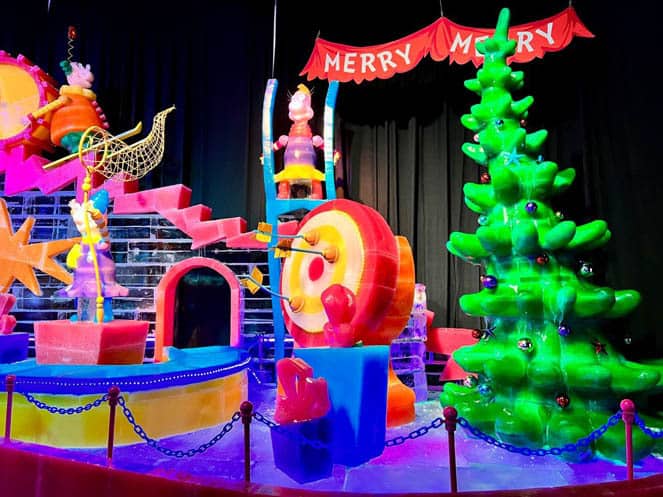 The Whos down in Whoville liked Christmas a lot. But the Grinch in his cave north of Whoville did not.
Upon entering, guests are greeted with brightly colored images that are carved in ice and look as if they're torn straight from the classic Dr. Seuss book. While cheerful holiday music plays, the beloved classic story is brought to life as the residents of Whoville are showing off their holiday decorations, playing games and getting ready to celebrate their favorite day of the year – Christmas!
But unbeknown to them, the Grinch is close by and planning his awful idea. His wonderful, awful idea. His plan to STEAL Christmas from the Whos! As guests continue their walk through Whoville, life-sized icy sculptures reveal the Grinch and his sidekick pup, Max, as they get closer to taking over Christmas.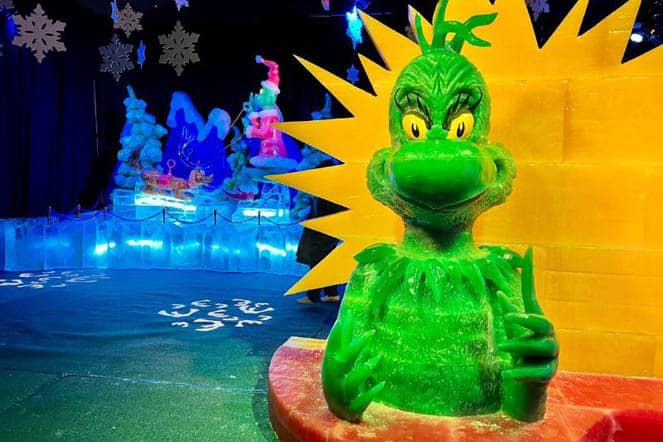 With the Grinch dressed as Santa and Max as a reindeer, they race through the night. While the Whos are asleep, they slide down chimneys, gather up presents, and steal the roast beast.
As the Grinch makes his way back up Mount Crumpet with all the Whos' gifts in tow, guests can also take a detour and slide down the icy mountain as the Grinch returns to his lair.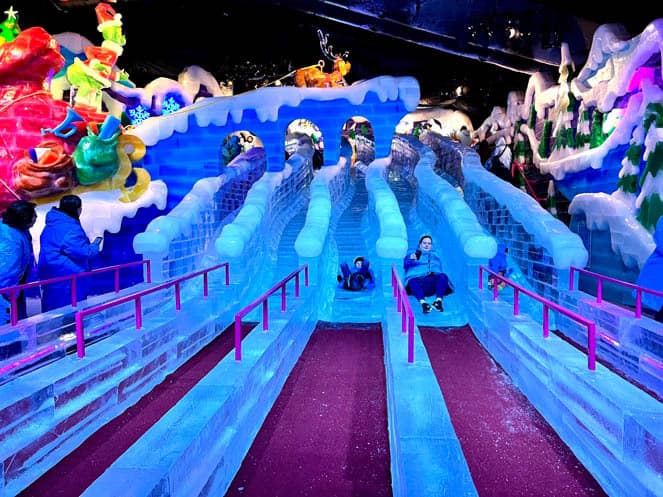 And the Grinch raised his glass and led the Whos in a toast.
After taking a tumble down the side of the mountain, it's Christmas morning. A frosty circle of Whos holding hands dance in a circle, still celebrating the wonder of the morning as the Grinch looks out on in wonder and behold, his heart has grown! He brings back the decorations, the trees, and even the roast beast. The ending scene is a majestic sight as the Grinch takes a seat at the table with the fellow residents of Whovillle to celebrate the magic of Christmas.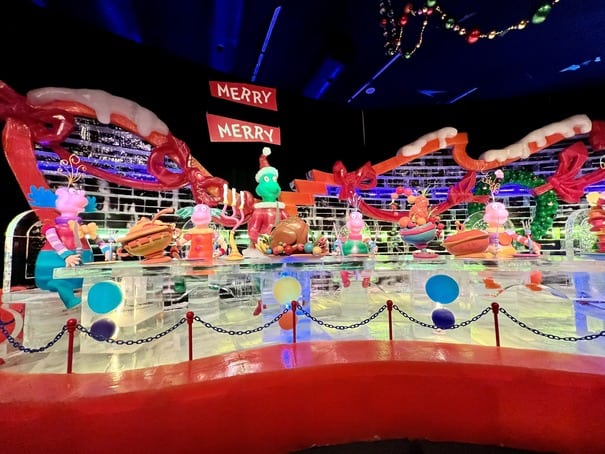 Before thawing out, guests can also watch a live demo of ICE! sculptures being created and witness the true meaning of Christmas with a spectacular giant Nativity scene completely created out of sparkling crystal-clear ice.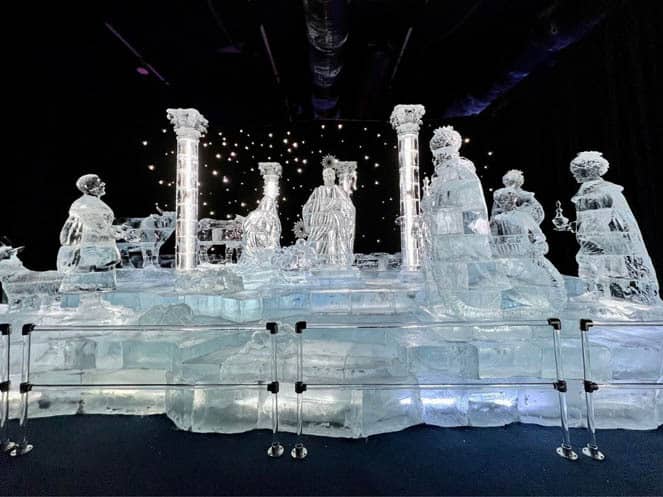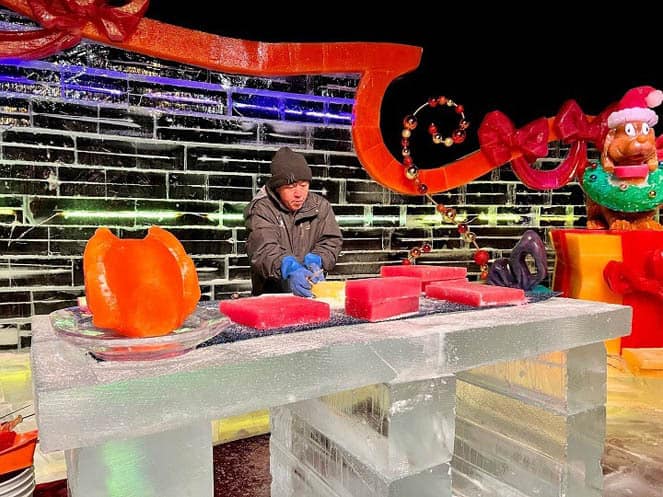 But wait! There's more holiday fun to be done!
In addition to ICE!, there is so much holiday fun to experience. You can slide down Snow Mountain, build snowballs, decorate gingerbread houses, find your way out of the Naugthy and Nice Escape Room, train to be an elf at the Elf Training Academy, and meet Santa and Mrs. Claus. You can even feast with the Grinch during a character breakfast! There are also several shows to check out – Cirque: Spirit of Christmas, The Greatest Story, and the Shine Light Show. Take a stroll through the Christmas Tree Trail to experience eight elaborately decorated trees. Special holiday dining options are available as well.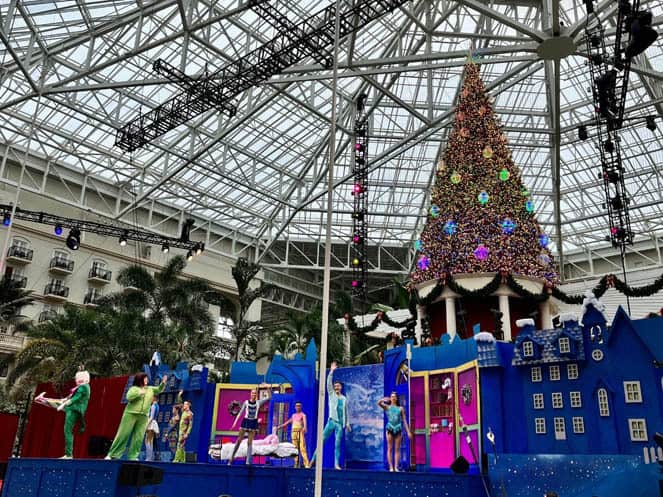 Follow these tips to avoid turning into a Grinch
Just stating the obvious – ICE! is COLD! 9 degrees Fahrenheit to be exact. That being said, dress accordingly. Warm coats, boots, hats, and gloves are highly recommended. Gaylord Palms also provides additional parkas to all guests to cover their existing coats. Make sure to measure yourself up against the gnome wall to find your perfect fit! Parkas must be returned upon exiting. The average time spent wandering through the exhibit is 20-40 minutes.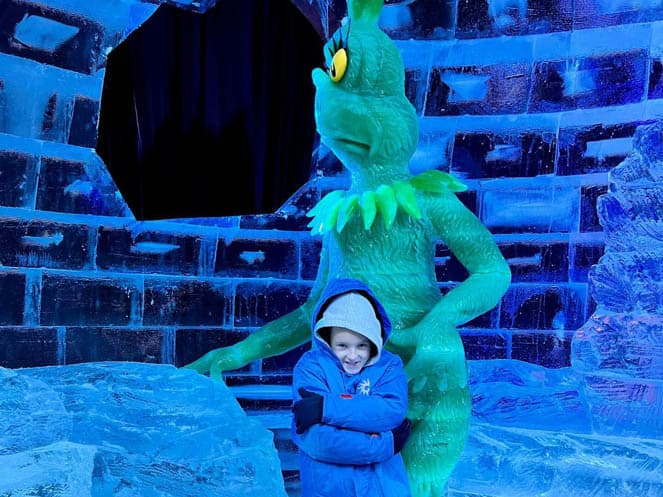 Book ahead of time since dates fill up quickly. The majority of the other activities also require an additional fee and booking time so check the website prior to your visit. If you are planning on doing more than one activity, there are discounted bundles available.  Gaylord Palms also offers hotel bundles including tickets to ICE! and exclusive early access to the exhibit if you plan on staying longer than just one day.
Premium seating tickets to Cirque: The Spirit of Christmas and The Greatest Story Stage Show are available and are also included in some of the bundles. Standby tickets are available but are on a first come, first-serve basis and are not guaranteed.
While the kids are throwing snowballs, parents can visit the Snow Bar to enjoy an adult beverage or two including the Kringle Old Fashioned, Mistletoe Margarita, and Gingerbread Mule.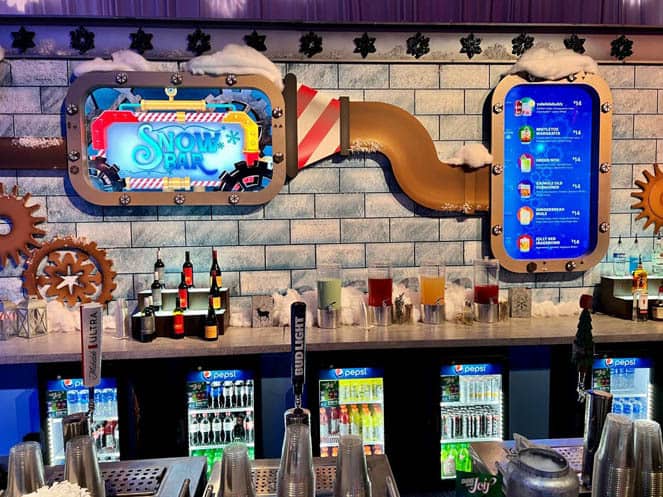 ICE! tickets are $19.99-$39.99. Other activities range from $4.99-$239.94.
Parking is $32.25 and gives you all-day access to the resort.
Happy Grinchmas!
All images provided by Brie Gorecki