Get Up and Go Kayaking at Shell Key Preserve #1 for a Reason
Get Up and Go Kayaking at Shell Key Preserve was recently named as the #1 Overall Experience in the USA (#4 in the world) in the travel website's 2021 Traveler's Choice "Best of the Best" Things to Do Awards and we know why…
it is an INCREDIBLE experience to share with your kids. In fact, they've developed a new kayaking tour designed just for kids and their families called Paddle Pals and it's an adventure we couldn't wait to share with you.
About Get Up and Go Kayaking: Paddle Pals
You've probably heard of Get Up and Go Kayaking before–there are several locations throughout Florida that offer a variety of different tours and experiences. The owner of Get Up and Go Kayaking Shell Key, Amber Buzzi, invited us out to experience their newest tour designed just for kids called Paddle Pals.
Paddle Pals is best for kids ages 9-12 and is led by tour guide Hannah who truly has a passion for the environment. She has the credentials to back up her knowledge too. She's not only equipped with a degree in Environmental Studies with concentration in Environmental Education and minor in Climate Change…she's also really good with kids.  
What to expect on the Paddle Pals tour
We met with Hannah early in the morning at Billy's Stone Crab in Tierra Verde where she started us off with a lesson in how to paddle board, staying safe on the water, and a peek at what to expect before we loaded up on the clear kayaks.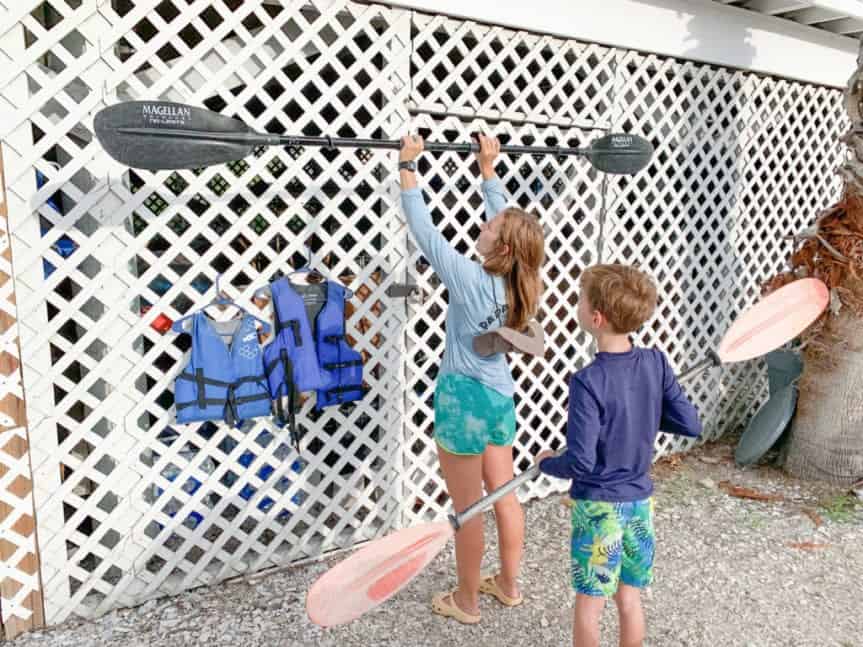 Paddle Pals is an adventure meant for parents to experience with their kids and we promise you'll learn a few things along the way too!
My son was fitted for his life jacket and then given a bag full of items he'd need on this educational tour like a map of where we're headed, a compass, magnifying glass and binoculars, and a sheet with the animals to be on the look out for. 
Hannah even had some snacks and water too.
Once we boarded our super cool clear kayak–a first for both my son and I–we paddled over to the mangroves where we spotted several sea birds and fish. A swimming bird called a cormorant, or "Fred", stayed close by our kayak. Apparently the motion from our paddles helps stir up the fish for an easier catch for them!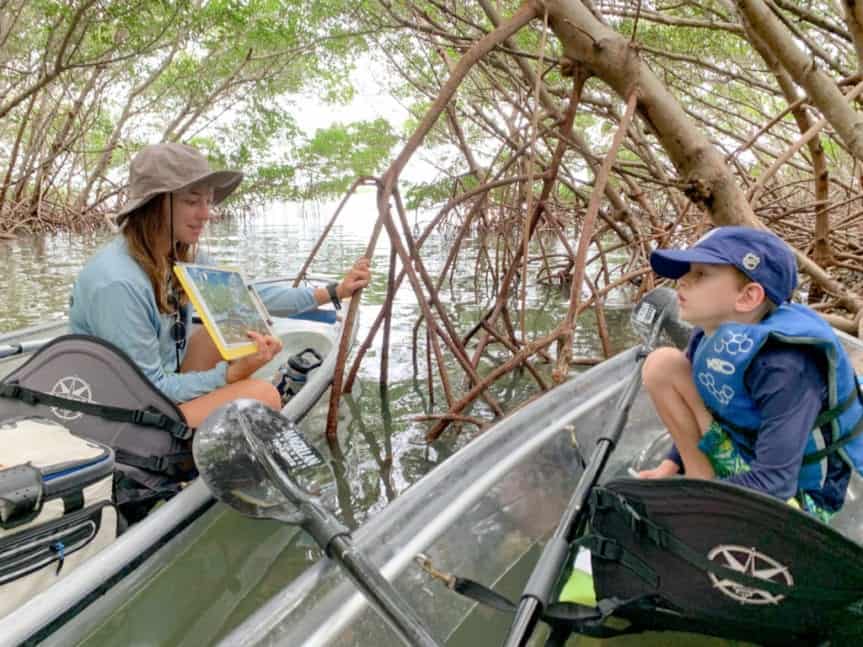 We pulled up close the mangroves where Hannah explained the importance of these 'water trees'. While incredibly vital to our ecosystem, they are also vital in protecting our shorelines from hurricanes. The mangroves roots are super strong and help take the brunt of the waves as storms crash ashore.
The mangroves are also home to some amazing creatures. My son loved searching for the tiny crabs and snails that perched upon some of the mangrove branches.
We even got to see the various stages of mangrove growth, starting with a seed pod that can be pushed through the waves and currents like a torpedo. Who knew?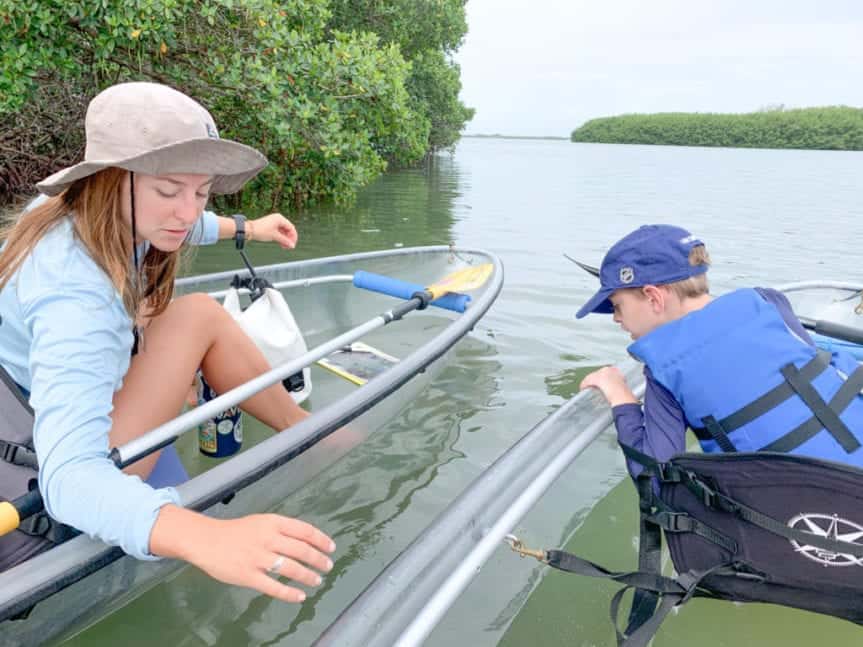 After the mangrove tunnel, we paddled toward Shell Key Preserve which you can only access by boat or ferry. Along the way we spotted a few dolphins feeding off in the distance and even a manatee! It was a pretty cool to look beneath our feet and see the fish swimming underneath our clear kayaks.
We paddled up to the shore and disembarked to explore the shoreline where Hannah spotted the molted shell of a horseshoe crab. She explained how important these creatures are to our health–their blue blood is used in testing of vaccines. But, the coolest fun fact for my kiddo was learning that horseshoe crabs have been around since the dinosaurs!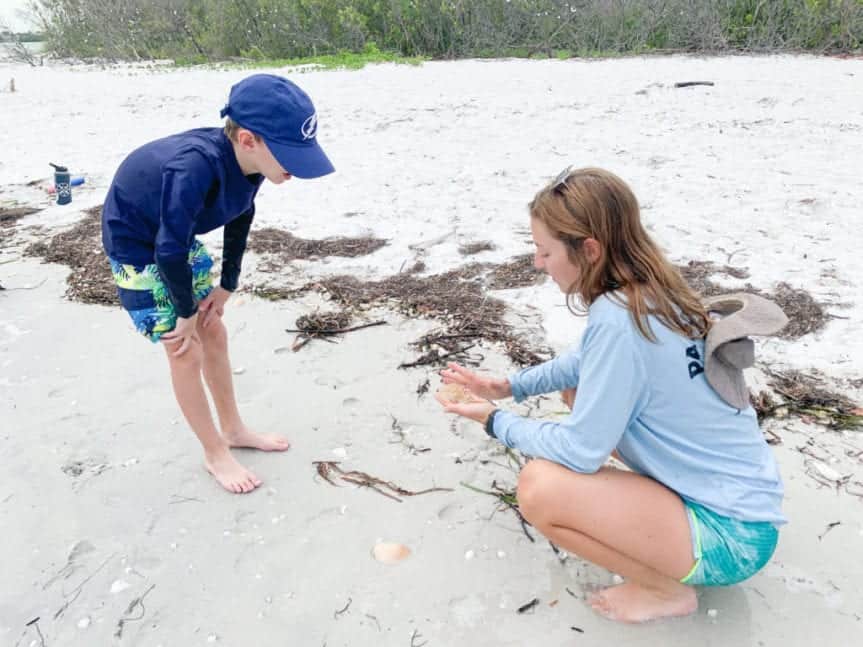 Before we left, there was an important Shell Key Preserve tradition we had to participate in and that's finding a shell with a hole to hang on the wish tree. If you look around the preserve, you'll see the shells hanging from branches through the preserve. It's quite beautiful.
As we paddled back to Billy's Stone Crab to end our three hour tour, 'Fred' swam along with us and I knew we were wrapping up an experience my son and I would remember for a lifetime.
Oh–I almost missed mentioning the surprise– the water gun battle at a the end of the tour which was a blast and creative way to end our journey.
The basics about Paddle Pals before you book:
Tour Length: 3 hours
Cost: $149 for tandem kayak for one adult and one child (tips are also appreciated)
Learn more: GetUpandGoKayaking.com
What to do before you go
This is a morning tour, so make sure you've had a good breakfast and are hydrated–you can also bring your own snacks and water, but your guide will have some on hand if you forget. Also, make sure to lather up with plenty of sunscreen and pack some bug spray just in case. We didn't experience any issues with bugs during our tour, but this is Florida…
We wore our swimsuits and water shoes, but if you'd rather wear clothing you don't mind getting wet, that is fine too.
Kayaking is a pretty good workout, but something anyone with good mobility of their arms can do. There are opportunities to rest on the tour, so don't think you'll be in motion the entire time. 
Keep in mind that the less gear you bring, the better so you don't take up valuable viewing space on your clear kayak. The guides have wet bags if you have something like your camera and wallet you'd like to keep dry.
Speaking of the wallet, keep some cash handy for tips! It's not required, but the guides always appreciate it and they earn it. 20% is typical. 
About Get Up and Go Kayaking at Shell Key Preserve
They offer a variety of tours during the day and even a glow tour at night! The daytime tours typically run at about $59 per person ($54 for ages 12 and younger). The glow tours are a bit more at $64 per person and it's only for ages 12 and older, so it would make a great date night or even parent-teen night out. You can learn more about the tours here.
Little kids can go on the kayak tours, however you'll want to be certain your child is ready to handle the duration of the tour you select. Law requires kids ages 6 and younger to wear a life vest and it's recommended if your child weighs less than 30 pounds, to bring their own life vest so you can ensure a proper fit.
Here's a peek at what the experience is like:
More photos from our Paddle Pals adventure with Get Up and Go Kayaking at Shell Key Preserve: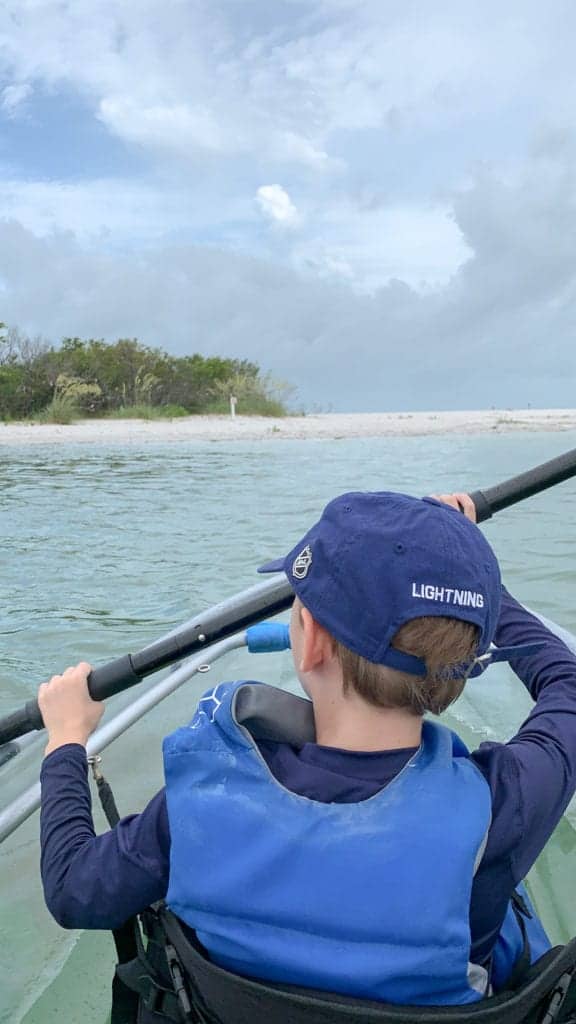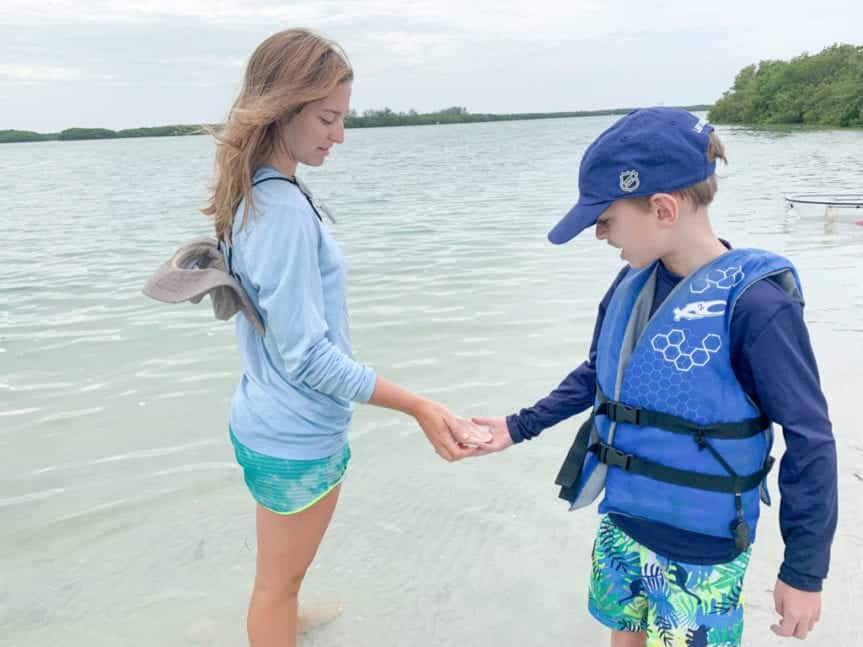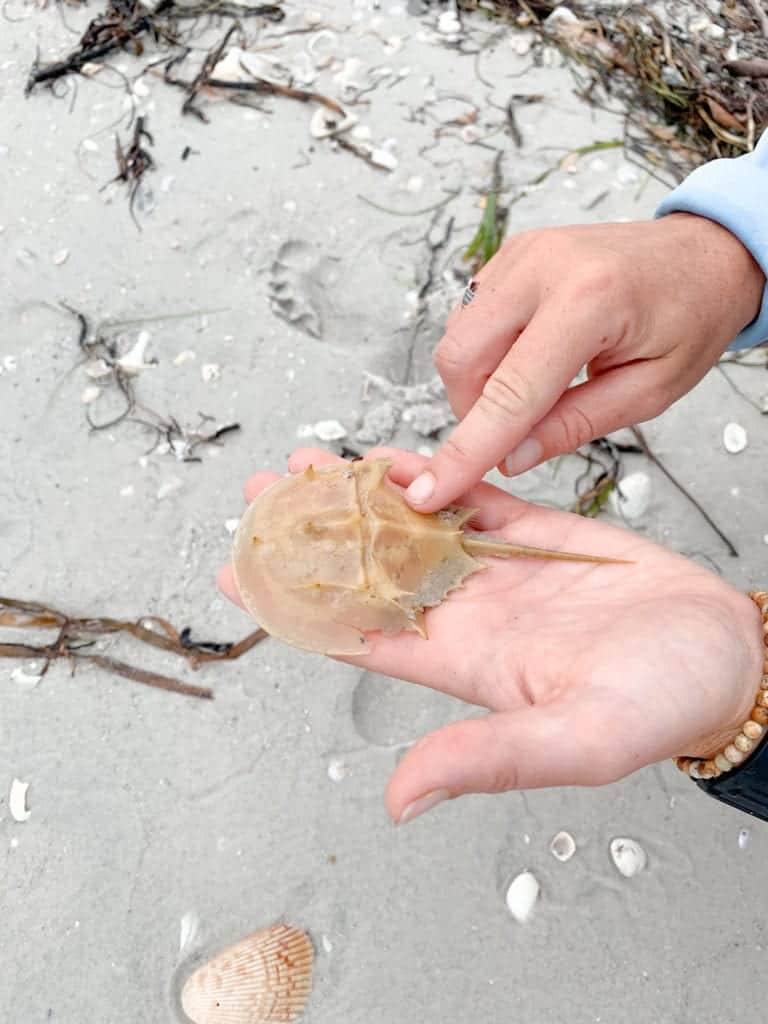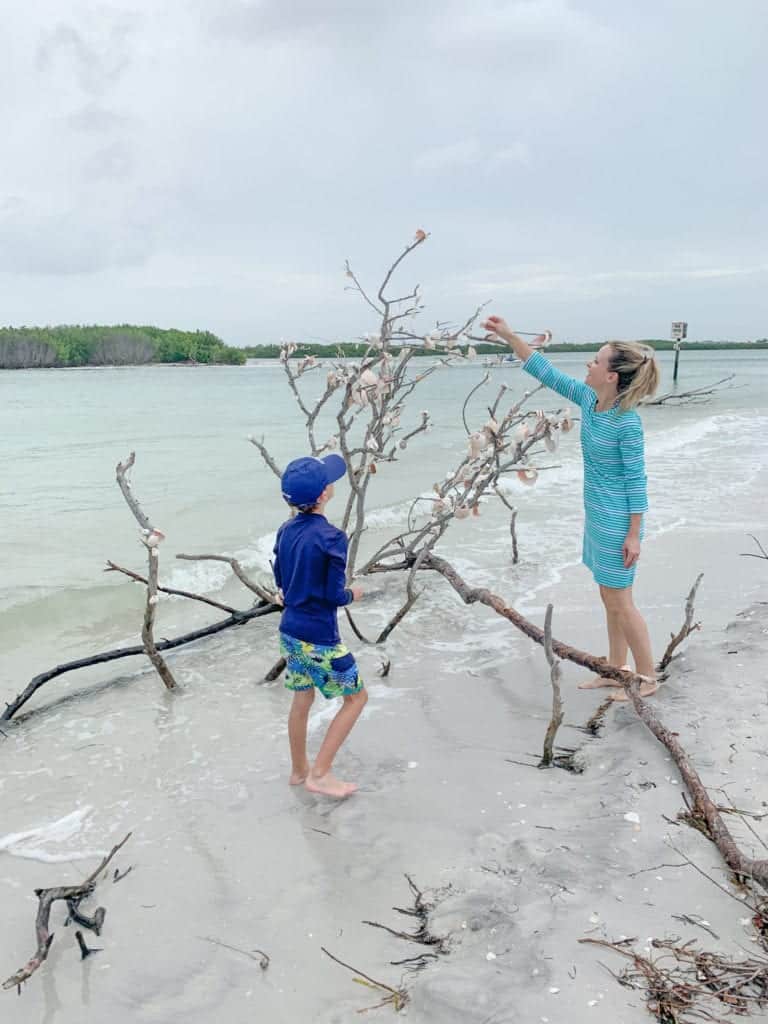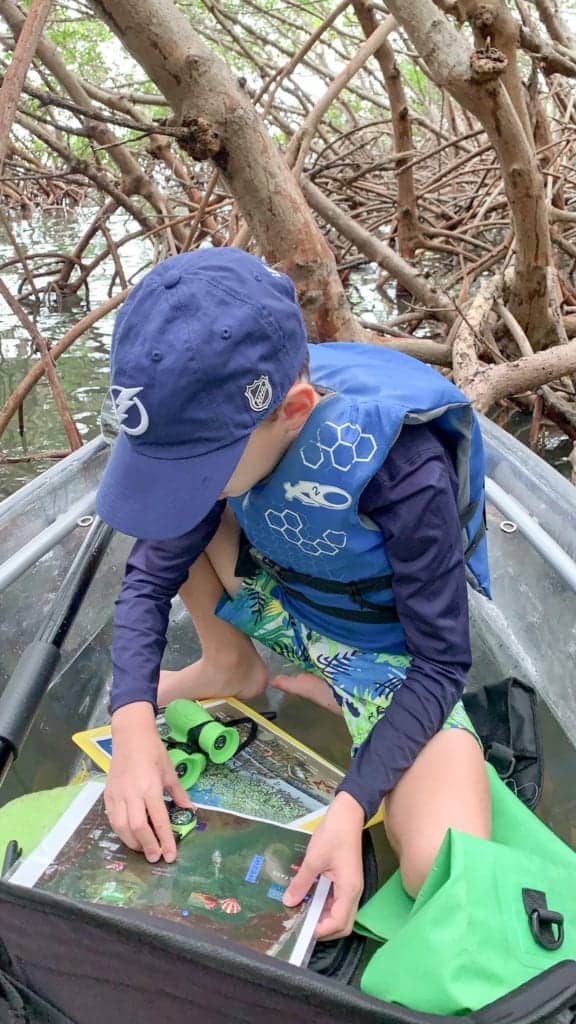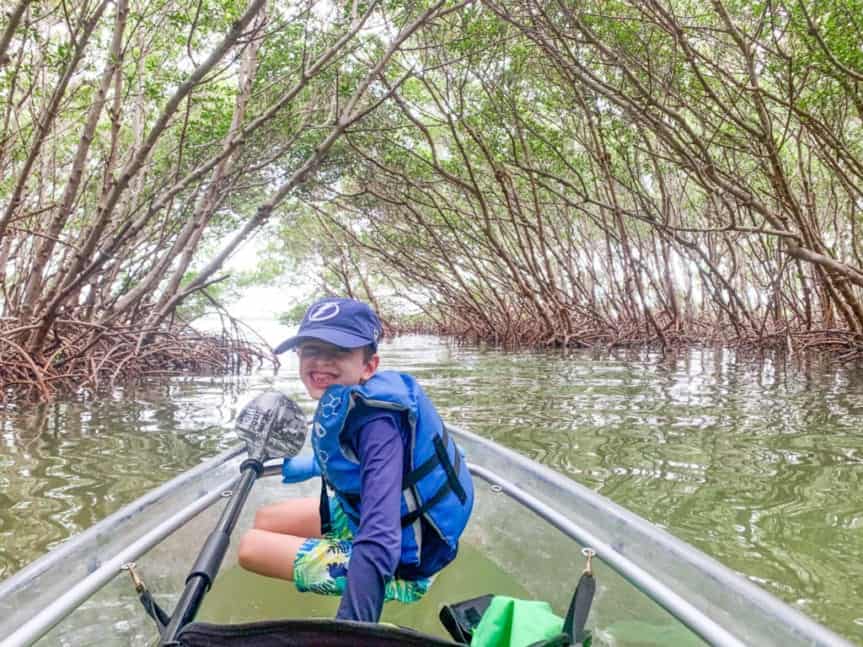 ---
Related stories we think you'll love: