Get Your Preschooler into SeaWorld Orlando and Aquatica for FREE + More Tips
The SeaWorld Orlando + Aquatica Preschool Card is BACK for 2023!
You don't want to miss out on your chance to take advantage of the FREE SeaWorld Orlando Preschool Card for kiddos ages 3-5 years old!
SeaWorld Orlando Preschool Card Information
The 2023 Preschool card allows for FREE unlimited visits to SeaWorld Orlando and Aquatica for children ages 5 and younger through December 31, 2023.
The Preschool Card is only available to Florida residents and you MUST register online first.
You must register online by February 3, 2023 and redeem at the park by February 28, 2023.
Does not include free parking or discounts, but it does include admission for free for the preschool card holder through all of 2023.
This offer is only available for a limited time, so you'll want to act fast.
Related: The Busch Gardens + Adventure Island FREE Preschool Card is Back in 2023!
Once you complete the online registration, print out the voucher and bring it to the ticket window at one of the theme parks to redeem the Preschool Card along with ALL of the following:
Your registration confirmation
Your child's birth certificate (copy is fine) or travel passport
Your Florida resident ID (to prove you are Florida residents)
I am already a SeaWorld Orlando Annual Passholder and I was able to register my child for the Preschool Card while signed into my account. The Preschool Card saved into my account and I do not need to do anything further to redeem his card.
It is saved in my account and I can just scan it from my phone next time we go to SeaWorld Orlando.
Keep reading for the best things to do at SeaWorld for Preschoolers.
And if you're ready to conquer them, these are the best rides at SeaWorld Orlando.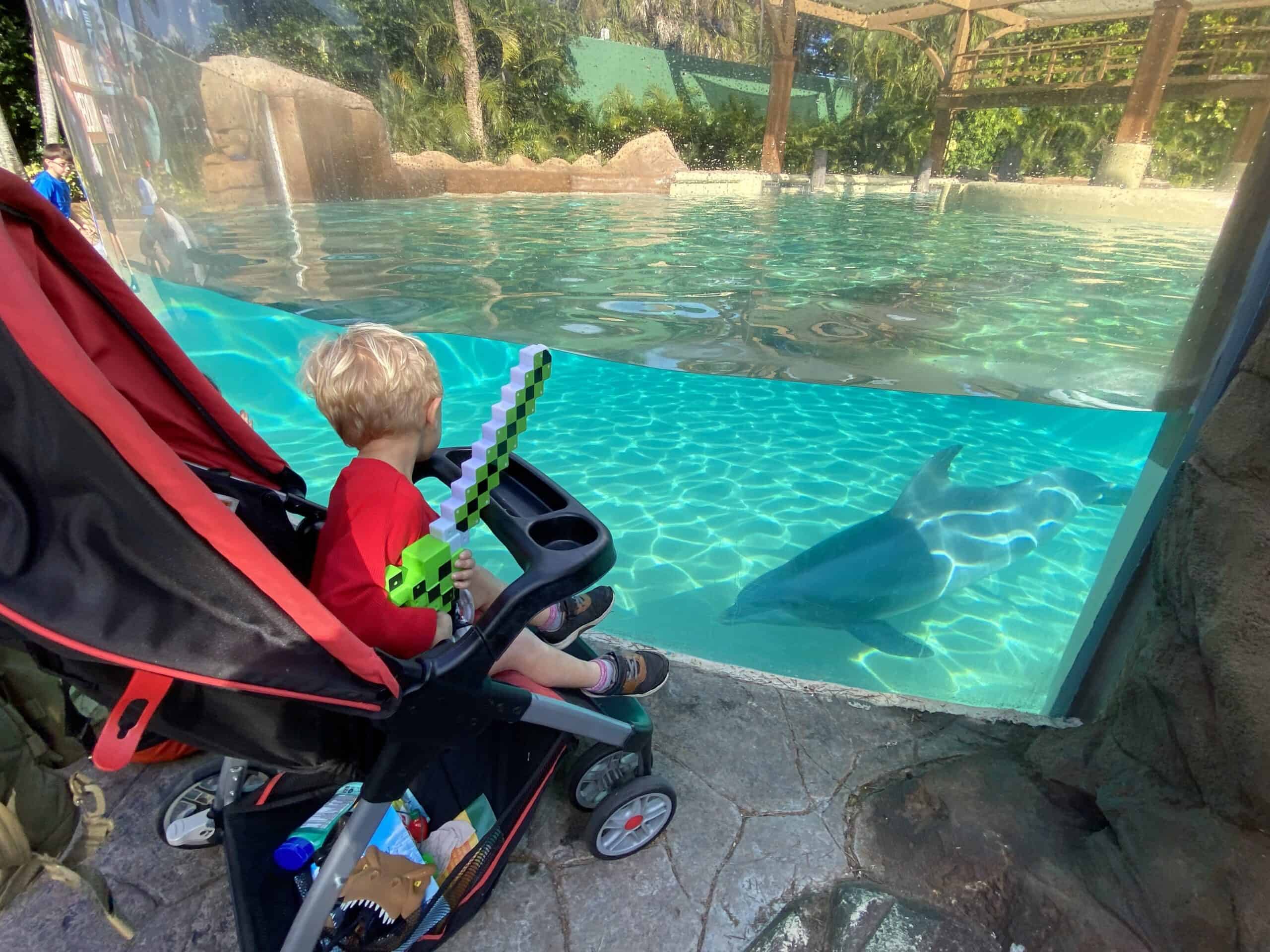 (CLICK HERE to register now. You MUST register your child online before you go to the park.) 
How can family of Preschool Card Holders visit SeaWorld Orlando and Aquatica too?
Short answer: you'll need to buy your own pass. The SeaWorld Fun Card is an affordable choice if you plan to visit 2-3 more times at some point during the year. If you plan to visit more often then get an Annual Pass that includes parking and discounts.
I have a level of Annual Pass that includes guest passes. I use those guests passes to get my husband into the park, and my son while we waited for the 2023 Preschool Card to be released.
Here's what's happening this month and in February at SeaWorld Orlando:
Best Activities for Preschoolers at SeaWorld Orlando
Naturally, the highlight of SeaWorld Orlando for any preschooler is Sesame Street Land. Walking around here with my son is always a treat, especially as he has fully arrived into preschool age and watched enough episodes of "Sesame Street."
If your little one isn't very familiar with Sesame Street that's okay, they will still enjoy the bright colors and child-sized fun of Sesame Street. And, you can always watch episodes on demand, for free, on PBSKids.org or their app.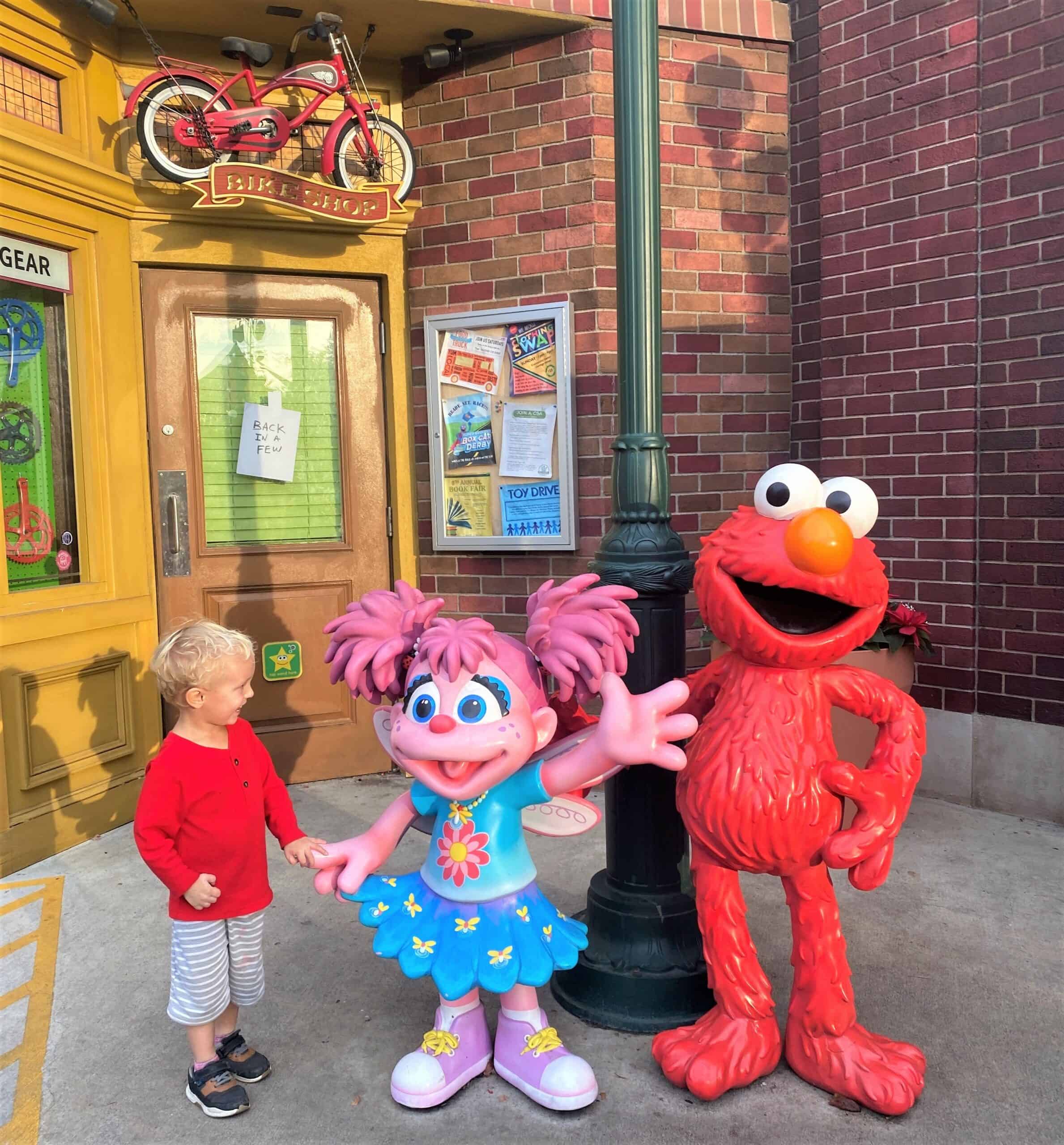 One unexpected downside of Sesame Street Land is most of the rides have a height requirement that smaller preschoolers may not reach for quite some time. My little guy is four years old and he hasn't yet reached the 38 inch height requirement for many of the Sesame Street rides.
Besides Sesame Street Land, preschoolers are sure to love the many animal exhibits, especially Stingray Lagoon where you can touch and feed docile stingrays, and Pacific Point Preserve where you can feed seals and sea lions. If you have an annual pass you receive a discount on the fish to feed the animals.
Another huge hit with our preschooler is the Shark Encounter. I love that he can stay in his stroller throughout the entire exhibit and there is so much to see and learn. Plus the tunnel through the shark and fish tank is jaw-dropping.
It's tradition for us to stop by the bar at the Sharks Underwater Grill to grab some refreshment for us parents and a non-alcoholic strawberry daiquiri served in a souvenir kids cup for about $5.00.
The Dolphin Nursery near the front of the park is a wonderful spot for preschoolers too. They can view the beautiful dolphins on their level. It makes for a great photo opportunity and a chance for kids to learn about these incredible creatures on their level.
Finally, every live show at SeaWorld Orlando is great for preschoolers. Pets Ahoy is sometimes overlooked, but I recommend it. It's less serious than the other shows and it is indoors. When you need a break on a hot day, this is the place to go.
Sample Itinerary for SeaWorld Orlando with a Preschooler:
10:00 AM park opens, visit Stingray Lagoon or Dolphin Nursery
11:00 AM Dolphin Adventures (Located in Dolphin Stadium)
11:30 AM Keeper Talk in the Manatee Rehabilitation Area
12:00 PM Lunch at Seafire Grill or Expedition Cafe
1:00 PM Feed Sea Lions at Pacific Point Preserve
1:30 PM Sea Lion & Otter Spotlight (Located in Sea Lion and Otter Stadium)
2:00 PM Sharks Encounter
3:00 PM Sesame Street rides or splash pad (pack a swimsuit, restrooms are near the splash pad)
4:00 PM Grab a snack at Sesame Street Food Trucks or Mama's Pretzel Kitchen
4:30 PM Sesame Street Party Parade (get a spot 15 minutes ahead of time and with the sun at your back)
5:00 PM Enjoy Sesame Street rides
6:30 PM Orca Encounter A Killer Whale Experience (arrive 30 minutes early)
Be sure to review the SeaWorld Orlando Schedule before your visit. This sample itinerary is based on showtimes in January. You should review the official SeaWorld schedule online or in the SeaWorld Orlando app.
Enjoy using your SeaWorld Orlando Preschool Card and don't forget to make time next holiday season to enjoy SeaWorld's Christmas Celebration (we've got tips for that too!)
All images by Dani Meyering, featured image from SeaWorld Orlando (@SeaWorldOrlando)7