Best. Gift. Ever. Game day fun with the home teams! 
The gift of experience is the only way to go and what better way to share a day with your child than cheering on the home team? There's less clutter to deal with than with toys, and you're creating lifelong memories with your kids. It's a win-win! What's more, it's instant gratification!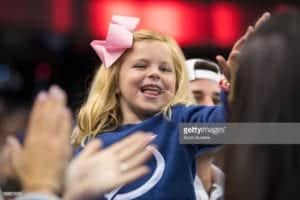 Here are several home games you can gift your child this month:
Tampa Bay Buccaneers December Home Games: 
Sunday, Dec. 2 at 1 p.m. vs. Carolina Panthers
Sunday, Dec. 9 at 1 p.m. vs. the New Orleans Saints
Sunday, Dec 30 at 1 p.m. vs. the Atlanta Falcons
 Tampa Bay Lightning December Home Games: 
Thursday, Dec. 6 at 7:30 p.m. vs. Boston Bruins
Saturday, Dec. 8 at 7 p.m. vs. Colorado Avalanche
Monday, Dec 10 at 7:30 p.m. vs. New York Rangers
Thursday, Dec. 13 at 7:30 p.m. vs. Toronto Maple Leafs
Thursday, Dec. 27 at 7:30 p.m. vs. Philadelphia Flyers
Saturday, Dec. 29 at 7 p.m. vs. Montreal Canadiens
But, first…JOIN the club for special discounts and perks!
Jr. Bucs Fan Club. Kids 14 and younger can become a super fan with the Tampa Bay Buccaneers. A one-time registration fee of $24.99 includes your child's welcome kit full of Bucs swag like official membership card, Bucs hat and more! Your child will also get priority invites to future Jr. Bucs events. Join today at buccaneers.com/fans/jr-bucs.
ThunderBug's Kids Club presented by Cheerios. Kids 12 and younger can join for free, but paid packages that start at $25 all come with a voucher to the Kids Day game March 2! Membership perks include special offers, discounts and autographed memorabilia. Visit TampaBayLightning.com/KidsClub.
*The Rays Rookies Kids Club is putting together perks for the 2019 season, so be sure to check back with the Tampa Bay Rays! 
Tampa Bay Buccaneers Quick Facts:
All attendees must have a ticket due to NFL policy.

 

Go early! Bucs Beach is new this year and located on the side of the stadium along Tampa Bay Boulevard. There are plenty of photo opportunities, performers, music and more!

 

Check out the Jr. Bucs Kids Zone too where kids can test their skills in the inflatable obstacle course, toss a football and more.
Save when you buy a Family 4 Pack. Get two adult tickets and two youth tickets for $100; good for any of the remaining home games! Go to buccaneers.com/tickets/family4pack for info.
Tampa Bay Lightning Quick Facts:
Children 3 and under do not need a ticket (as long as they do not need their own seat)

 

The Kids Club table is typically located at section 128 during games.

 

Get your camera ready! ThunderBug is at every game.

 

Weekend games tend to have more kids activities taking place outside on Ford Thunder Alley.

 
Originally published in the December 2018 issue of Tampa Bay Parenting Magazine.