The BEST places to watch a rocket launch in Florida
Sure, we can sometimes spot the faint glow and vapor trail of a rocket launch from here at home in Tampa Bay, but why not experience a rocket launch from a few miles away at least once before the kids grow up? Keep reading for insider tips on the best places to watch a rocket launch in Florida.
On the heels of a record-setting year for rocket launches from Kennedy Space Center and Cape Canaveral Space Force Station – more than 50 in 2022 – Kennedy Space Center Visitor Complex is gearing up for more than 80 forecasted for 2023!
Going to see a rocket launch in person was a bucket list activity for me as a long time Floridian, and we finally went to see the SpaceX Falcon 9 CRS-22 launch at the Kennedy Space Center in the summer of 2021. I'm so glad we did and it's an experience I highly recommend you take advantage of too since we're only a couple hours away.
It inspired us so much, we went back over the summer so our 9-year-old could attend summer camp at the Kennedy Space Center!
While there are so many different viewing locations along the Space Coast—some popular spots to see a rocket launch are beaches like the Westgate Cocoa Beach Pier and parks like Space View Park in Titusville—there's nothing quite like being at the Kennedy Space Center on launch day.
*Keep in mind that admissions for launch days often sell out, so buy your admission for the day at least a couple of weeks in advance to be safe.
---
Upcoming 2023 Rocket Launches at the Kennedy Space Center:
With a record number of launches on schedule this year, you have plenty of options throughout the year to attend a rocket launch in person. Tickets to view the launch from the Kennedy Space Center are typically only available for launches scheduled during center hours, but it varies by launch.
It's a super exciting time for the space program in Florida, not only with the numerous launches this year, but with the historic Artemis program which will eventually put humans back on the moon and even Mars.
Here's what's on the launch schedule:
*Launch schedule subject to change and launches may not occur during normal business hours. Stay up-to-date by visiting the Kennedy Space Center Rocket Launch and Events page.
The Kennedy Space Center recommends these launch public viewing locations:
Marina Park: 501 Marina Road, Titusville (restrooms, parking)
Sand Point Park: 101 N. Washington Ave, Titusville (restrooms, parking)
Space View Park: 8 Broad Street, Titusville (parking nearby)
Manzo Park: 3335 S. Washington Ave (US 1), Titusville (restrooms, parking)
Rotary Riverfront Park: 4141 S. Washington Ave (US 1), Titusville (restrooms, parking)
Kennedy Point Park: 4915 S. Washington Ave (US 1), Titusville (restrooms, parking)
Westbound SR 528 Causeway over the Banana River Park (well off the right-of-way, near the water)
Jetty Park: East end of Port Canaveral off George King Blvd. (restrooms, parking)
Cocoa Beach Pier: 401 Meade Ave., Cocoa Beach (restrooms, parking)
Alan Shepard Park: East end of SR 520, Cocoa Beach (restrooms, parking)
Fischer Park: East side of SR A1A, 1/2 mile south of SR 520, Cocoa Beach (restrooms, parking)
Lori Wilson Park: 1500 N. Atlantic Ave, Cocoa Beach (restrooms, parking)
What to Know When You Visit the Kennedy Space Center with Kids on Rocket Launch Day:
If you are lucky enough to snag an admission ticket to view a rocket launch at the Kennedy Space Center, get ready for an unforgettable day!
Depending on the launch, you can upgrade your visit to get even closer to the launch pad with a reserved spot, but this prime viewing experience requires a lot of pre-planning since packages often sell out for bigger launches like Artemis I.
We recommend getting on the Kennedy Space Center newsletter email list or just frequently check their website for updates.
Launch viewing locations at Kennedy Space Center that may open depending on launch:
LC-39 Observation Gantry
Banana Creek Launch Viewing Area (adjacent to the Apollo/Saturn V Center)
The Apollo/Saturn V Center lawn
The main visitor complex, with bleachers set up in designated viewing areas (this is the area we viewed the launch from)
The Apollo/Saturn V Center viewing area puts you as close as 3.9 miles away to 8 miles away, depending on the launch pad being used for that particular launch.
We couldn't get Launch Viewing Tickets since they were sold out on the day we visited, but viewing from the lawn at the Kennedy Space Center Visitors Complex was still a pretty cool experience.
For the Space X Falcon 9 CRS-22 launch, the launch pad was about 7.5 miles away from us. We were close enough that we could feel the launch as it got a bit higher in the sky which was pretty awesome.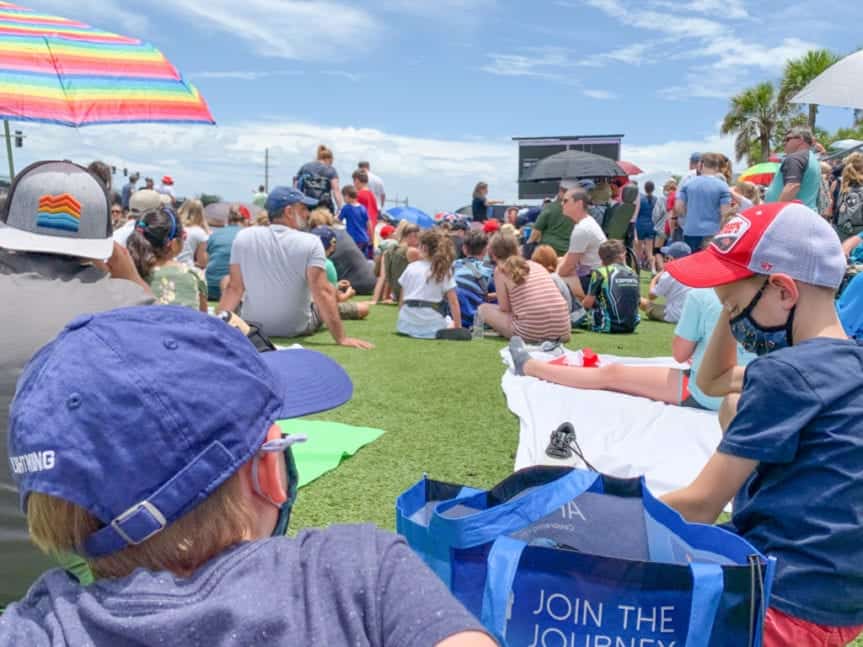 What to Bring to the Kennedy Space Center on Launch Day:
Be sure to bring a blanket and umbrella (to seek shade while you wait for the launch). You can also pack a small soft-sided cooler with snacks and water and folding camp chairs to relax in while you wait.
Don't worry—all umbrellas come down at launch time. The other Florida basics like sunglasses, sunscreen, insect repellant and wipes to wipe down hot, sweaty kids are other must-haves.
Lines to order food at the Kennedy Space Center can get super long, so snacks and water will be MUST-HAVES to avoid hangry meltdowns.
Viewing from the Kennedy Space Center lawn actually turned out to be the best option for us because it allowed us more time to play—yes, we said PLAY!
There are so many interactive exhibits for little kids and kids at heart.
The indoor Planet Play area was a family favorite. It's a three-story immersive, space-themed playground that also has craft beer, and wine in a small adult lounge area. Yes, please.
We recommend visiting KennedySpaceCenter.com to learn more about each launch mission and to see if special viewing locations are available.
The Space X launch we saw had fresh apples onboard for the crew of the International Space Station and even cool science experiments, one involving tardigrades which was fun to research.
It really is a fun research project for kids and adults…and who knows, it just might inspire your little ones to one day aim for the stars.
How to View a Rocket Launch By Boat:
Book a boat or kayak tour on launch day! A Day Away Kayak Tours, Space Coast River Tours and Sail Cocoa Beach are just a few that offer launch day tours.
There's also Jetty Park, Playalinda Beach, The Cocoa Beach Pier, and even a space-themed rooftop bar. Here's Where to Watch a Rocket Launch Like a Space Coast Local from one of our sister publications, OrlandoDateNightGuide.com.
To stay up to date on future launches and find more viewing spots, check out: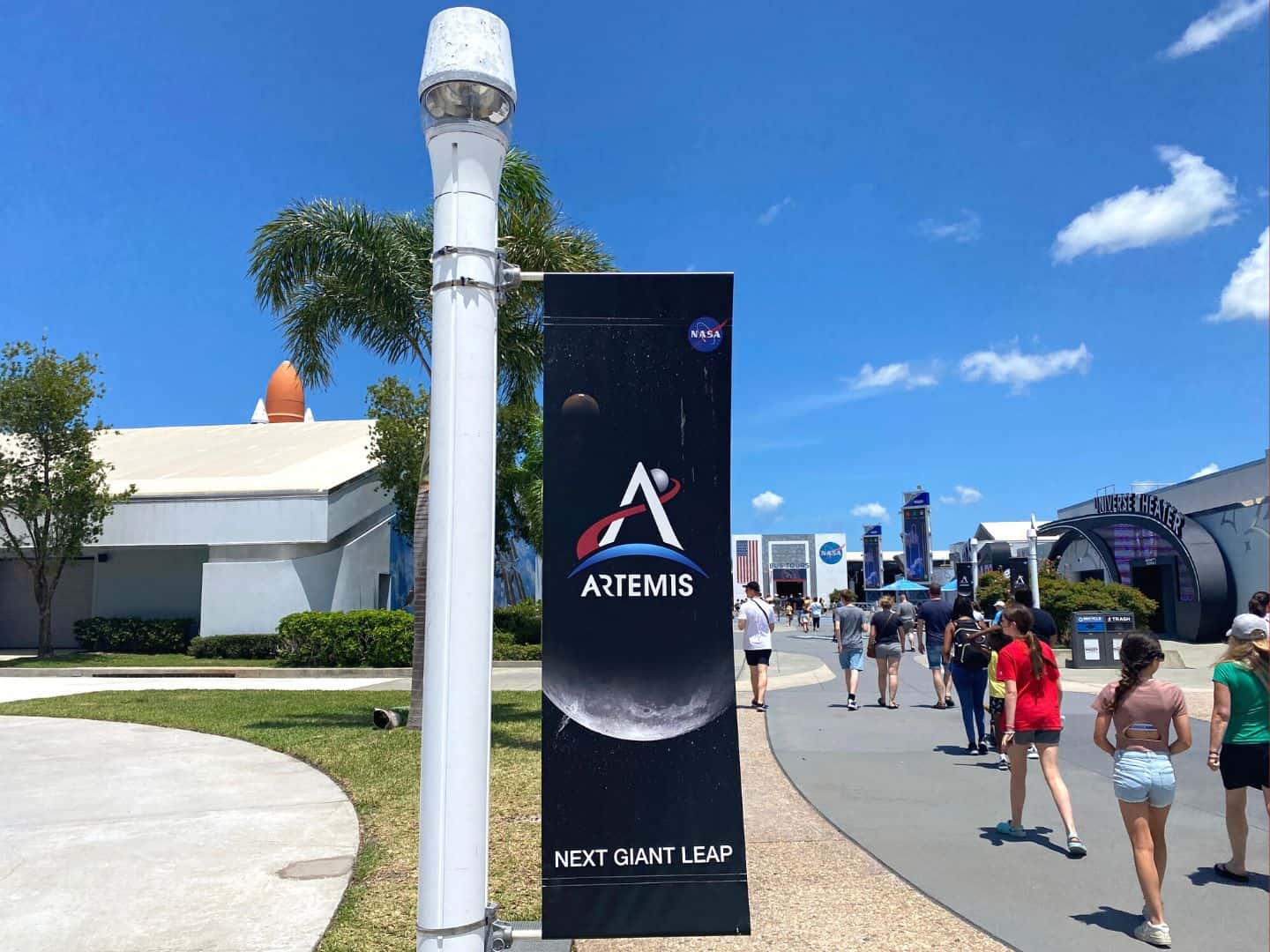 Learn more about the Artemis Program with these kid-friendly activities at Kennedy Space Center
If you're not sure what the big deal is with the Artemis launch, check out Six Reasons to Be Excited About the Artemis Program.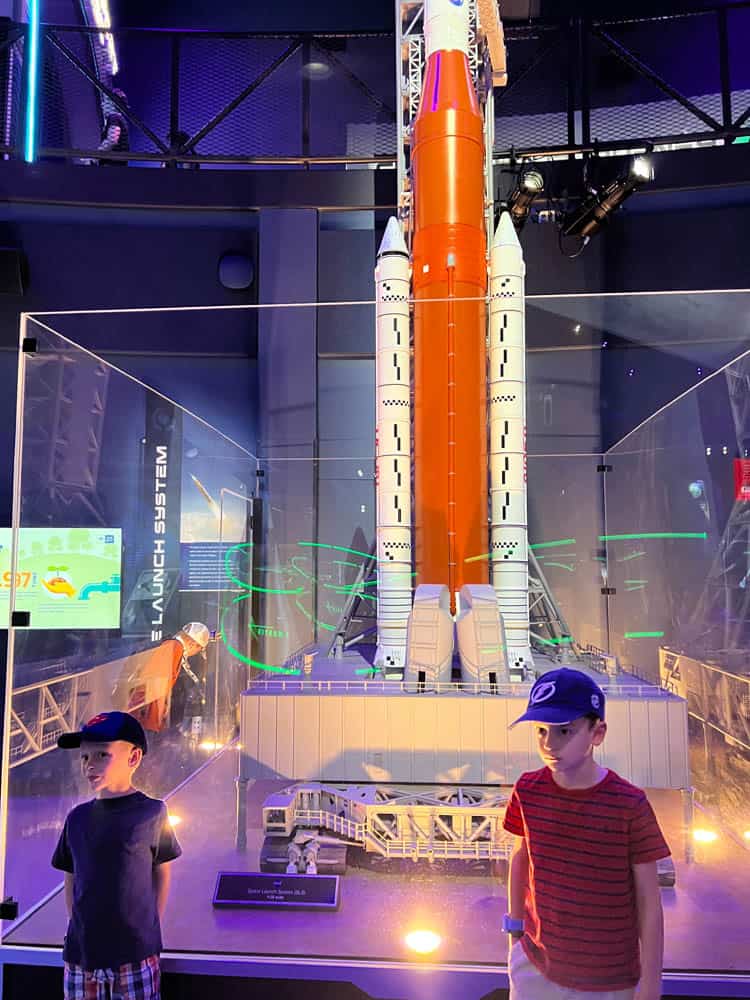 One of the first large buildings you'll encounter after you walk through the gates of the Kennedy Space Center is the new (and beautiful) Gateway attraction.
This indoor attraction showcases more about the Artemis missions and the next era of space exploration with NASA and their commercial partners.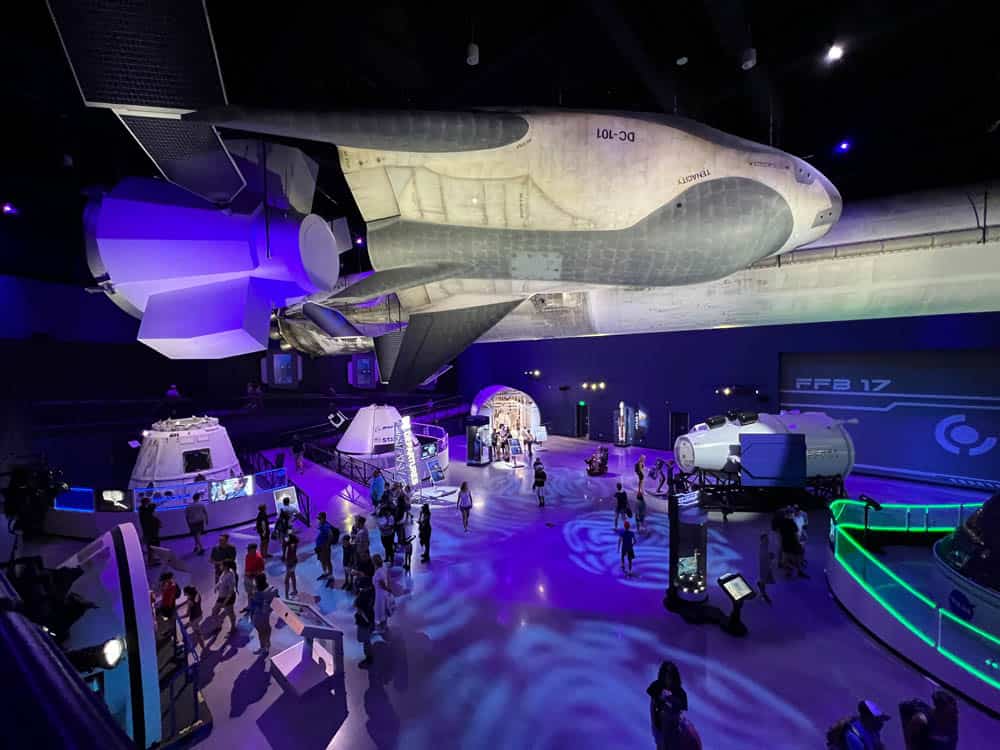 There is also a new immersive ride in Gateway, Spaceport KSC. It's pretty cool and allows you to launch into space in a 'choose your own adventure' type experience: Cosmic Wonders, Daring Explorers, Red Planet, and Uncharted Worlds. We chose Cosmic Wonders.
Our kiddos really liked it, but if you're prone to motion sickness, you might want to close your eyes at some points during the ride since it is one of those rides that utilizes a floor to ceiling video screen. Overall, it wasn't too bad and I get really bad motion sickness.
Over at the IMAX theater complex, there's a new temporary LEGO Build to Launch exhibit that teaches kids about STEM and the technology behind the Artemis program. There are cute photo opps in here and of course, LEGO building!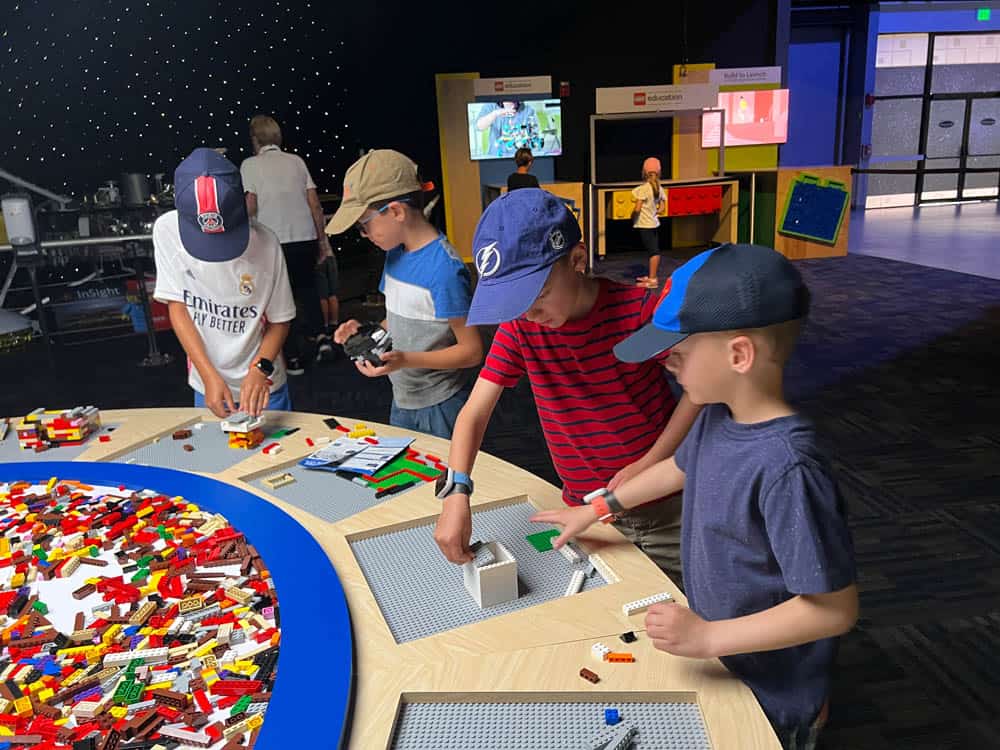 Speaking of LEGOs, our friends at LEGOLAND Florida invited us to check out LEGO City Space play area inside the Imagination Zone. It's an immersive build zone where your kiddos will travel to the LEGO Moonbase to help NASA build rockets and rovers. Check out our Instagram Reel to see it for yourself.
NEW at the Kennedy Space Center: "All Systems Go" with Snoopy!
There's a new show that debuted on March 24 at the newly transformed Universe Theater starring Snoopy and friends! The 20-minute puppet show centers around Snoopy and Woodstock being asked by the Launch Director to assist with the next Artemis mission.
It'll be filled with history, education and of course, lots of fun for all ages!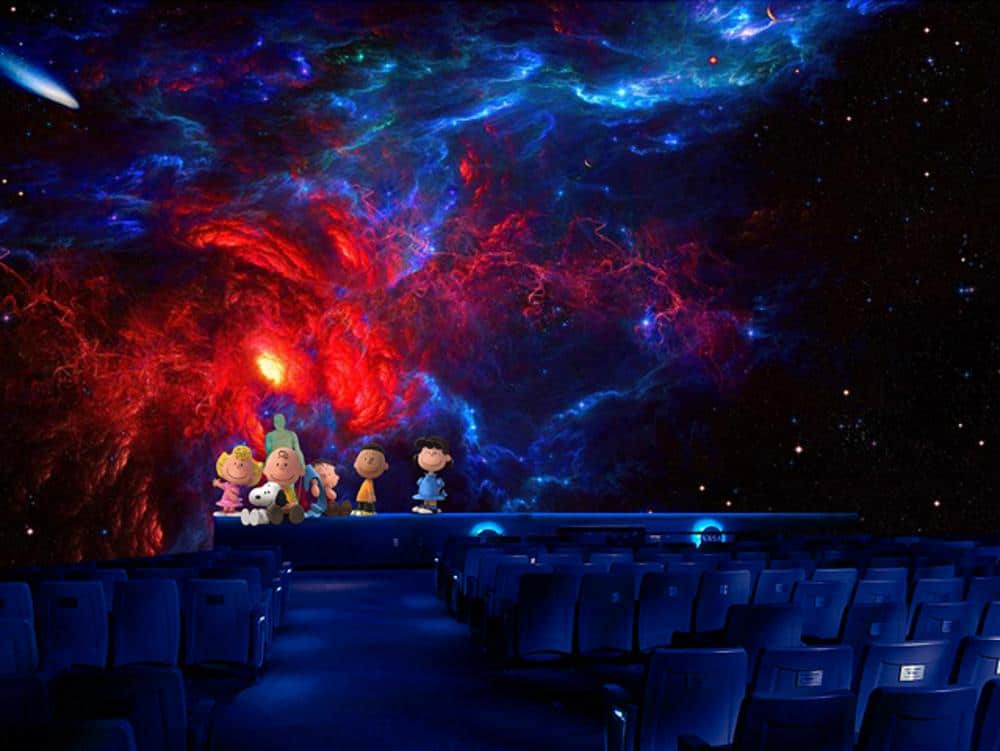 More things to do with the kids on the Space Coast:
Make it more than a day trip and spend a few days on the Space Coast to explore all they have to offer! We did and here are some cool things families can enjoy together–other than the beach, of course!
Brevard Zoo:
This Melbourne zoo has a beautiful winding boardwalk and sidewalks that take you through the different habitats. We loved feeding the birds in the aviary and feeding the giraffe! You can also walk up close to kangaroos and there's a splash pad for the kiddos if you need to cool off for a bit. They also have a zip-line but check ahead to see if they are booking. Brevardzoo.org 
Sea Turtle Walk Tour:
This is a unique summertime activity where you can book a tour to see the many sea turtle nests along the beaches and maybe even catch baby sea turtles making their journey to the sea. Visitspacecoast.com
Another unique nighttime summer experience is a bioluminescence tour on the Indian River Lagoon. There are several companies that offer the experience like Get Up and Go Kayaking. July and August are prime-time viewing months. 
American Space Museum:
If you didn't get your fill of space, head over to the American Space Museum in Titusville where kids can get hands-on with actual shuttle launch controllers and view pretty cool artifacts from the space program. You can get through this museum in a couple of hours, tops. Spacewalkoffame.org
Museum of Dinosaurs and Ancient Cultures: 
This is another quick indoor trip. If your kids love dinosaurs, they'll love this place. While most of the dinosaur bones are replicas of real bones, there are real fossils on display. There is even a large store on the first floor. Dinosaurstore.com
Florida Surf Museum:
Right next door to the iconic Ron Jon Surf Shop, this museum will walk you through the history of surfing in Florida. Floridasurfmuseum.org
*Originally published in the July 2021 issue of Tampa Bay Parenting Magazine, but updated July 20, 2022
---
More stories we think you'll LOVE: