Stronger than the Storm: Hillsborough County Public Schools
"Preparing an elementary school as a shelter is much different than a middle or high school. Consider a kindergarten classroom with all the manipulatives, all the cubbies, all of the things that make the environment fun to be in and are needed for learning… that all must be secured."
Allison Norgard is the principal of Sessums Elementary School in Riverview. And Hurricane Ian wasn't her first rodeo.
"I had done shelter before," Norgard says. "The principal of Riverview Elementary who helped us out, as well as one of my secretaries, all had experience with shelters. So that speaks to the depths of principals and leaders in this district."
It also speaks to why the process of closing a school and transforming it into a shelter to protect our families goes as smoothly as it does.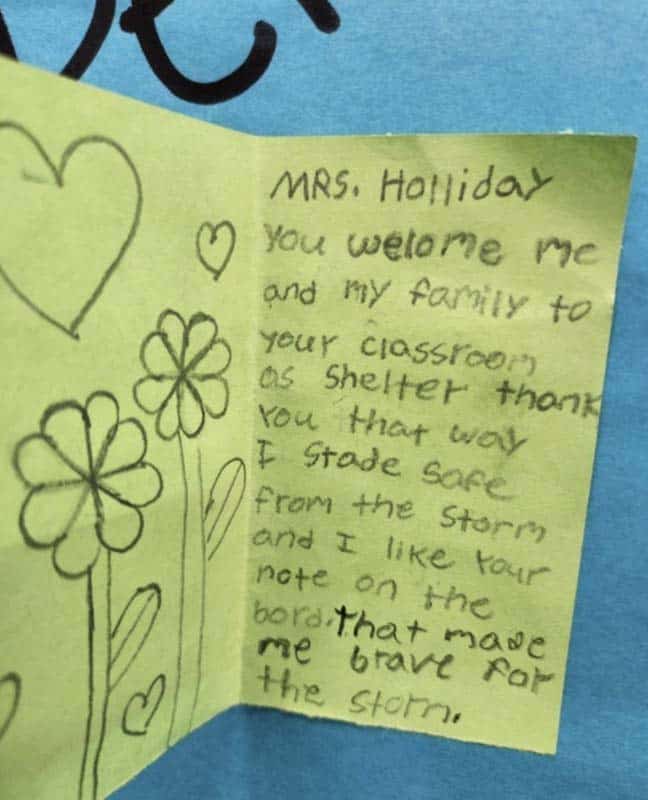 Let's rewind a bit, to making the decision of when to close schools, and how many to use for shelters.
Making the decision to close schools is not an easy one. It's also not a decision made quickly or in isolation. Hillsborough County's Emergency Operations Center decides it needs to open shelters, and the school district follows its orders.
Once the superintendent notifies principals of the decision, Norgard says the first thing a principal does is tell their teachers. She wants them to have the opportunity to clear out their classrooms and take home anything of value. After that, it's all hands-on deck to help clear out the spaces where evacuees will be housed.
That doesn't just consist of moving desks and locking cabinets. Many teachers, as they typically do, go above and beyond. For Hurricane Ian, they created messages and murals to make the evacuating families feel at home. They left markers, blocks and books so the kids would be entertained.
Holly Holliday is a kindergarten teacher at Sessums, and she created a lovely mural for the evacuees that read, "We are stronger than the storm." After the storm passed, when she returned to her classroom, she found a stack of notes, thanking her for her thoughtfulness.
"When I came in and saw those notes, it was just very heartwarming," Holliday says. "It made all the work of preparing for them to be here worth it just knowing they had a safe place to be. They wrote that they were comforted and felt safe."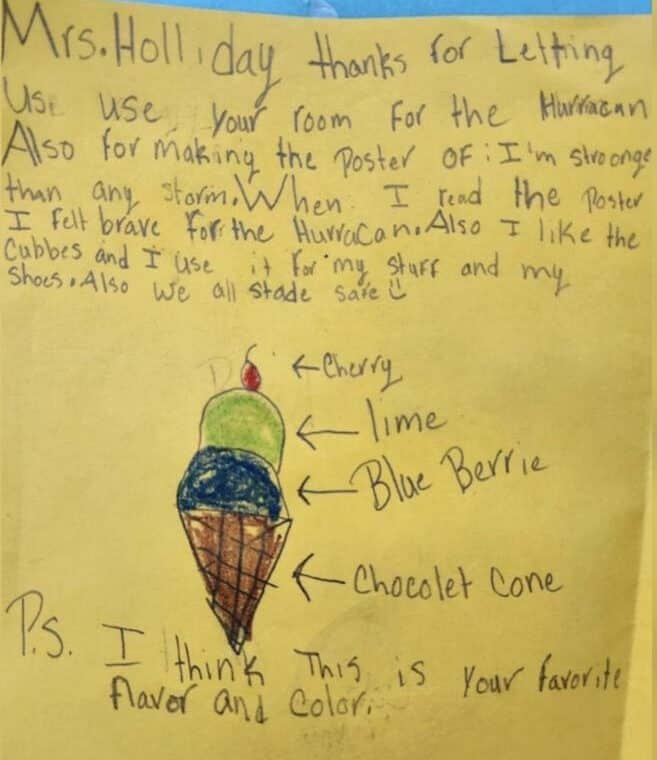 After Ian passed, school communities came together to return the school to the way it was, as well as clean up any damage that the hurricane had caused.
"As soon as everyone was out, we had to deep-clean the rooms where people stayed," Norgard says. "Our custodial staff, along with help from the head custodian from Riverview Elementary did that. There was an intense focus on the specific rooms used by the evacuees, so the teachers could come in Friday and begin the tremendous lift of resetting their classrooms"
Thanks to the teamwork of our schools, staff and community partners, every one of our schools was ready to reopen the Monday after the hurricane hit.
Not only that, but our operations crews knew they had to help our friends to the south. Dozens of our staff volunteered to caravan to Lee County to help schools repair some of the damage the hurricane caused.
Looks like Ms. Holliday was right. When we work together, Hillsborough County Public Schools IS stronger than the storm.
---
Originally published in November 2022 of Tampa Bay Parenting Magazine.