Hot, humid and muggy!
Those are just a few of the words to describe the intense heat the Tampa Bay area has been experiencing this summer.
It's probably tough for the air conditioning in your house to keep up! Now imagine how hard it is on the air conditioning in our schools. Hillsborough County Public Schools has 29 million square feet of air-conditioned space in our schools. That is the equivalent of 14,500 2,000-square-foot homes!
Air conditioners are bound to break or need repairs. That's one of the main reasons voters approved the half-penny sales tax Education Referendum back in 2018. Money raised by the Referendum goes directly into our Operations bucket, in part to replace and repair air conditioners.
Just this past summer, crews replaced or renovated air conditioning systems at 14 of our schools.
This year, we have invested more than $87 million into major air conditioning upgrades, fire alarm system replacements and other infrastructure improvements.
But, as parents, you know that no matter how good an air conditioner is, it sometimes cannot keep up with the Florida heat, especially when kids are running in and out of the doors every few minutes. How many times this summer did you say, "Stop opening the door, I'm not air conditioning the whole neighborhood!"
Keeping Cool in School
Hillsborough County Public Schools has a room at its Maintenance Operations Center filled with computers that can monitor the temperature in every room, at every school.
Kenny Otero is the Department Manager of Air Conditioning and Energy Management. He and his crew are up before the sun, to monitor our air conditioning systems.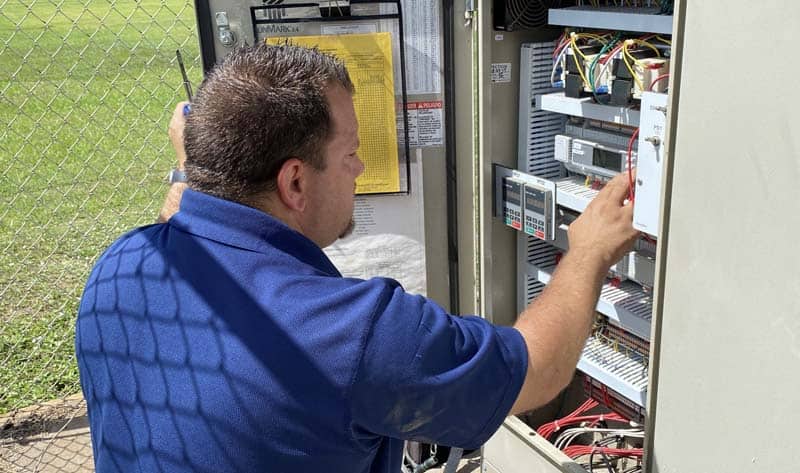 "We turn all the chillers on around 3 a.m. right now. That's crunch time," says Otero. "That gives us a chance to see what's working, what's not working, and it gives me a chance to start my crews as early as possible at those sites."
Sometimes, the fix is as easy as resetting the system. Sometimes it's more complicated. Parts may have to be ordered and could be on back order.  That's when our maintenance department works with the school administration to explain the situation and try to find other solutions.
For example, if a room is going to be without air conditioning for hours or even days, they'll communicate that to the principal, who will then work with the teacher to move the class to an air-conditioned space or come up with other cooling measures, like portable chillers.
Otero wants parents to know that his crew takes every outage personally—as if it's their own child sitting in that warm room.
"The most important thing is a safe and comfortable learning environment for our kids and staff," explained Otero. "In this unprecedented heat, we have our challenges. But that's the mission, and that's what my crew is dedicated to."
---
Originally published in September 2023 of Tampa Bay Parenting Magazine.