Free Annual Pass for Preschoolers at Kennedy Space Center Available Now!
Inspire your little ones to shoot for the stars with a free annual pass at the Kennedy Space Center! You only have a limited time to register for the free Junior Space Explorer Pass for kids age 5 and younger which grants kids free admission through December 31, 2023 (blockout dates apply).
The deadline to register online is February 19, 2023 and your child must be 5 years old or younger at time of redemption. The pass in only available to Florida residents – you will be required to show proof of residency.
You will need to bring the following with you to Will Call or the Information Center at the Kennedy Space Center Visitors Complex:
Parent's proof of Florida residency.
A copy of the voucher from online registration. You will NOT be able to register at the KSC. Registration is online only.
Birth certificate (digital copy acceptable) or age-identifying document for child.
Child must be under the age of six at the time of redemption.
Foster parents and guardians can also register — bring a copy of the DCF paperwork from the foster agency with the child's name and date of birth. Any other personal information on this copy should be blacked out.
Click here to register for the Free Junior Space Explorer Pass.
FYI: There are several other free passes available right now for preschoolers in Florida:
Things to do with little kids at the Kennedy Space Center
There are so many fun ways to explore the Kennedy Space Center Visitors Complex with little ones!
We've been a few times with our own kids as preschoolers and our nephew who is 4 and we didn't have trouble at all keeping them entertained. One of their favorite spots was the indoor play area called Planet Play.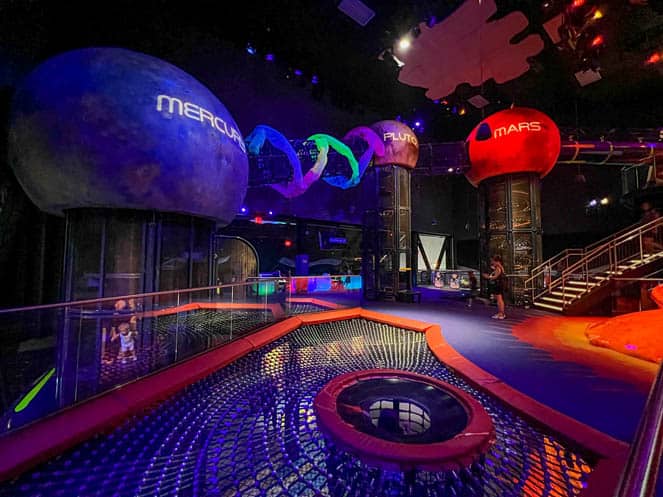 The kids could have easily spent all day in Planet Play! There is even a place for parents and caregivers to sit back and relax with a coffee or even a beer or wine while the kids get their wiggles out.
But, that's not all…
Kids also love walking among the Rocket Garden near the entrance which features eight soaring authentic rockets. Kids can even climb inside a capsule replica in the garden to snap their own photos as they pretend to be astronauts.
Not too far from the Rocket Garden is the the new Gateway complex where they can explore the future of space exploration. While they might not be able to go on the ride at Gateway (which is really cool for older kids and adults), they can still immerse themselves in the world of space travel, step inside a full-scale mockup of a space habitat, and so much more. A visit here just might inspire them to become future astronauts!
Another favorite of our kids is getting the chance to see the Space Shuttle Atlantis up close and personal. There is also plenty of interactive fun to be had at this exhibit as well like a giant slide, a replica International Space Station they can climb through, and more hands-on exhibits. They can even sit upon a toilet like the astronauts do!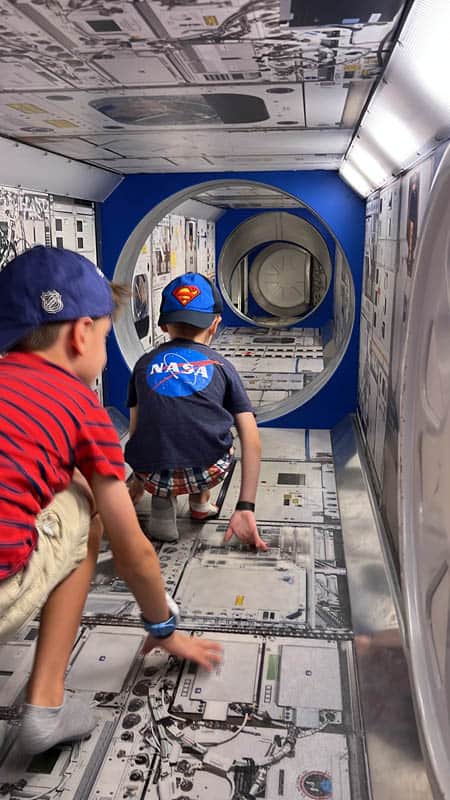 Another must experience with your kids is a rocket launch and there is no shortage of them this year with 80 on schedule for 2023 alone! You will want to book your admission ticket ahead of time since it usually sells out on launch days and even consider upgrading to a better viewing spot. We're sharing all you need to know about where to see a rocket launch at the Kennedy Space Center here.
We've only scratched the surface here, but you get the idea… there is a ton of fun to be had at the Kennedy Space Center Visitors Complex for preschoolers, so don't miss out on this limited time chance to snag a free Junior Space Explorers pass for your preschooler!