5 Things We LOVE about Disney Wish Kids Clubs
The Disney Wish kids clubs – all four of them, are truly special. There's no denying the hefty price tag of a Disney cruise. It is one of the most expensive cruises out there. But one of the main things that make it worth it, especially if you can snag a Florida Resident deal, is the programming for kids.
Disney invited us to the media sailing of the Disney Wish Christening Cruise which gave us an opportunity to explore this incredible new ship, including the kids clubs.
Here's what kids, tweens, and teens will love about the youth activity spaces, and what is so different about these spaces on the Disney Wish.
The Disney Wish has four kids clubs:
it's a small world Nursery for ages 6 months to 3 years
Oceaneer Club ages 3 -12
Edge for ages 11 – 14
Vibe for ages 14 – 17
About two weeks prior to boarding your cruise you'll need to register each of your kids for the Disney Wish kids clubs. This will include whether or not you give permission to any other cruisers, and to each child, to check themselves in and out of the clubs.
Each Disney Wish kids club balances hands-on activities, with independent play, group play, and the use of tablets and video games.
1. Slide into the Oceaneer Club
As if the Oceaneer Club wasn't fun enough for kids as it is, now it comes with a slide as an entrance! Adventurous kids can enter the Oceaneer Club using a clear slide that goes from deck 3 to deck 2.
Parents can check in their kids on deck 3 and let them slide down to the reception desk at Oceaneer Club on deck 2. The slide is one curve, going from one deck to the other, so it is nothing too intense. Still, if your kiddo(s) prefers to use the stairs, that is an option as well.
BONUS – Many of the adult lounges are just steps away from the slide so adults can easily go have some evening fun. Head over to one of our sister sites, OrlandoDateNightGuide.com for a full review on the adult lounges.
2. Oceaneer Club is completely redesigned
Admittedly, the bulk of my time exploring the Disney Wish kids club focused on the Oceaneer Club since my son is four years old. However, the Oceaneer Club also serves the widest age range of all the kids clubs on the Disney Wish.
There are five themed rooms that make up the Oceaneer Club:
Star Wars Cargo Bay
Marvel Super Hero Academy
Walt Disney Imagineering Lab
Mickey and Minnie's Captain's Deck
Fairytale Hall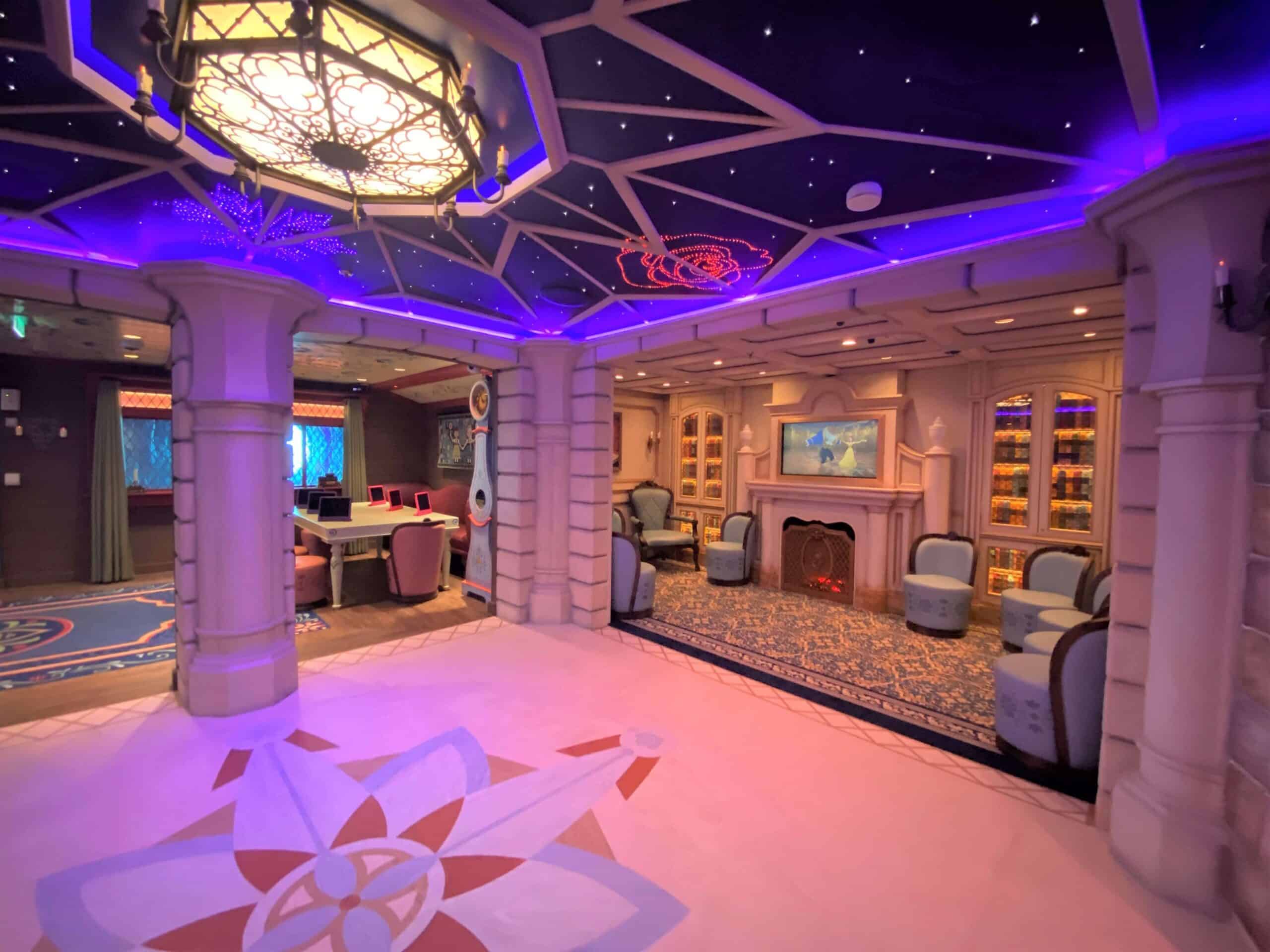 Previous Disney cruise ships have similar areas, but not to this level of detail. These new rooms in the Disney Wish Oceaneer Club are larger and more immersive than before.
Star War fans and Marvel fans, of any age, will appreciate the level of detail and cool props found in these rooms. Walt Disney Imagineers worked with personnel at LucasFilm and Marvel Studios to create authentic spaces at the Oceaneer Club.
The Walt Disney Imagineering Lab is full of fun details for any theme park fan. While we didn't get a chance to see any classes or demonstrations that would take place in this part of the club, I can only imagine the fun that will take place here.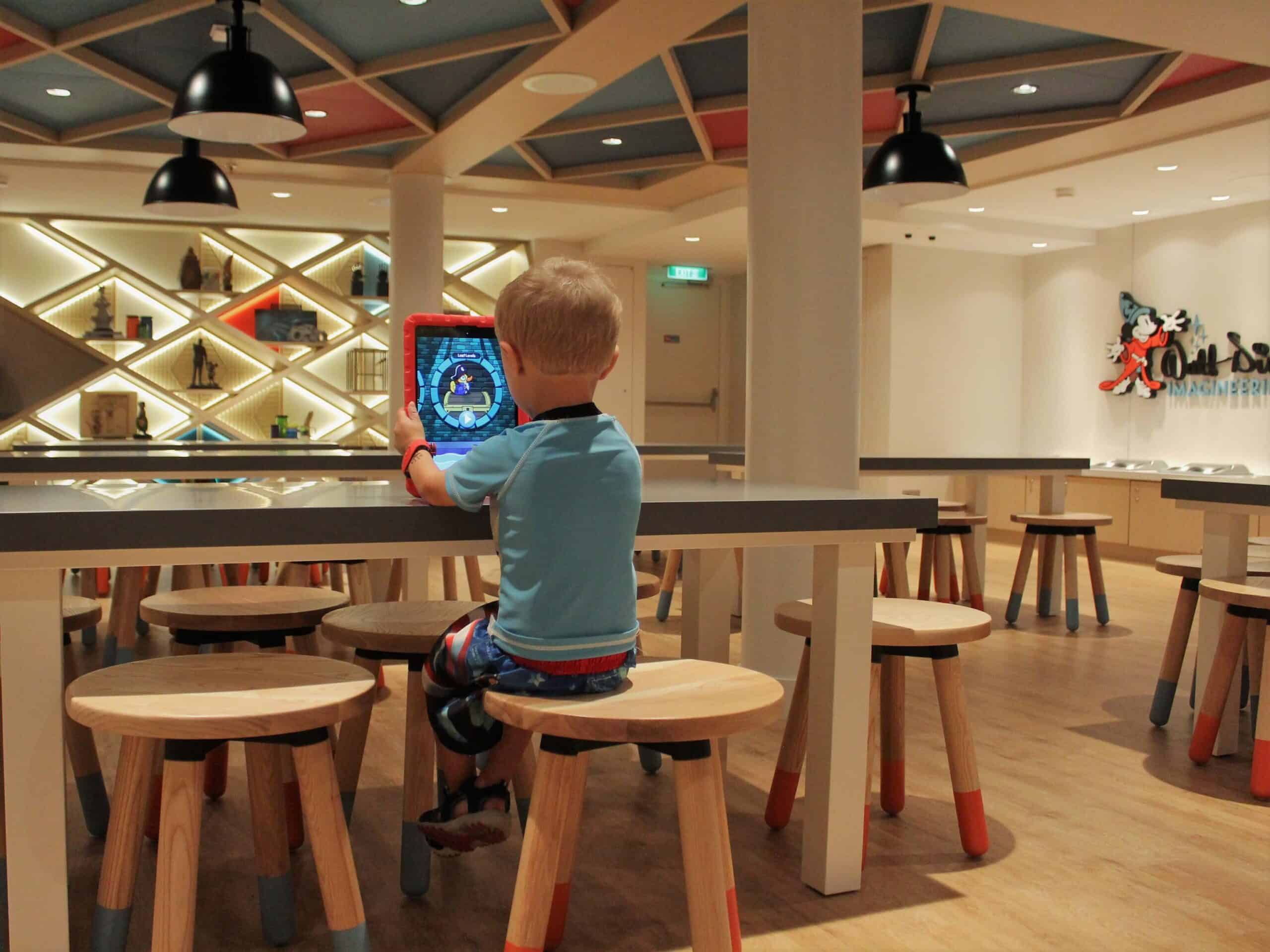 It's easy to feel like royalty stepping into Fairytale Hall. This space has three vestibules: one themed to Beauty and the Beast, one to Frozen, and one themed to Tangled. The level of theming in this space rivals Cinderella Castle and the Be Our Guest restaurant at Walt Disney World's Magic Kingdom.
Mickey and Minnie's Captain's Deck is a great space for younger cruisers. It is essentially an indoor toddlers' playground. But there are some fun interactive items here too.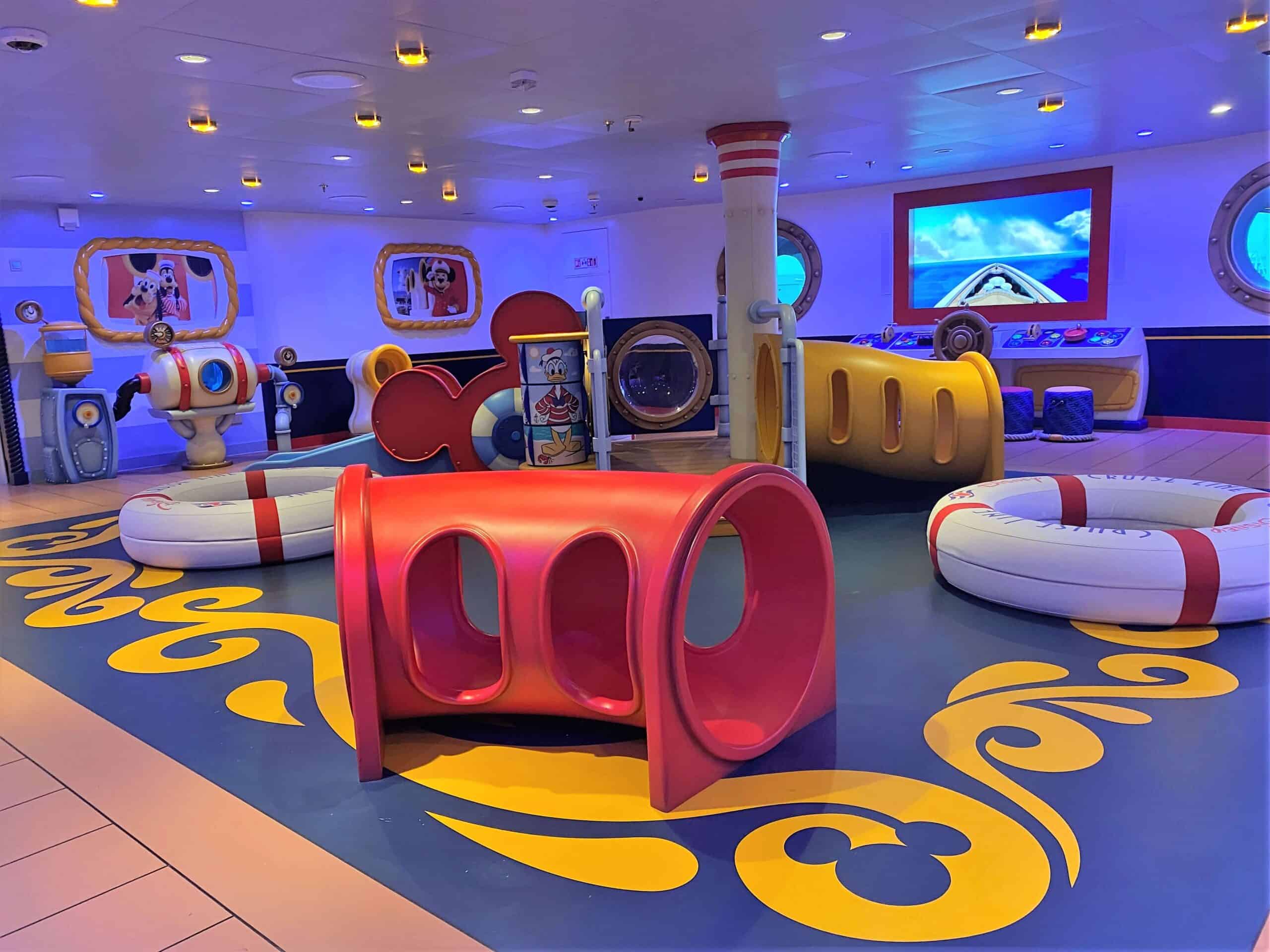 3. Character greetings
One final feature of the Oceaneer Club is that it doubles as a character greeting space. During certain scheduled events, kids can enjoy interacting with Disney characters in the Oceaneer Club.
Programming like Story Time with Belle, make the youth activities on a Disney Cruise so special.
Plus, the Disney Wish uses some of the Oceaneer Club as a character greeting space for all guests, not just kids. There are scheduled character appearances throughout the cruise. You can check times in the Disney Cruise Line Navigator App.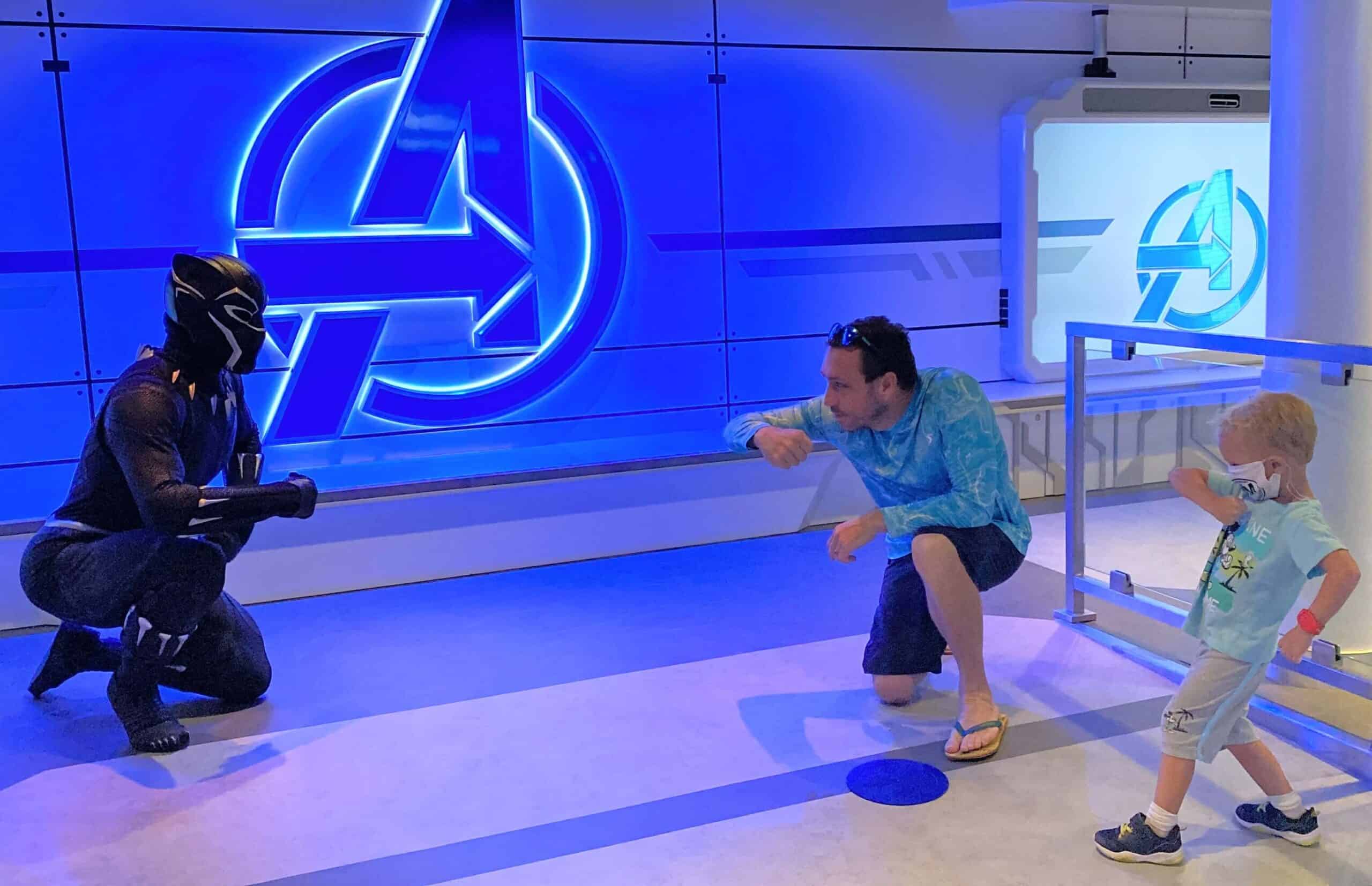 The Marvel room and the Star Wars room can be closed off from the rest of the Oceaneer Club to become really cool character greeting areas. There are doors in the hallway outside of the Oceaneer Club so that any cruise guests can attend these highly themed character greetings.
4. Vibe for teens is cool – and next door to indoor basketball
Alright so, I am not a parent of a teen, yet, but I can imagine teens will love Vibe on the Disney Wish. This iteration of Vibe, Disney's club for teens, has a European artists' loft motif.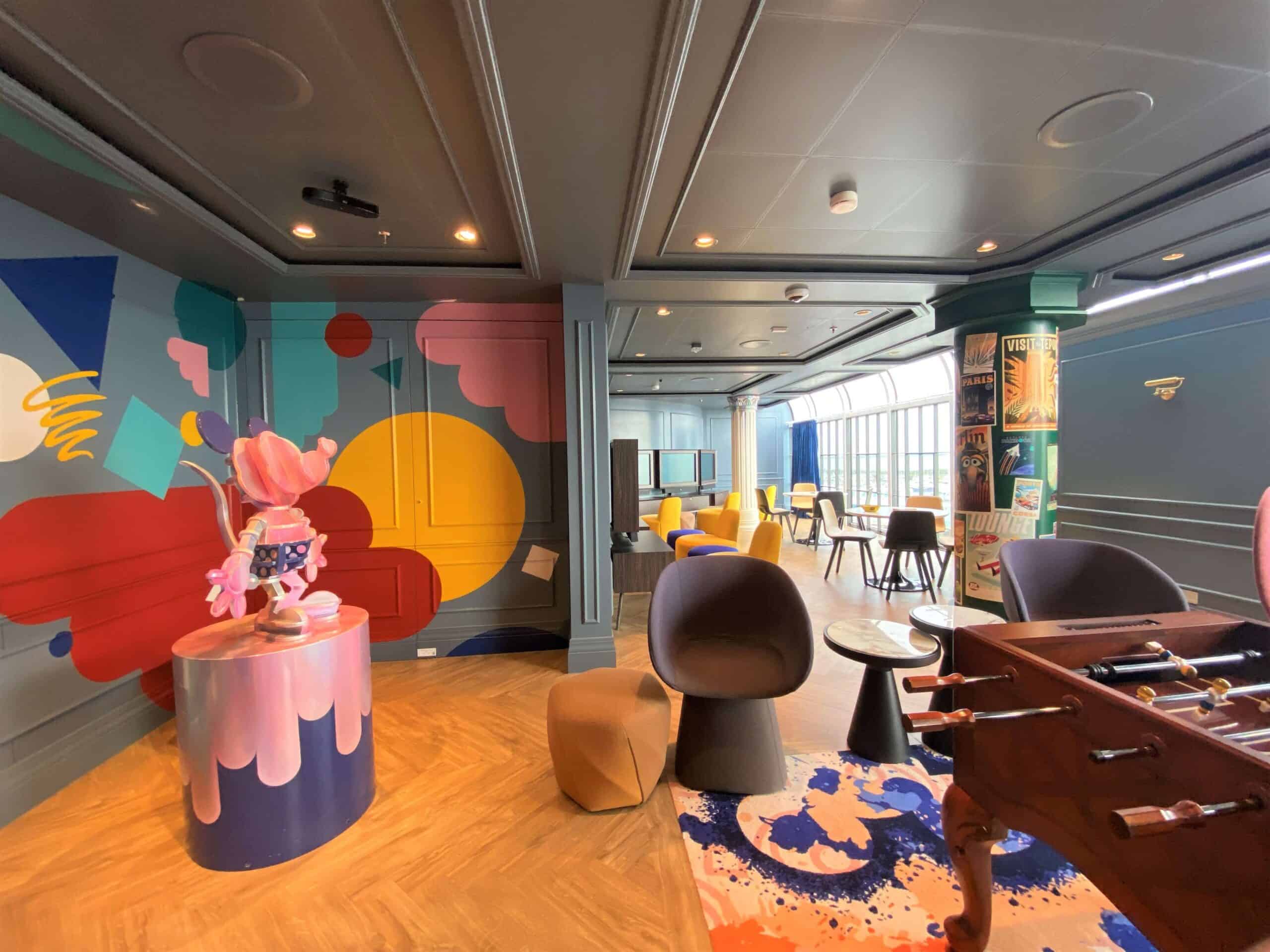 Vibe sits high on deck 12 and has awesome ocean views. It encompasses two rooms plus a small room in the back, called The Hangout, that can be closed off for certain events. There is plenty of space for video games, movies, and hands on activities like foosball, and board games.
Teens can grab a soft drink and relax with plenty of places to sit. And you better believe there are lots of charging stations for devices.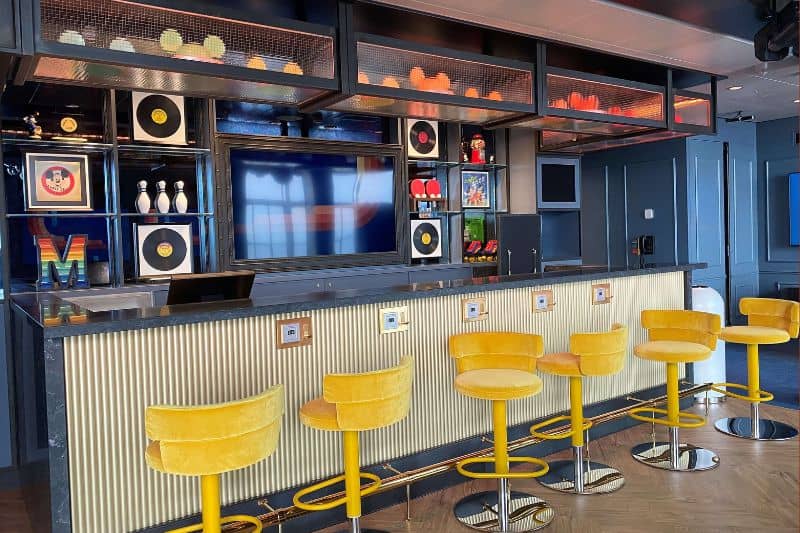 And now for the first time, Disney has created an indoor basketball court on a cruise ship! Right next to Vibe is the Hero Zone which is open to everyone. Here guests can play basketball and a variety of table games like ping pong. It's brilliant having this space right near the Disney Wish teens' club.
5. Edge for tweens is easier to get to
On previous Disney ships I've found the tweens club, Edge, to be hard to find. Now on the Disney Wish you can find Edge on deck 5, just steps from overlooking The Grand Hall.
Sadly I did not get any time in Edge during the media sailing. I got a quick peek inside and it is the smallest of the Disney Wish kids clubs.
The entrance matches the castle motif of the ship's common areas. And there are skylights to bring in some natural light. I hope to explore this area more if I decide to make a wish come true and book my own sailing on the Disney Wish.
More things for kids to do on the Disney Wish…
While the kids clubs are a key feature of a Disney Cruise, there are plenty of ways for kids to have fun with their parents.
Arendelle: A Frozen Dining Adventure and Worlds of Marvel Restaurant are more than just a place to eat dinner together. These places offer truly unique experiences to enjoy together.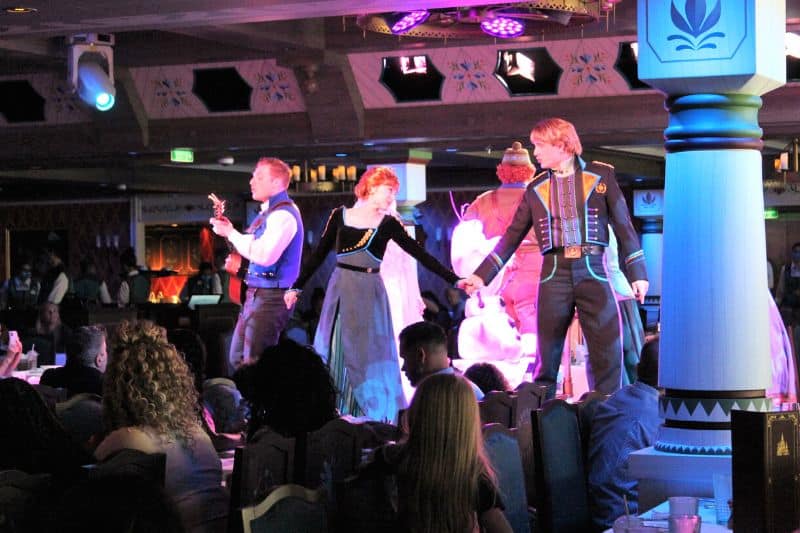 And there are SIX pools for families, plus a Toy Story Splash Zone and wading pool for toddlers. Oh – and there is one traditional waterslide as well as Aqua Mouse, the first Disney attraction at sea.
Check out What's so Different About the Pools on the Disney Wish. All these family activities will make many wishes come true.