MOSI STEAMing Ahead into a Future of Growth and Innovation
A lot has changed in the world and in Tampa Bay in the 60-plus years since MOSI first opened its doors. Just as our community has grown and evolved, science and technology have too, taking us to frontiers we never could have imagined decades ago. The museum has also evolved, and while it's not expanding its footprint, it is continuing to grow in new and innovative ways.
We're revisiting MOSI's CEO John Graydon Smith to talk about the progress so far and what's on exhibit this summer.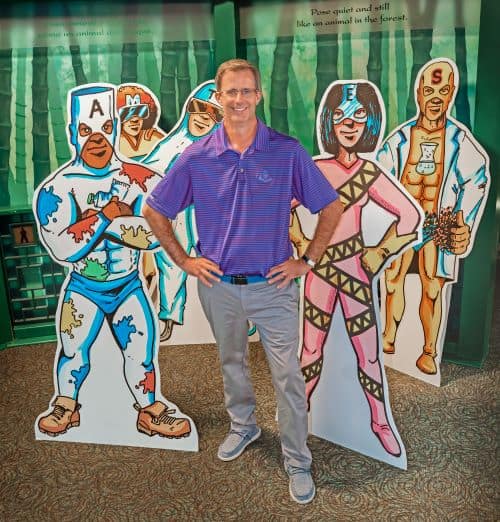 What's on the horizon at the museum?
John Graydon Smith: We have the plan in place, but it's baby steps to getting there. Six months or so ago, we rolled out miniature golf, SciLinx, out in the Science Park. We added retail and some food and beverage options for guests. We started construction on the butterfly garden, which is now built; we're just waiting for butterflies. We're waiting on some permitting for the restaurant and bar in partnership with Zydeco Brew Works in Ybor City—they are opening a second location here. (Expected to open this summer.
And then we're continuing to move toward the re-opening of what was the IMAX dome as the largest planetarium in the state of Florida. That will really be the end piece of everything and all of these pieces sort of just stack on one another improving the visitor experience and hopefully growing the audience for MOSI.
Let's talk about the plans for the new planetarium—what is the vision once it opens?
John Graydon Smith: Our new planetarium will still have the night sky and educational elements as a core component, but thanks to technology, we'll also be able to do full digital dome movies. We'll be able to do laser music shows. The fact that the infrastructure is already here, to drop a couple million dollars worth of new technology and have the largest one in the state of Florida—one of the top 10 or 15 in the entire world—is something Tampa should really rally around.

When we hear the word growth, we often think of size. But that's not the case for MOSI. What does growth mean for the museum now?
John Graydon Smith: For a long time, MOSI was growing, but I would argue growing for the sake of growing and not growing as thoughtfully as we needed to. One of the big differences is we don't need massive buildings to do massive things. You can put on a pair of goggles and find yourself on the moon or underwater—you don't need to have all of the square footage to have the same types of experiences thanks to the technology that exists today, so we're now repurposing the square footage we have and better activating it in different and unique ways.
Speaking of new things, MOSI has new mascots, the S.T.E.A.M. Team! Tell us more about this inspiring group of kids and their new interactive exhibit for the summer, the S.T.E.A.M. Team Superhero Training Academy.
John Graydon Smith: S.T.E.A.M. Team is a collection of everyday students who also have found their inner super hero through a combination of physical and mental activity. They show how staying fit keeps you sharper in school and keeping yourself sharp in school allows you do more on the football field and basketball court, so this exhibit is a great combination of staying physically active and learning about science, technology, engineering, arts and math. The Superhero Training Academy helps kids unlock their inner superhero.

Any tips on how to best experience the S.T.E.A.M. Team Superhero Training Academy exhibit this summer?
John Graydon Smith: There are several stations including a rock wall, martial arts garden and snowboarding balance board. You pick up your action guide when you first walk in and there are stamp stations throughout, so you want to do every activity to get your stamp.
We are also supplementing with other activities like Make Your Own Superhero Mask. The show is not just confined to itself, there are also S.T.E.A.M. Team elements throughout the rest of the museum kids and their families can explore.
MOSI is more than just a museum.
John Graydon Smith: The core of what MOSI does is educating young people, so sure we do it through the museum floor and interactive activities, but we more so do it through field trips, educational classes, hands-on learning experiences with our educators and camps. We don't use volunteer docents to try and teach you stuff; we have paid staff educators who in many cases are trained schoolteachers.
Every weekend, we have scout groups spending the night here in the museum, so they're exploring the museum side, but they're also doing classroom activities, badge programs—that is really the soul of MOSI.

Meet MOSI's S.T.E.A.M. Team:
S: Bronson Burner, star athlete, harbors a deep love for science, spends his off-field hours conducting experiments in the chem lab. And when the call to action arises, he becomes SCIENCE HERO!
T: Mike Rochip's love for technology has become his superpower, especially after losing his leg. Equipped with a remarkable prosthetic that enhances his speed and agility, he devotes himself to finding solutions for amputees as TECHNOLOGY HERO.
E: Cally Puhr, a dedicated member of the school gymnastics team, showcases her ability through running, jumping and soaring. But when confronted with structural challenges she morphs into the ENGINEERING HERO of the Steam Team!
A: Artie Brush is no ordinary artist. His passion or painting and drawing is as powerful as his hero identity. When the Steam Team needs some extra activity, Artie turns into ART HERO!
M:  Lynn Eare loves all things math. Lynn is a member of the school's chess and math teams and spends time solving difficult equations. Lynn is sum-thing else after turning into a MATH HERO!
The S.T.E.A.M. Team Superhero Training Academy will be on display through Sept. 24, but could be extended.
But, the S.T.E.A.M. Team is here to stay!
Learn more about upcoming events at mosi.org
---
*Presented by MOSI | Originally published in July 2023 of Tampa Bay Parenting Magazine.