Mother's Day Flowers: Where to create your own flower bouquets in Tampa Bay
Mother's Day flower bouquet workshops are a delightful and creative way for families to celebrate Mom. Under the guidance of skilled florists, you'll learn pro techniques as you create a stunning masterpiece for the mom in your life…or for yourself, because there's nothing wrong with that.
We're sharing some of our favorite Mother's Day flower bouquet workshops and where to buy Mother's Day flowers in Tampa Bay. We'll continue to add to this post as new events are announced, so check back soon! 
Related:
*Cover photo courtesy of The Roaming Petal which is hosting a workshop at Dwell Home Studio on Water Street. Keep scrolling for more. 
---
Our Favorite Mother's Day Flowers and Flower Bouquet Workshops 
Make mom a bouquet with farm-fresh U-Pick Sunflowers and Zinnias
Locations throughout Tampa Bay
Make mom's bouquet extra personal this year by picking it yourself! Local farms like HarvestMoon Fun Farm, Sweetfields Farm and Hunsader Farms are both open in May on select days for u-pick flowers. Make a fresh floral arrangement with bright sunflowers, colorful zinnias and wildflowers and arrange in a vase for a one-of-a-kind gift. We're sharing gall of our favorite u-pick flower farms in Tampa Bay here!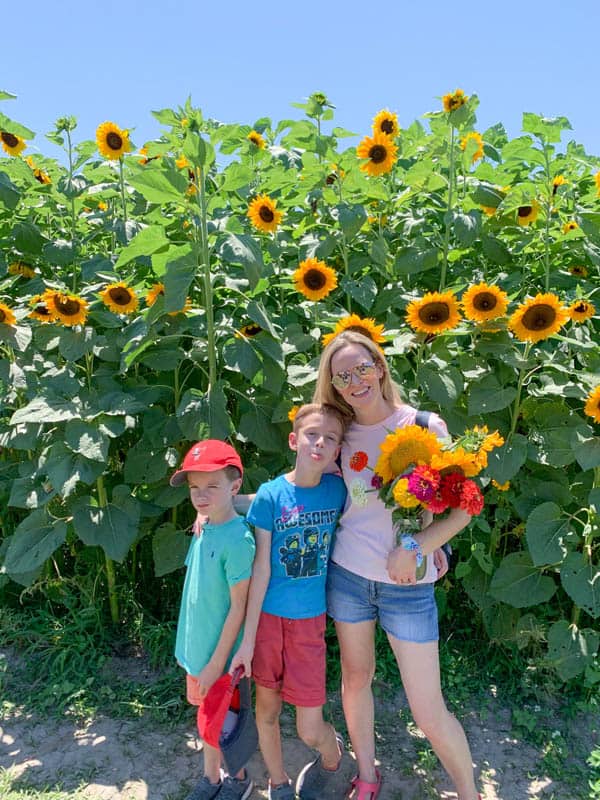 Pick and arrange a flower bouquet with Mom at Ever After Farms in Seffner
March 13 from 9 am-11 am
2311 Indian Hollow Trail, Seffner
Tickets are $60 each
This beautiful wedding venue also hosts Make Your Own Flower Arrangement classes year-round and this year, they're hosting a special Mother's Day event where you can pick your own sunflowers and wildflowers and make mom a personalized bouquet.
Mother's Day Flower Arranging Workshop at Dwell Home Market
Saturday, May 6 from 11 am- 1 pm
1050 Water Street. Tampa
Tickets are $40 each
The Roaming Petal offers all kinds of special events involving flowers throughout the year and they're hosting this pre-Mother's Day session at the new Dwell Home Market in Water Street. Treat mom to a special night of learning all about flower arranging with one complimentary drink. The best part? Mom gets to take the flowers home!
Saturday, May 13 at 10 am and 12 pm
2311 S. Parsons Avenue, Seffner
Tickets are $42 each 
Bring mom or come on your own to create a beautiful Mother's Day bouquet with the expertise from the staff at Kerby's Nursery. They will supply you with everything you'll need to create a pretty flower arrangement along with the knowledge on how to do it!
Saturday, May 13 from 11:30 am-1 pm
4500 N. Nebraska Avenue, Tampa
Tickets are $75 each
Learn how to make your very own 14-inch living wreath made out of succulents and foilage from the owner of Cactus Moon. You can bring your own snacks to this event.
---
Check out any of these local florists to order a bouquet instead:
Apple Blossoms Floral Designs
Artistic Florist of Tampa
Carrollwood Florist
Green Bench Flowers
Jennie's Flowers
Mona's Floral Creations
The Flower Market at Bayshore