What it's like to ride the NEW Serengeti Flyer at Busch Gardens Tampa Bay
Busch Gardens Tampa Bay is always aiming to be bigger and better when it comes to its rides and attractions, so of course its newest ride  ends with the three letters -est…
That's right, friends! Serengeti Flyer, the new ride at Busch Gardens Tampa Bay is not only be the world's tallest, it's also the world's fastest of its kind. 
We got a sneak peek to experience the ride before it officially opened to everyone on February 27 and it's AWESOME!
While there are several things to love about this ride, we think the best part is that's is open to a wider range of families with, a minimum height requirement of only 48 inches, making this a family-friendly ride.
"Think about a swing set when you were a kid and people would give you a big push, this is the ultimate push, but a really, really comfortable ride experience," Neal Thurman, president of Busch Gardens and Adventure Island told us.
Now that we're fresh off our experience on Serengeti Flyer, we want to dish on all the details, so let's get to it!
Where is Serengeti Flyer at Busch Gardens Tampa Bay?
You'll find it in the Nairobi area of the theme park. You might have spotted the purple structure going up if you've paid a visit to the elephants in the last few weeks or have ridden any of the 10 coasters at the park.
You might have even seen it peek above the treetops as you drive down Fowler Avenue.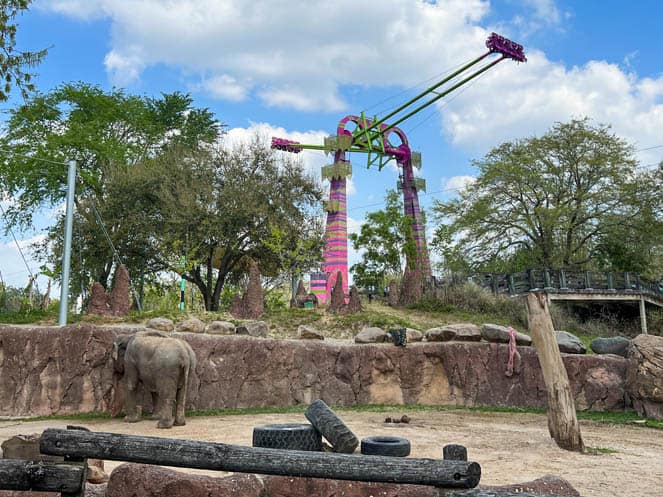 So, what kind of ride is the Serengeti Flyer? 
We'll start by telling you what it's NOT and it's not a roller coaster. In fact, it's a great option for those of you who just don't like the sudden twists and turns of roller coasters.
"This is something you can definitely do instead, this is not a roller coaster," explained Andrew Schaffer, corporate director at Sea World Parks and Entertainment. "It's a flat ride — it's considered a spring and swing."
The ride features two dueling gondolas with each gondola carrying 20 people, so 40 people in all will get to experience the thrill at the same time.
Don't get us wrong, the Serengeti Flyer is absolutely thrilling. After all, it is going to be the world's fastest and tallest of its kind.
"This is a new kind of ride for this park," Schaffer told us. "Serengeti Flyer is a 105-foot swing ride, so it's going to swing you back and forth through 230 degrees of rotation, getting you up to a height of 135 feet. So if you can imagine –you are actually past the horizontal point and you are upside down for a moment."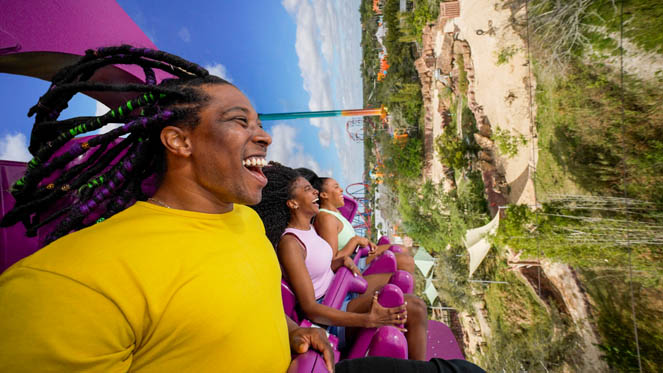 You will experience negative G's as you head back toward Earth and of course, the views from the top will be spectacular no matter where you sit.
"You can see pretty much the entire view of the park sitting on one side like Cheetah Hunt, Gwazi, you can even see downtown Tampa and then from the other side, you can see all of the animals that are out there, 65 acres of animals on the other side," Schaffer explained.
Does Serengeti Flyer's intensity change throughout the day?
Yes, the ride is less intense in the morning, and then at 1 pm. they 'flip the switch' and the ride goes even higher and faster–to maximum height. If you want a less intense experience or have kids with you, a morning ride might make more sense.
What is it like to ride the Serengeti Flyer?
You can definitely feel the anticipation building as you wait in the queue and feel and hear the rush of air as the gondolas swing overhead.
Jim Byrne and Ralf Gonzalez from our sales team were quick to volunteer to ride when we were invited for the media preview. There MIGHT have been a few nerves right before they buckled in for a ride. But, it was all worth it.
Once they stepped off the ride, we asked…how was it???
"That was fantastic," said Ralf as he stepped off the ride. "It was really fast!"
"It was really intense, but it was good," said Jim, giving us two thumbs up.
Both said they'd definitely ride again.
We like that 40 people are able to ride at the same time, which will hopefully move through the line quicker. Friends and family who aren't riding can wait at the bottom and get a great view as you swing your way up to heights of 135 feet!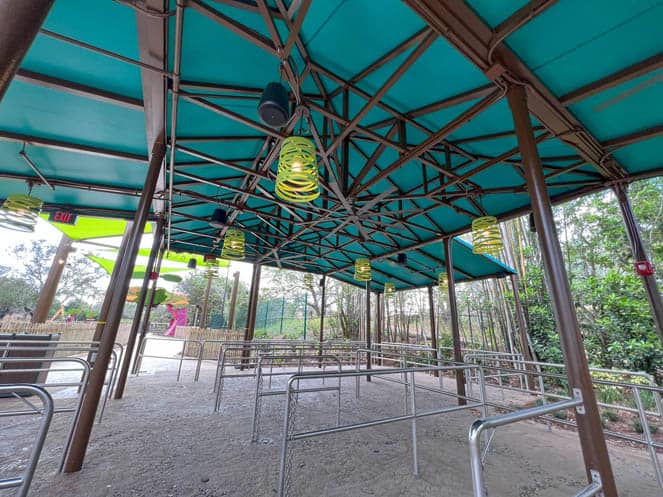 How long will the Serengeti Flyer ride last?
The 13 swings will take about a minute and 20 seconds. Although at times, it might feel like time is standing still.
"When you hit those top peaks, it does feel like you stop for a second before you get forced back down again," Schaffer said.
One thing we like about this ride is the fact that 40 people can ride at the same time, which will hopefully move you through the queue even quicker.
Why Serengeti Flyer instead of another new roller coaster?
The short answer is the park wanted to offer guests something different.
The newest ride at the park, Iron Gwazi earned the Golden Ticket "Best New Roller Coaster in 2022" and they've debuted a few other new coasters over the years including Tigris.
So, it was time to offer you something that's not only thrilling but simply different.
"As we look at different rides in the park, we want to have a wide variety of things for people to do, so we want to have a variety of rides. We are certainly known for our roller coasters, but we wanted to do something that was unique and different and that's what led us to Serengeti Flyer," Thurman told us.
It's actually been a long time coming. While the announcement is new to us, it's sort of old news for the team at Busch Gardens.
"We have been working on it for a little while. We actually started in 2020 prior to Covid with some of the foundation and underground work and then we had to shut down for Covid. We restarted again here in April of 2022," he said.
It's safe to say this ride was worth the wait.
Serengeti Flyer by the numbers:
Static Height: 105 feet
Dynamic HeightL 135 feet
Maximum Speed: 68 miles per hour
Ride Capacity: 40 guests
Height Requirement: 48 inches
Opens February 27, 2023