Kids can read to puppies at the Humane Society of Tampa Bay's Paw for Literacy program!
The Humane Society of Tampa Bay recently moved into its new, gorgeous facility which is not only giving animals more space indoors and outdoors, but room for educational programs for families!
There are programs for every age and stage of childhood from Pets & Tots for the toddlers to the Teen Volunteering program for the older kids. Here are the amazing programming opportunities you and your child can participate in at the Humane Society of Tampa Bay:
Paws for Literacy
Tuesdays and Thursdays from 2:45 pm-4:00 pm
Children ages 5+
This is a great volunteer opportunity for kids to not only connect with the animals, but also practice their reading! When you arrive, head to the second floor Education area and look for the sign-up sheet, stools and small bag of dog treats. A volunteer is usually standing by to help. If your child does not bring their own book, the Paws for Literacy program has plenty of books in their library for your child to choose from.
You and your child can proceed on to the kennels and make friends with the animals! The Paws for Literacy program is supervised by a Florida state-certified teacher.
Pets and Tots
One hour long class offered each month
$20 per family
Up to 4 years old
This is a special program designed for the littles kiddos up to four years old. It's a chance for them to interact with the animals while enjoying a story time and special activity.
Parents Night Out
Select dates once a month from 6 pm-10 pm
$50 per child – includes pizza and drinks
Ages 5 and up
Kids will be begging their parents to go out for the night while they learn and play at the Humane Society of Tampa Bay's Parent's Night Out! They will get to interact with the animals, eat dinner, and even watch a movie with their new furry friends.
No School Days
Camp held on No School Days according to public school system
Ages 6-13, $70 per day (lunch included)
If your child has an upcoming no school day, consider allowing them to spend the day at the Humane Society of Tampa Bay! Kids ages 6-13 will get to play animal-themed games, make crafts and, of course, spend plenty of time with the animals. CDC guidelines are being followed, so seats are limited. Your child will also need to wear a face mask, undergo a temperature check and practice social distancing. Like Paws for Literacy, No School Days is supervised by a Florida state-certified teacher.
November 2020 dates: 11, 23, 24, 25, 27
December 2020 dates: 21, 22, 23, 28, 29, 30
Family Volunteer Days at the Humane Society of Tampa Bay
One Saturday each month, 9:00 am-12:00 pm
$8 per person
For families with children ages 5+
Volunteering as a family is a great way to expose children to community service at a young age. During your family volunteer shift, you will get a chance to spend time and help socialize the animals, make a craft for the shelter and the animals, and make a special memento to remember the day when you go home.
Teen Volunteering at the Humane Society of Tampa Bay
For teenagers ages 12-15
Older kids who are interested in learning what it takes to be a volunteer with the Humane Society of Tampa Bay. They will be able to earn 20 hours of volunteer time for school requirements. Teens will spend their time learning more about how the shelter operates, assist with the care of the animals and help with other Humane Society programs. Some educational lessons include: grooming and bathing, housing care and cleaning, animal enrichment activities, and community engagement.
The program consists of 8 weekly meetings which are held on Wednesdays from 5:00 pm-7:00 pm. A $50 program fee is requested to help cover supplies.
Host Your Birthday Party at the Humane Society of Tampa Bay
For children ages 5-16
A birthday party at the Humane Society of Tampa Bay will be an unforgettable experience for animal loving kids and their guests! There are two party packages: Silver Party for $300 for up to 15 kids and the Gold Party for $350 for up to 25 kids. Both packages include a private party room for two hours with a party host. The room will be decorated with balloons and table coverings. You also get a paw print cake with juice or water, animal themed tableware, two activity options, animal-themed goodie bags for guests, downloadable party invitation, a birthday shirt for the birthday child, and they'll even get to name the next adoptable pet!
You can learn more about these programs by visiting www.HumaneSocietyTampa.org/HumaneEducation or email Jessica Tiso at JessicaT@humanesocietytampa.org.
*Originally published in November 2020. Updated in June 2022.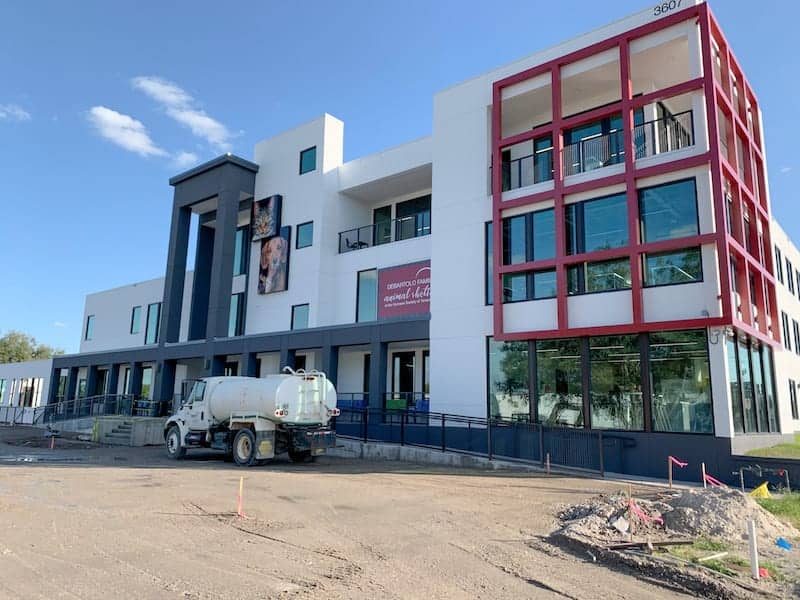 This is a photo of the new facility taken on November 3, 2020. As you can see, it's still a construction zone, but it's gorgeous inside!
MORE stories we think you'll love:
Bolt's Purpose: How the Tampa Bay Lightning's Southeastern Guide Dog in Training is making a difference