Ahoy, Matey! The best places in Tampa to buy Gasparilla outfits and beads
Shiver me timbers! It's that time of year for pirates big and small to don their swashbuckling best and get ready to celebrate Gasparilla!
The parades are right around the corner, which means it's time to start the search for your family's Gasparilla outfits and of course, the swag!
From beads to costumes, we're sharing some of our favorite places to shop to help get you decked out and ready to say "Arrgh!" whether you're strolling down Bayshore for the Children's Parade or catching beads at the Parade of Pirates.
Related: Children's Gasparilla Parade: What you need to know before you go
New to the area and not sure what the big deal is about Gasparilla or WHY it's celebrated in the first place? We've got you covered–check out our interview with Rodney Kite-Powell with the Tampa Bay History Center for a quick Gasparilla history lesson!
Pro Tip: Looking to save a bit? Check with local consignment shops in South Tampa and Tampa–there are usually several Gasparilla shirts in stock!
Get all the details in our Ultimate Guide to Gasparilla 2023
Gasparilla Gear
South Tampa Trading Co.
Gasparilla Treasures
Pirate Fashions
Buccaneer Beads
Beads By The Dozen
South Tampa Trading Co.
1916 S Dale Mabry Hwy, Tampa, FL 33629
southtampatradingco.com
South Tampa Trading Co. has quickly grown into Tampa's go-to place to shop for Gasparilla.
Whether you're going to the parade or throwing a pirate-themed party, they've got you covered. Owner Anne Bartlett and her team have been working endlessly to ensure that this will be your one-stop shop for all things Gasparilla.
When Gasparilla 2021 had to be cancelled due to COVID, the sewing machines never stopped stitching. They were one of the first local places to begin making face masks, selling over 29,000 of them!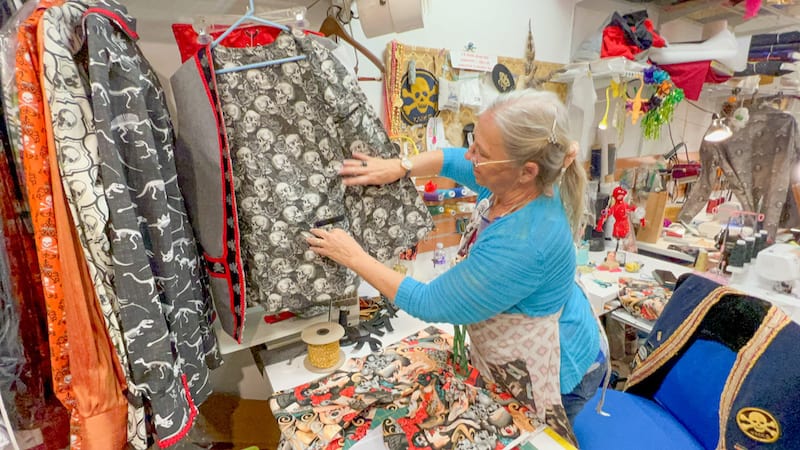 Fast forward to now and the team of seamstresses are still at it, doing what they love most…creating the beautiful and colorful costumes for the YMKG pirates and many krewes of Gasparilla.
Even your pint-sized pirate can get their very own custom made, reversible pirate vest. There are several in stock at South Tampa Trading Co, but you'll want to pick them up soon because this kind of item goes fast during Gasparilla season!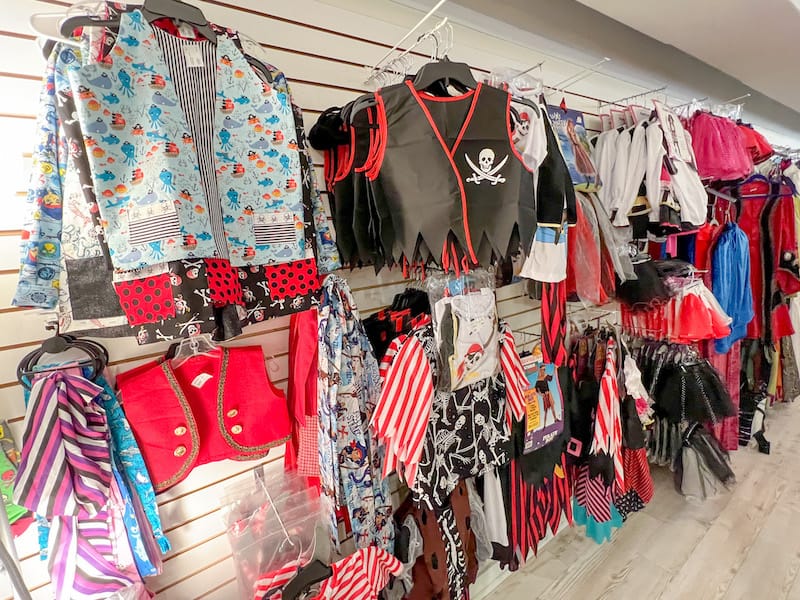 While you're here, peruse the huge selection of affordable Gasparilla-themed accessories, apparel, children's items, leather goods, and home decor.
We love the selection of jewelry and accessories. A necklace, hat and/or scarf are super simple ways to get Gasparilla ready if you're not quite ready to step out in a pirate costume. We spotted jeweled eye patches, bedazzled hats and gloves and so many sparkly rings and necklaces.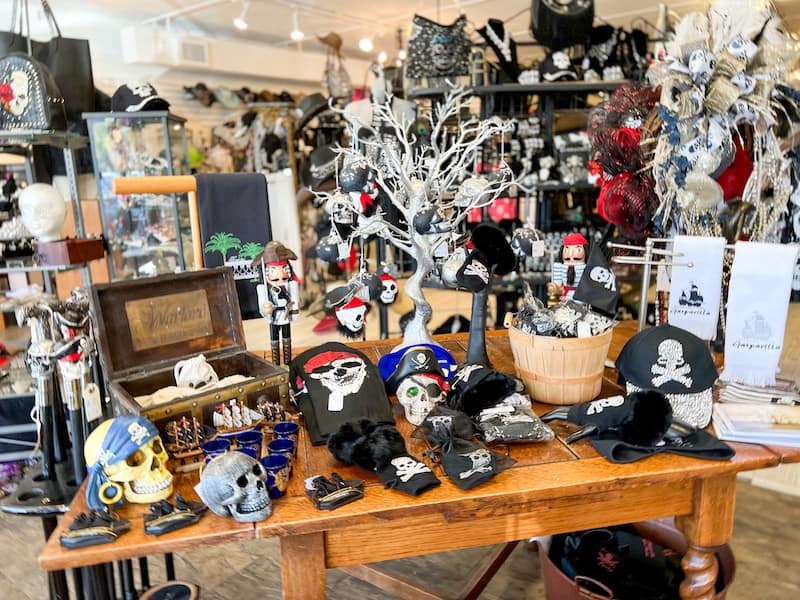 And don't forget the outside of your house! Now that you've put away the Christmas wreath it's time to replace it with a handmade Gasparilla wreath donned with beads and feathers. There are several gorgeous locally made ones ready to be picked up today.
Another cool addition that was brought on board last year are the life-sized bead garlands for the house. They were originally created for the Gasparilla 'Krewe of Tampa house floats' in 2021 when a group of homeowners in Tampa decided to carry on the tradition by decorating their homes inspired by the parade floats.
It was really cool to see how the community came together–check out their Facebook page here.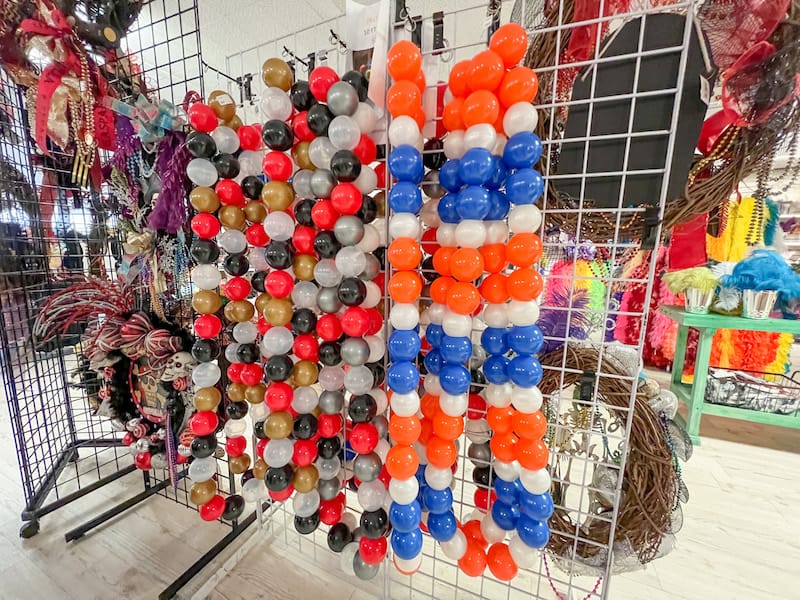 South Tampa Trading Co is also one of the prime locations in Tampa for beads. Whether you're looking for simple solid colored or funky themed beads, they have a wide array sure to please any pirate!
Gasparilla Treasures 
gasparillatreasures.com
This is the official Gasparilla shop for treasures galore, but it's online only. In addition to beads, apparel, and home furnishings, you can also find unique items like light-up skulls, peg leg wine openers, and Gasparilla commemorative prints.
They also sell tickets to events for both the Children's Parade and Pirate Fest if you want to upgrade your day which we highly recommend if the budget allows.
Pirate Fashions
4006 W Cayuga Street, Tampa, FL  33614
piratefashions.com
This Gasparilla superstore has a plethora of items for every pirate and wench! They have everything from accessories to full costumes for you and your krewe.
Their costumes are so authentic, they've even been featured in TV, movie, and theatre productions.
Buccaneer Beads
3808 East Dr. Martin Luther King Blvd, Tampa FL 33610
buccaneerbeads.net
Buccaneer Beads is locally owned by a mother and daughter team.
They have one of the largest variety of beads in the area and can accommodate individuals or entire floats.
Beads By The Dozen
beadsbythedozen.com
This online shop caters specifically to parades such as Mardi Gras and Gasparilla. You can purchase beads individually, by the dozen, or by the case.
There are several other treasures to be sieged such as pirate-themed rubber ducks, foam swords, and cups to fill with pirate punch.
Related: DIY Crafts and Gasparilla Bead Recycling
---
More boutiques we LOVE to snag Gasparilla outfits and gear:

3423 W Bay to Bay Blvd, Tampa
The owner Jennifer finds the most unique Gasparilla outfits and has a great selection for parade day from skull jean jackets, sweatshirts, jewelry and of course, the scarves which is the easiest accessory to pull off on Gasparilla parade day!
You can also shop her boutique online as well.
4219 W Bay to Bay Blvd, Tampa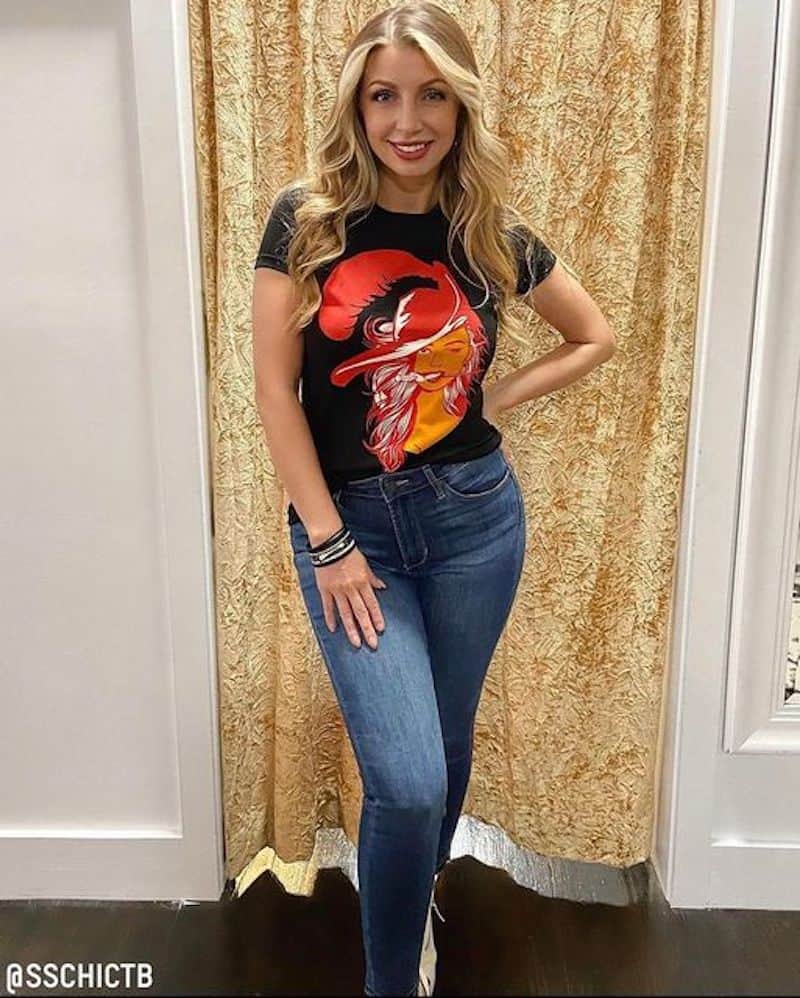 From glitzy gowns for the Gasparilla galas, Bucs game day shirts you won't find anywhere else to a more glamorous outfit for parade day, Sweet Southern Chic is a one stop shop for it all!
1211 East Kennedy Blvd, Retail 140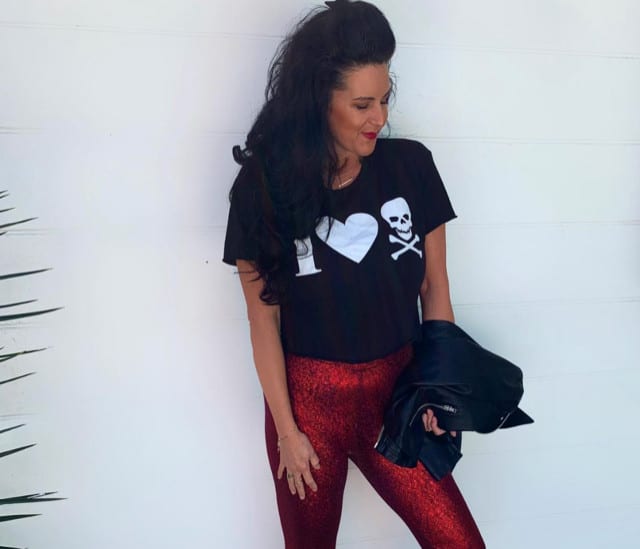 This adorable retail boutique and champagne bar hybrid located in the Channel District has an assortment of Gasparilla apparel, accessories, and more! Glittered pants, pirate shirts, light up skull cups, and pirate stud earrings are just a few of the items they have to make your Gasparilla fun and fashionable! Visit in-person or shop online.
If you're looking for a place to stay or have family visiting, book one of our picks for the BEST Tampa Bay Hotels for Gasparilla Weekend.
Related: The Ultimate Guide to all Things Gasparilla from parades, brunches and more!