A Recipe for Success: We're talking family, business and relationships with the Proper House Group
Tampa Bay finally earned its spot on the international foodie map with the Michelin Guide's arrival in our state—and the Proper House Group's Rooster & the Till was among three Tampa Bay restaurants to earn Michelin Bib Gourmand Award for great value.
While Tampa Bay didn't see a star, it's a step in the right direction. We sat down with the masterminds behind the Proper House Group for details about their recipe for success in business and instilling these values in their children.
Proper House Group (aka The Dads):
• Ferrell Alvarez/Chef, James Beard Finalist: Dad of 1, Eva (17)
• Ty Rodriguez/Restaurateur: Dad of 2, Bodhi (17) and Helena (20)
• Chon Nguyen/Entrepreneur: Dad of 2, Ben (10) and Dexter (8)
The Proper House Group Restaurants:
• Rooster & The Till in Seminole Heights (Michelin Bib Gourmand Award)
• Nebraska Mini Mart in Seminole Heights
• Gallito Taqueria in Sparkman Wharf in Tampa and The Joinery in Lakeland
• Dang Dude in Sparkman Wharf in Tampa
• Ash in Water Street in Tampa (coming in 2023)
First—it must have been quite the honor to receive recognition from the Michelin Guide!
Ferrell Alvarez: "We were very honored to be recognized by Michelin—we were surprised they were starting to recognize the state of Florida in general. So, when we got the call to head to the Ritz Carlton in Orlando and what the possibilities were and walking away that night, I'd be lying to say there weren't some disappointments, but in retrospect, we walked away with the privilege and honor to be able to hold the Bib Gourmand recognition."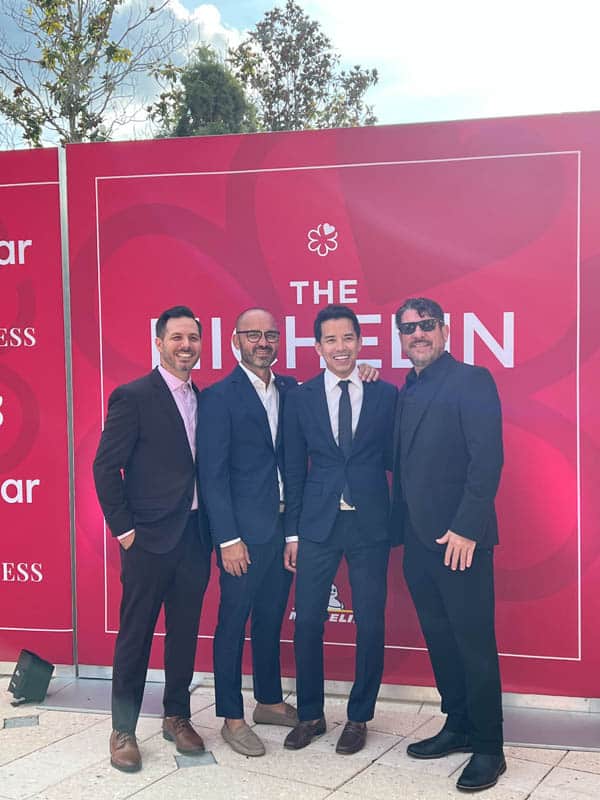 This recognition is truly helping to put Tampa Bay on the map when it comes to foodie towns, and you all have been a big part of that.
Ferrell Alvarez: "As restraunteurs, we never shy away from doing what we truly we want to do and what we truly want to do from a hospitality perspective is a bit different than what most do in Tampa. I think that's what set us apart from 9 years of owning Rooster and Proper House Group.
We're excited that the recognition of Michelin for our state and for our city will hopefully lift levels of cuisine and hospitality around and make everybody kind of posture up a little to try and bring some more uniqueness to our community."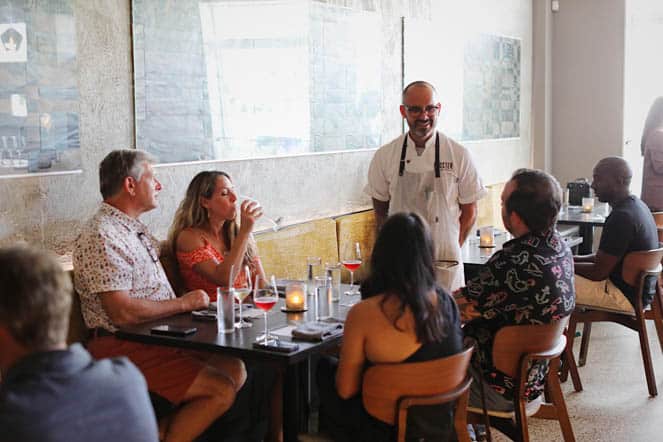 Let's talk about Rooster for a moment–what attracted you to Seminole Heights in the first place?
Ferrell Alvarez: "Necessity. This Dec. 13 marks our 9-year anniversary. We came this far north because there was nothing here and it was cheap. We were naïve and possibly overconfident that if we made something cool, people would travel a little bit outside their comfort zone and come and visit us. Fortunately, we were right.
Now more mature businessmen and a mature restaurant group, we've homed in on going to some more expensive real estate within Water Street. So, we went from the cheapest thing we ever built to the most expensive thing. It's a great exercise in showing that if you really believe in something and give it your all both can succeed at the same level and money doesn't necessarily buy success."
What makes Tampa Bay so special to you all?
Ferrell Alvarez: "For me it's what I consider home. I'm 44 and I've probably spent 34 years in Tampa. Ty and I both moved back from different cities at the beginning of our careers. He moved from New York and me from Cincinnati.
For me, I've always loved Tampa and the proximity to the ocean-that's important to me, but I do love the weather. I'm not a fan of the cold so I love Tampa Bay for that as well, but as entrepreneurs, for me it's the land of opportunity,
Obviously, we see that bubble expanding to its maximum and almost getting ready to pop, but we've been really fortunate the past few years from a cost-of-living perspective and the ability to open up restaurants and businesses from a foot price perspective in terms of cost.
So, I think we've been flying under the radar as a great B-tier city and now that sports have come around, development has come around, we are seeing the economics rise as well and we're trying to keep pace with that as businessmen but as family men as well."
Chon Nguyen: "I was born and raised here too. When I travel around to other cities, when I come home to Tampa it still feels like a small hometown. Everyone still feels very accessible.
I think you're able to get involved and make an impact aa lot more than you would in a larger city. The community just seems to be really welcoming and certainly open to growth as well.
It's a special time because it feels like we're on a rocket ship and we're growing every day."
Ty Rodriguez: "I left Tampa at 18 to go to college and came home when I was 30, so I've already done the New York, Chicago gig—I guess I would have liked to have lived in LA for a little bit, but I'm home now."
What makes what you all do so different?
Ferrell Alvarez: "Our sweet spot is creating new, unique concepts and filling voids in Tampa Bay and that's our recipe to success so far.
I tend to say that we stay proactive with trends and what we think our passions are about the hospitality industry.
We definitely think we exercise things a little bit differently in terms of food and beverage. There's a bunch of chefs that are significantly better than me in the kitchen, but I think collectively we are strong. We bring three different skillsets to the table, and we work really, really well together."
How do you make this partnership work so well?
Ferrell Alvarez: "Patience and communication. Having the ability to stay levelheaded and calm when your blood pressure rises is important and then also finding the ability to truly openly communicate. It's something we have learned well over the last 10 years and the pandemic really helped open our eyes. and I think communication is the to success in any relationship.
It's the dead honest truth to say we've never had one true argument since knowing each other and we've been through a lot together. We've definitely disagreed on things, but we've never raised our voices and gotten super upset with each other to the point where it tarnished our relationship or even created a hiccup for that matter.
The three of us are extremely passionate about what we do, we're extremely strong headed individually, but we work really well together, and I think that's been a great result of our success."
Chon Nguyen: "I think communication. Like Ferrell said, we all have different styles and certainly a mutual respect. I think for me coming in from the outside, I didn't have a hospitality background. I started as a fan of the restaurant, so I came in with a tremendous amount of respect for what they were doing and realizing they were the experts, so I was proud to be here.
I have other businesses outside of hospitality, the lessons that I've learned around hospitality and delivering service, I take to my other businesses as well because they have a real passion, and it shows in the product.
If I had to distill it down to one thing it's respect for our unique skills."
Ty Rodriguez: "I just don't take anything personal. It's not against you, it's against the idea. We have a unique gig of coming up with some great ideas and then for the next hour, shooting so many holes in it that it doesn't feel like a good idea. At the end of the discussion, you are left with a much better idea.
You can take that into the parenting aspect as well and just saying I need to have this conversation, we need to move through it, it may be uncomfortable."
How do you instill this lesson of success in your own children?
Ty Rodriguez: "There's a sense of responsibility to set an example. We hear about this "quiet quitting" and all these other things and that's just not in our vocabulary. Both of our children are 17 and one that's 20—they all worked here at Rooster and the Nebraska Mini Mart, so I think the work ethic carries on that's instilled in us. I want them to be proud of their dad and excited to know that we're continuing to grow."
Speaking of growth, what does the future hold for Proper House Group?
Ferrell Alvarez: "For the rest of 2022 and 2023, you can expect to see a few new concepts (Ash in Water Street, an Italian inspired concept, is slated to open in 2023). We're not scared to grow, but we tend to be calculated as well. We want to create great lives for ourselves, our families and our employees. There's a little bit of scalability in that, but we haven't hit our stride yet. We still have more to bring to Tampa and we're excited to see where that leads us."
What was the pandemic experience like for you not just as restaurant, but as parents?
Chon Nguyen: "We responded quickly and shut all the restaurants down and consolidated operations, made some staffing changes. It was an uncertain time, but I think we moved through it quickly to make sure we could get through it and support the team.
We made some operational changes to Nebraska Mini Mart-we changed the cuisine and concepts and that has proven to be very successful for us. So yeah, I think we came together and came out stronger –we didn't always feel that way, but it ended up working out our benefit."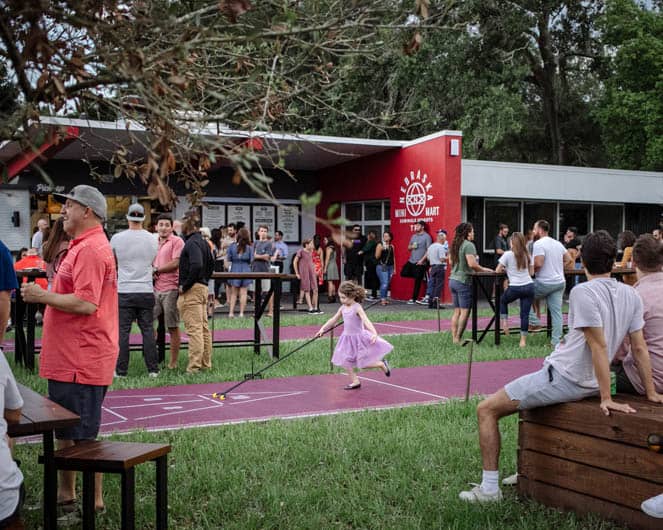 Farrell Alvarez: "It was definitely challenging. Our jobs are very much hands on, we're present and always moving around from restaurant to restaurant checking on things and/or having meetings so it made for a challenge just like every other parent experienced as well.
And also, during that time when we did pivot everything to Rooster and we were proactive and we were staying ahead of it. Part of that really took off well, but it just consumed more of our time.
We were creating something on the fly that had never been done before, so we're trying to ask our team to create something new but it only exists in our heads, so Ty and I were definitely here full time plus, plus, and that took away from things at home, but you find balance. That's what parenting is, right? It's just working harder and finding the balance within the family."
Ty Rodriguez: "I think that the kids working in the restaurant, I think they have a better understanding of when you say, I'm going to work, they know what that entails.
It's not that any of the kids have separation anxiety –I don't think that's the case with any of our kids and Chon works just as hard and just as many hours, but them knowing what we're going to and what we are doing probably in a lot of ways helped the situation. They came to realize that we were fighting for a business, and they saw the uptick in hours and downtick in pay."
Surviving the pandemic probably changed you as business owners.
Ty Rodriguez: "We're much better operators now."
Okay, we have to ask…are your kids adventurous eaters?
Chon Nguyen: "We laugh about it all the time because the way I grew up, I think my palate did not expand until later in life. My kids are going through the same thing—they like chicken tenders, but we do our best to introduce them to things. My wife has a fitness and nutrition business and she's very into that, but we do our best, but they're still picky kids."
Ferrell Alvarez: "My daughter grew up obviously around me and didn't really have fast food for the first 7 years of her life—it was more of a treat if anything at all, so she grew up eating really well. Now that she has her own car and freedom, she definitely lives off Chick-fil-A and McDonald's –making up for lost time. But, she still appreciates really good food, as do all of our kids
Chon says his kids eat chicken tenders, but they also mow down oysters on a half shell when we all go out together."
What are your favorite things to do as a family in Tampa?
Ferrell Alvarez: "My favorite thing to do is to just be together I don't get a lot of time where it's just thee three of us together quite frankly. I used to take that for granted and now I don't."
Chon Nguyen: "Our favorite things to do—a lot of outdoors. We're on the Riverwalk a lot, Curtis Hixon, boating on the river, just a lot of outdoor activities."
Ty Rodriguez: "Probably movies. We go see a lot of movies. My son is in the TV and Film program over at Blake High School, so I think the connectivity of that for him and I and then Helena, my daughter, just being a book buff, a lot of her books then became movies. I think movies are by far the big thing we do together and Cappy's, we like Cappy's a lot. Cappy's Pizza is kind of our spot."
*Originally published in the November 2022 issue of Tampa Bay Parenting Magazine.