7 easy ways to refresh your kitchen and pantry
Our kitchens have long been the heart of the home and this past year, your kitchen has probably become a classroom and office. As we head into a new season, it's a good time to give this beloved room a refresh so we're turning to our Design + Function experts, Kylie Ponton of Ponton Interiors and Laura Frasor of Neat Method-Tampa for their top tips for a kitchen and pantry refresh.
Create a multifunctional island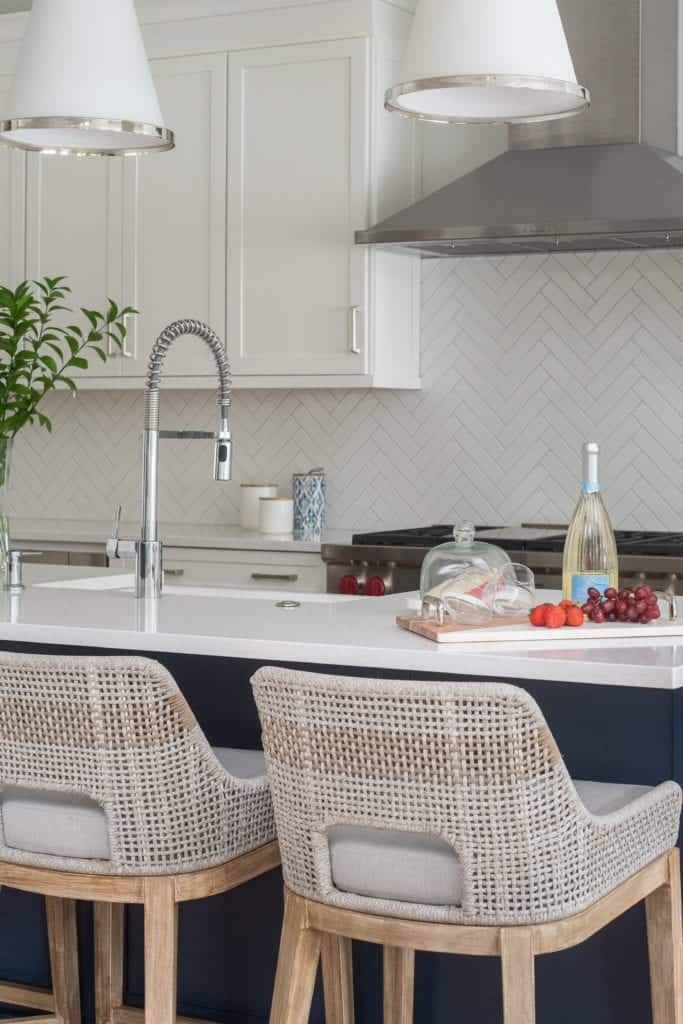 Photo by Bos Images
The island can function on many levels. It can serve as a gathering space, prep area, homework station, snack bar and even house the sink and dishwasher. A large island with overhang is a great place for a quick breakfast or casual family meal. If you have space for dual islands, a microwave drawer or beverage center makes drinks and snacks accessible for younger family members, while keeping them away from the cooktop and prep spaces.
Use zones in your pantry
When organizing your pantry and food storage areas, the first step is to pull EVERYTHING out! From there, plan out your space. What do you use every day?  Which snacks do the kids need to reach? Using baskets, turntables and canisters to store food in categories will maintain organization and prevent that box of cereal in the back corner from getting lost and stale. Create zones. Keeping breakfast items together makes the morning run smoothly. Group other items according to meal prep or create a kid zone. Not only does this make it easy to find what you need, it also keeps you from overbuying.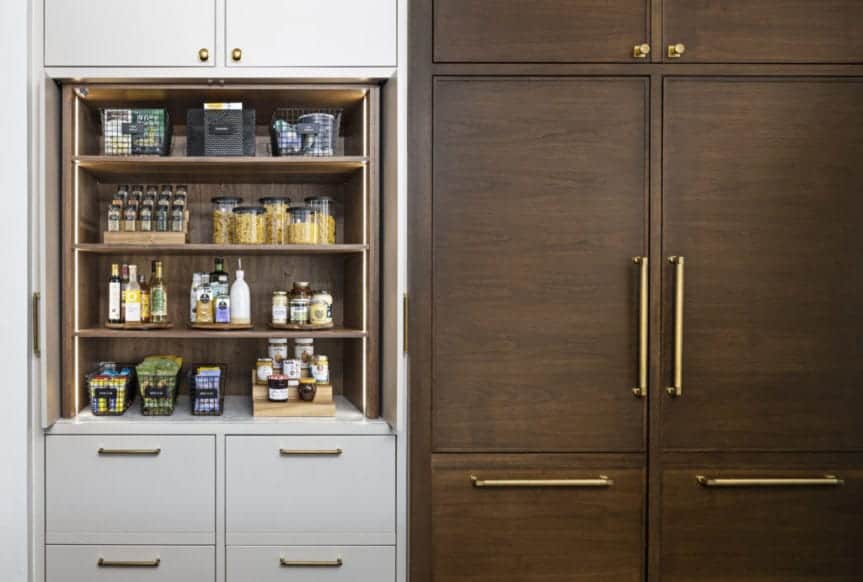 Photo by Martin Vecchio
Consider storage and accessibility 
When organizing a kitchen, creating a natural flow is important. Store frequently used bowls and plates near your dining nook and keep 'like' items together. Glassware is easily accessible by your refrigerator; pots and pans sit near the stove. A designated kids' drawer for cups, plates and bowls means even the little ones can learn to be responsible for putting away what they need.
Countertops are key
Meal prep can be messy, and chefs who love to cook need a countertop that's durable and allows for easy clean up. Incorporating extra countertop space between the cooktop and main prep space can make it easier to set up a station for kids to help with meal prep. Clean countertops eliminate clutter and add visual appeal.
Cabinetry design
Smart cabinet design allows everyone to reach what they need safely. Lower cabinets can store plastic dishware and cups for easy access and independent kids. Hidden pantry doors create a seamless look within millwork details. Drawers and roll out cabinet shelving can support larger appliances or create a perfect baking station. Designs that cleverly house those awkward cutting boards or cookie sheets save space and makes maintaining organization a breeze.
Create a focal point
If you have the space, an architecturally interesting hood can be a beautiful focal point. Unique backsplash details or a brick wall accent are a beautiful way to draw the eye to a feature within the space. Arrange a classic subway tile in an interesting herringbone pattern or choose a picket tile for added shape and texture. These details draw the eye to the places you want to focus on, instead of the messy kitchen sink.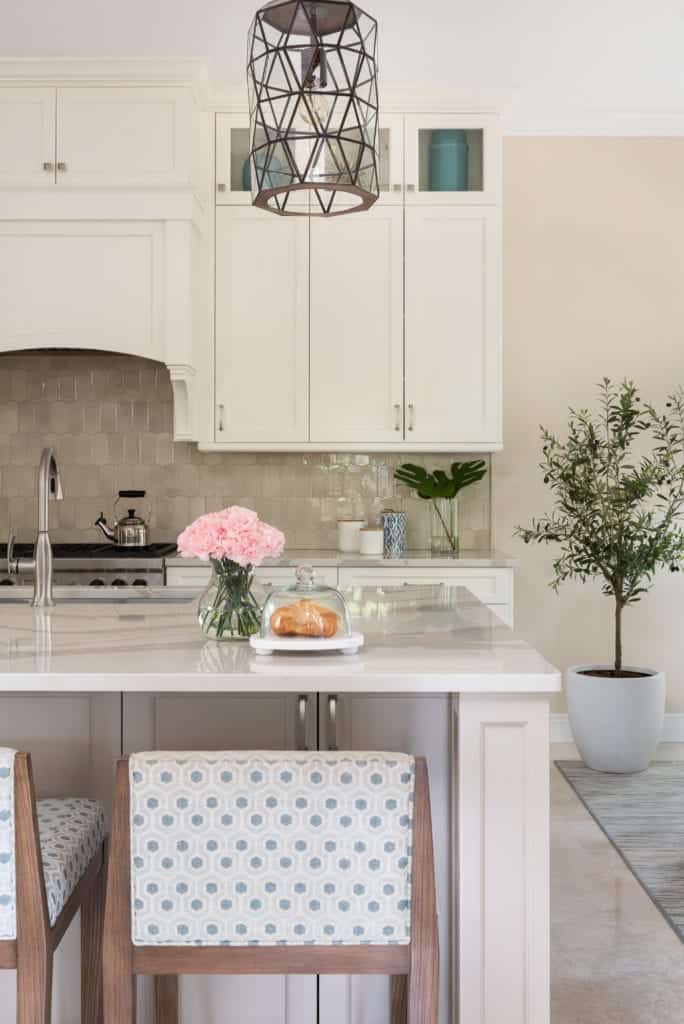 Photos by Bos Images
Drawers for the win
Inserts are the best way to organize within drawers and a great way to help you keep your counters clear. A coffee and tea drawer placed by the coffee machine and kettle creates a curated drink station. Adjustable drawer inserts allow you to organize just about any utensil or stationery. No more junk drawers!
There's no doubt the kitchen is the heart of any home. The pieces and parts that make up the design set the stage for your family's day-to-day living. Smart design and a few small changes can help reset your home's center at the start of the year.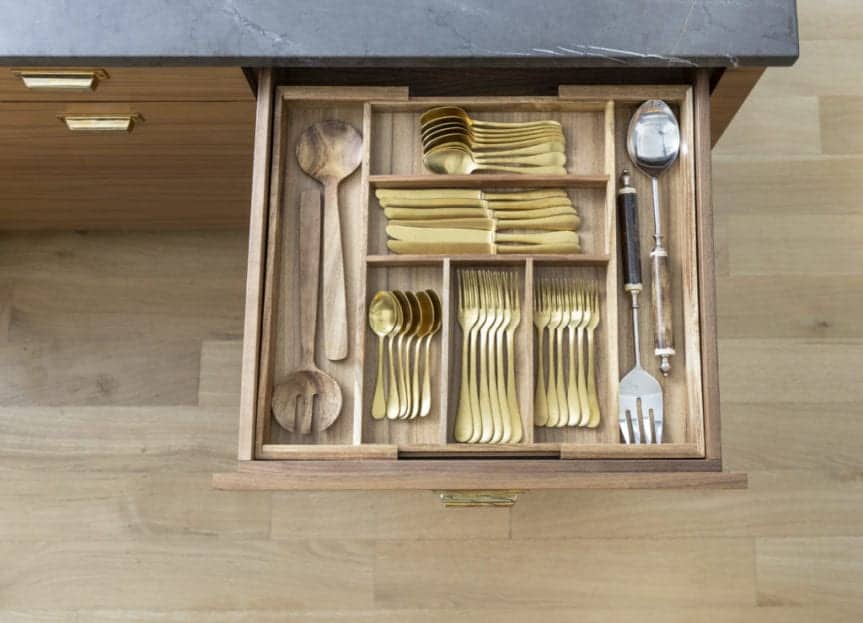 Photo by Martin Vecchio
Learn more about Kylie Ponton of Ponton Interiors and Laura Frasor of Neat Method Tampa.
Related Stories You May Love:
---
Originally published in our February 2021 Issue of Tampa Bay Parenting Magazine.