How to Celebrate Walt Disney World's 50th Anniversary With Your Kids
Originally published in October 2021, updated in March 2022 to reflect the latest entertainment and offerings. 
Can you believe The Most Magical Place on Earth, Walt Disney World, opened 50 years ago? This is a big anniversary and as a result, the Most Magical Celebration on Earth is happening for 18 months! There are so many ways to enjoy this special celebration, and it can be hard to keep track of all the enhancements.
Related: The Tampa Bay connection to Walt Disney World is more magical than you think!
For this 50th anniversary celebration, there are two new fireworks shows, a new ride at EPCOT, a new daytime show at Disney's Animal Kingdom, new map designs, merchandise, banners in each park, and specialty food and drinks.
The most popular enhancement for the Walt Disney World 50th anniversary is the collection of golden statues at each of the four theme parks. These statues are simply adorable and serve as fun photo locations for families.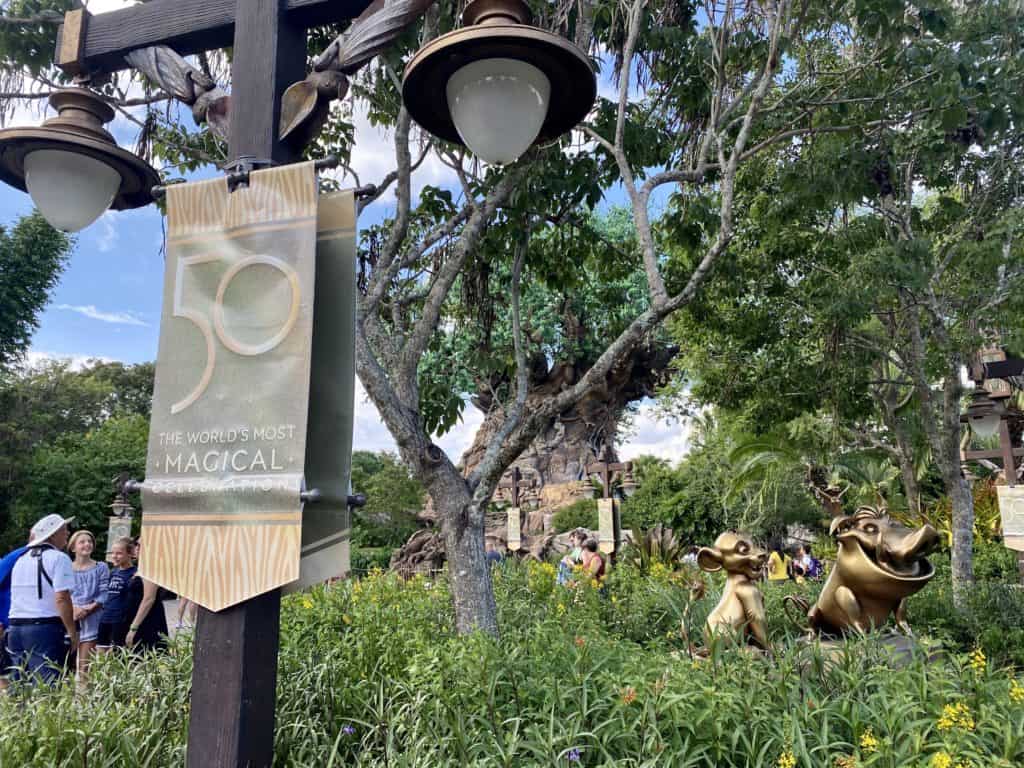 Each park has an assortment of statues to commemorate the 50th Anniversary. As you might imagine, Magic Kingdom has the most. If you and your kids love classic Disney characters, then Magic Kingdom's collection of statues are a must-do. Compared to the other parks, Magic Kingdom's statues are spread out a lot more.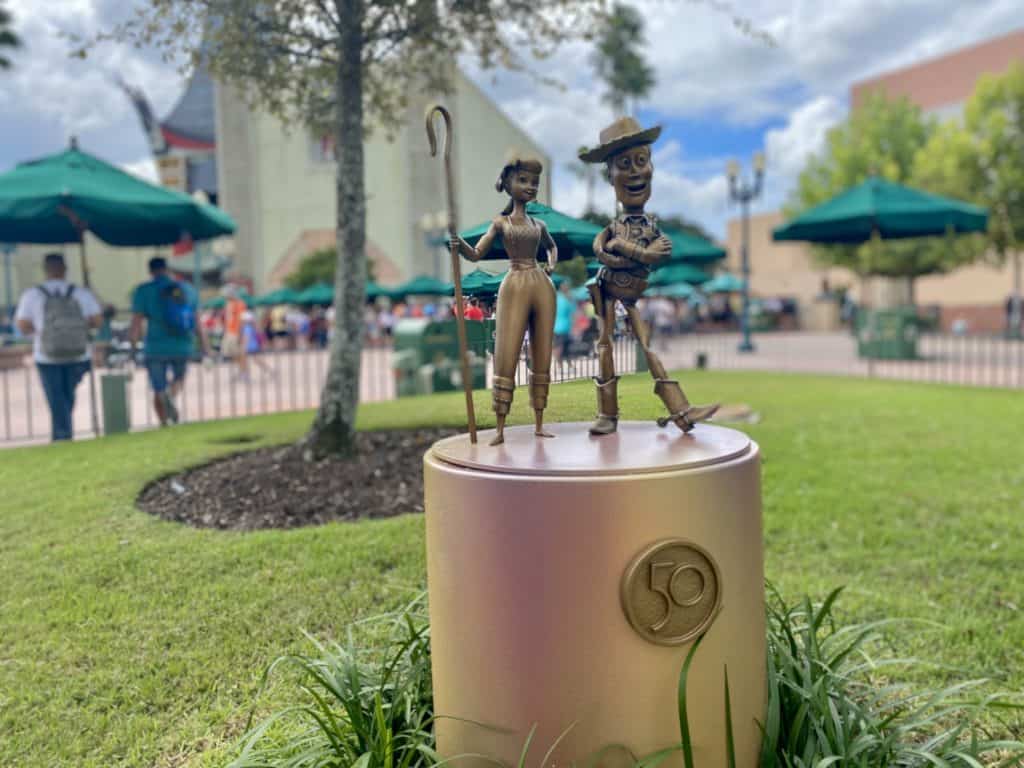 50TH ANNIVERSARY CHARACTER EXPERIENCES
Kids and kids at heart love seeing Disney characters in the theme parks. Traditional meet and greets are making their way back to Disney Parks very soon. Disney announced that hugs and autographs will return as early as April 18, 2022.
As a parent who visits Walt Disney World with my preschooler, I actually enjoyed the simplicity of the greetings without hugs and autographs. My son would be able to talk with the characters without long waits and without the complications of deciding if he wants a hug, or not, and fumbling with an autograph book. However, I know the vast majority of guests prefer hugs and autographs and I am very happy to see that.
A new calvacade debuted at Magic Kingdom in late February 2022. Starring nearly 30 of your favorite Disney and Pixar friends, this super-sized cavalcade features Nick and Judy from "Zootopia," Baloo and King Louie from "The Jungle Book," José Carioca and Panchito from "The Three Caballeros," plus Merida, Moana, The Incredibles, and more – including the Magic Kingdom debut of Miguel from "Coco" in his mariachi best.
Over at Disney's Animal Kingdom, Mickey, Minnie, and friends continue to float along the Discovery River with a new 50th anniversary song and decorations.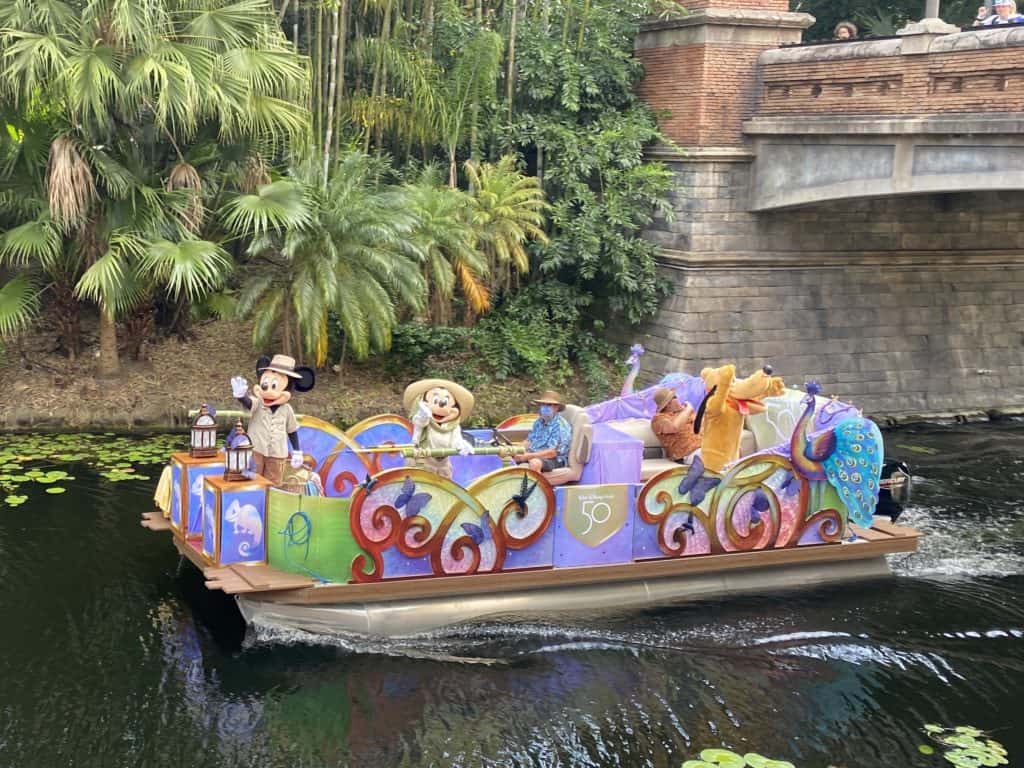 Magic Kingdom Parade and Stage Show are Back
Disney "Festival of Fantasy" Parade returned to Magic Kingdom Park beginning March 9. This parade is a favorite among Disney fans, especially thanks to the fire-breathing Maleficent Dragon float. The parade starts in Frontierland, whereas Main Street is more popular simply because of its traditional setting. I suggest Frontierland, with the sun at your back, to avoid crowds.
And, throughout the day families can enjoy "Mickey's Magical Friendship Faire" which returns to the Cinderella Castle stage with a new opening and a new finale in honor of the Walt Disney World 50th Anniversary. This show can be a fun way to take a break with your kids. I suggest watching the show a little further back from the stage, near the "Partners" statue of Walt Disney and Mickey Mouse. You'll see everything in the show with less crowds.
NEW 50TH ANNIVERSARY PARK MAPS AND TICKETS
Each of the Walt Disney World theme park maps have been updated with a new look and logo for the 50th anniversary. Grabbing a paper map to share with your kids can be a fun activity. Share with them how to find their way using a map. Using a map to navigate may seem antiquated in our digital age, but it is still a good skill to have.
Speaking of the digital age, Disney is encouraging guests to use the MyDisneyExperience app and Magic Mobile function instead of using physical tickets. And yet, guests who are utilizing regular plastic tickets are now receiving special 50th anniversary ones. This also goes for Annual Passholders.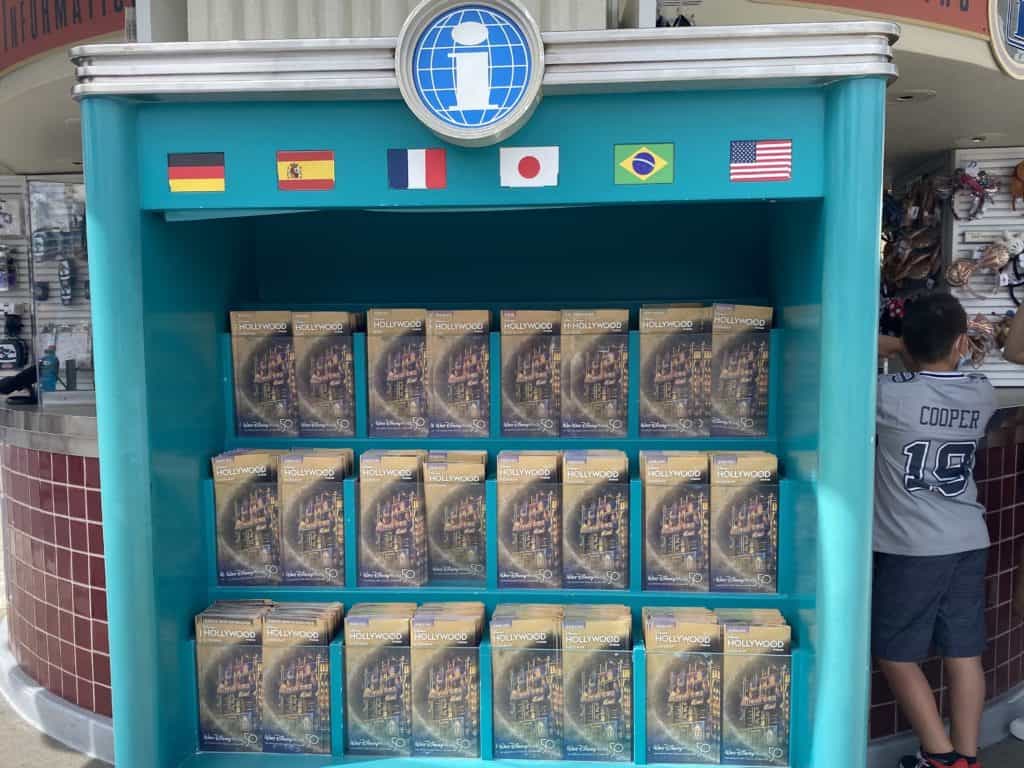 50TH ANNIVERSARY FOOD AND BEVERAGE
It wouldn't be the Most Magical Celebration on Earth without special food and drink to honor the big anniversary. From each theme park to resort hotels and Disney Springs, there are over 150 different snacks, sweets, entrees, and drinks that honor the 50th anniversary. You can bet these treats are eye-catching.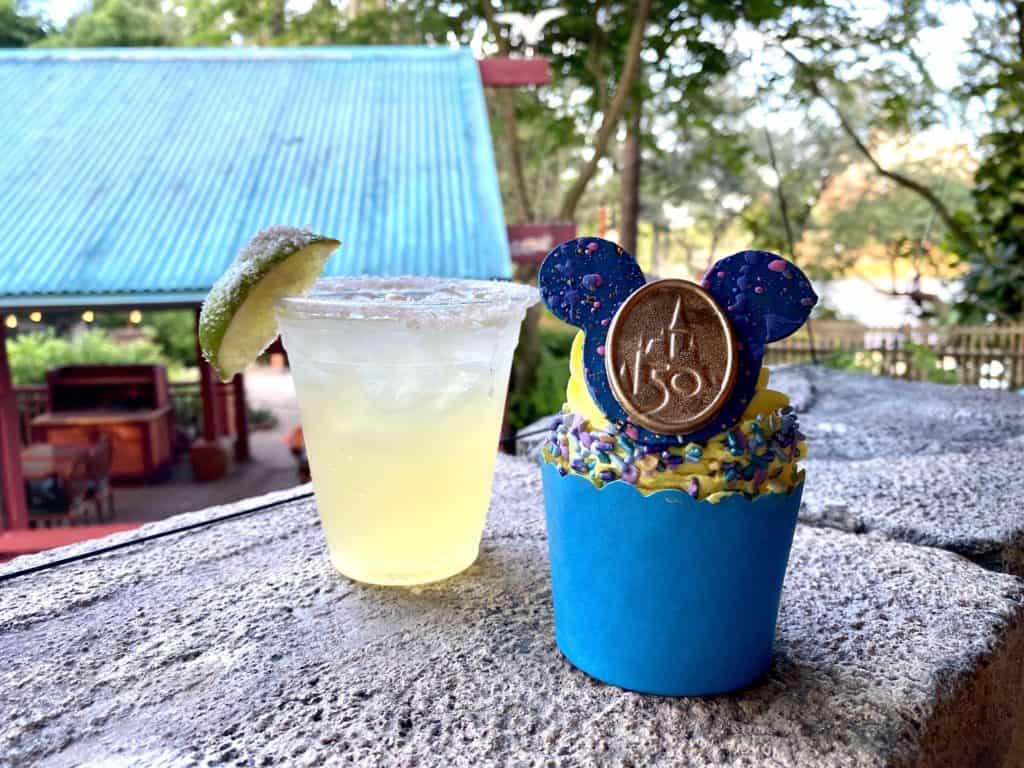 For us parents, there are plenty of specialty cocktails honoring the anniversary. The 50th Golden Margarita at Animal Kingdom did not blow me away, but it is a refreshing margarita that should not be overlooked by anyone who loves a classic margarita.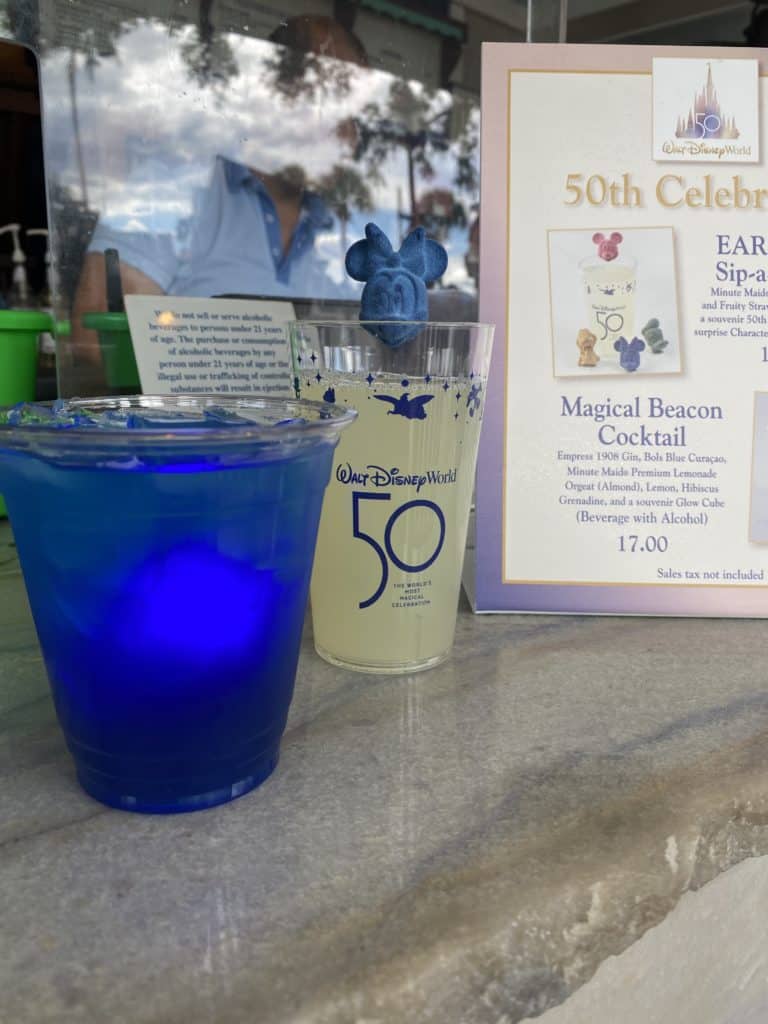 For the kids there is a non-alcoholic specialty drink available at many Disney resort hotels. The EAR-idescent Sip-a-bration is a bit pricey at $10, but our son loved it! Premium lemonade is served in a sturdy 50th anniversary souvenir cup.
Then a surprise character drop-in hangs on the side of the glass. When you're ready, drop the character into the lemonade and gently stir it around. Our son loved doing this. Soon your drink will have a hint of berry flavor and beautiful, swirling sparkles.
BEACONS OF MAGIC
Each theme park icon has received a magical nighttime makeover. Each night guests are enchanted by the new glowing and EAR-idescent look each theme park icon dons.
Cinderella Castle at Magic Kingdom, Spaceship Earth at EPCOT, the Tower of Terror at Disney's Hollywood Studios, and the Tree of Life at Disney's Animal Kingdom each have their own special look. The runaway hit is Spaceship Earth's Beacon of Magic light display.
Be sure to check out all the details of Tower of Terror's EAR-idescent look. See if your kids can spot the dancers in the grand ballroom window.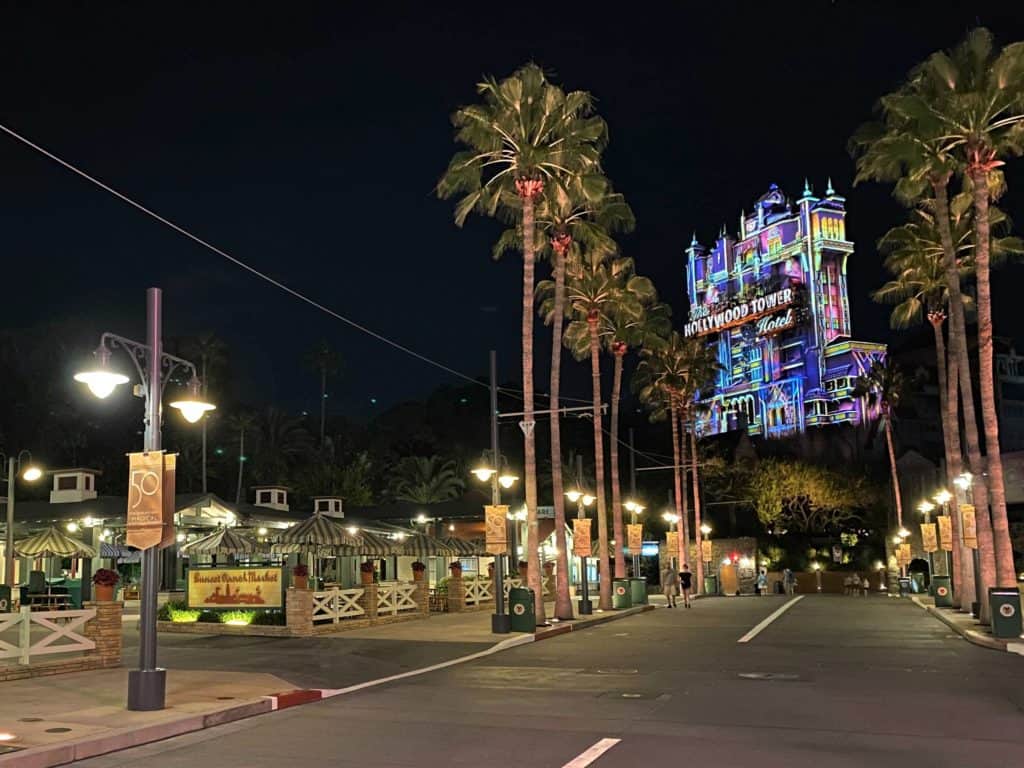 It wouldn't be Walt Disney World's 50th Anniversary without fireworks. Magic Kingdom is now showing "Disney Enchantment" nightly and EPCOT has "Harmonious." In addition to using new technology and effects, both shows are exploding with Disney characters. Many of the newest Disney characters are the stars of both fireworks shows, so your kids will certainly find their favorites.
If you're looking for a way to view Disney fireworks outside the parks, we've got a guide for that.
If you're like me, it can be tough to make it all day and into the night in the parks with your kids. So if the fireworks shows are tough to make, there is a new daytime show at Disney's Animal Kingdom.
The new Kite Tails show is adorable, and also a little silly. Beautiful and massive kites are flown in the air while a kite pilot steers them around the lagoon aboard a jet ski. With favorite songs and characters from The Lion King and The Jungle Book, there are lots of fan-favorites.
What makes this show a little silly is how each kite lands. There is no way to pull the kite "off stage" so the kites are steered into the far edge of the theater and they softly land in the empty stands. The first time you see it happen you may think it is an accident, but this is how they land.
My son and I watched Kite Tails from the section closest to the landing area. We did miss out on the smaller kites that performers bring into the stands, however, seeing the kites up close as they come in for a landing made up for it. It is a short show, but it put a smile on our faces.
50TH ANNIVERSARY ENHANCEMENTS AT DISNEY RESORT HOTELS
Staying at a Disney Resort hotel is the ultimate way for your family to celebrate together. No matter which Disney Resort hotel you select, you'll find some enhancements for the anniversary. In the lobby and other areas you'll find 50th anniversary decorations. There are special television selections too, in addition to the already kid-friendly programming. It's one of the perks I love about Disney hotels for families, is the plethora of kid-friendly TV channels. And, your room key will have a little sprinkle of 50th anniversary magic too!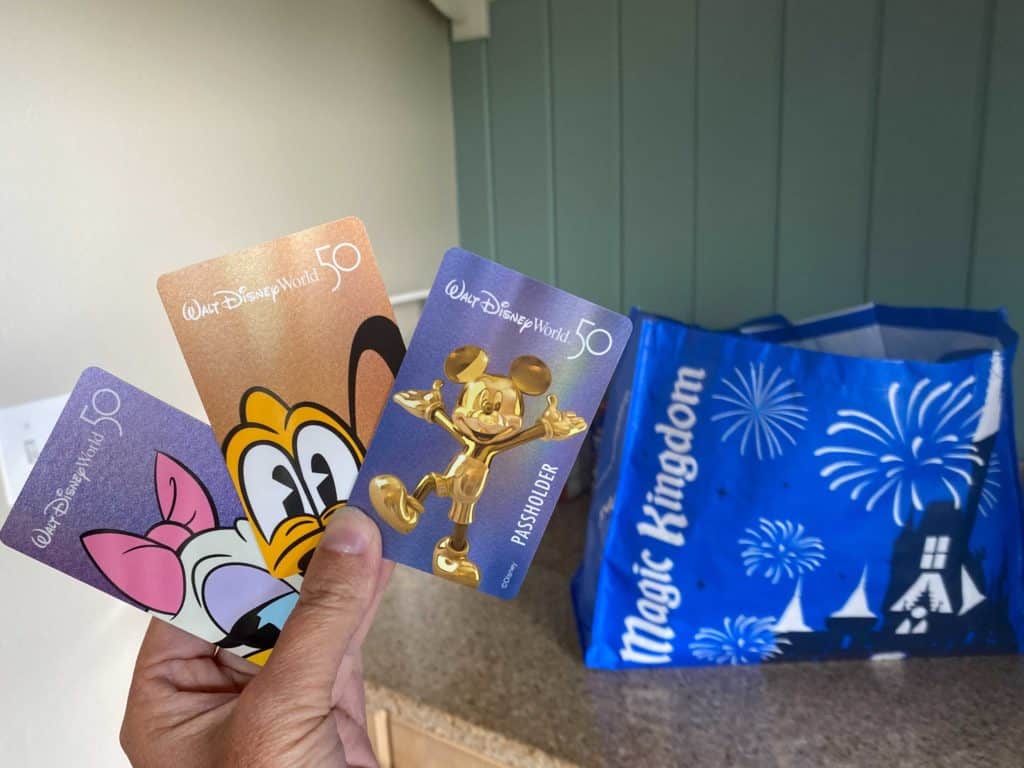 OTHER WAYS TO CELEBRATE WALT DISNEY WORLD'S 50TH ANNIVERSARY
Hoop-Dee-Doo Musical Revue is returning in late June 2022. This is a great way to enjoy Disney entertainment and a family outing to Disney without a theme park ticket required.
You'll find lots of 50th anniversary merchandise at each theme park, resort hotel, and Disney Springs. Plan your budget and review your family's shopping guidelines with your kids.
Keep an eye out for Disney transportation including Monorail Gold, a few buses, and a few Disney Skyliner gondolas dressed up in 50th anniversary regalia
There are special EAR-idescent Mickey Mouse balloons for sale at Magic Kingdom, so decide and discuss with your kids if balloons are okay to purchase, or not.
From shopping bags to popcorn buckets, keep an eye out for 50th Anniversary packaging. Sometimes little kids are just as excited over a themed popcorn box as they would be over something that costs a lot more.
Check out the new EAR-idescent nametags — the Cast Members sure are proud of this celebration.