A Parent's Review of Worlds of Marvel Restaurant with Photos
The most exciting new experience for Marvel fans is aboard the Disney Wish. The Worlds of Marvel restaurant is unlike any dining experience offered by Disney, especially for fans of Marvel superheroes.
My husband and I are Marvel fans, and we're also parents of a four year old. And we're conscientious about showing him too many stories that are hero and villain driven. So our excitement balanced out with curiosity when we finally dined at Worlds of Marvel aboard the Disney Wish. Here is what parents need to know.
Please note our cruise experience was part of a special complimentary media sailing. All food and entertainment were provided to us, specialty drinks were not.
Our parent's review of Worlds of Marvel is not meant to contain any spoilers, but rather to help parents know what to expect.
The Show and Characters at Worlds of Marvel
Walking into Worlds of Marvel immediately set our jaws dropping. And as the ship's mightiest heroes – the dining service team – walked us to our table I got goosebumps.
The dining room is like walking into Avengers Campus. It is high tech, but not scary. There are video walls everywhere and an important prop at the center of each table.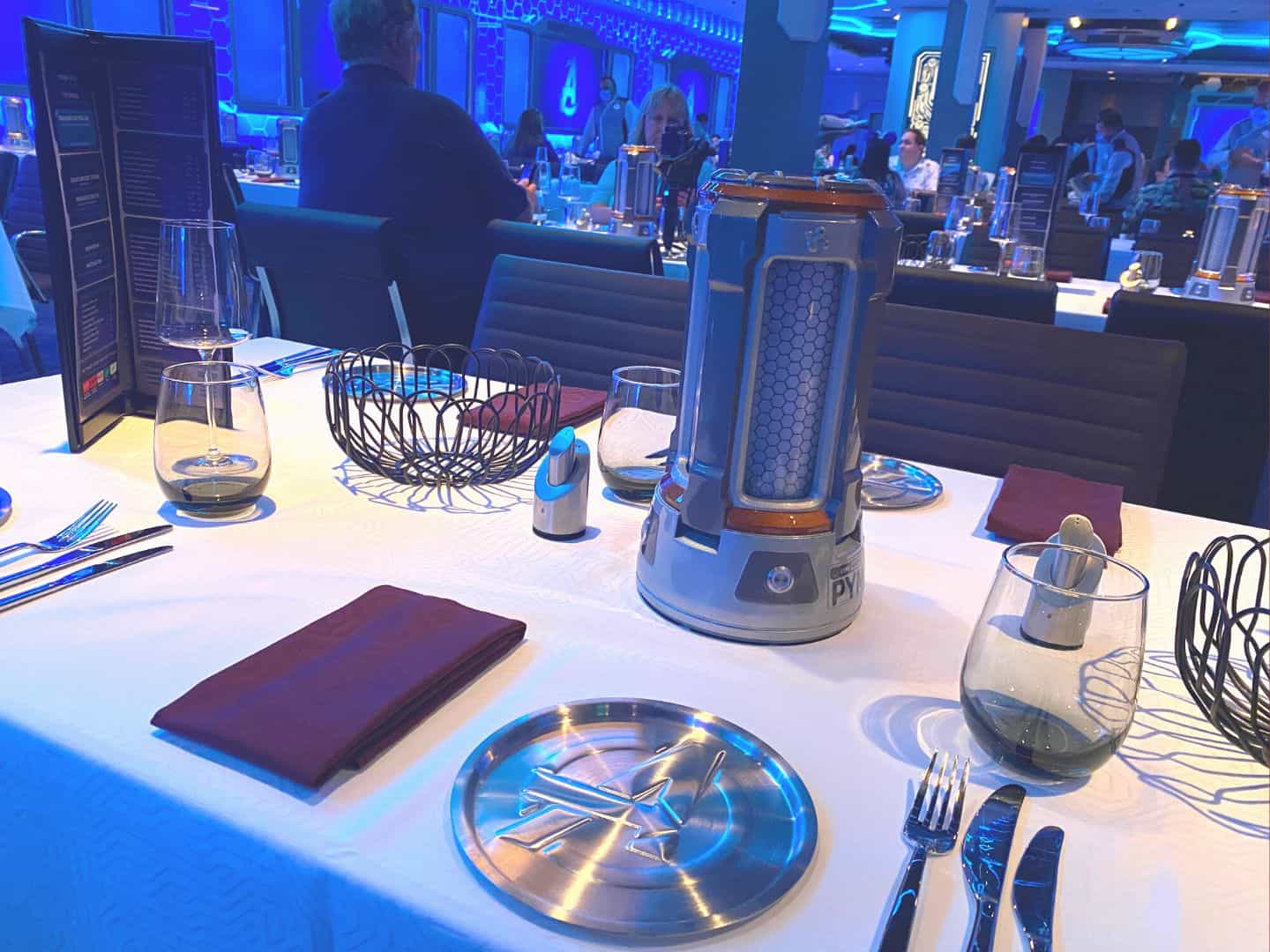 Music from the Marvel movies plays as diners take their seats. Anticipation builds as an announcement is made. The presentation of "Miracles from Molecules" presented by Ant-Man and the Wasp will begin soon.
Parenting tip for little ones – Nothing in the Worlds of Marvel show and dining experience felt overly scary. However, there is a villain in the show, he does not appear in the restaurant itself, just on screen. Read on for more info about what to expect during the show so you can plan ahead.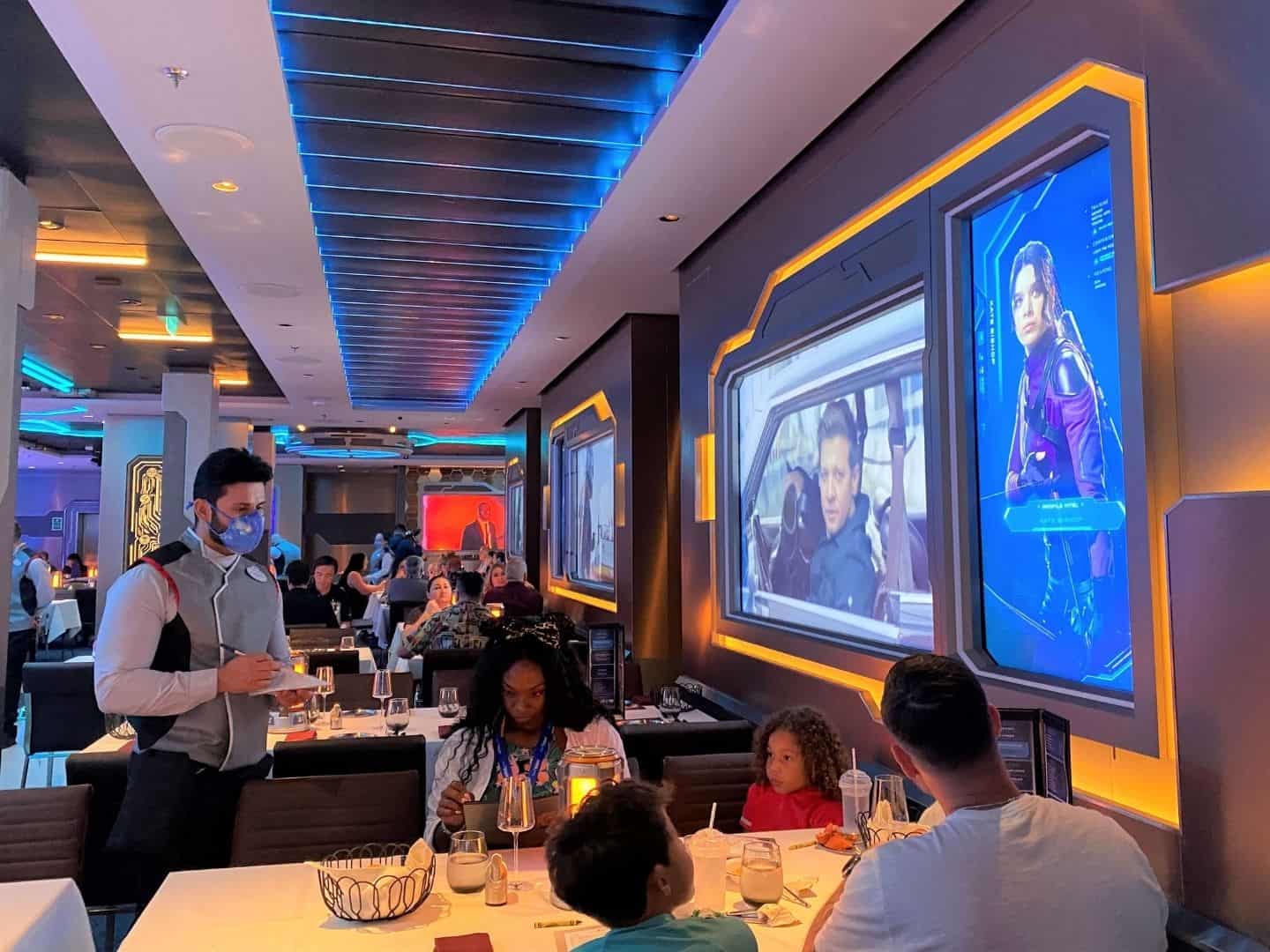 Avengers Quantum Showcase Summary
As with any Marvel superhero story, the Worlds of Marvel show on the Disney Wish is a hero vs. villain story. Lights change color and there are a few moments in which the lights go dark and there are blinking red lights. Our four year old is fairly sensitive, like I am, however he did not get scared – just fascinated.
I had hearing protection for me and for him, but it was not needed. In between the moments of the show itself, with Ant-Man and the Wasp, there are clips from all the Marvel movies as well as the Marvel series on Disney+.
Nothing overly violent is shown on the screen, still there are plenty of battles and fighting. A battle is shown on screen as the finale of the experience, and as a result Ant-Man and the Wasp show up in the restaurant. They make a quick round through the entire restaurant so everyone can see them – but there is no pausing for individual photos or autographs.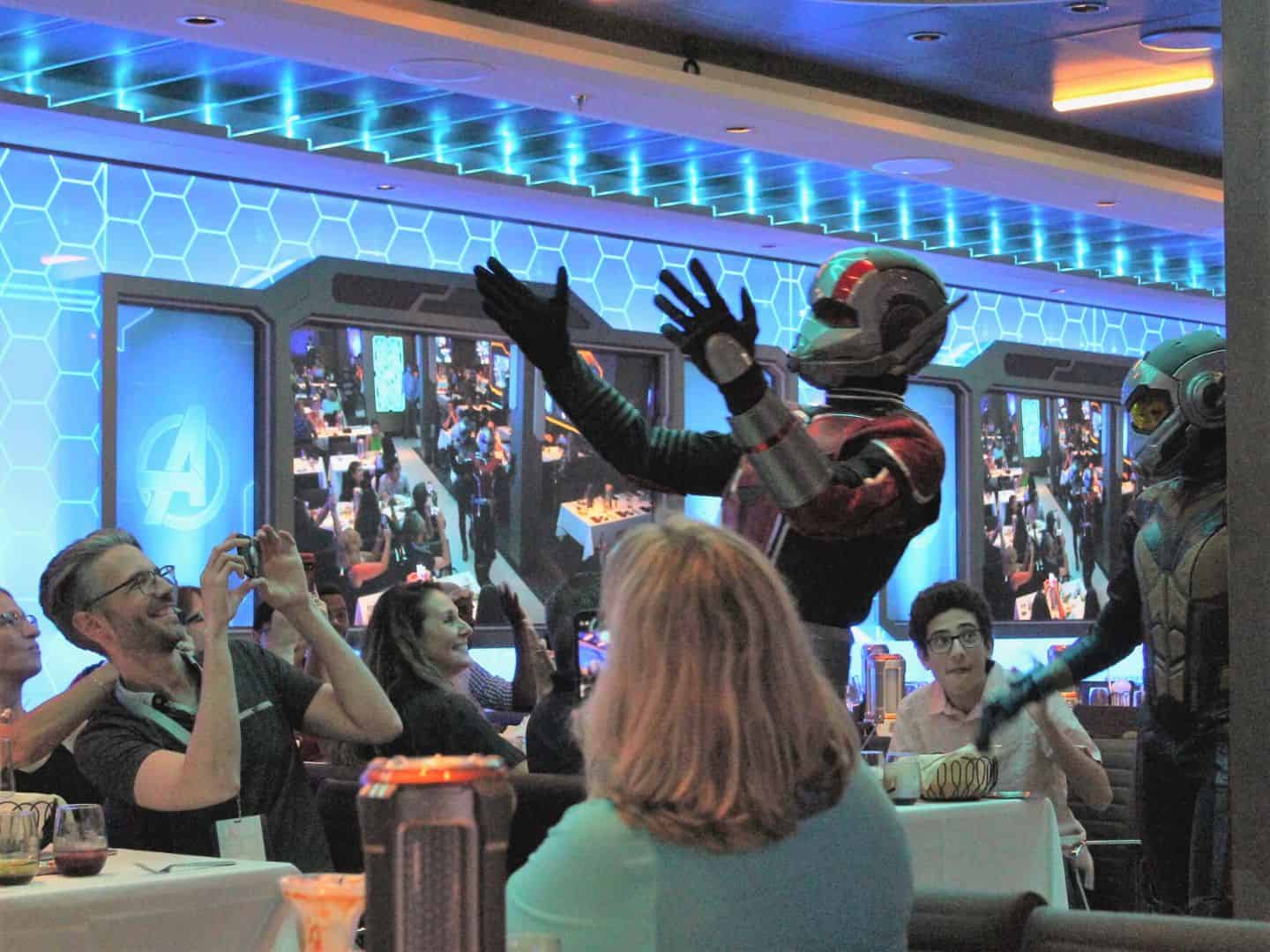 What age is appropriate for Worlds of Marvel?
Our son has not been exposed to any of the Marvel movies. As much as we love the Marvel movies ourselves, we do not feel he is old enough for what takes place in the movies. As a result the Marvel clips that played absolutely transfixed him.
This dining experience became very pleasant for us parents. The screens and the action entertained our four year old son more than the Arendelle: Frozen Dining Adventure. However, I felt a tinge of guilt at the amount of attention he paid to the screens and the intense action on screen.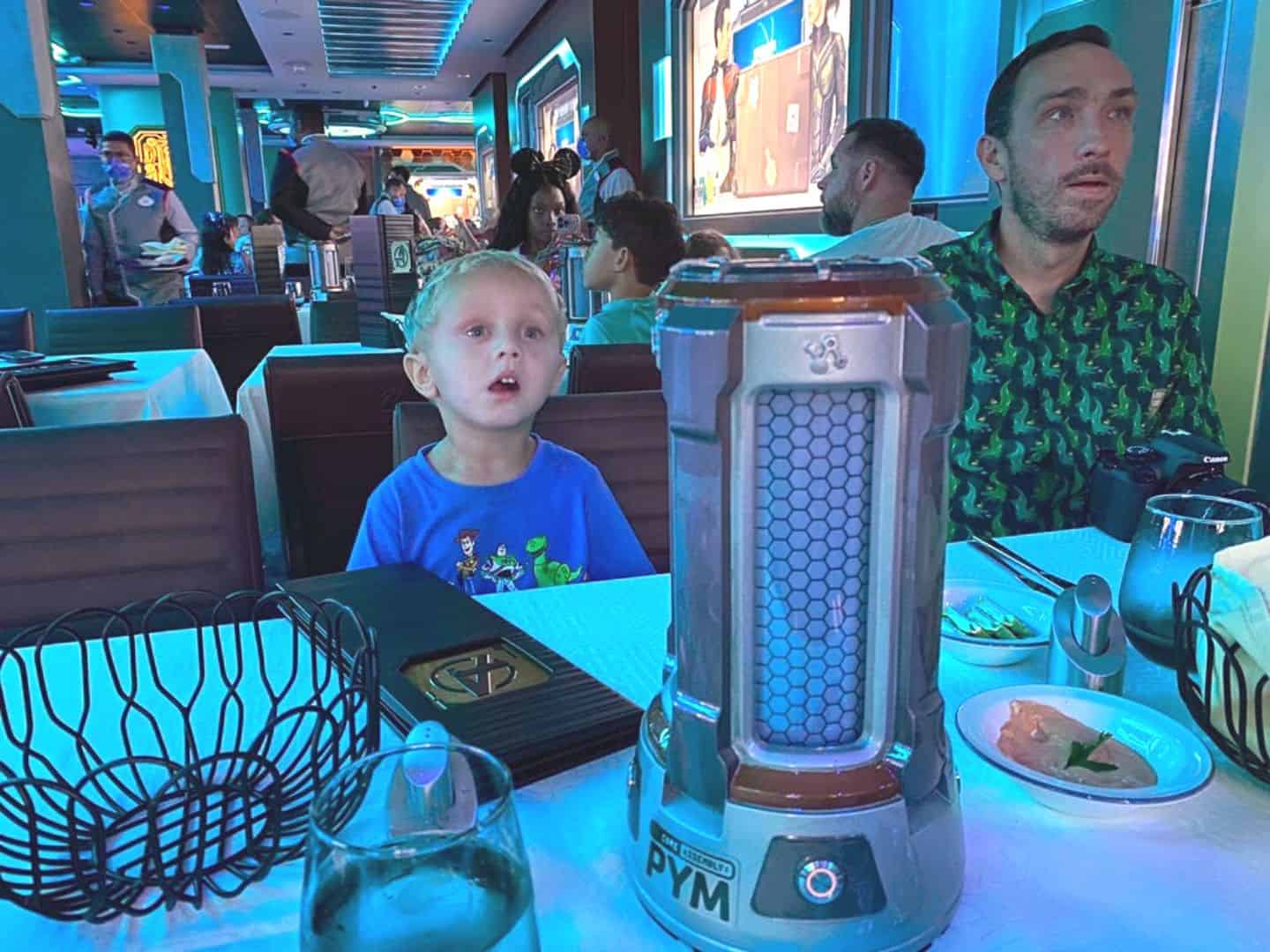 Each parent should judge for themselves as to if they are comfortable with their kids watching battles and segments of heroes vs. villains. For us, it was just enough, and we really enjoyed it. But, one such experience during the Disney Wish cruise was enough for our young family.
The humor of Ant-Man added lots of laughs throughout the experience.
RELATED: 5 Things We LOVE About the Disney Wish Kids Clubs
Worlds of Marvel Menu and Food
The menu at Worlds of Marvel is a sampling of international flavors that represent the different worlds within the Marvel universe. Everything we ordered satisfied – though the red pepper dip presented with the bread ended up being a surprise highlight.
I enjoyed the shrimp appetizer which is a play on size. Since Ant-Man is known for the technology he uses to change the size of things, and himself, some of the food involves a playfulness. The shrimp is a rather large one and fried to make it even larger.
My husband selected the Pork Bao. We have some great bao places in Orlando so our expectations were perhaps a little too high for this one.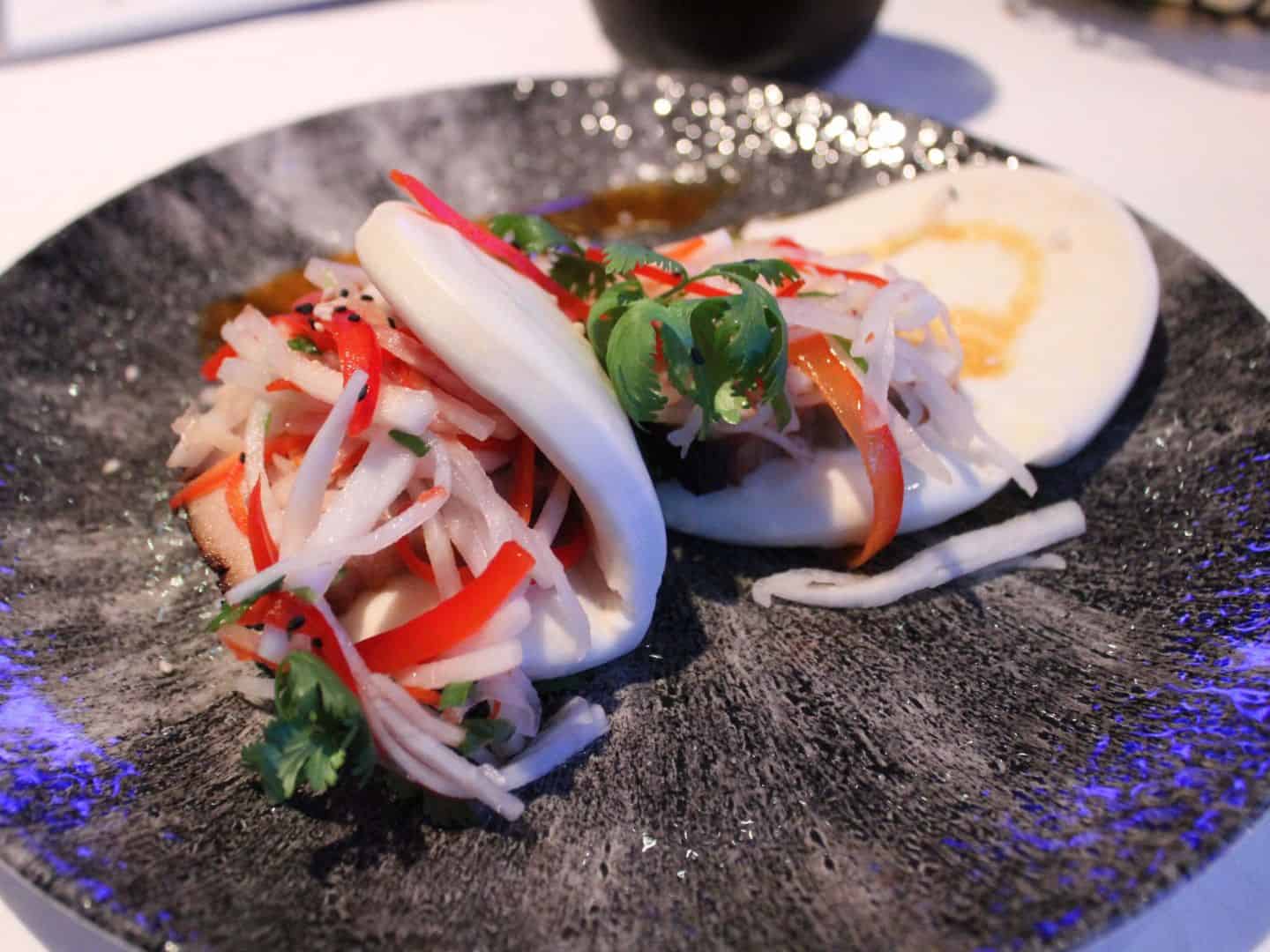 For something hearty and satisfying, order the Rib Eye with Truffle Butter. My husband ate every last bite in pure enjoyment. I ordered the Dover Sole fish – a nice, light choice. We selected the Cheesecake Byte which is meant to be the signature dessert of Worlds of Marvel. Overall it satisfied but did not blow us away.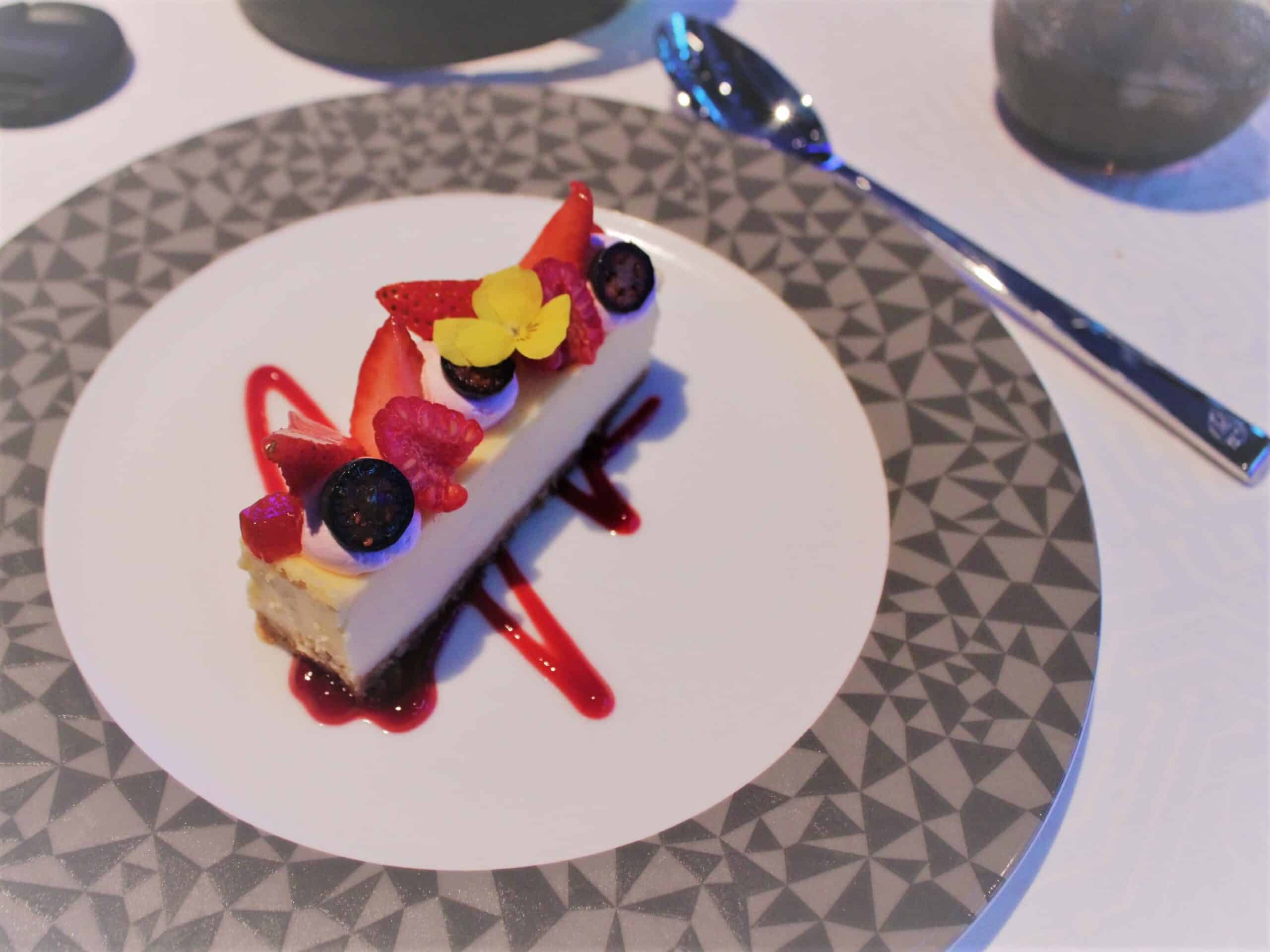 The overall experience at Worlds of Marvel restaurant became a special memory for our family. It served as a special introduction for our son to a cinematic universe of which we are very fond. And it is something only Disney Cruise Line could deliver.