School Lunch Box Ideas with Jenny P of @lunchboxmafia
Jenny P of @lunchboxmafia shares her favorite school lunch ideas for the yummiest school year ever!
While many of us are excited about getting kids back into schools, those packed lunches can still be a challenge. On my Instagram, you'll find simple recipes as well as tutorials on how to pack hot and cold lunches, repurpose your leftovers and upgrade your kids' favorites.
Here, I'm sharing simple food prep, packing gear and a weeknight recipe to ease you back into your routine.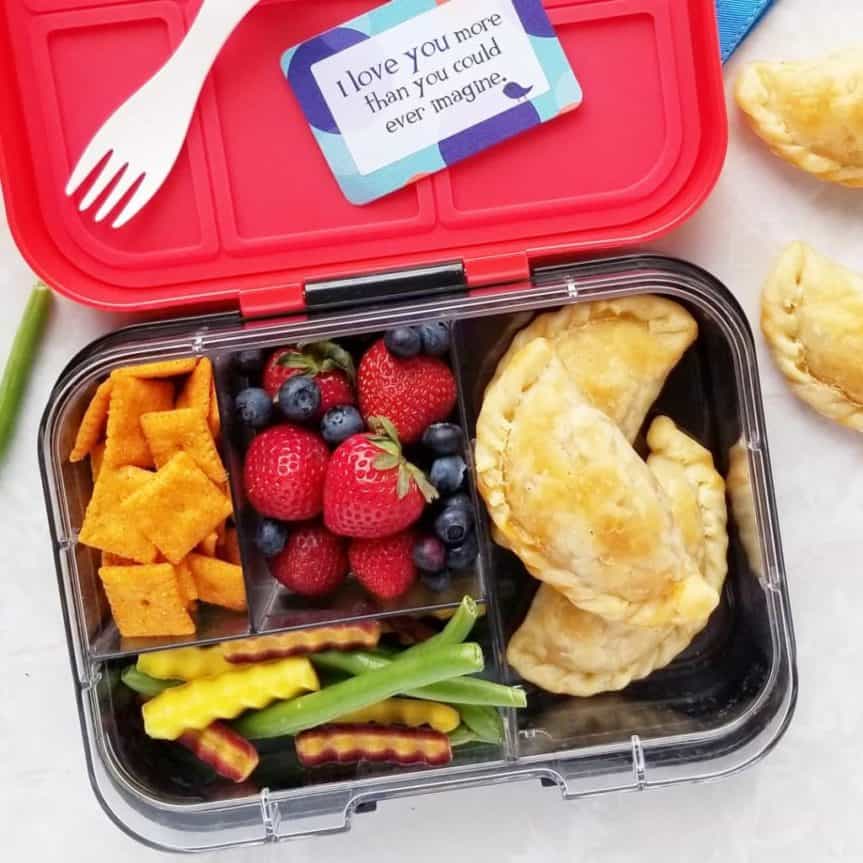 A little prep goes a long way:
No one wants to spend hours prepping food every Sunday, but something as simple as peeling and cutting up some carrots will give you a good head start. Here are three tips for work-ahead prep.
1. Remove berries from store packaging and store them in the refrigerator in containers with lids. Don't wash them until you're ready to pack or eat them.
2. When you fire up the grill, make a big batch of chicken for the week. Use it in salads, sandwiches and pasta for a delicious boost of protein.
3. Prepare a bunch of hard-boiled eggs at once and store them in the refrigerator for up to seven days. Eat them for breakfast, make egg salad or top your salads or ramen with them. Sometimes, I just add an egg to the lunchbox with a pinch of salt and pepper or a dash of everything bagel seasoning. So good!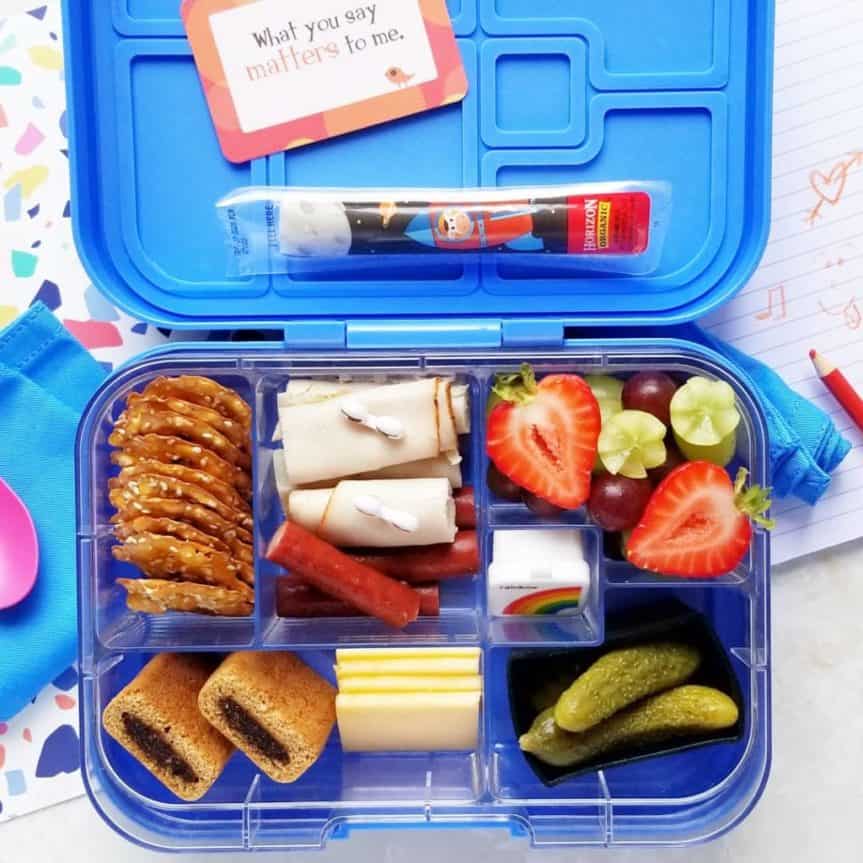 Here are some of my go-to school lunches:
1. Lunchables. You grew up on these and see them in-store, and now you can make them yourself! All you need is protein, cheese, veggie or fruit. If you get bored with crackers, use pretzel crisps or pita instead. These are a great idea if your kiddo enjoys variety or loves snacking.
2. Pasta. It's super versatile and can be eaten hot or cold. Use a dairy free dressing or be sure to use ice packs to keep it fresh. If your kids prefer their pasta hot, you'll want to get a thermos. I always say, "Packing a hot lunch is like sending a warm hug!" Nothing better than a taste from home.
3. Pizza. Nothing says Friday like a pizza lunch. You can pizza-fy lunch in a variety of ways, from personal naan pizza, crescent rolls, muffins and even empanadas! Check out @lunchboxmafia for suggestions.
Get the right gear for school lunch:
Let the kids pick out their own lunchboxes and thermos or water bottle. Here are some other gear tips:
Practice makes perfect. Let the very youngest school-goers begin practicing opening and closing their lunchboxes and water bottles themselves before they are in school.
The perfect lunch bag is out there! We've tried a few over the years. My favorite is the sleeve from @planetbox for their "Rover" and "Launch" stainless steel lunchboxes, which fits easily into backpacks.
Another one we enjoy is the amazing freezable lunch bag from @packitcool for cold lunches (no ice pack necessary!) or, for cooler months, the @omielifeinc lunchbox with built-in thermos!
Add to the fun with handy accessories such as cute ice packs, food picks, cutlery, silicone cups to separate wet and dry foods and reusable dip containers.
Just like anything else, having the right tools helps you do things with ease and confidence. The link in my Instagram bio will take you to my Amazon store where you'll find some of my favorite items and healthy snacks.
Because back to school is also back to crazy weeknights, we're all on the lookout for easy dinners. Here's an easy recipe to try:
Crockpot tacos (makes 12 tacos)
INGREDIENTS
2 chicken breasts
1 packet of taco seasoning
1 12-ounce jar of salsa
12 taco shells
Optional toppings:
Shredded cheese
Shredded lettuce
Diced tomatoes
Sliced black olives
Sour cream
Guacamole
Hot sauce 
DIRECTIONS
Add chicken breast, seasoning and salsa to your crockpot.
Set on low for 8 hours or on high for 4 hours. Once your meat is done, carefully remove it and set it on a cutting board or platter. Shred your chicken using two forks. Assemble your tacos as normal and enjoy.
TIP: Save the broth for a delicious chicken tortilla soup!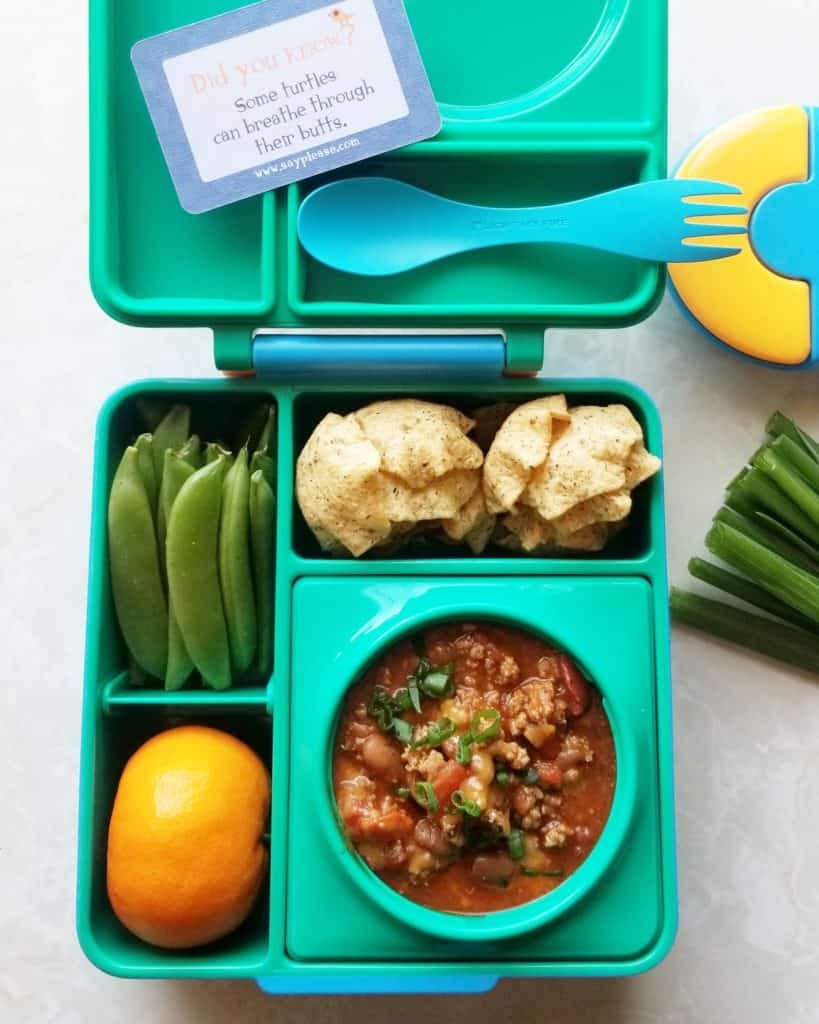 *Originally published in the August 2021 issue of Tampa Bay Parenting Magazine.
---
Related stories we think you'll LOVE:
Road Trip Lunch Box and Snack Ideas with @lunchboxmafia