Experience what it's like to walk underwater with SeaTREK at The Florida Aquarium
If you've ever wondered what it's like to walk underwater among sharks and sea turtles, SeaTREK at the Florida Aquarium is a must-experience for you!
The best part is, you don't need to have any scuba or snorkeling skills to participate. In fact, you don't even have to know how to swim, (however, swimming is an excellent and important skill to have in Florida no matter how old you are). You only need to know how to walk and breathe and be at least 10 years old. All boxes checked!
I was recently invited by The Florida Aquarium to experience SeaTREK and, y'all, it was probably one of the coolest things I've ever experienced in Tampa Bay and we've done some pretty awesome things here (job perks).
Related: Our Favorite Things to Do in Tampa Bay with the Kids
So, let's dive in friends so we can help you plan your most magical underwater adventure ever!
What is it like to walk underwater with SeaTREK
It's surreal to walk underwater. We all probably know what it's like to push our noses up against the giant tanks at the Aquarium, but this is a whole new perspective. Rather than watch as the fish swim by on the other side of the glass, you are literally standing right there in 15-feet-deep water with them as they swim on all sides of you and even overhead. You also get to see parts of the Heart of the Sea habitat that guests never get to see. We got a peek at a small school of fish enjoying the dark as we strolled through the cave.
SeaTREK is a helmet diving experience which means you've got a big helmet on your head and an oxygen tank on your back, supplying you with the oxygen you need to breathe. It may sound intimidating, but once you're in…any feeling of apprehensiveness you came in with washes away.
"In my opinion, really breaks the stigma that the ocean is a scary and dark place," Matt Shuttleworth, the Assistant Dive Safety Officer and Supervisor of Dive Training with the Florida Aquarium told us. "There are a couple of bonnethead sharks in here, a couple of stingrays in here—and they are the most majestic animals you've ever seen—they're just doing their thing, swimming around. This is their home."
The Florida Aquarium has also been able to invite kids and teens in underserved communities through its Community SeaTREKS program, giving them a chance to experience this incredible at no charge.
"We treat them like VIPs and they really get to experience a world they've never experienced in their lives," smiled Shuttleworth.
It really is a spectacular and unforgettable experience.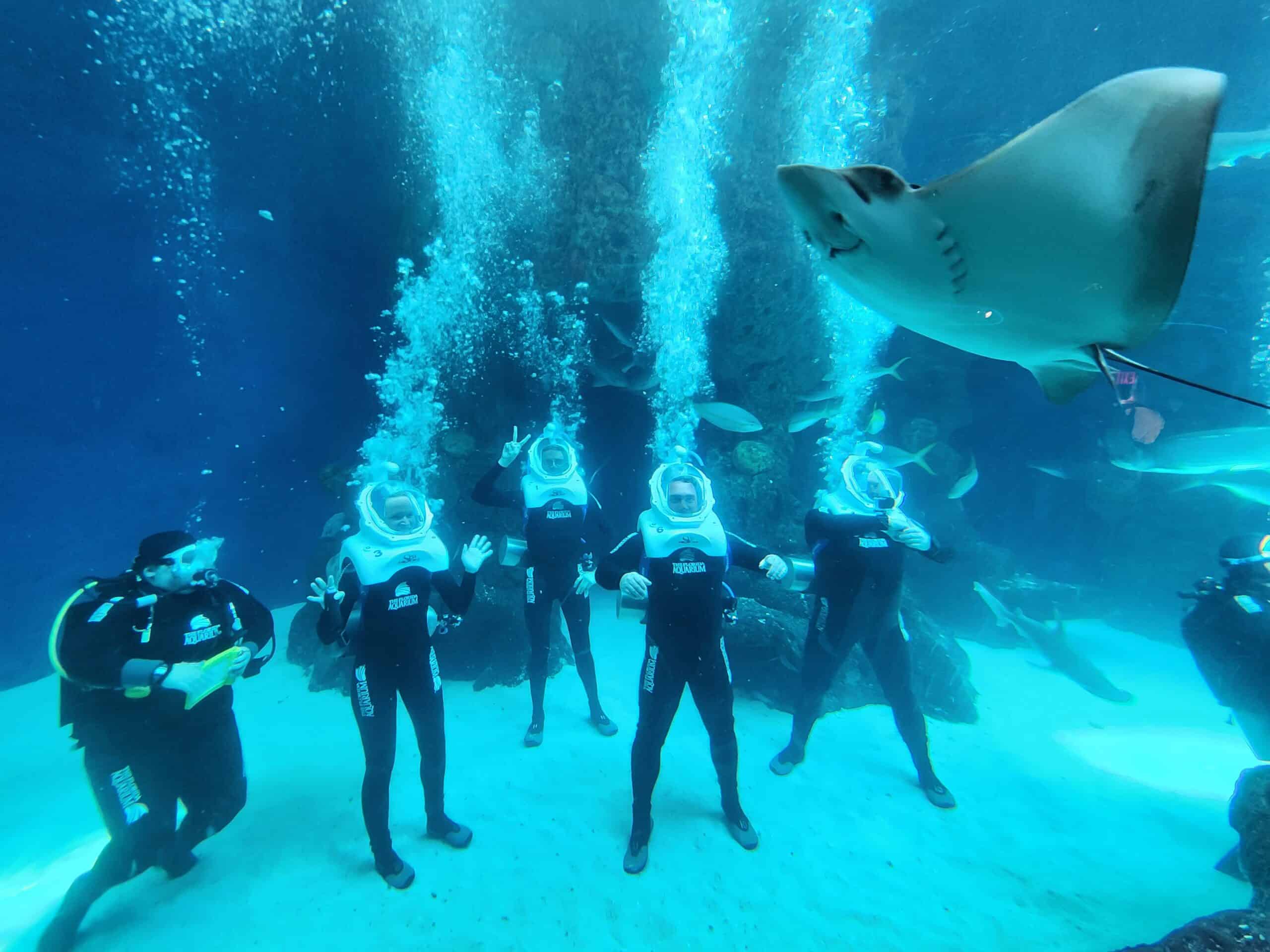 What happens during the SeaTREK experience?
When you arrive, you will check in at Guest Services near the entrance. Plan to arrive 15 minutes prior to your experience. Once checked in, you will be guided to the dressing rooms, one for men and another for women, where you will find your wetsuit (sized based on body weight you provide when booking) and shoes in a locker with your name on it. They have plenty of wetsuits in all sizes, so if the one provided feels too tight or too big, don't hesitate to ask for another. Same with the water shoes.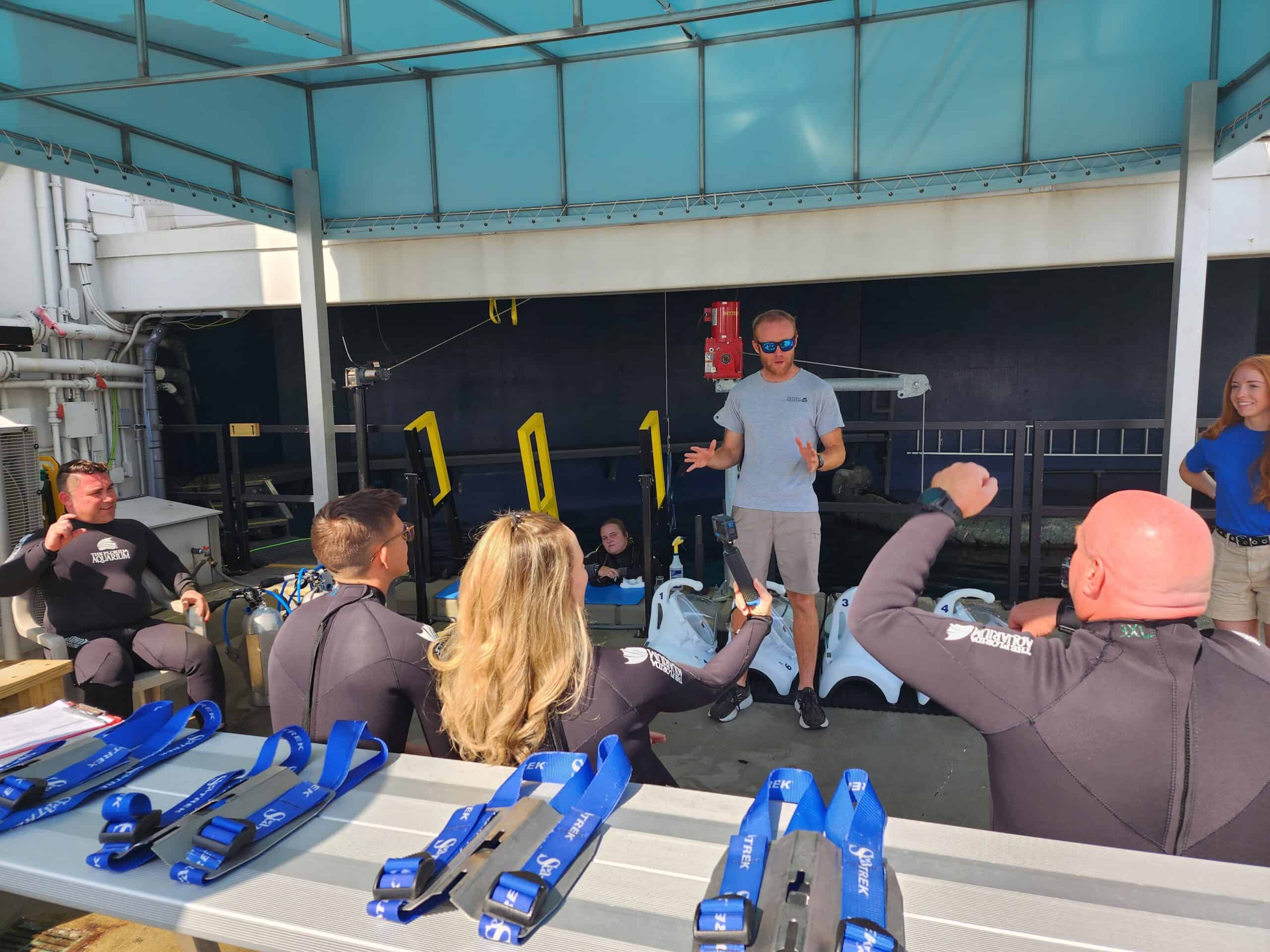 Once you've suited up, you'll walk upstairs to the top of the Heart of the Sea exhibit where you will get your safety briefing. Pay close attention to this part. Once that is over, you'll put on the backpack which will hold your air tank, and then one at a time, climb into the tank. You'll get to about chest deep when a crane lowers the 72-pound helmet onto your shoulders. It feels heavy above the waterline, but once you are underwater, it's lightweight. The weight of the helmet and the constant air flowing into it keeps the water from getting in.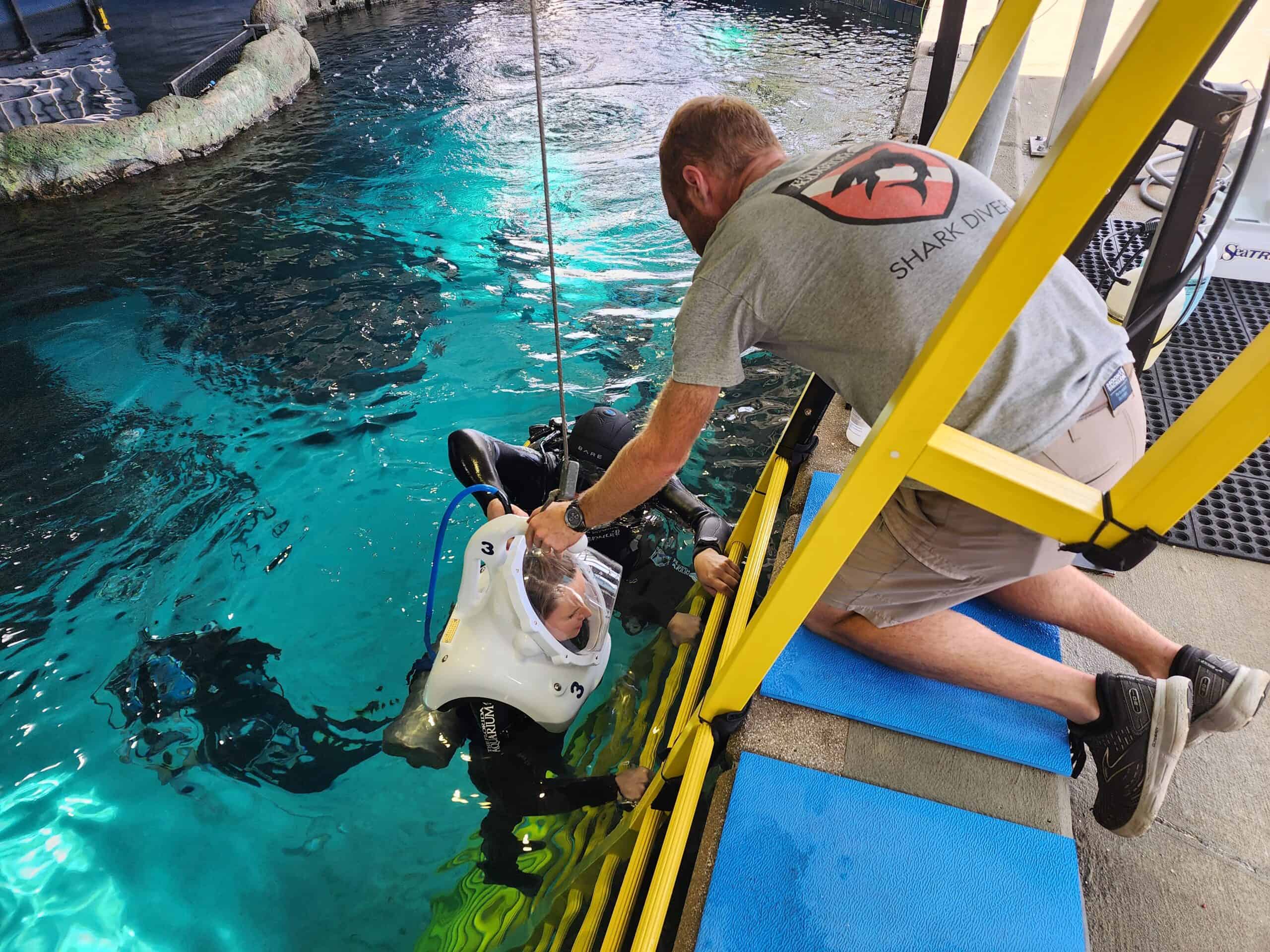 I did feel a lot of pressure on my chest when I first got in, but that went away as I went underwater, rung by rung on the water. With each rung, you will need to equalize the pressure in your ears–the instructor will show you how to do that before you in the water.
While you can't talk to each other while underwater at the moment (they're working on this), the SeaTREK guide will use a magnetic drawing board to communicate with you and your fellow trekkers, along with a few important hand gestures you'll learn during the briefing.
Your SeaTREK guide will walk you around the tank where you'll get to see the "turtle car wash", make bubble rings, learn about the different sea creatures in Heart of the Sea habitat and pose for some pretty cool pictures for the people watching in the exhibit. If you want some great photos, be sure to bring a friend to snap some photos and videos of you on the other side of the glass.
You are underwater for about 20 minutes and the entire experience takes about an hour, so there's plenty of time to explore the Aquarium before or after your underwater stroll.
While it's a fun experience, it's also educational and that was the whole point.
"We brought the SeaTREK program in because it really does go along with our mission at the Florida Aquarium which is to conserve, educate and entertain," Shuttleworth said, "And I personally think this program does all three of those things. It really shows how small you are—-this is only 12 feet of water—and it's a really a great segue to getting scuba certified if you want to take that next step."
What do I need to bring with me to SeaTREK?
You'll want to bring a bathing suit, towel, and shower supplies to clean up after. There are showers in the locker room with privacy curtains. If you happen to forget your favorite soap, there is shower gel in the shower stalls.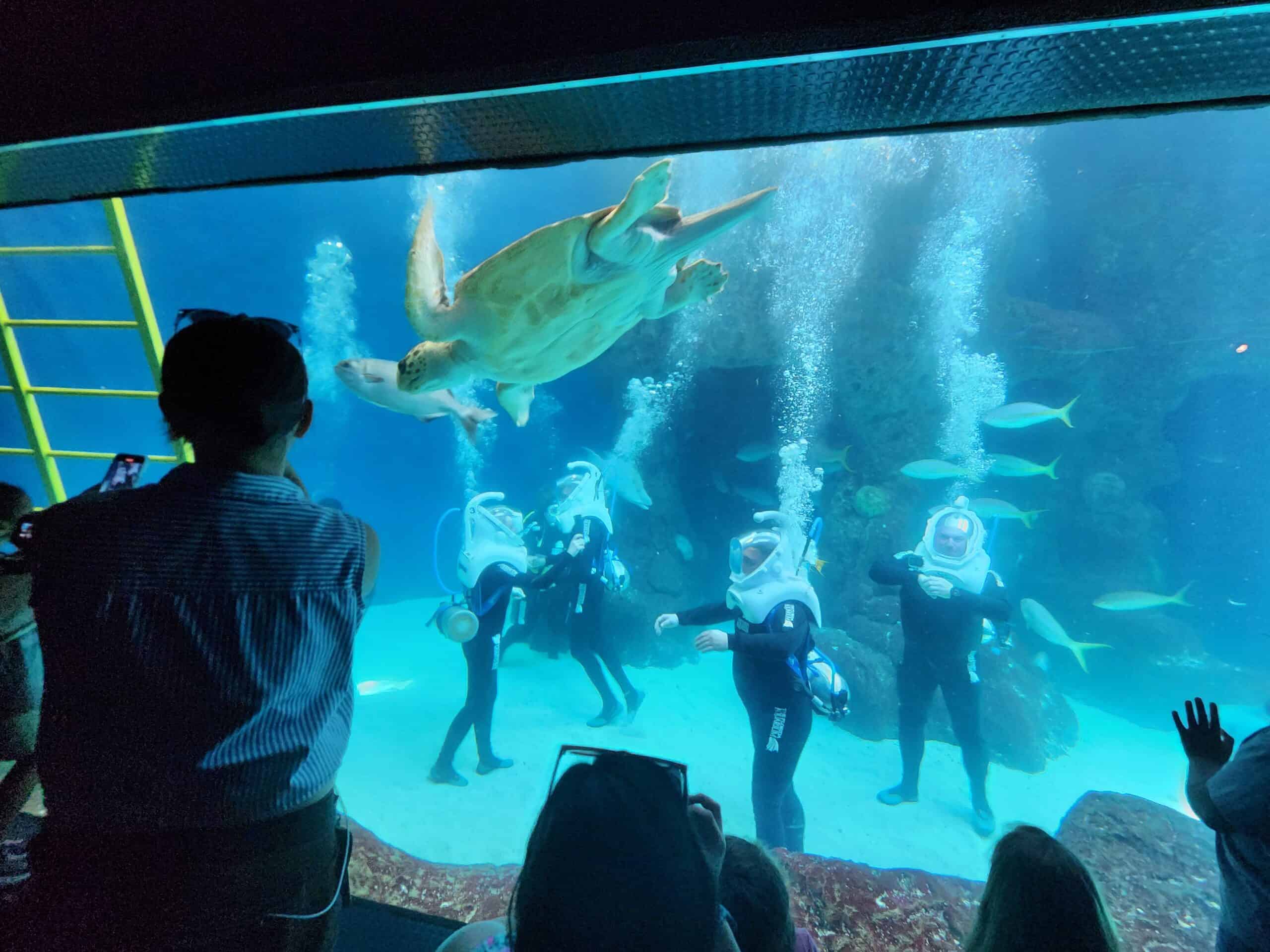 Can I bring a GoPro or underwater camera with me during SeaTREK?
You can bring a small underwater camera, but it must be strapped to you at all times. I had a stick for my GoPro that could fill with water so it wasn't buoyant. If you have one of the buoyant sticks, you'll want to leave that at home. Another person who walked with us had his GoPro strapped to his wrist like a watch or bracelet. Flash photography and strobe lights are strictly prohibited.
It's best to leave your camera recording the entire time so you can simply focus on experiencing the moment rather than getting the right shot. The 20 minutes go by super fast and you don't want to miss a second!
How much is it to experience SeaTREK?
SeaTREK costs $95 per person and includes Aquarium admission. You can book your tickets at flaquarium.org.
How often will SeaTREK be offered at The Florida Aquarium?
SeaTREK will be offered daily beginning on June 1, 2023 for the summer season and there will be five dive times throughout each day for 4 people at a time.
Right now, it is available on select days.
Is SeaTREK dangerous?
No, SeaTREK is not dangerous if you follow all of the safety protocols, so make sure you're paying attention during the briefing. While walking underwater with no scuba skills sounds pretty intimidating, you are actually in excellent hands at The Florida Aquarium. You will be underwater with one SeaTREK guide and another diver who will keep a very curious Shelldon the loggerhead turtle from getting too close. He's not going to bite, he's just a very curious turtle…and super adorable. All SeaTREK guides are certified in CPR, first aid, and emergency oxygen administration.
Related stories we think you'll LOVE: