Meet the Mother-Daughter Duo Who Sparked Seventh Avenue Apothecary
Seventh Avenue Apothecary, co-owned by mother-daughter duo Phala Pesano and Jessica Reisner, is a testament to letting one's own little light shine and using it to ignite others' lights. Reisner and Pesano's lives embody St. Catherine of Siena's words, "Be who God meant you to be, and you will set the world on fire."
Twin Flames
Lights within Seventh Avenue Apothecary's Ybor City building shone long before traces of wild sage and seaside driftwood laced its air. In 1915, the space housed Tampa's first dry cleaning business—opened by Reisner's great-grandparents. Entrepreneurial powerhouses Pesano and Reisner remain proud of their Tampa roots and the work ethic that runs in their blood. Business partners prior to this candlemaking operation, the pair's pursuits have ranged from selling towels on eBay to designing high-end swimwear.
"We sat in this 10K square foot building brainstorming other business ventures," Pesano recounts. The timing was right. "Jess's cousin noted soy candles' popularity. The Junior League of Tampa was hosting its Holiday Gift Market. We made our first pour and sold 1,500 at HGM. We felt big time," she laughs.
A decade later, Seventh Avenue Apothecary pours 3,000 candles per day and sells 10,000 at the Junior League's Holiday Gift Market.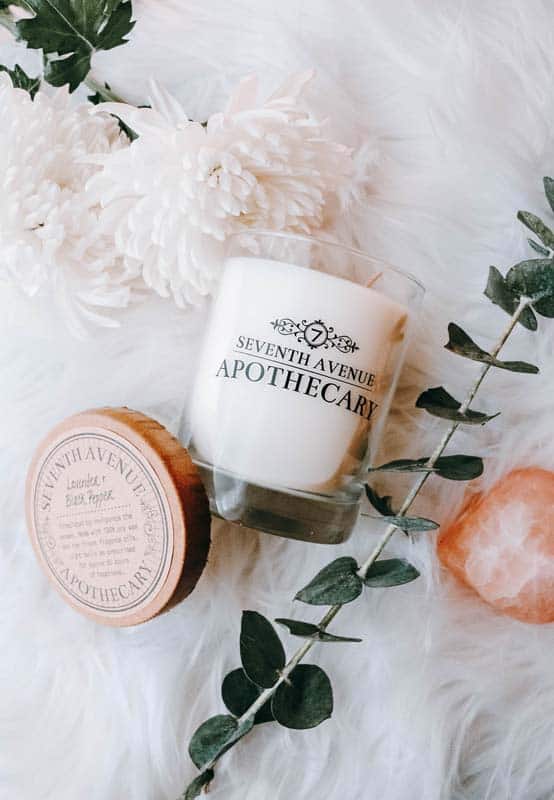 Reisner's husband, Todd, and dad, Charles, bring corporate America expertise to Seventh Avenue. Says Reisner: "Given our growth, they offer an invaluable dynamic." Self-professed free-spirited, artistic butterflies, mother and daughter appreciate the numbers focus of their male counterparts: "When asked about numbers, I say my kids' ages," Reisner says. "My dad is like our crossing guard—helping us understand what we can afford."
Reisner's parents have supported all of her entrepreneurial concepts. An only child, she and her mother are best friends. "It flabbergasts Todd that we talk all day and still call each other when driving home," Reisner says. After her firstborn, Giana, arrived, a room in the historic building was converted into a nursery. "I put a Boppy Pillow on my desk and worked." Growing up in the family business, her daughters now see that family time can include business conversations. Since the days of old when Reisner's Nano and Nana conducted business in the building, the family's sense of team lights the way.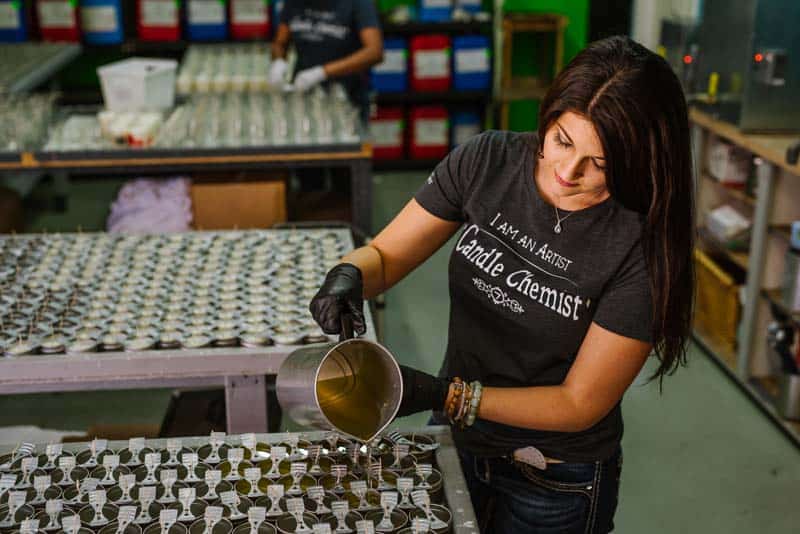 Wildfire
Seventh Avenue Apothecary took off like wildfire and the women, affirmed in their business decision, established core values. "We were intent on one, hiring other women and two, philanthropic giving," Pesano explains.
Giving back, more than donating money for signage, has proven a theme across Reisner's life. "Mom instilled that, for philanthropic hearts, each moment can be used to positively affect another person." They're especially committed to their relationships with two nonprofits: The Kid's Place (which provides residential services to children removed from their homes while keeping siblings together) and Girls Empowered Mentally for Success (GEMS follows at-risk girls, elementary through high school, so they emerge with skills requisite for psychosocial well-being). Both nonprofits sell specially curated Seventh Avenue Apothecary candles with proceeds benefiting the youth they serve. GEMS girls intern with the company as well.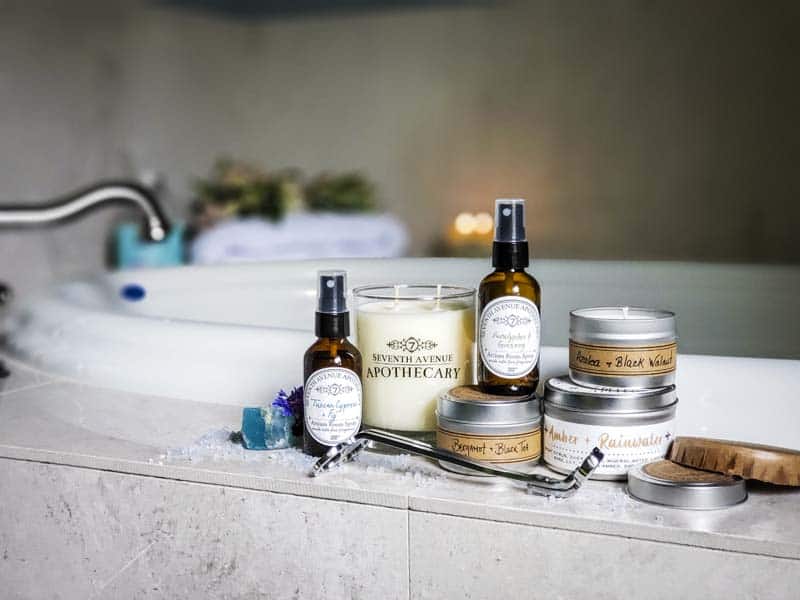 When Sparks Fly
Mentorship from other women kindled Seventh Avenue Apothecary's success. Dr. Eldra Solomon served as one of Pesano's preeminent mentors: "She taught me not to limit myself, to persevere, and to maintain integrity through intentionality." Solomon's lessons sparked how Phala mentored Reisner: "Mom's taught me to consider not if I can accomplish something, but how I can accomplish something." Though the two may experience frustration, even with each other, their solidly poured and shared foundation and mutual respect keep them divinely intertwined. "This business runs in all of our veins," asserted Jess. Family is the 'why' of Seventh Avenue's flames.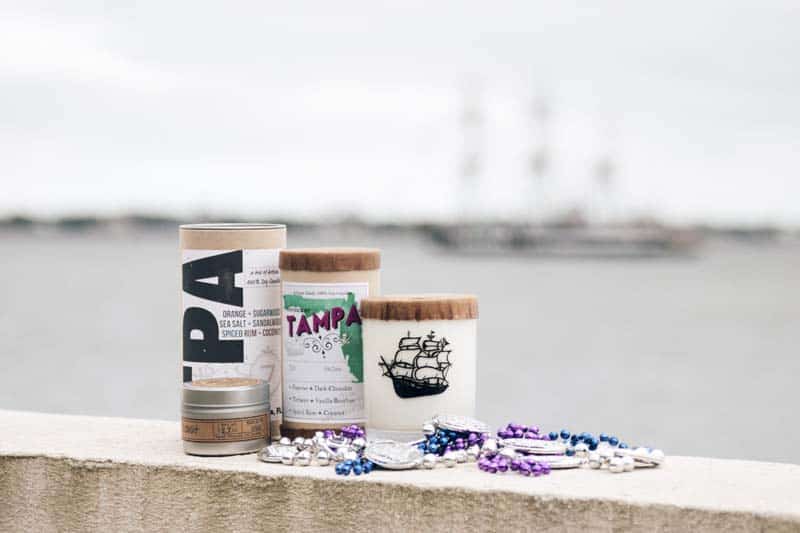 Flashpoint
The pair enjoys sharing their business lessons with others. For budding entrepreneurs, first, consider whether you're selling a service or a product. Second, is it a one-time purchase? While acknowledging the importance of money, Phala also underscores harnessing the power of exploration. "We're encouraged to diversify income. I believe in diversifying experiences."
"Younger people entering business must prepare and embrace the process," Reiser says. "At 20, success meant making my first million. "Now, success is the freedom of time and the fulfillment of knowing we create something people want."
The family is intentional about nurturing their unique sense of balance. "Health, happiness, and family keep us grounded," Pesano says.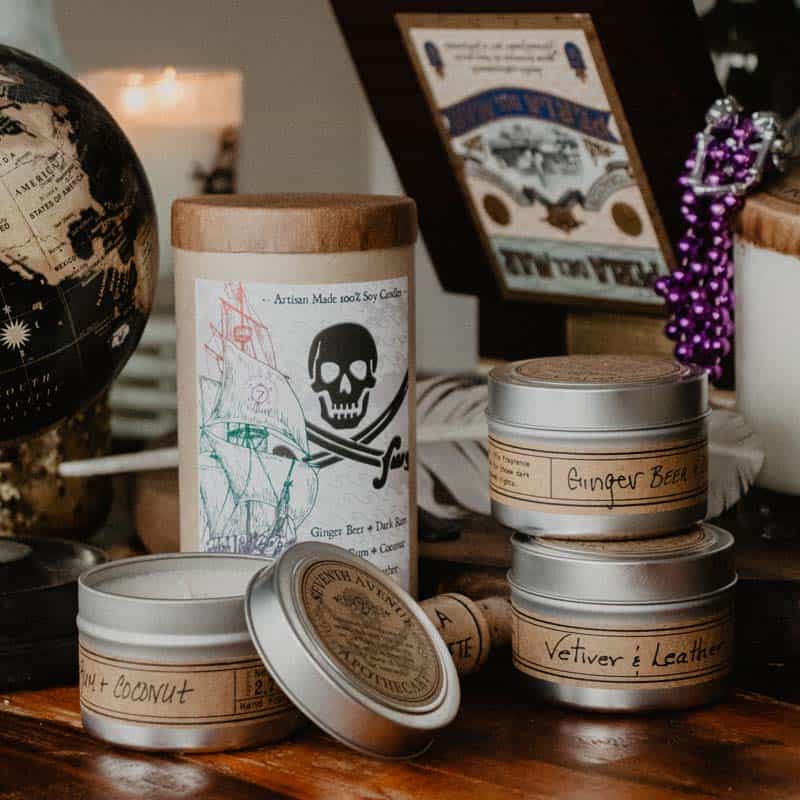 Hot Throw
Seventh Avenue Apothecary bands with fragrance houses to create scents according to Seventh's specifications. Initially, the quintessential Tampa candle company grew from scents associated with family and Ybor. "My grandparents, farmers, always had kumquats, hence our Kumquat & Clove," Reisner says. "Given our Seventh Avenue presence, we've always carried a fragrance with either  tobacco or espresso." An updated Tampa scent, infused with guava, is in development.
The company's private-label-contract manufacturing comprises 75% of its business, and they just signed with the Ritz-Carlton to be a preferred provider of candles. A new line, Evolescent, launches later this year. As owners of half the city block, they're also planning for construction.
"This is more than a dilapidated building to us," Pesano says. "Jess and her dad hung drywall in here. It holds loads of meaning." While newness will promote efficiency, their heritage will always scaffold their adventures—in a business that is their life.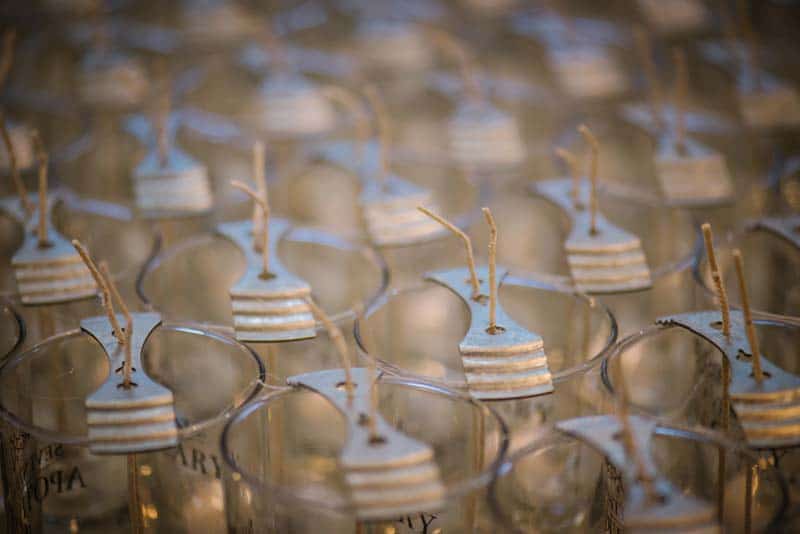 Afterglow
Originally published in the May 2023 issue of Tampa Bay Parenting Magazine.
Related stories we think you'll LOVE: