You can get a $15 credit from Spectrum due to Disney dispute, but you have to call first
If you're one of the many Spectrum customers who were confused as to why you suddenly couldn't watch some of your favorite channels and sporting events, you're not alone.
On August 31, Disney-owned channels were pulled from the Spectrum TV Service, which is owned by Charter Communications. The timing couldn't have been worse for college football fans, especially Florida Gator fans, who saw the channels pulled right as they sat down with their popcorn to watch the first game of the season. The "blue screen of death" in cable world popped up on screen moments before kick-off. Ouch…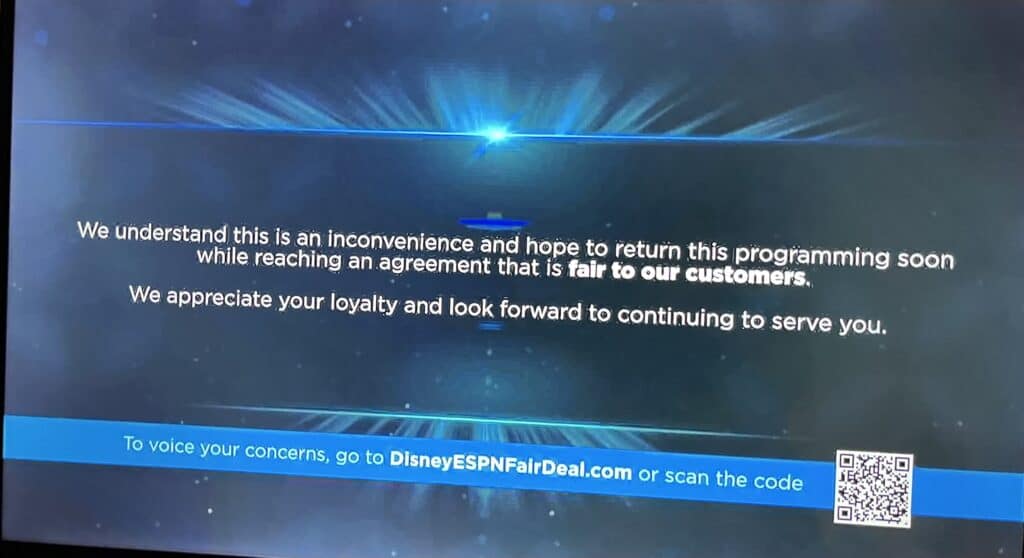 The dispute comes after Disney and Charter were unable to come to terms on a new carriage agreement which isn't uncommon in the cable wars game. But this one hurt since the removal of Disney-owned channels is affecting more than 32 million customers in 41 states.
"This Labor Day weekend has been a frustrating one for millions of Spectrum cable subscribers," Disney said in a September 4th blog. "Instead of enjoying major sporting events such as the return of college football and the US Open, ESPN and other Disney-owned channels like ABC were blacked out due to a dispute between Spectrum's parent company—Charter Communications—and Disney Entertainment. Unfortunately, the dispute is still ongoing."
While there is currently no confirmation of any sort of resolution, customers affected by the dispute can now receive a $15 credit off their monthly Spectrum bill. To receive the credit, customers must call Spectrum's customer service at 833-267-6094.
We called and confirmed that you can, indeed, get the $15 credit to your account if you are a Spectrum customer. It's not a lot, but at least it's something.
The following channels are affected by the dispute:
ESPN
ABC (including local ABC stations in various markets)
FX
Freeform
Disney Channel
Disney Junior
Disney XD
ESPN 2
ESPNU
ESPN News
National Geographic
How to watch ESPN and Disney without Spectrum cable.
You do have a few options to watch ESPN and the Disney Channel during the Spectrum dispute and the easiest way is to buy into a streaming service. The keyword here is buy, so you'll need to be prepared to pay a fee. We've heard several families locally who have opted for YouTube TV or Hulu + Live TV to catch their favorite games. Both appear to offering limited-time discounts on your first few months and claim to have easy cancellation processes–we haven't confirmed this, but both sites say you can cancel at any time. Just read the fine print before you purchase. Disney is sharing more ways to stream their channels live here.
Related stories we think you'll LOVE: