Spooky Scary Fun: Ghosts of Tampa Theatre Tour and A Nightmare on Franklin Street
Tampa Theatre opened in 1926 and has been a Tampa institution ever since. Over the years, it's also become a place where spirits have chosen to spend their afterlife, becoming one of the most haunted places in Tampa. The theatre has drawn numerous paranormal investigators and psychics who have all had their own first-hand experiences…and even theatre guests!
Every October, the theatre hosts two big events to celebrate being one of the most haunted places in Tampa. The Ghosts of Tampa Theatre Tour takes patrons on a walk through the theatre as real-life accounts of paranormal events are recounted. Guests can sit in the exact spots where these experiences have taken place (and may even have a ghostly encounter of their own…).
And, A Nightmare on Franklin Street brings classic horror movies, guest stars, spine-chilling stage shows, spooky storytelling, and family-friendly frights to the theatre all month long. 
Related: INSIDE LOOK: Pirate Water Taxi's Haunted River Tours are a Must-BOO!
We recently joined a Ghost of Tampa Theatre Tour. If it's something you've been thinking about, we definitely recommend booking a day. So, let's dive in!
Ever wonder why Tampa Theatre is known as one of the city's most haunted buildings? Who was the man in seat 308? Why did Robert Lanier tear his final ticket?
Tampa Theatre's Director of Marketing, Jill Witecki, has been with the theatre for 11 years and leads the haunted tour that answers those questions and more. The tour leads patrons through various areas of the theater as Jill recounts several different stories with ghostly proof to back it up. There are no costumed characters or special effects and no need. The stories alone are enough to send tingles down your spine.
What to expect during Tampa Theatre's Ghost Tour
"There are six locations where the most people have had the most experiences in Tampa Theatre. Now, we've heard from people who have been in the building, psychics who have been here, and other people who've had experiences. We have far more entities in the building in various locations, including the balcony, including some other spots up on the stage," said Jill.
"But those six spots we hit on the tour, we have the most stories, the most evidence, the most research associated that we can really tell a meaningful story."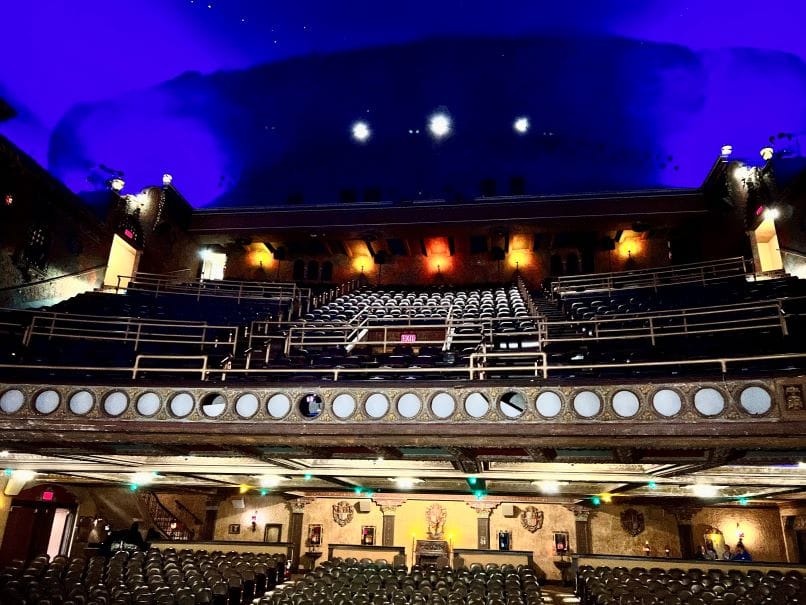 "What's important to me when we do these ghost tours is of course, to be entertaining, but to really tell the true history of Tampa Theatre in a new and different way. So yes, the stories are big and fun and told in a creepy way, but they are rooted in truth. I do my best to tell the stories as accurately as I possibly can, supported by as much accurate research and accurate events as I possibly can. "
Before the tour kicks off, you'll get the chance to download a free ghost radar app that can help you take on your very own paranormal investigation. Think it's all just for some spooky fun? Along the way, Jill also recounts several experiences that guests personally experienced during the tour!
"When you come on the tour, you do hear several stories of things that happened to our guests while they were on the tour and our tours get a little bit longer and change a little bit every year as new stories pop up that we're able to incorporate that are most recent."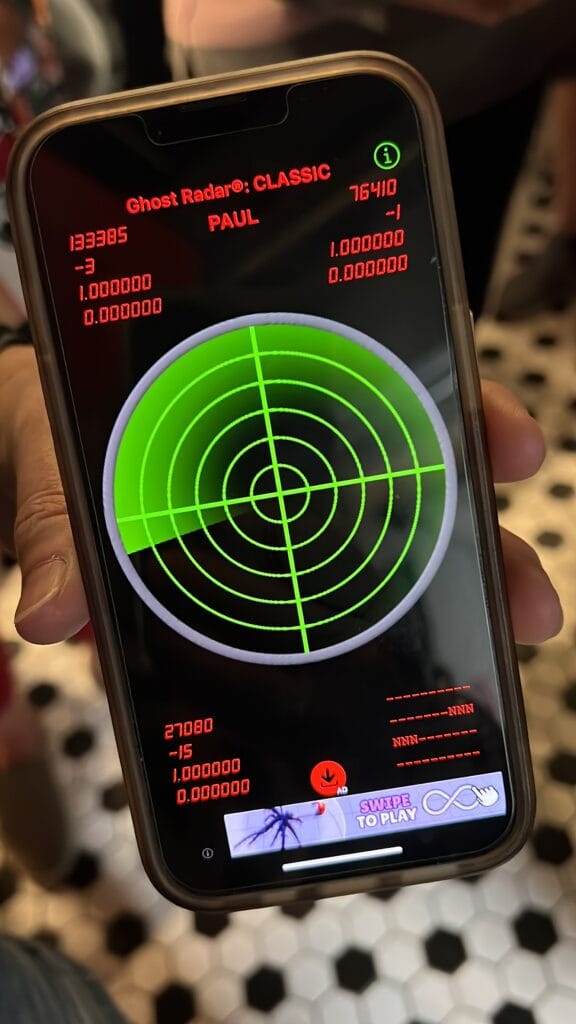 The Ghosts of Tampa Theatre Tour takes place on select dates and times from October 13-31. It's free for Tampa Theatre members and $15 for non-members. The tour typically lasts 90 minutes and is geared towards all ages. 
If you want even more spooks, you can also check out their Late Night, Lights Off Paranormal Investigation on October 27 and 28. Guests will have the exclusive opportunity to review previously collected video, photo, and audio evidence of Tampa Theatre's spirit activity, experiment with professional-grade equipment provided by GhostStop, and investigate alongside the experienced researchers from Genesis Paranormal Services.
Can't make it this month? How to experience the ghost tours year-round
Tampa Theatre regularly hosts other public tours throughout the year like their Balcony to Backstage tour, where they talk about the building's history and architecture. You can also book a private ghost tour for groups of 10 or more.
"If there's an office group or a social group that all wants to come and do a ghost tour in April, we'll do it. We like to tell people that we are not only haunted in October, we are haunted all year long. And we're not only haunted at night! That's another misconception – you don't have to come on a ghost tour at night. It's always dark in a theatre and we are haunted 24/7."
---
Every October, Tampa theatre presents its most sinister series, A Nightmare on Franklin Street where you can catch everything from classic slasher horror films to family-friendly Halloween flicks and even a live stage show.
"Right now, we're in the midst of our eleventh annual Nightmare on Franklin Street Series which runs now through October 31st and in between, we have forty-seven different ways to celebrate Halloween," said Jill.
"Halloween is my favorite holiday and that's why, because there are so many different ways to celebrate it. From the bloody gory to the spooky ghostly, to the gothic Victorian to the slasher to the family film. We have them all. Plenty of Halloween fun to be had!"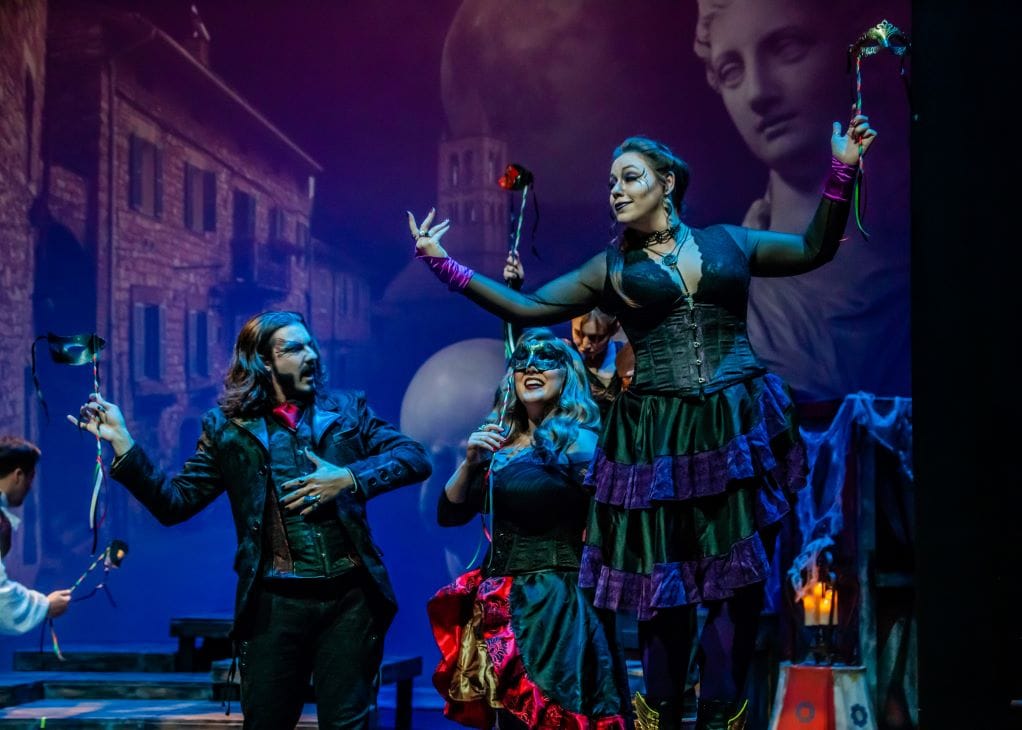 What's on this year's lineup?
This year's lineup has something for everyone, whether you want to enjoy a parents' night out or take the whole family.
October 18: Grand Hampton the Movie: Anthology
October 19: FTB Presents: Cannibal Comedian
October 20: The Cabinet of Dr. Caligari, Carnival of Souls
October 21: Coco (two showings – Spanish and English), The Rocky Horror Picture Show
October 22: Interview with the Vampire, PHANTASMAGORIA XIV: Tales of the Undead (Live stage show. Recommended for children ages 8 and up.)
October 23: The Shining
October 24: Train to Busan
October 25: Dead of Night
October 26: Talk to Me
October 27: Saw, Late Night, Lights Off Paranormal Investigation
October 28: Pulgasari, The Purge
October 29: Slotherhouse, Night of the Lepus
October 30: The Changeling
October 31: Halloween
Ticket prices and times vary. Visit their site to showtimes and to purchase tickets.
Featured image: PHANTASMAGORIA XIV: Tales of the Undead
---
Want more hauntingly good fun? Check out: