INSIDE LOOK: Pirate Water Taxi's Haunted Tours are a Must-Boo!
Ahoy brave souls! Pirate Water Taxi's Haunted Tours have set sail once again in downtown Tampa with ghostly characters, eerie tales of the city's past, and even a pumpkin surprise for the kids.
It's a fun Halloween event for the whole family and a great way to experience our beautiful downtown from the water.
We stepped aboard the ghostly cruise on opening night to see what it's like so we can help you map out your family's epically ghoulish adventure. So, let's dive in!
Are the Haunted Tours family-friendly?
Yes, Pirate Water Taxi's Haunted Tours are family-friendly and were designed that way. In fact, there were several very young kids on our tour which set sail at 8:15 p.m. The ghostly guide is super friendly and while some of her tales may be spooky, it didn't seem to bother any of the kids, from the toddlers to older kids.
When are the sailings?
The Haunted River Tour sailings are on select nights in October: 10/6, 10/7. 10/8, 10/13, 10/14, 10/15, 10/20, 10/21, 10/22, 10/26, 10/27, 10/28, and 10/29.
There are three sailings each of the nights at 6:15 p.m., 7:15 p.m., and 8:15 p.m. Each tour is about 45 minutes long.
How much are tickets for Pirate Water Taxi's Haunted River Tours?
Tickets start at $20 for kids ages 2-12 and $35 for adults. If you are a Pirate Water Taxi annual pass holder, you get $5 off up to 5 tickets.
Where do you board the Haunted Tours?
The Haunted Tours board at Pirate Water Taxi's Stop #7 at the Sail Pavilion/Tampa Convention Center. If you arrive early, you can grab a bite to eat at the Sail Pavilion.
The Sail Pavilion area is all decked out for Halloween too, so get the camera ready since there are plenty of fun photo opportunities.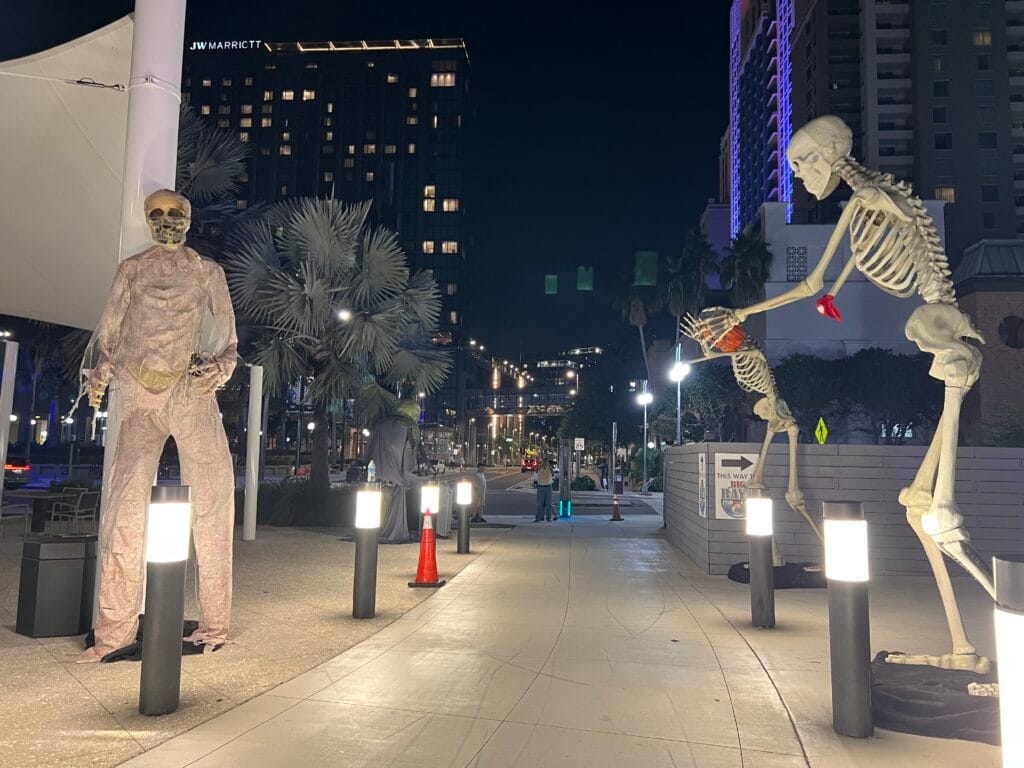 Where to park for Pirate Water Taxi's Haunted Tours.
The best place to park is in the Tampa Convention Center's parking garage, but you can also park at the Pam Iorio Garage or Fort Brooke Garage. Another option is to find a metered spot near the Convention Center. Keep in mind that if there is an event at Amalie, there may be an event parking rate, so give yourself some extra time if something is on schedule.
Fort Brooke Garage – 107 N Franklin St, Tampa, FL 33602
Tampa Convention Center Garage – 141 E Brorein St, Tampa, FL 33602
Pam Lorio Parking Garage – 640 S Florida Ave, Tampa, FL 33602
Sail Pavilion Circle (worth a shot trying, but this area is typically full) – 333 S Franklin St, Tampa, FL 33602
What happens on the Haunted Tour?
You'll step aboard the decorated Pirate Water Taxi at Stop #7 where you are greeted by your ghostly captain and crew. Find a seat at one of the tables and if you're parched, walk up to the onboard bar and order drinks like water, sodas, beer, and wine.
Once everyone is on board, you'll get the safety briefing and then set sail along Tampa's beautiful riverfront. Snuggle up with the kids as your guide regales you with eerie tales of some of Tampa's most famous landmarks… and the supernatural beings that may still linger.  We won't share the stories simply because we don't want to spoil it for you. It's all part of the experience!
Related: INSIDE LOOK: Tampa Theatre's Ghost Tours are a spooky Must-Boo!
Right before your cruise comes to a close, your last stop is one the kids love–a visit to Captain Patchy's Pumpkin Patch, Tampa's only floating pumpkin patch! They say he's the grumpiest tug boat captain around, but we sure thought he was charming. And hey, he shared his pumpkins with us, so you gotta love him for that, right?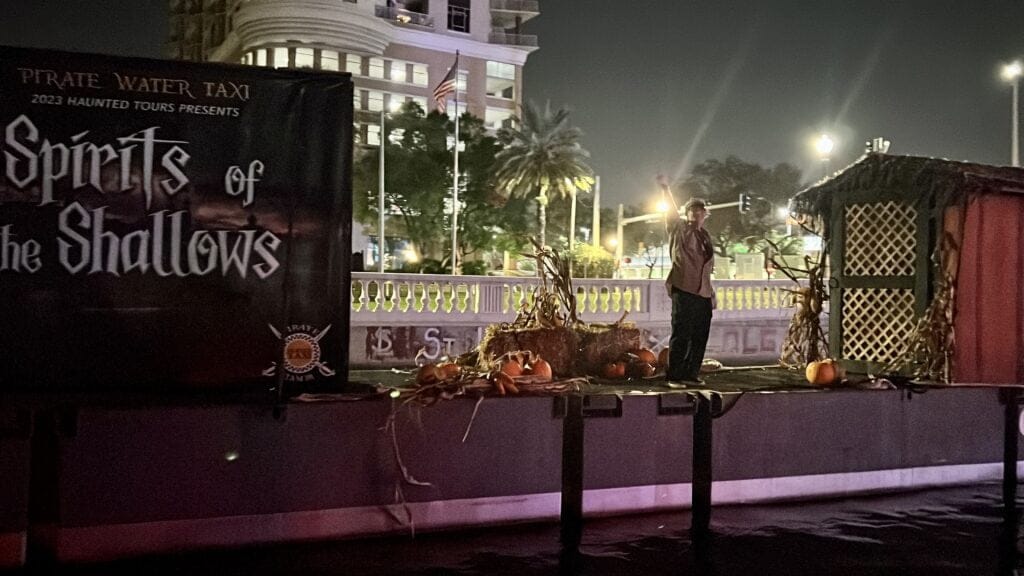 Each child on the cruise will receive a pumpkin from Captain Patchy to take home and don't fret. He has plenty to go around.
Once the Haunted Tour is over, you'll disembark at Stop 7, and from there, enjoy a great night in downtown Tampa and Water Street. But, before you leave, be sure to snap a few photos at their photo opp at the dock. It's super cute!
Overall. this is a Halloween event we can absolutely recommend to families like yours.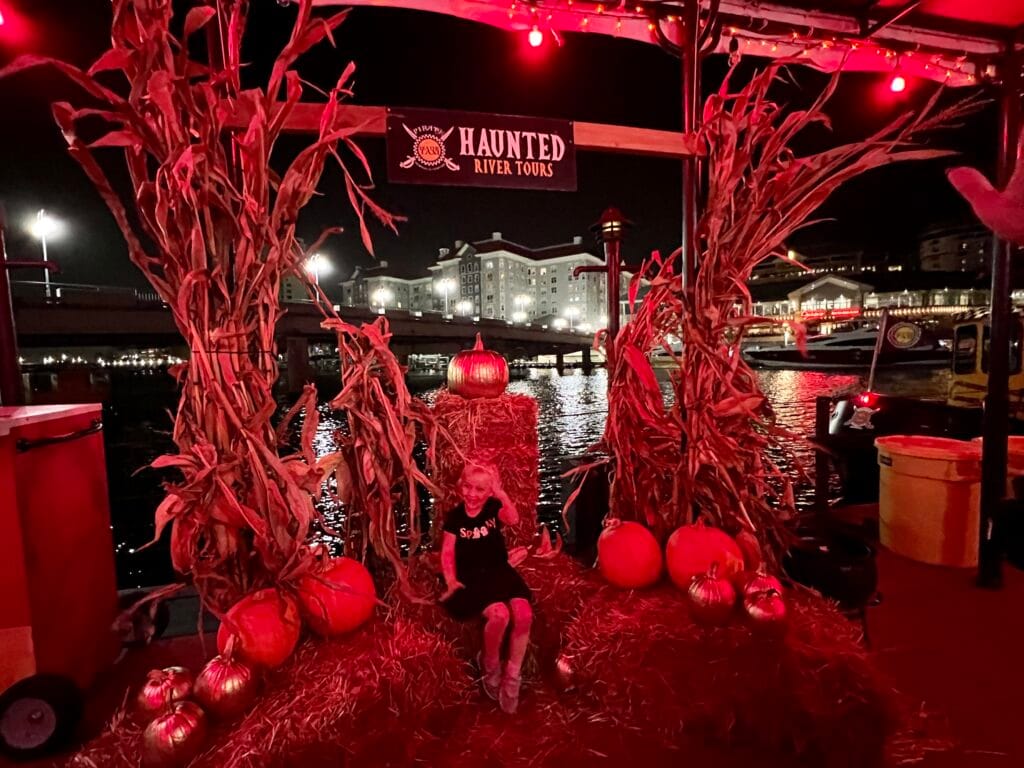 What else is there to do in downtown Tampa?
There are so many other fun things happening this Halloween season in downtown Tampa. You can hop on the TECO Street Car from Stop 10 at Dick Greco Plaza near the Convention Center and go to Sparkman Wharf (Stop 8). There are some fun places to eat here and fun things to do too:
Dates: October 27 and 28, 2023 from 5:30 pm-10 pm
615 Channelside Drive, Tampa
Cost: FREE
A haunted pirate shipwreck is heading to Sparkman Wharf with an evening of plenty of photos, live music, silly spooks for the kids, festive food and drinks, and MORE! This is a free community event. Some of the cool photo opportunities include a pirate jail, a siren's sea swing, and the TAMPA sign will be decked out for the holidays too! 
October 28 and 29, 2023 during Aquarium hours
Sensory-Friendly Guppyween: October 28 from 8 am-9:30 am
Cost: Museum admission
Guppyween returns to the Florida Aquarium for a weekend filled with Halloween-themed activities, trick-or-treating, animal encounters, costumed divers, and even underwater pumpkin carving!
October 28, 2023, from 4 pm-7 pm
Downtown Tampa Riverwalk
Cost: FREE
Trick or treating on the Riverwalk is back where kids and their families can visit more than 50 different treat stations while enjoying other fun activities including the annual Halloween Lighted Boat Parade which starts at 6:30pm, benefiting the National Pediatric Cancer Foundation.
October 29, 2023, from 12 pm-2:30 pm
603 Channelside Drive, Tampa
Cost: Tickets start at $34.95 for kids and $54.95 for adults
This Halloween-themed Boo Brunch cruise is a family-friendly adventure with fun costume contests, tricks and treats, a brunch buffet, and more. Each child will receive a complimentary pumpkin at the end of the cruise along with a cute photo opportunity before boarding.
Dates: September 22-October 28, 2023 on  select nights
615 Channelside Drive, Tampa, FL
Cost: $22-$24 (plus tax) general admission, military discounts available
UNDead in the Water is back at Sparkman Wharf! Traverse multiple decks of this historic WWII cargo ship armed only with nerves of steel and a will to survive.  Avoid being eaten by the infected zombie stowaways while the Ripper Squad Decontamination Crew fights for humanity's very survival! Alas, no pumpkin patch here.  This is best for kids older than 11 years old due to the fright factor.