INSIDE LOOK: The Magical World of Nutcracker at The Straz Center in Tampa
Get ready to be dazzled at The Straz Center for the Performing Arts as the dancers from Next Generation Ballet® (NGB), Patel Conservatory's pre-professional dance troupe take the stage alongside young dancers and special guest principal dancers from the New York City Ballet.
Nutcracker returns to The Straz December 21-23, 2023, in Carol Morsani Hall with an enchanting production that has been months in the making.
What makes this performance even more special is the passion and dedication of those who bring it to life. It's not just about creating forever memories for you in the audience; it's setting the stage for young dancers as they embark on their journeys to a career in dance.
We recently sat down with Philip Neal, the artistic director of Next Generation Ballet® and dance dean of Patel Conservatory's Dance Department. With more than 20 years as principal dancer with the New York City Ballet, Neal puts an incredible amount of work into creating this magical performance.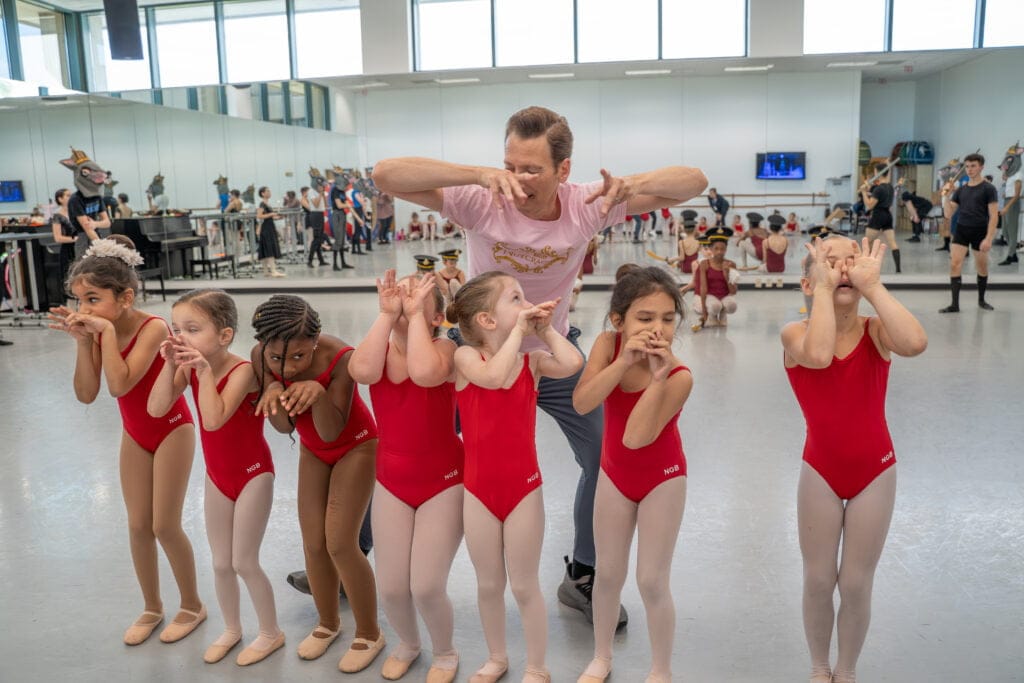 Laura Byrne: What do you think it is about the Nutcracker that makes it so special?
Phillip Neal: It is the most famous, popular ballet of all time. I mean, you've got a couple of those that really stand out like "Swan Lake" and "Sleeping Beauty," but Nutcracker is the one that everyone partakes in.
I think almost anyone who started ballet, started because of Nutcracker. It certainly was that way for me.
It's a terrific thing because they get to be on this huge stage—Morsani Stage at the beautiful Straz Center—with a union crew, and this production is valued at well over a million dollars. It's going to have an impact for the rest of their lives that they'll always remember. I think anyone who danced at some point in life remembers their childhood experience.
Laura Byrne: This is also a chance for you to introduce the art form of ballet to a new audience each year.
Phillip Neal:  I want to make this a ballet-centric, dance-centric city. I think the potential is there for it. But really, this is your introduction and first impressions are everything. Often people are just so surprised at the professional element of it all. Well, it's not a mistake. We started in September! We have the kids downstairs getting fit by the professional costume person right now, and then they're rehearsing from 12 p.m. until 6:30 p.m. We're rehearsing all week long for months on end.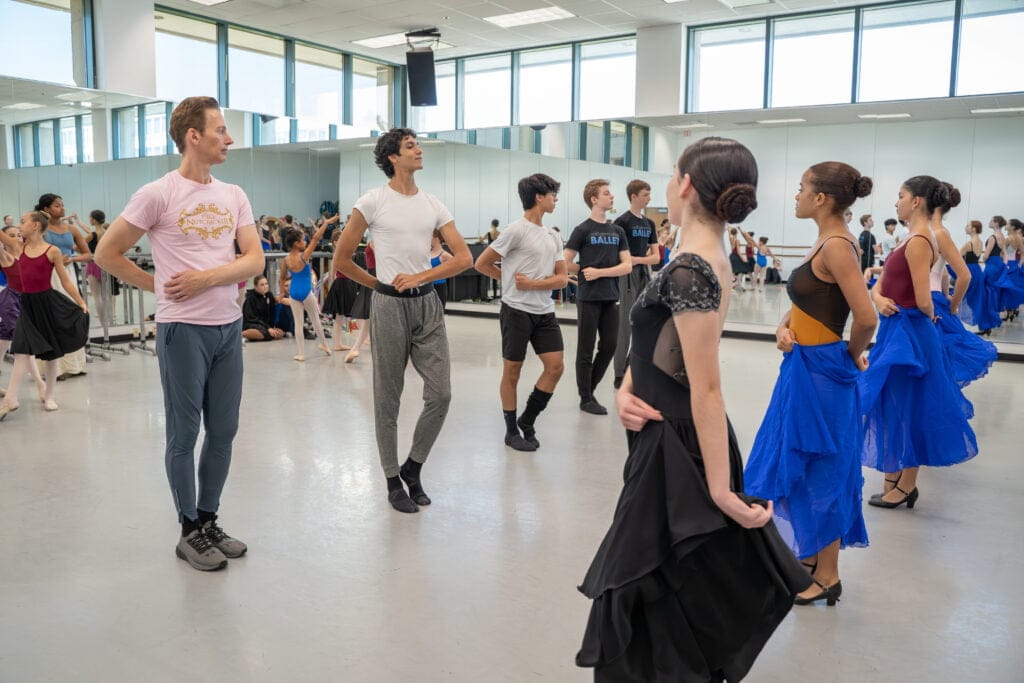 Laura Byrne: Your dancers from Next Generation Ballet and the Patel Conservatory will be joined by some special guests this year.
Phillip Neal:  The Sugar Plum Fairy and the Cavalier are principal dancers from New York City Ballet who are coming down. They're newly promoted principals Indiana Woodard and Chun Chan. I was just in New York City, and I saw them.
They're really excited to come because they remember what it was like when they were children in the production. It's not easy to get them released because they're doing the Nutcracker in New York City at the same time. So they're going do these five shows and then get on a plane Sunday morning, Christmas Eve, and fly at six o'clock in the morning and dance at Lincoln Center matinee. That's commitment.
Laura Byrne: You like to add something new to the performance each year—what are some of your favorites over the years and what can we expect this year?
Phillip Neal:  The Tap Dancing Soldier, the Party Scene … we have a whole dance that looks like the Rockettes in New York called Just for Kicks. Last year, I added baby mice because I'm trying to get everyone who studies at the Conservatory a part.
And then this year I added rosebuds—beautiful little girls that I add to the "Waltz of the Flowers." So now the stage is really full with different levels within the Academy with a big Dew Drop Fairy in the middle.
Laura Byrne: Do you have any tips for families bringing their kids to see Nutcracker for the first time?
Phillip Neal:  I just think the ritual of going to the theater is a very important thing to teach a child. Like, if you go to church, there's a certain protocol, right? And while it's really exciting, it's really festive, we want the child to know that you're quiet. This is the downtime with no electronics, no phones. It's a really a lovely time to commune with the people around you and focus on that.
I have everything moving at such a fever clip that they will be entertained. Then the ritual of seeing Santa out in the lobby, everyone remembers that experience. There's something wonderfully old-fashioned and traditional about it that in our hectic, crazy, very dominated-by-our-computers-and-phone lives gives us an opportunity to breathe and just commune in something together. It's really lovely.
Laura Byrne: We now want to turn our attention to 14-year-old Yui Hayashi who performs in the role of Clara in Nutcracker. Yui, your family moved to Tampa specifically so you can perform with the Next Generation Ballet. What has the experience been like for you?
Yui Hayashi: It's honestly a dream come true. I feel like Clara is such a dream role for me. I love performing, so being able to perform on the Morsani stage as Clara is mind-blowing to me.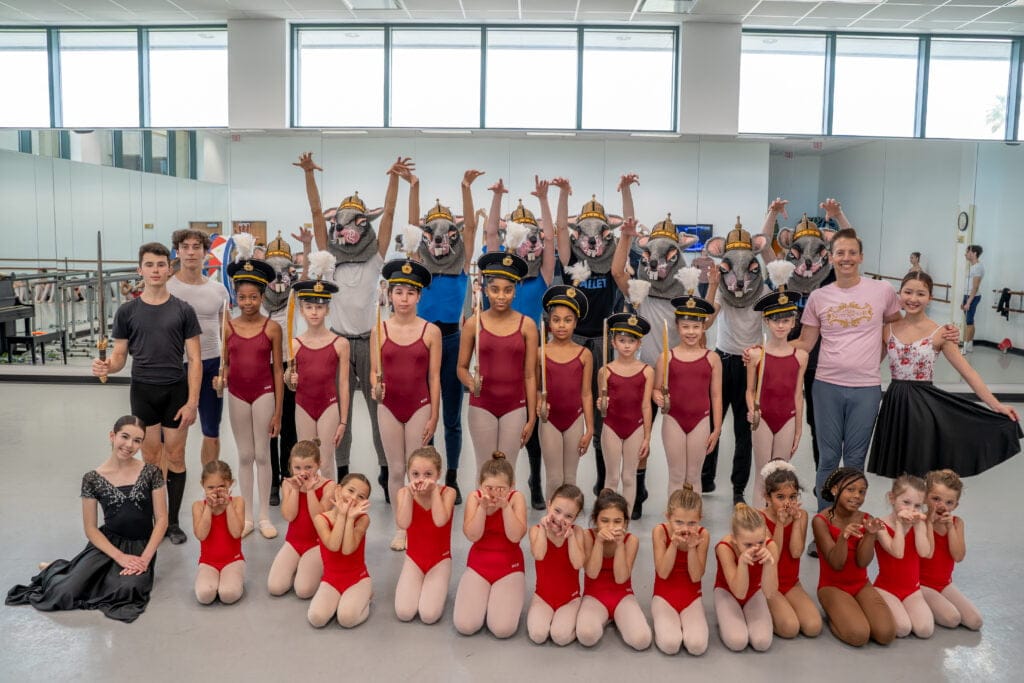 Next Generation Ballet will perform "Nutcracker" Dec. 21-23, 2023, in Carol Morsani Hall at the Straz Center. For tickets and information about special opportunities for groups of 10 or more, contact our Ticket Sale Office at (813) 229-7827 or visit strazcenter.org. 
Fun Facts About Nutcracker and Next Generation Ballet:
(Words provided by The Straz Center.)
The original working titles for "The Nutcracker" were "The Christmas Tree" and "The Fir Tree." NGB's production goes just by "Nutcracker."
The ballet took 42 years to migrate from Russia, first being performed in England in 1934. In the United States, it was first performed in 1944 by the San Francisco Opera Ballet. It took another 10 years to get to New York City where it became a full-on American holiday tradition after George Balanchine choreographed it in 1954. In Tampa, Next Generation Ballet and earlier iterations of the company have performed "Nutcracker" for more than 15 years.
Depending on where you are, Clara may not be the name of the heroine. There were two versions of the original story, "The Nutcracker and the Mouse King" by E.T.A. Hoffmann and "The Nutcracker of Nuremberg." In these stories, the heroine is known as Maria or Marie, and her doll was named Clara.
Tchaikovsky thought this work was "infinitely poorer" than his score for "Sleeping Beauty." "The Nutcracker" was the last of the three ballets he composed for – the first being Swan Lake. Next Generation Ballet has performed all three of these ballets at The Straz over the years!
A newly invented musical instrument of the time, the celesta, is the twinkling sound you hear in "Dance of the Sugar Plum Fairy." Tchaikovsky found the piano hybrid with a bell-like tone while in Paris and smuggled it to Russia to create the character's unique musical accompaniment, which has been described as sounding like sprays of a fountain.
Each year, NGB Artistic Director, Philip Neal adds in a new element to the show – from a live choir during the snow scene to flamenco choreography during the Spanish divertissement. New this year, the youngest dancers ever will be involved in Nutcracker as Baby Mice during the battle scene.
The Nutcracker musical suite has made some notable appearances in pop culture as well, in as varied a range of productions as Disney's Fantasia (1940), a 1954 holiday episode of General Electric Theater hosted by then-actor Ronald Reagan, and several video games including Lemmings, Yoshi's Story, and 2007's Bioshock.
In 2018, Misty Copeland, the first African-American female principal dancer in American Ballet Theatre's history, performed as Ballerina Princess in the Disney film, "The Nutcracker and the Four Realms," a retelling of Hoffmann's original story.
---
*Presented by the Straz Center for the Performing Arts | Originally published in the December 2023 issue of Tampa Bay Parenting Magazine.