NEW in Tampa Bay: Meet and JOIN the Tampa Pickleball Crew
In case you haven't heard…pickleball is kind of a big deal. Best described as a mashup of tennis, badminton and ping-pong, it's an easy-to-learn sport that people of all ages enjoy. In fact, it's been so passionately embraced, there is now a Major League Pickleball with some of the biggest names in sports as investors in teams (ahem, Tom Brady), and you'll find new courts are popping up all over the world and right here in Tampa Bay.
In fact, the newly formed Tampa Pickleball Crew just announced they'll be opening an indoor court in Ybor City in late spring/early summer, converting a 28,000 square foot warehouse into a pickleball lover's paradise. It's for members only and they're offering VIP "Very Important Pickleballer" memberships now with early bird rates here.
So, what's the big dill exactly? We turn to the founders of Tampa Pickleball Crew to find out.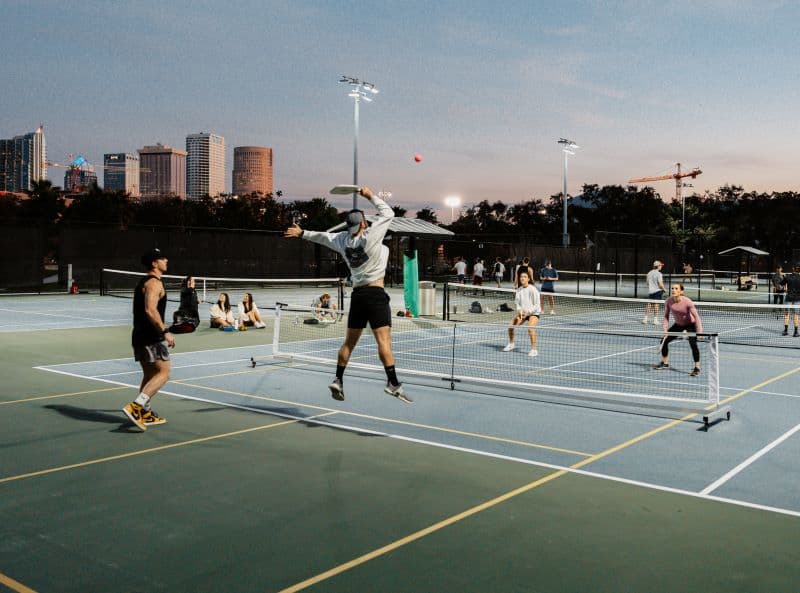 We want to get to know you! Tell us about yourselves and how you fell in love with pickleball.
Our team is comprised of three close friends: Jennifer Plummer, Susan Forsyth and Dené Williamson. Pickleball was first introduced to us (Jen and Susan) at a time in our lives when our kids were growing up, getting more involved in school and sports. Therefore, we had more free time, which led to playing a LOT of pickleball! We immediately found an instant community of people from all ages, backgrounds and skill levels—but we all had one thing in common: a love for pickleball!
With our experience in marketing and fundraising, we decided to take on another venture, to launch pickleball pop-ups! That's when we knew we had to partner with Dené who has a blended background in the sports industry and teaching. She is a Sport Business professor at Saint Leo University and these pop-ups give her students real world experience.
Together, we bring the necessary elements needed to create and execute fun and competitive tournaments with a focus on giving back to the community.
How would you describe pickleball?
While we are by no means professional Pickleballers, we do have a love and appreciation for the game. Pickleball is described as a unique combo of tennis, badminton and ping-pong. The sport has gained traction and momentum because it can be enjoyed by people of all ages and skill levels but can also develop into a fast-paced competitive game. Pickleball has an interesting origin story, definitely worth a Google search.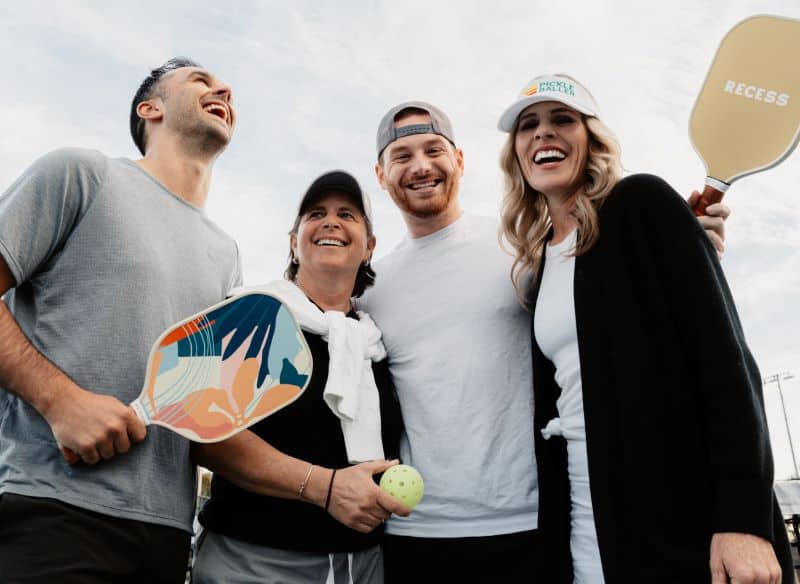 Is it easy for kids to pick up and play?
Definitely! Jen's daughter was first introduced through a PE class, and Susan's 3-year-old granddaughter already has a mini paddle! We regularly see multi-generational games happening between all ages.
Why did you decide to create Tampa Pickleball Crew and what's next?
TPC was born out of our love for the sport, desire to give back and eagerness to bring people together. Our first tournament is April 1 at Cuscaden Park. We have partnered with Tampa Parks and Recreation to sponsor the tournament, and a portion of proceeds will go back to Cuscaden Park to further improve the courts and court areas. We plan to hold more pop-ups and events throughout the city AND look forward to making exciting announcements soon.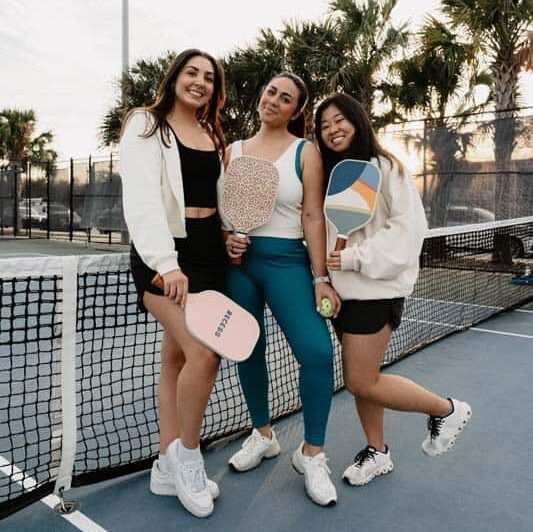 Do you teach people how to play?
We aren't professionals, but we do love sharing the sport. Our informal introduction to pickleball has helped our friends get the basics of rules, scoring and strokes. There are plenty of great coaches and pros in the area who offer private lessons and clinics.
Do you have a favorite place to play pickleball in Tampa Bay?
Julian B. Lane is our personal favorite spot in town, but we are thankful for the opportunity to play at different courts and look forward to seeing more courts in our city soon… wink-wink.
The City of Tampa Parks & Recreation has made an effort to add new courts throughout the city. It is our understanding they have plans to add more courts and lighting. While it may be easier to find courts, it's become more of a challenge to find EMPTY courts – especially during peak hours. We are excited for our pop-ups to allow people designated playing times.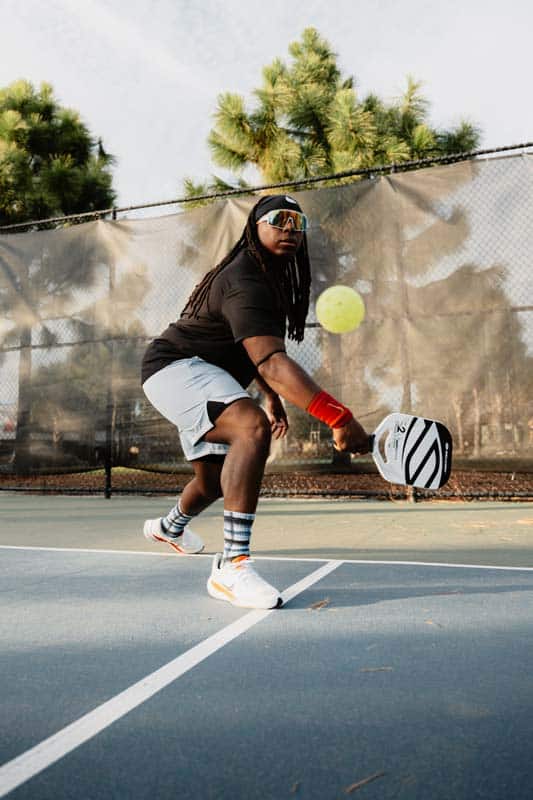 Is there anything else you'd like to share?
We encourage you to get out and PLAY! If you haven't tried pickleball yet, we really recommend it. Our tournament is for all levels, a great way to meet people, and a fun way to be introduced to the sport. If you have any questions or want to learn more – visit tampapickleballcrew.com or give us a follow on Instagram: @tampapickleballcrew. See you on the courts, soon!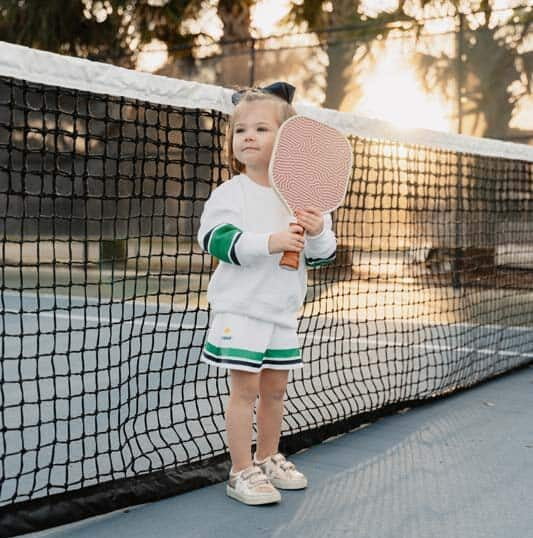 Usapickleball.org is another great resource to learn how to play, find courts, and more!
---
Image credit: Sunny Collabs | Originally published in March 2023 of Tampa Bay Parenting Magazine.