Target's Car Seat Trade-In Program Returns in April!
Target's popular car seat trade-in program is returning April 16-29, 2023!
For this limited time, you will be able to turn in an unused or expired car seat at guest services and receive a voucher for 20% off your next purchase of one car seat, booster seat, stroller, or other select baby home gear at Target stores or online at Target.com.
You must be enrolled in the Target Circle program to take advantage of the offer and you'll have to redeem that voucher by May 13, 2023.
Why is Target hosting a Car Seat Trade-In Event?
To help save the planet! The car seats you turn in will be recycled by Waste Management which will turn your old seats into things like shopping carts, buckets and construction materials!
Target has held several recycling programs like this since 2016 and has recycled 2.19 MILLION car seats which equals out to 32.9 million pounds of waste that DID NOT end up in land fills! Pretty cool.
So, how does the Target Car Seat Trade-In program work??
During the program dates, you can drop off your old car seat at one of the car seat collection boxes near Guests Services at your local participating store. Make sure you've already registered with the Target Circle program to save time. There will be scan sheets near the collection boxes to scan into your Target Circle account from your phone.
I did recycle my youngest son's old infant car seat during the last Target Car Seat Trade-in event and it was super easy! I already have another one ready for this April's event.
Like I said, it's a pretty simple process and it's a win-win since you get to save $$ while doing a small part to save the planet!
We knew we already loved Target, but now we love them even more!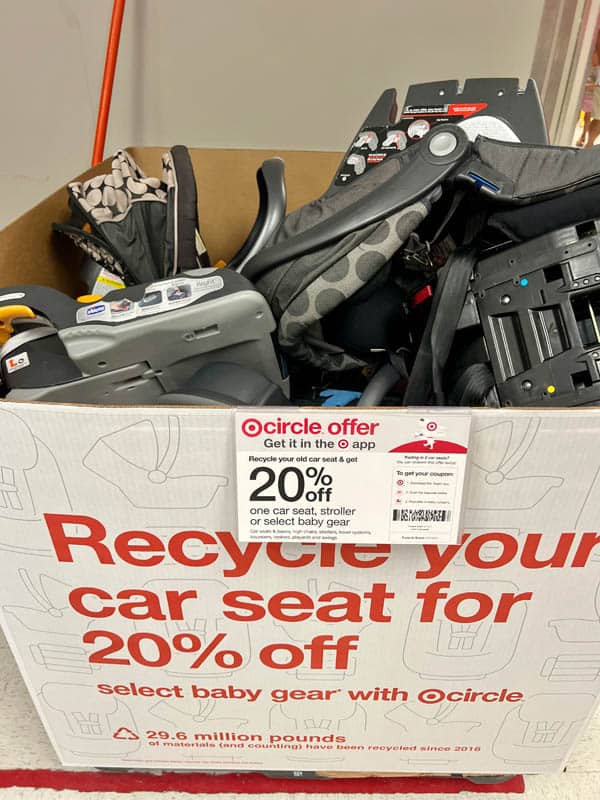 Click here: Find a Safe Kids Car Seat Event or Certified Inspector Near You
---
Related stories we think you'll LOVE!