Distinguished Programs Equal Huge Opportunities in Hillsborough County Public Schools
The Academy of Finance Program: Sounds like some fancy course at the college level, right?
Did you know five of our high schools in Hillsborough County offer The Academy of Finance Program? And, even better, there are big scholarship opportunities available to students who complete this prestigious program.
"The Academy of Finance is one of several CTE (Career & Technical Education) programs that are offered now in five schools in the district: Jefferson, Armwood, Brandon, Spoto and King High Schools," said Larissa Lizarraga, supervisor of Career and Technical Education for the district. "Students can join starting freshman year. Every year they take a different course in several areas of business and finance such as accounting, entrepreneurship, economics and financial literacy."
This year The Academy of Finance Program had 25 students from three different high schools complete the program. They were honored and celebrated during a special breakfast a couple of weeks before graduation. Superintendent Addison Davis gave the opening remarks during the event and thanked the teachers, families and, of course, the students who completed the program. He says the opportunities the program offers can be life-changing and truly prepare our students for the future.
"It is so awesome to be able to recognize 25 of our high school students that have completed the Academy of Finance," Davis said at the recognition event. "They've had opportunities to engage with business partners and business educators that really understand economics, financial planning, business leadership and accounting. It's so important for us to train our students to transition to the real world because these are skills they will need forever as they move forward in careers in the financial pathway."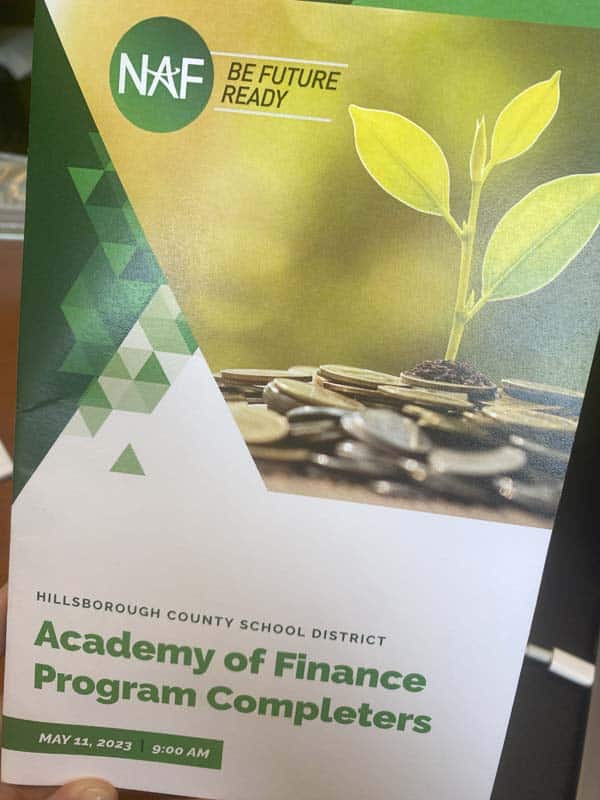 As an added surprise during the ceremony, the William A. Gregory Foundation awarded several scholarships to students who completed the program:
Four students received $4,000 scholarships
Jorge Sanchez, a Jefferson High School senior, was awarded a $10,000 scholarship
Boglarka Csanadi, a Brandon High School senior was awarded a $20,000 scholarship
"I received the William A. Gregory foundation scholarship, $20,000 over four or six years depending whether I want to get my masters," Csanadi said excitedly after the ceremony. "So I am very, very happy and grateful for this opportunity."
Csanadi plans to attend the University of Florida to major in Computer Science.
Many high school students head into post-graduation life with barely the basics when it comes to handling finances. The Academy of Finance Program not only prepares students to manage their own money matters, but gives them the strong foundation to turn it into a career.
The Academy of Finance Program is offered at Brandon High, Armwood High, King High, Spoto High and at Jefferson High as a magnet program, which means any student in the district can apply to be accepted into that program.
To learn more about The Academy of Finance Program, visit www.HillsboroughSchools.org and search for "Career and Technical Education".
---
Originally published in June 2023 of Tampa Bay Parenting Magazine.