The Best Hotels at Walt Disney World for the Holidays
Celebrate Your Best Christmas Ever in Orlando!
There's no place like home for the holidays, except perhaps Walt Disney World. If you're ready to give your family the merriest memories this holiday season at Walt Disney World then it's time to consider booking a hotel room. Disney area hotels are booking fast for the holidays.
Related: The Complete Guide to the Holidays at Walt Disney World
Our list of the best hotels at Walt Disney World for the holidays includes some obvious choices as well as some hotels that might surprise you.
Christmas Decorations at Walt Disney World Hotels
Before we get into our list, let's review the basics of Christmas decorations at Walt Disney World hotels. Every single Disney-owned hotel has decorations for the holidays. From the budget-friendly Value resorts to the extravagant Deluxe resorts, you'll find a Christmas tree and decorations at each resort.
So no matter what level of Disney hotel fits your budget best, you'll find merriment. Even hotels on Disney property that aren't owned by Disney, as well as nearby hotels, have decorations too. Naturally, Disney's are the most whimsical, though.
The focus of this list isn't necessarily on decorations. Instead, the best hotels at Walt Disney World for the holidays include hotels that have great holiday activities, as well as provide convenient access to the theme parks' holiday activities.
The

Best Hotels at Walt Disney World for the Holidays
Disney's Contemporary Resort
Disney's Wilderness Lodge Resort
Disney's Caribbean Beach Resort
Disney's Pop Century and Art of Animation Resorts
Disney's Beach Club Resort
Walt Disney World Swan and Dolphin
Wyndham Lake Buena Vista and Wyndham Garden Lake Buena Vista
Marriott's Gaylord Palms Resort

Category: Deluxe
Decorations: Modern with tributes to classic Disney
Best for: Access to Magic Kingdom and EPCOT
When it comes to the holidays Disney's Contemporary soars to the top of the list because it serves as a convenient hub to get to many popular holiday activities.
Want to take your kids to see the gingerbread house at Disney's Grand Floridian? Hop aboard the monorail right here at the Contemporary and it'll take you there. And don't miss the gingerbread display right here at the Grand Canyon Concourse of the Contemporary.
Headed to Mickey's Very Merry Christmas Party? Awesome, just walk on over — Magic Kingdom is right next door and is a five-minute walk away.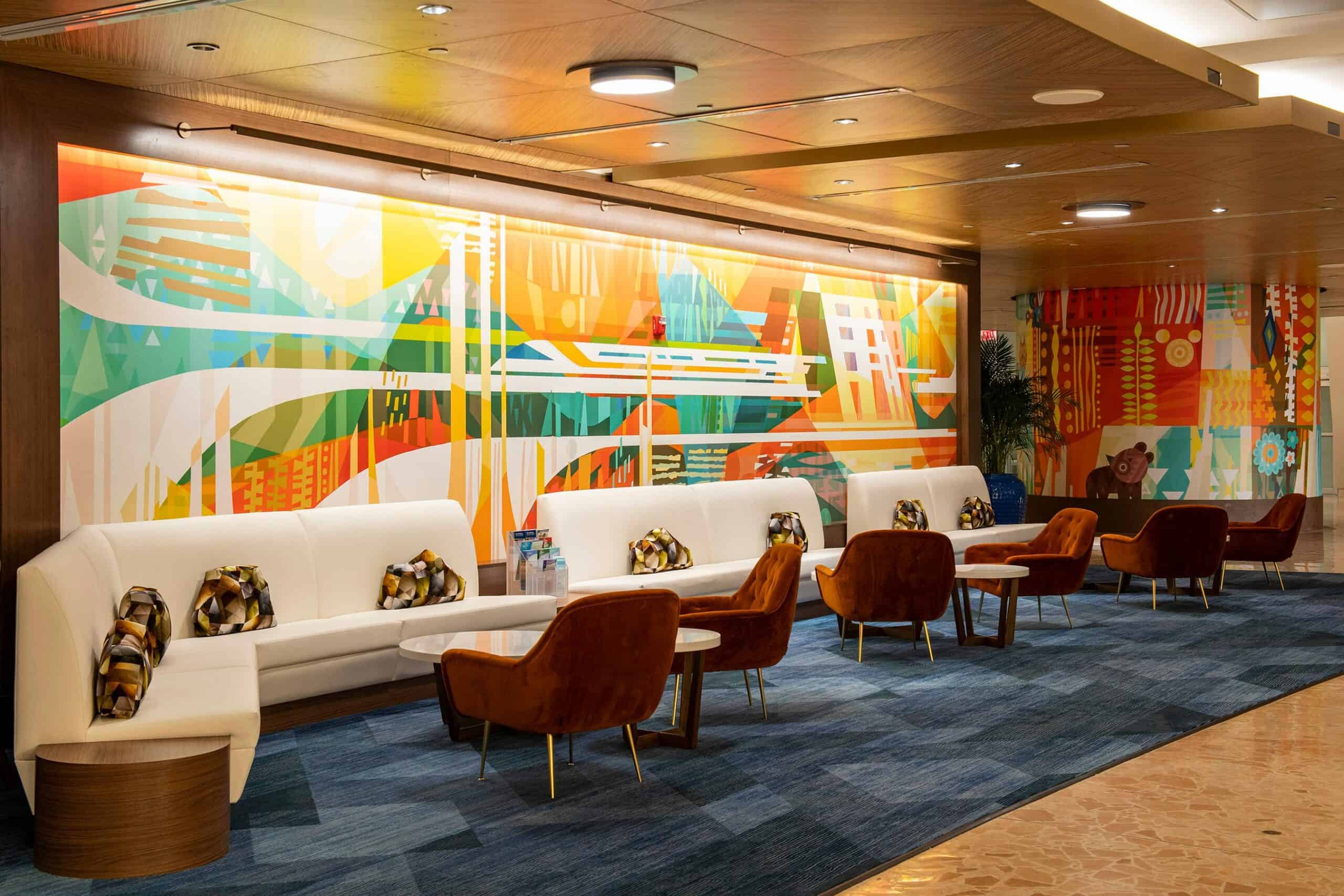 My personal favorite way to spend the holidays at Walt Disney World is going to EPCOT. The EPCOT International Festival of the Holidays has the most holiday activities at any of the Disney theme parks. And it is important to me to share how many of the world's cultures celebrate this time of year with my son.
The Contemporary is convenient to EPCOT thanks to the monorail access. You will have to transfer monorails at the Ticket and Transportation Center, but overall it is a smooth and convenient process, especially since the TTC is the next stop on the monorail from the Contemporary.
Category: Deluxe
Decorations: Rustic, cozy, and inspired by the natural world
Best for: access to Magic Kingdom and woodsy lodge atmosphere
This Pacific Northwest-inspired resort is my favorite this time of year. The cozy atmosphere automatically puts me in the mood for the winter holidays. The decorations are warmly lit and inspired by the natural world. Besides being a favorite for its decorations, Wilderness Lodge has great access to Magic Kingdom via an enchanting boat ride.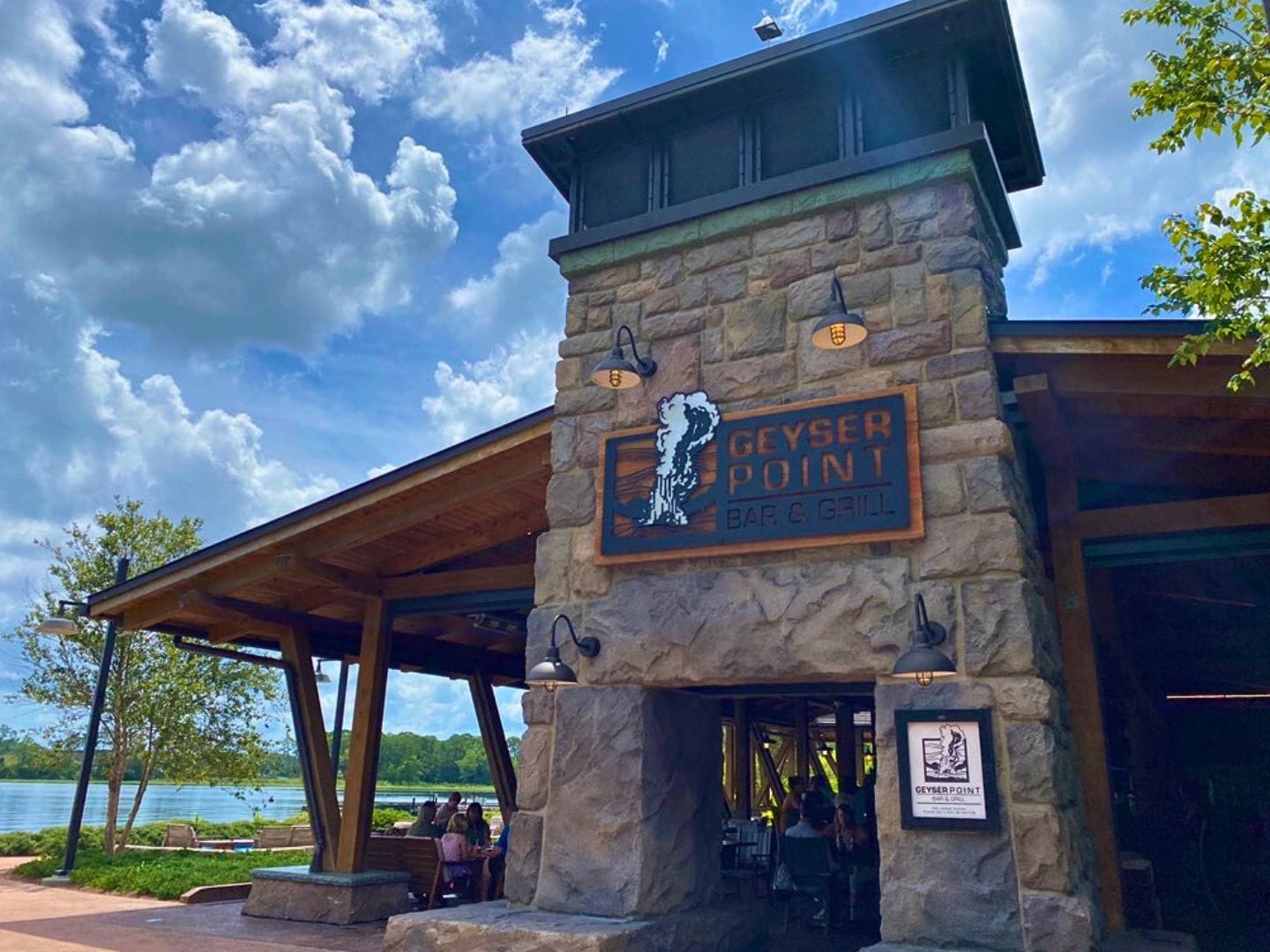 This resort has lots of yummy seasonal treats and snacks. The Roaring Fork quick service location has one of the largest selections of holiday eats found at any Disney hotel. To save time, use the Mobile Order feature in the MyDisneyExperience app. If you need a pick-me-up after the parks, place your order while you're on your way back from the park. Once you're at Wilderness Lodge just click "I'm Here" in the app and your order will be ready for pick up shortly.
Category: Moderate
Decorations: Tropical and island-inspired
Best for: A tropical getaway and Skyliner access to EPCOT and Hollywood Studios
If your idea of the holiday season does not include anything tropical or islandy, then Disney's Caribbean Beach Resort is not for you. But, being that we are in Florida, many families find it fun to enjoy this time of year with a tropical flair.
Disney's Caribbean Beach Resort is great for the holiday season at Walt Disney World for a few reasons. First, it is a Moderate resort, so it is a little easier on your budget. Second, it is fun to see and hear a tropical spin on the holidays. Most importantly, if your focus for holiday fun at Disney involves EPCOT or Disney's Hollywood Studios then using the Skyliner to get to these two parks is so fun from this resort.
While I prefer the EPCOT International Festival of the Holidays above the other Disney theme parks, Disney's Hollywood Studios has some great holiday fun too. Don't miss the decorations at Echo Lake! Plus there is the brand new Jollywood Nights Christmas Party!
To make the most of your stay at Caribbean Beach it helps to decide ahead of time if you'd rather be able to get to EPCOT or to Hollywood Studios faster.
While Caribbean Beach technically has one Skyliner station, there is a second station within walking distance. The Caribbean Beach station has a direct route to Hollywood Studios. Whereas when heading to EPCOT there will be a small delay as you make your way through the Skyliner station at Disney's Riviera Resort.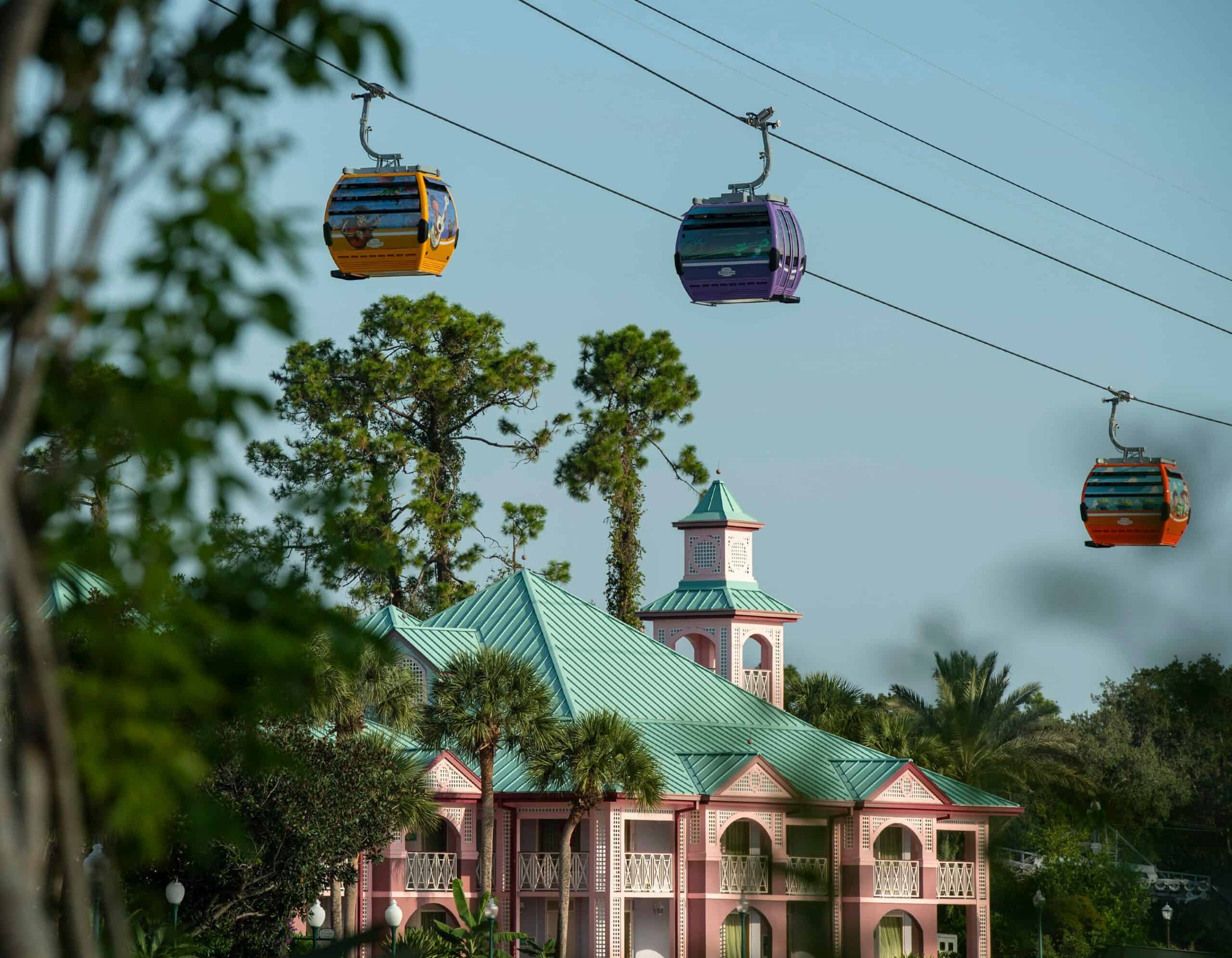 If EPCOT is your focus then request a room near the Riviera Resort station. You can easily walk over and board from this station, and you'll have a shorter travel time. If Hollywood Studios is your focus then request that your room be close to the Caribbean Beach Skyliner station.
This resort is very relaxing, but it is spread out, so just be aware that there can be a lot of walking to and from dining, as well as transportation.
READ MORE: Where to see Santa at Walt Disney World
Category: Value
Decorations: Simple and modern
Best for: A budget-friendly option with Skyliner access to EPCOT and Hollywood Studios
If you want to save a few Disney dollars and still have a magical, very merry holiday trip to Walt Disney World then consider the Value resorts. Two resorts in this category are Disney's Pop Century Resort and Disney's Art of Animation Resort, both offer fun atmospheres and convenient transportation.
These two resorts are separate hotels, but they are connected by a lake and share a Skyliner station.
Since this is a Value resort, the Skyliner service is not as direct as it is at Disney's Caribbean Beach Resort. No matter if you're headed for EPCOT or Disney's Hollywood Studios for the holiday festivities, you'll need to transfer at the Caribbean Beach station.
For the holidays these two hotels are great because the holiday decorations are colorful and family-focused. At Pop Century parents will relish sharing childhood memories with their kids as the theme of Pop Century is in the 1950's – 1990's.
Category: Deluxe
Decorations: Imagine if Santa Claus had a beach house
Best for: A whimsical atmosphere and access to EPCOT
If you've ever imagined what Santa's vacation home is like, Disney's Beach Club Resort would be it. This beautiful and inviting beach house-themed resort is popular with families year-round.
Its sand-bottom pool complete with lazy river and waterslide is the most sought after on Disney property. And it is literally right next door to EPCOT.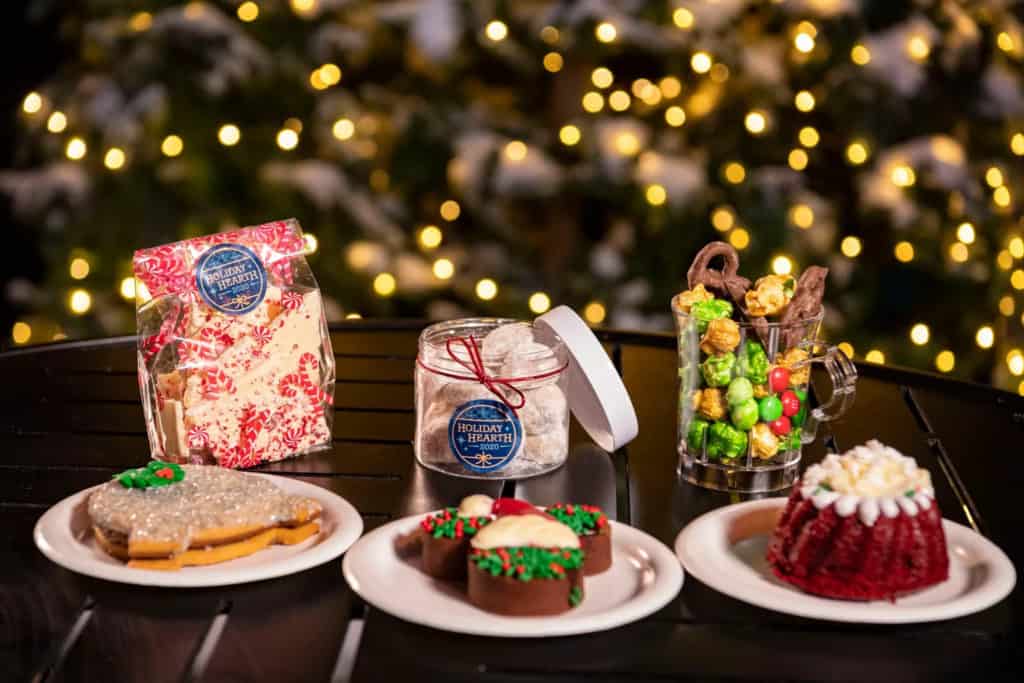 Besides these two unbeatable features, during the holidays it is even more family-friendly. In the lobby is a charming carousel made of gingerbread. Each year there is a different Disney theme.
Right next door is Disney's Yacht Club which has a precious Christmas village that resembles a ski resort. You can stroll over easily to check it out. Better yet, go for a holiday decorations sight-seeing tour by walking around the entire Boardwalk.
There are a total of five hotels in this EPCOT neighborhood: Disney's Beach Club, Disney's Yacht Club, Disney's Boardwalk, and the Walt Disney World Swan and Dolphin. You can walk from one to another easily and explore all the decorations. There are fun activities like Surrey Bike rentals and midway games over at the Boardwalk. Even using the boat transportation to and from EPCOT and Disney's Hollywood Studios is a fun way to spend an evening.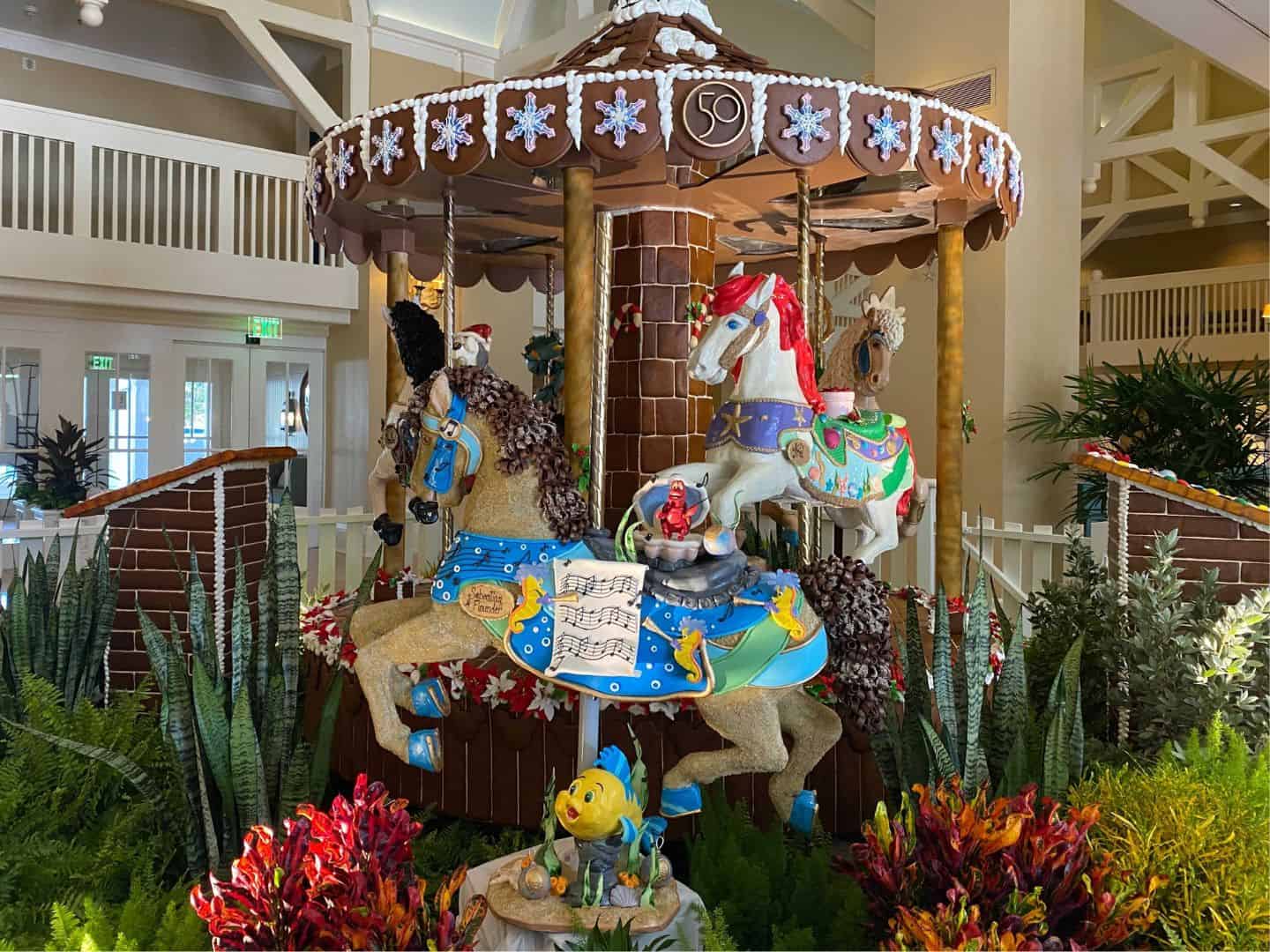 Category: Marriott brand – Westin and Sheraton
Decorations: Modern and sophisticated
Best for: Older kids and access to Disney's Hollywood Studios
The iconic hotels that make up the Walt Disney World Swan and Dolphin are hard to miss. Standing tall in the center of Walt Disney World, with Michael Graves architecture, this whimsical property is operated by Marriott brand hotels.
This resort likes to be known as Santa's Favorite Resort and with loads of holiday enhancements, they easily earn the name. Besides decorations galore, there are nightly light shows on the causeway between the Swan and the Dolphin.
The World's Largest Chocolate Santa is available for viewing at the Swan. Santa, Mrs. Claus, and their helper Kandy Kane appear on select nights in a special Florida-themed greeting space. And other kids' activities include nightly holiday movies, holiday coloring pages, and more.
Category: Wyndham hotel and Wyndham Garden hotel
Decorations: Classic and simple
Best for: Holiday shopping extravaganza at Disney Springs
If your family wants merry Disney World fun without spending a bunch of time at the theme parks, consider staying in the Disney Springs Hotels neighborhood. This collection of branded hotels is ideally situated with walkways connecting to Disney Springs.
The closest hotel to Disney Springs is Wyndham Lake Buena Vista and Wyndham Garden Lake Buena Vista.
These two hotels form one resort. Wyndham is the tall tower you can see from I-4, whereas Wyndham Garden is made of the shorter garden wings on either side of the tower. My family prefers Wyndham Garden due to the exterior entry rather than having to go through the lobby. I also find the Wyndham Garden rooms, which went through a major renovation this year, to be better appointed for families.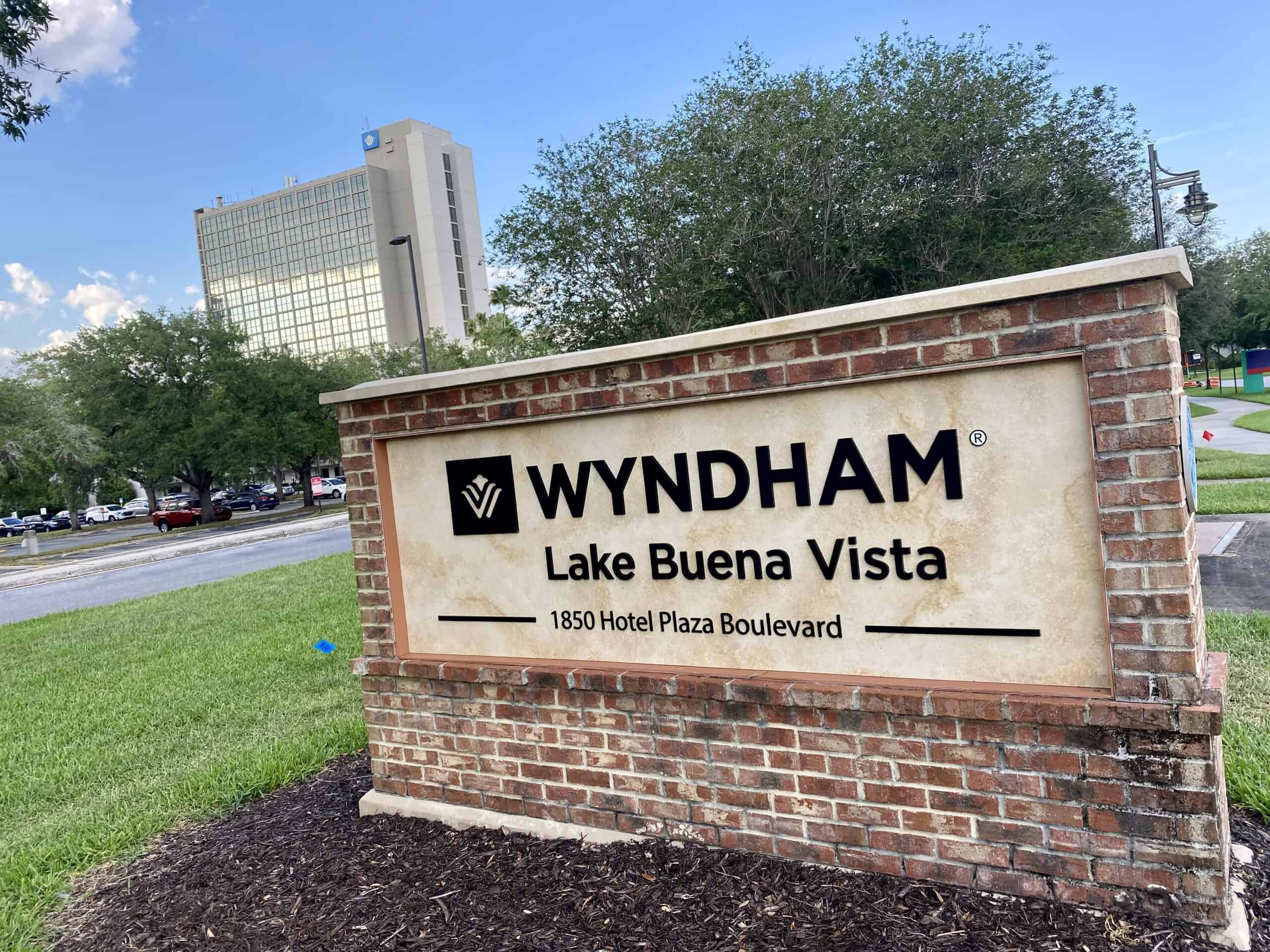 While there is transportation to the parks included in the resort fee, you may find it hard to stay away from Disney Springs literally right next door. It is a six-minute walk from the lobby to Disney Springs itself. This shopping and dining destination is full of holiday fun. Live music and performers seem to be everywhere. The amount of holiday food and drinks throughout Disney Springs is overwhelming. There are decorations everywhere you turn, and specialty-themed Christmas trees throughout Disney Springs.
Gaylord Palms Resort
Category: Marriott Resort
Decorations: A blend of classic Christmas with a Florida flair
Best for: Totally immersing yourself in all things Christmas and holidays
When your family's been on the nice list all year then treat yourself to a holiday getaway to Christmas at Gaylord Palms.
A stay at this resort can be a bit of a splurge between the room rate, parking fee, and resort fee. However, if you're looking for the best hotel in Orlando for the holidays it is hard to top Gaylord Palms.

Tips for Staying at a Disney Hotel for the Holidays
Book as soon as possible. Christmastime at Walt Disney World is one of the busiest times of year.
Besides booking your hotel, you'll need to book your Disney Park Pass Reservation.
Dining reservations book up quickly too.
Pack for changing weather throughout the day. Mornings and evenings can be cool, but midday is often warm.
As the Christmas holiday nears most Disney-owned hotels add additional entertainment and holiday offerings. Be sure to check with the Front Desk for the schedule and details.
---
Related stories: