Top 5 Kid-Friendly Things to do at Universal Orlando Holidays
The holiday season is jam-packed all around Central Florida. And when you add in Orlando's theme parks the list gets even longer. The holidays at Universal Orlando start on Saturday, November 12, 2022 and run to Sunday, January 1, 2023
With a young preschooler, I once believed Universal Orlando wouldn't be that great for him. But after countless visits with him and my husband, I know for sure that Universal Orlando is great for kids, even young ones.
So to help you make the most of this holiday season, here are the top five kid-friendly things to do at Universal Orlando during the holidays.
The Basics of Universal Orlando Holidays
At Universal Orlando during the holidays you'll find lots of festivities at both parks, as well as CityWalk and the hotels at Universal Orlando. The festive decor is everywhere. Upbeat holiday music fills the air. And the live entertainment and character experiences are hard to beat.
Top Five Kid-friendly Things To Do At Universal Orlando During The Holidays
Grinchmas Festivities and Show at Seuss Landing (Islands of Adventure)
Christmas at the Wizarding World of Harry Potter (both parks)
Holiday Themed Character Appearances (both parks)
Christmas Tree Hunt (both parks and CityWalk)
Decorations and Entertainment at the New York Area (Universal Studios)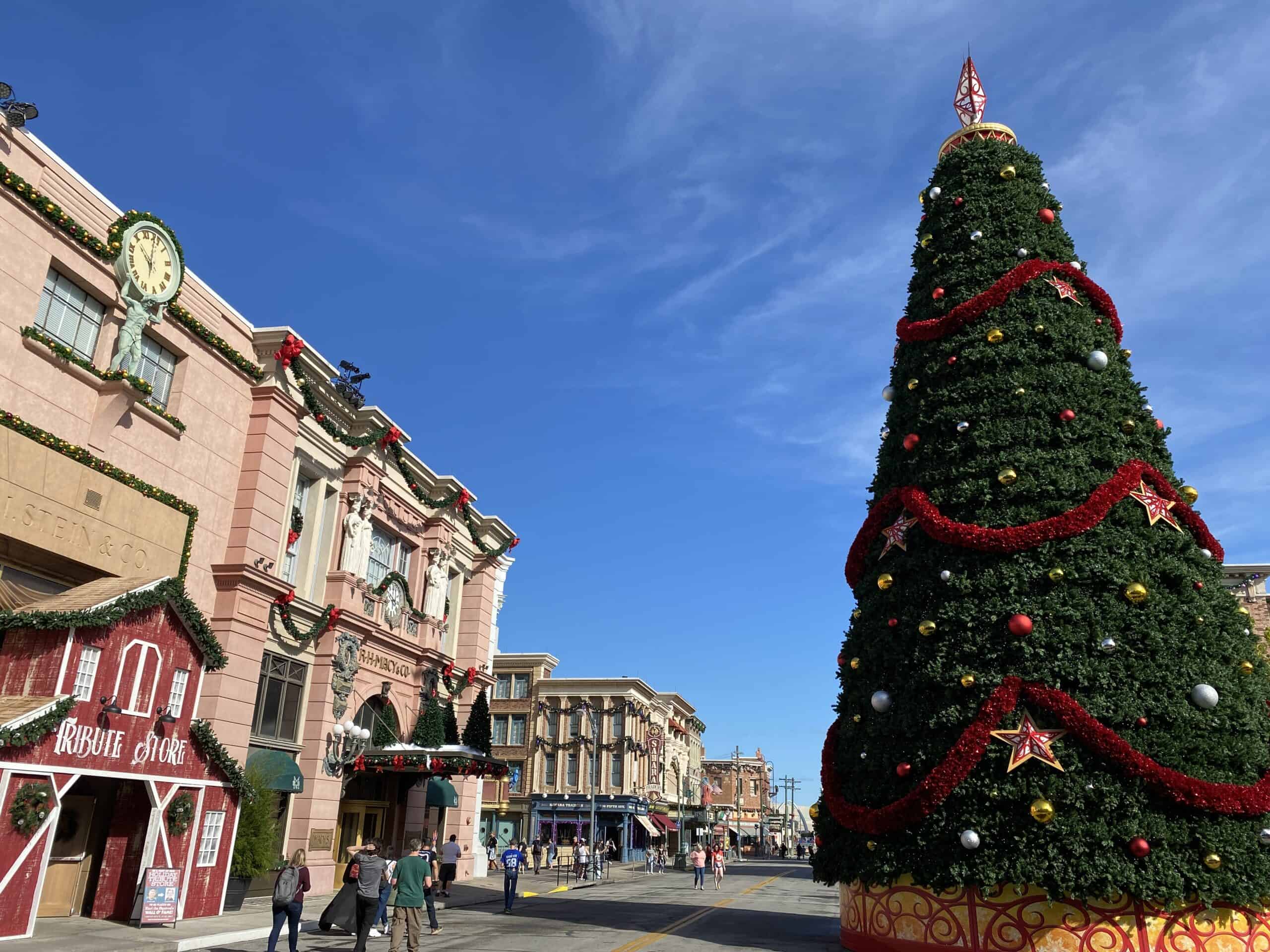 Grinchmas Festivities and Show at Seuss Landing
You've probably heard about the Grinchmas Who-liday Spectacular. It's a big production show that has been a holiday tradition at Islands of Adventures for many years.
This elaborate show features colorful costumes, detailed sets, songs, and The Grinch himself. Whether your family watches the classic animated holiday special each year or you prefer the live-action version featuring Jim Carrey, this show is sure to warm your heart.
It can be a little tough on young kids who may not be used to sitting in a theater for 30 minutes to watch a show, so use your judgement here.
Arrive at least 30 minutes before showtime. The first showtime and last of the day tend to be less busy than the rest. Showtimes are typically 10:45am, 11:45am, 12:45pm, 1:45pm, 3:30pm, 4:30pm, 5:30pm, and 6:30pm. Please confirm showtimes in the official Universal Orlando app.
If watching the show is not an option for your family there is still plenty to enjoy. Seuss Landing is one of the most incredibly decorated areas in all of Universal Orlando. The garland and ornaments are brightly colored and adorn every last inch of the entire area.
Plus, The Whos of Whoville are dressed in their holiday finery, greeting guests throughout the day. And speaking of greeting, you can have a short meet and greet with The Grinch at the All The Books You Can Read Bookstore.
Christmas at the Wizarding World of Harry Potter (both parks)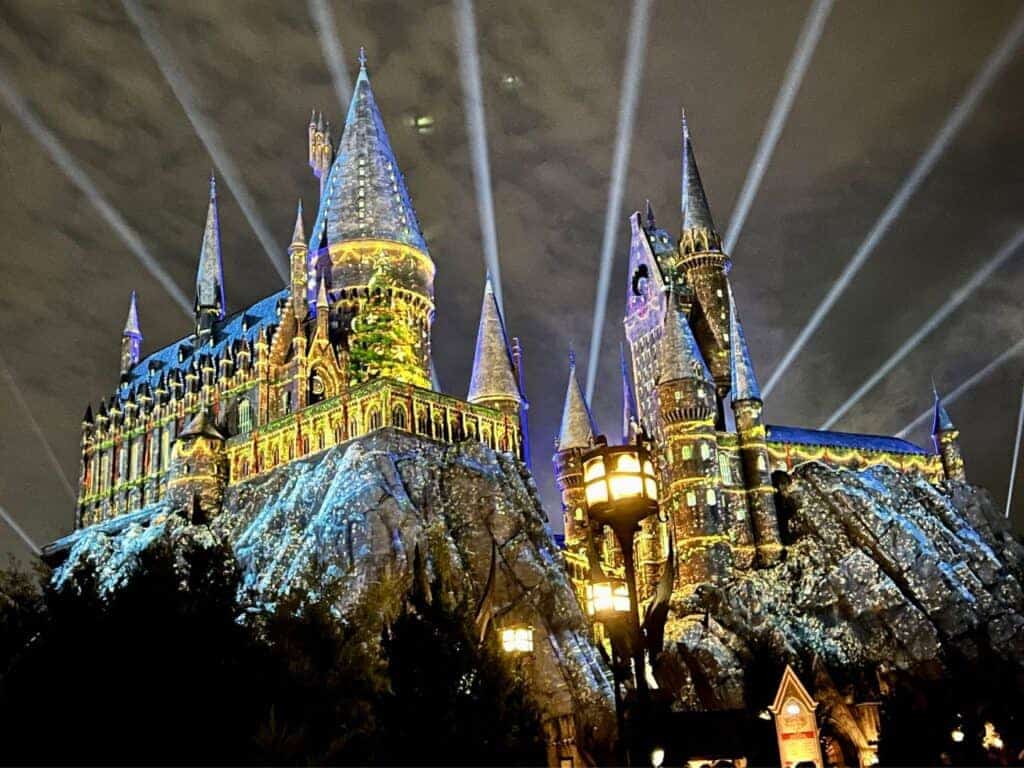 You and your kids do not need to be big Harry Potter fans to appreciate the decorations and fun of Christmas at the Wizarding World of Harry Potter. At both parks, Universal Studios Florida and Islands of Adventure, you can explore two lands based on the magic of Harry Potter. To get the most out of the experience you'll need a ticket that enables you to have park to park access to both parks in the same day.
Both lands, Hogsmeade Village and Diagon Alley have loads of decorations. The details of these decorations are wonderful. See if your kids can spot the details like the golden snitch decorations at the Quidditch supplies shop in Hogsmeade, or the satin ribbons at the tailor in Diagon Alley.
You can also enjoy holiday-themed entertainment in both lands. My favorite of the live holiday entertainment at the Wizarding World of Harry Potter is in Diagon Alley. And, my son really enjoyed it too.
Celestina Warbeck's holiday show is full of festive songs made just for Universal Orlando, and it is a fun way to see how the Wizarding World celebrates the holiday season. The singing and dancing are phenomenal and kept the attention of our almost-four-year-old.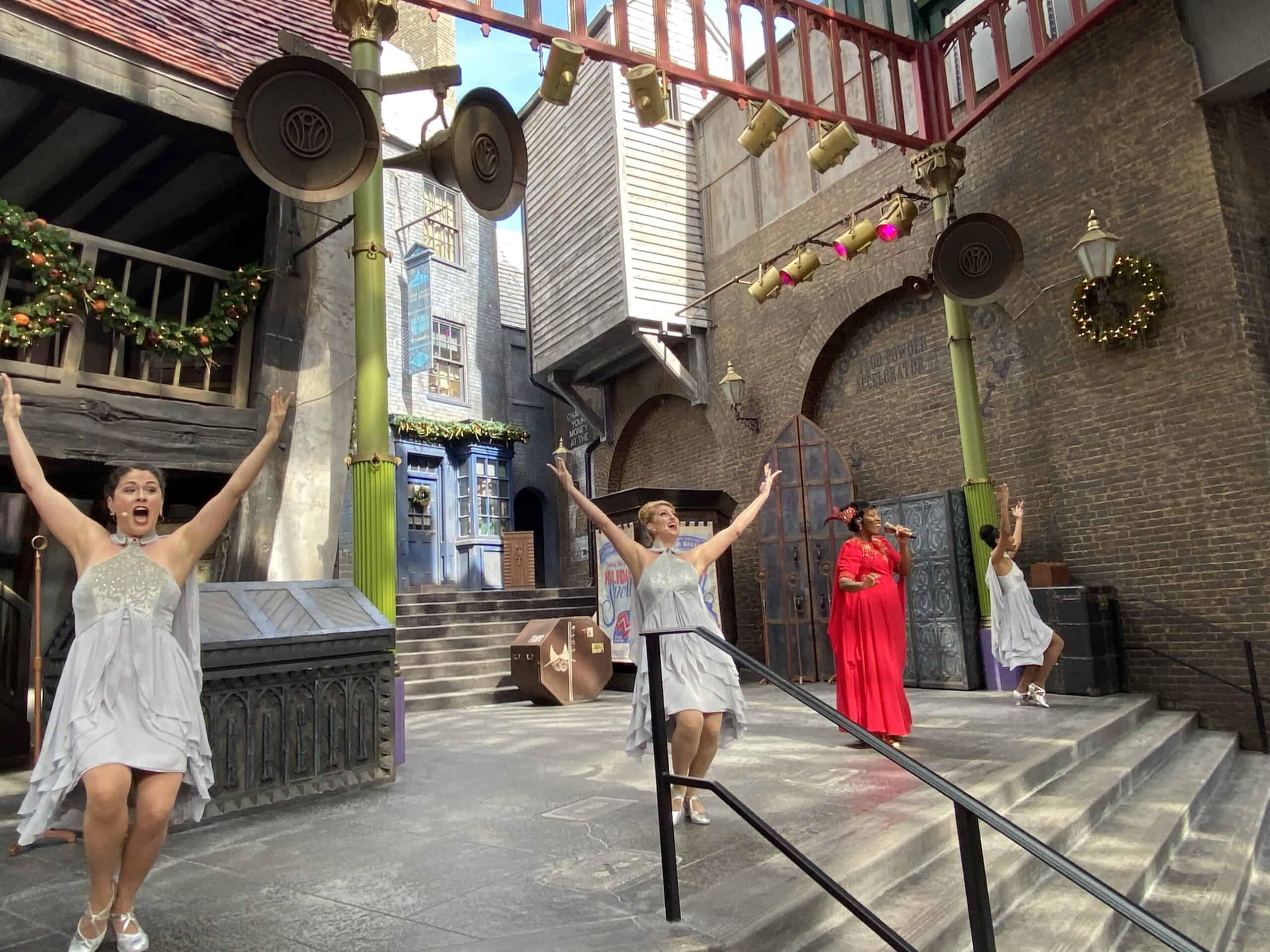 Grab a Butterbeer from the Hopping Pot, or some ice cream from Florean Fortescue's Ice Cream Parlour to enjoy while watching the show or strolling around Diagon Alley.
Be sure to double-check the entertainment schedule in the Universal Orlando app. Usually, Celestina Warbeck performs at 1:00 pm, 2:00 pm, 3:00 pm, 4:30pm, 5:30 pm, and 6:30pm.
Insider Tip: Over at Hogsmeade Village at Islands of Adventure you can visit the Owl Post. This magical shop has a stand just outside its entrance where you can send letters with a special Owl Post postmark as well as utilize a custom gift wrapping service. 
Holiday Themed Character Appearances (both parks)
Universal Orlando has lots of character meet and greet opportunities. Our son's current favorite is Spider-Man inside Marvel Alterniverse Store® at Marvel Super Hero Island. But for a more festive character experience, we head to Universal Studios, in the Hollywood area.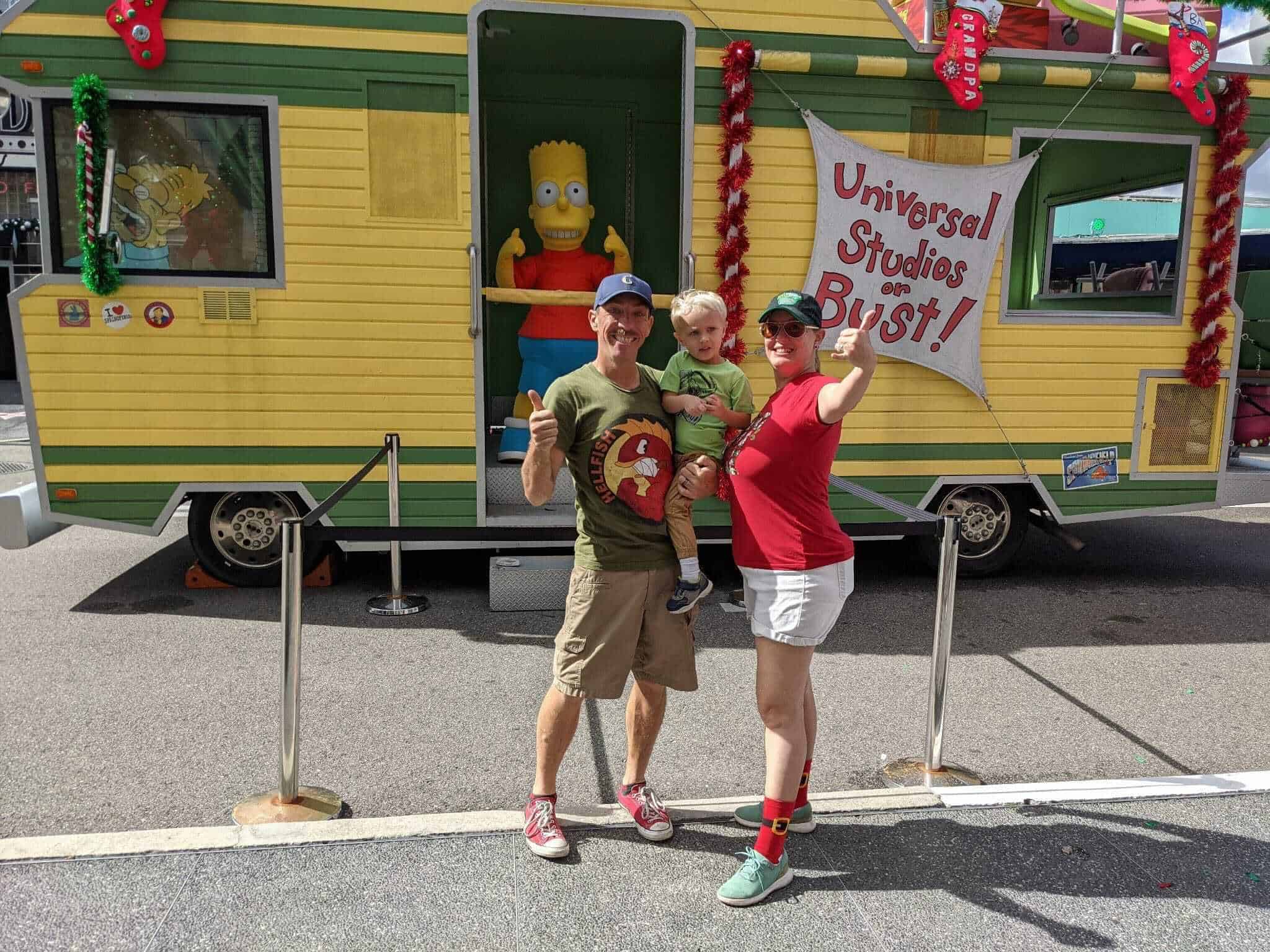 Here you can experience multiple character appearances as mini character parades and performances happen throughout the day near Mel's Drive-In Restaurant. You might also run into characters from The Simpsons at their RV parked along Hollywood Boulevard. Both the boulevard and the RV are decorated for the holidays.
The Grinch & Friends Character Breakfast
The popular dining experience, The Grinch & Friends Character Breakfast, is back for 2022.  Start your day with a delicious breakfast and appearances by some of their favorite Dr. Seuss characters, including the Grinch. Guests also receive access to one digital download photo as a keepsake from their encounter with the Grinch.
The Grinch & Friends Character Breakfast takes place in Circus McGurkus Café Stoo-pendous in Universal's Islands of Adventure on select dates from November 12 through December 29, 2022 and can be booked by visiting www.universalorlando.com/holidays.
Pricing for this experience is $41.99 (plus tax) for adults and $26.99 (plus tax) for children and separate theme park admission is required. Annual and Seasonal Passholders can take advantage of a 20% discount on the dining experience's ticketed price when purchased in person at the front gate or a Guest Services location with a valid Annual or Seasonal Pass. Regular Seasonal and Power Pass blockout dates apply.
Christmas Tree Hunt (both parks and CityWalk)
(2022 Info TBA) There's something magical about Christmas trees. As a kid, I just loved searching each tree to pick out my favorite ornaments. And my son seems to enjoy doing so as well.
The Christmas Tree Hunt at Universal Orlando encompasses both parks as well CityWalk. This is a fun family activity, especially with elementary and middle school-age kids. A purchase of the Christmas Tree Hunt map is required, about $10, available at most large merchandise shops at Universal Orlando.
Each Christmas tree on the map is generally located inside a merchandise shop throughout the two Universal theme parks and CityWalk. As your family spots a Christmas tree, marked with a Christmas Tree Hunt sign, you mark it on the map. Once completed turn it in to receive a special holiday ornament.
Decorations and Entertainment at the New York Area (Universal Studios)
One of my favorite lands inside Universal Studios Florida any time of year is the New York Area. It has so many details and it is still used to film commercials, TV shows, and films.
During the holidays the New York area becomes packed with decorations and entertainment, and it is home to a massive towering Christmas tree that has dancing lights at night.
As you stroll through the New York area take in all the details of the decorations. Then make plans to enjoy two of our family's favorite holiday shows.
The Beat Builders are a must for our family because it is a percussion show. Our son loves drumming. Most of the Beat Builders show involves regular music, but the finale incorporates modern spins on two classic holiday songs. This performance takes place on the edge of the New York area, near the Fast and Furious Supercharged attraction.
Back in the heart of the New York area, along Delancy Street is a stage that is home to the Blue Brothers show. This classic, bluesy show has been entertaining guests at Universal Studios Florida since the beginning years of the resort.
During the holidays the show is completely retooled to have nothing but Christmas songs from beginning to end. Our son loved the music, he didn't love my dancing and clapping along, however.
Before heading out of the New York area I suggest popping into the Holiday Tribute Store. The Tribute Store at Universal Studios is open throughout the year during special events. Each special event like Halloween Horror Nights, the holiday season, and Mardi Gras calls for the Tribute Store to be rethemed.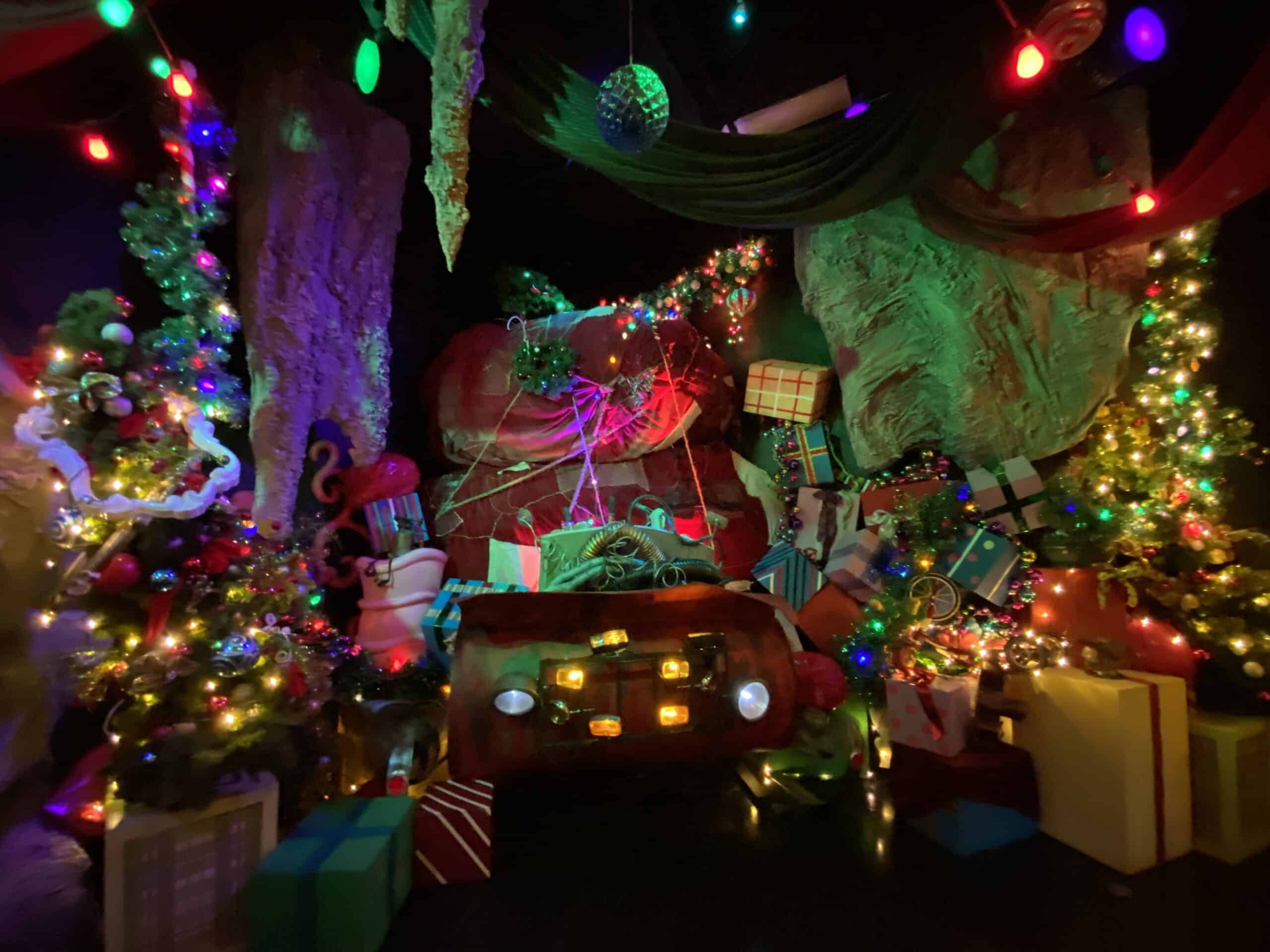 The details inside this multi-room store are incredible. Props, lighting, and music add to the elaborate theme. There are two rooms up front, then a hallway, and two additional rooms towards the back.
You don't have to buy anything to stroll around and take photos. You may want to set expectations with your kids as to if you're buying anything and how much is allowed. After all, the best way to keep everyone on the nice list is to set expectations and prepare ahead of time before you head out for holiday fun.
Important Information for The Holidays at Universal Orlando
The closer it gets to Christmas Day, the busier the parks will get.
Reservations are not required to enter Universal's theme parks, but they can reach capacity for the day.
Reservations are recommended for any table service restaurant.
If you decide to splurge on the new Universal's Holiday Tour be sure to eat a meal before the tour as only cookies and hot cocoa are provided.
Even though the weather may be cooler, be sure to keep everyone hydrated.
Universal's Holiday Parade featuring Macy's is an awesome experience for the whole family, but it doesn't perform until the early evening. So, pace yourself if this is a must-do. I recommend having a heavier lunch and then a light dinner while you sit and wait along the parade route.
Upgrade your holidays at Universal Orlando with a VIP Tour
Returning 2022: Universal's Holiday Tour. This tour encompasses both parks and comes with serious perks, like hot chocolate with The Grinch, a special meeting with Santa, and reserved spots for Universal's Holiday Parade featuring Macy's and The Grinchmas™ Who-liday Spectacular. And the merriment continues with an exclusive after-hours showing of The Magic of Christmas at Hogwarts™ Castle.
Pricing starts at $79.99 (plus tax) and separate theme park admission with a 2-Park 1-Day Park-to-Park ticket is required. Annual and Seasonal Passholders receive a $10 discount per ticket per passholder with a valid Annual or Seasonal Pass. Tickets can be purchased by calling 1-866-346-9350 between 9 a.m. and 7 p.m. EDT daily or by visiting the UOAP Lounge in Universal Studios Florida. Regular Seasonal and Power Pass blockout dates apply.